I know that a lot of people were  waiting for the review of Clarins Ombre Matte Eye Shadows, but I wanted to take my time, and test them out properly. And, finally, I am ready to share my impression.
This Autumn the brand released 6 shades of  what they describe as "new generation cream to powder eye shadows":01 Nude Beige, 02 Nude Pink, 03 Taupe,  04 Rosewood, 05 Sparkle Grey and 06 Earth.
These come with a signature red Clarins packaging, in a cute lightweight plastic jar with a golden lid on top.  Despite the fact that it is not glass, the products still looks high-end.
So what about the formula?
I'd describe it as a very well pressed creamy powder. The finish is matte (at least in the shades that I have), so they look very natural on the eye lids.
It is
Read More
I have already posted about some of the amazing lip products that are coming out for AW (part 2 on the way, so stay tuned). And here is a sneak preview of the new palettes that will be released for holidays.
I am personally very excited about the LORAC Mega PRO palette with 24 matte and shimmer shades. It will be out on the 7th October and will retail for $59 from Ulta and LORAC.
It's been forever since I've bought a big palette, so maybe it's time to do it! [I have stopped buying them since I never use those anyway, and they just gather dust and I've been trying to de-clutter my place, too. And some palettes are bulky, and do take a lot of space]. Maybe this palette will change the situation.
Now, what about the other items?
You can
Read More
Every year I say that holiday beauty launches are the best. Why?  You can get  value sets from your favourite brands, and save some money; or you can get a kit from a brand that you've always wanted to try, and that will give you an idea about the quality and the performance.
What else? You can buy a set of glosses/liners/nail polishes, leave some shades for yourself, and give others to your girlfriends.
You just can't go wrong! And here is a preview of the Bobbi Brown's beauty offerings for this Christmas.
 Deluxe Lip & Eye Palette ($80). Comes in a  tortoise shell palette and includes different shades of Creamy Lip Colors and Eye Shadows. You also get a mini Eye Shadow and Lip Brush.
 Lip Gloss Trio ($48). Lip Glosses in Pink Sunset and Pink Pop, Midnight Violet High Shimmer Lip Gloss.
Copper Diamond Shimmer Brick ($45), warm golden hue, comes in a tortoise shell case.
 Warm Eye Palette ($48.50). Matte shades in
Read More
This month I don't have that many favourites but I absolutely adore all the products that I've included…
I want to start with a product that I wear pretty much daily - Clarins Be Long Mascara (review), this is one of the best mascaras I have ever used. You can get a subtle look, with defined long lashes, but you can  also build it up for an intense look, is  really works! Not to mention that the formula makes the lashes grow longer with time. I have already recommended Be Long to some of my friends, you would recommend it to you, too.
The other two makeup products are for lips. One is for a subtle effect, and the other one is a bolder option.
L'Oréal Paris Color Riche Extraordinaire in 100 Mezzo Pink (review and lip swatches) is a gorgeous baby pink shade, it feels moisturizing and hydrating on the lips, and it smells delicious. My makeup
Read More
The most exciting new beauty launch of 2014? Definitely Gucci Beauty! Great news – it is already available from Saks and Neiman Marcus.
I was excited and a bit sceptical at the same time, the packaging looked tacky on the first leaked promos. Well, it looks a lot better on the official promos. Yes, it is all about logos, but that is  what we know Gucci for, after all.
And the video with Charlotte Casiraghi looks absolutely beautiful. I need want her nail polish and whatever she is wearing on the lips.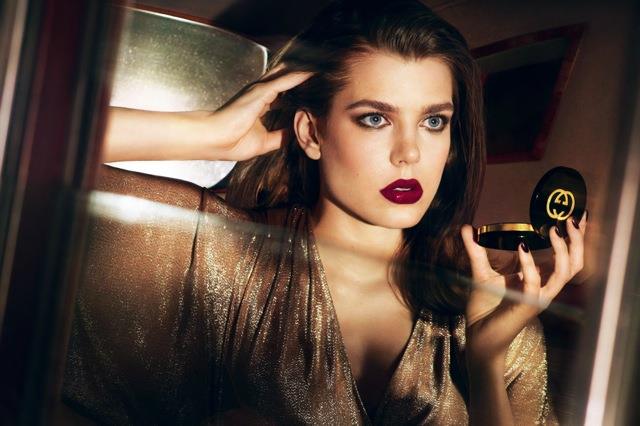 So, what about the products? There are 200 pieces to choose from:
Lips
Gucci Lip Audacious Color-Intense Lipstick, $39,  available in 25 shades; Orchid Overdose  shown below
Gucci Luxurious Moisture-Rich Lipstick,  $39,  available in 25 shades; Wild Amarena shown below
Gucci Sleek Contouring Lip Pencil, $32, available in 8 shades; Raw Garnet shown below
Gucci Vibrant Demi-Glaze Lip Lacquer, $32 available in 19 shades. Carnelian shown below.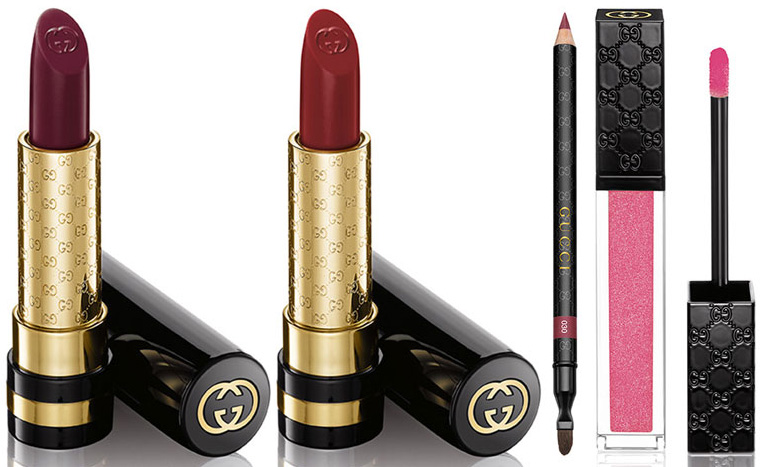 If I could have only one product from the line – definitely a lipstick (in both formulas, ha!).
 Face
 Gucci Face Silk Priming Serum, $62. The design of this serum = how I'd love all luxury products to look.
Gucci Lustrous Glow Foundation, Broad Spectrum SPF, $65  available in
Read More