I have already mentioned the I am very pro-toner! And, although, skincare is something that I personally don't mind investing in, I perfectly understand that not everyone wants/can.
This is why I have been on a mission to find   good toners that won't break the bank. I have already featured one of them from Yves Rocher.
And today I'd like to share about my other discovery – Lumene Soft Touch Hydrating Toner.
Being a Finnish brad,  it  made me have big hopes about this product, and I wasn't let down.
As the name suggests, this product is soft and hydrating, it is not a plain liquid, it is like a mix between toner and a lotion, in my opinion. It feels gentle on the skin, and I can tell that it definitely is not just "another" step in the routine. It does make a
Read More
Never underestimate the importance of a good eye brow product!  Even several years ago there weren't that many to choose from, but today the  brands are bringing out  new amazing releases.
And here are two that caught my attention:
Armani Eye and Brow Maestro, $34/£26.50
"Born backstage, Giorgio Armani's new 4-in-1 eye perfector; Stunning runway ready eyes. Brow shaper, Eye liner, Eye shadow, Hair root touch up, and Contour. Its natural finish is waterproof and gives 20 hours of wear with a 100% natural finish."
The shades are: 01 Black, 02 Dark Brown, 03 Red, 04 Medium Brown, 05 Light Brown, 06 Medium Blonde, 07 Light Blonde, 08 Grey and 09 Gold
Where to buy: Harrods, Selfridges, Nordstorm, Saks.
Burberry Effortless Brow Definer, $33/£22.50
Read More
Recently I fell completely  in love with the new Max Factor's Shimmer Excess release, so I've decided to make a round-up of my favourite affordable cream eye shadows in general.
All of them are definitely worth the attention, and they prove that you don't need to pay a fortune to get a high quality makeup these days.
I have published detailed reviews about each in the past, so if you want to know more – just click the links, included in this feature.
Max Factor Excess Shimmer Eye Shadows (review and swatches)
These have a very light texture, give a beautiful dimensional shimmer and stay on really well. Can be used on their own, or on top of any other product. Gorgeous effect, a must-have.
Maybelline Color Tattoo 24Hr  (Permanent Taupe, Eternal Bronze, On and On Bronze; Metallic Pomegranate)
Color Tattoos did get a lot of hype when they were brought out.  And rightly so! Opaque colours, blendable texture and long-lasting formula. Metallic
Read More
Here is a preview of the new makeup collection from Giorgio Armani - Orient Excess. And I personally really love the promo image. It is nice to see the accent on the lips (and a matching nail polish), with a very simple eye look, flawless skin and groomed eye brows. This is a cult classic, and doesn't get better than this.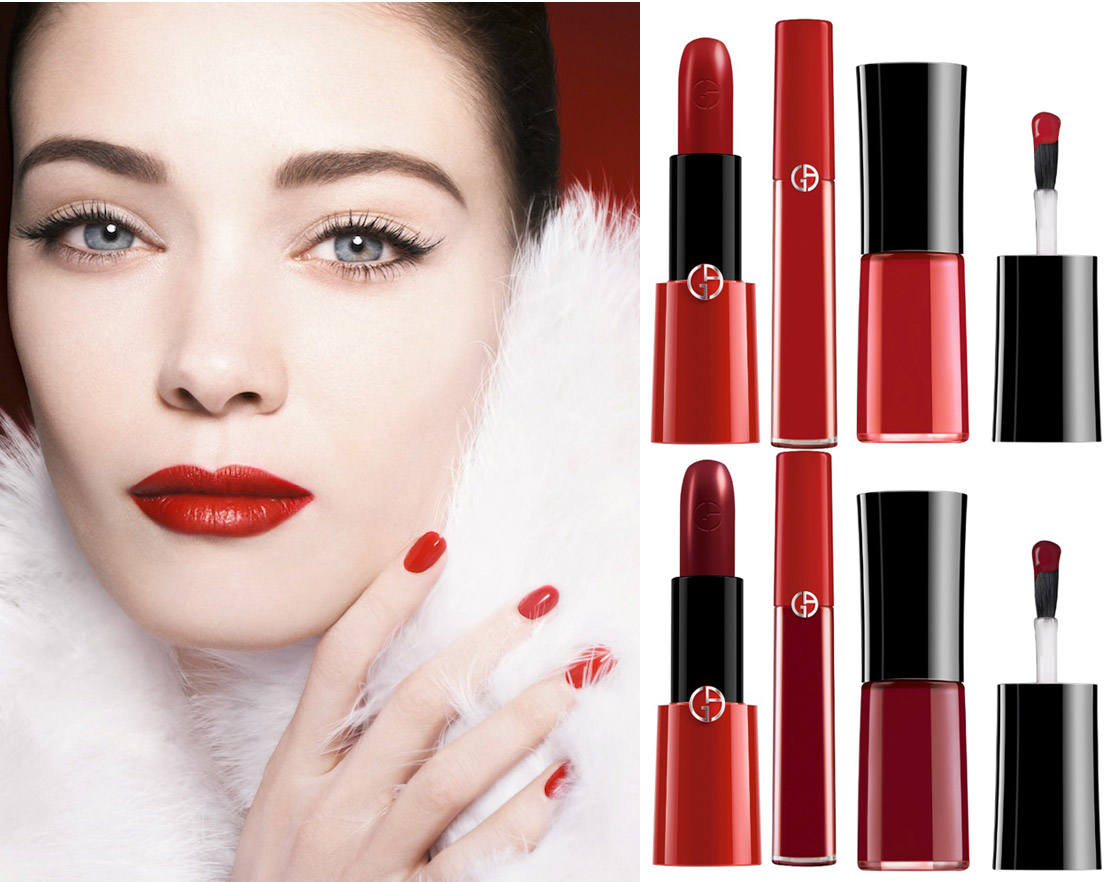 There are three matching products:
414 Red - Lip Maestro, Rouge Ecstasy Lipstick and Nail Lacquer
634 Burgundy -  Lip Maestro, Rouge Ecstasy Lipstick and Nail Lacquer
The other products are:
Read More
If you have been following Makeup4all for some time now, you already know that  Liberty London Girl is a big inspiration for me!   In fact, here is a post from 2011.
I was hoping that one day Sasha will bring out a book. And she did! Of course, I had to buy it…
Her first book (why, yes, I am hoping for more in the future) is about cooking and tips on preparing delicious, but not complicated meals and serving them (think throwing parties!).
She basically covers all main topics, as you can see from the contents below.
This book is a total joy to have. I love Sasha's writing style, the photos are aesthetically pleasing, and you don't need to go to Mars to find the ingredients.
Below you can see some examples of the dishes
Read More