I've been wanting L'Oreal Infallible Color eye shadows ever since I first heard of them but after this post at Modesty Brown I had to go and buy them. For some reason they were not available at that time so I had to get something else.
What?! I was determined to waste spend some money. This is why I've got this yellow lip gloss, Chrome Intense Eye Shadows in Cacao Mania and the most gorgeous blacked red nail polish that I will show you later.
I don't even remember when I got anything from L'Oreal for the last time so I thought I would try some products.
I have heard some good things about these eye shadows before and since I was really impressed with the swatches I did in store, I've chosen shade #184 in Cacao Mania.
I have to say that
Read More
Are you ready to see some holiday makeup collections? The first one we are going to look at is Les Scintillances de Chanel.
It's all about beautiful red and gold. The promo photo with Jac is very Chanel…
This collection includes:
Lumière Sculptée de Chanel, highlighting powder, £46
Peter Philips drew inspiration from a belt buckle worn by Mademoiselle in a photo taken in the 1930s.
Poudre Universelle Libre, £31.50
Féérie, soft shimmering pink
Ligne Extrême, £22
Le Vernis, £17.50
Rouge Carat, luminous red
Rouge Allure Extrait de Gloss, £23.50
Rouge Allure Laque, £25
Empire,  rosewood with gold shimmer
Rouge Allure, £24
Read More
I can't believe that I forgot to write about one of my favourite makeup products of this summer.
It's a bronzer… And I am talking about Yves Saint Laurent's Terre Saharienne Bronzing Powder (£31) in  N° 5 Cinnamon Sand.
It comes in a velvet pouch, the design of the palette is warm brown.
I've been using Terre Saharienne bronzer non-stop this summer. And I am really sorry but I can't find the photos of this bronzer when it was untouched,  looks like I've accidentally deleted them.
It is such a shame that the YSL logo is almost gone by now, I really loved it.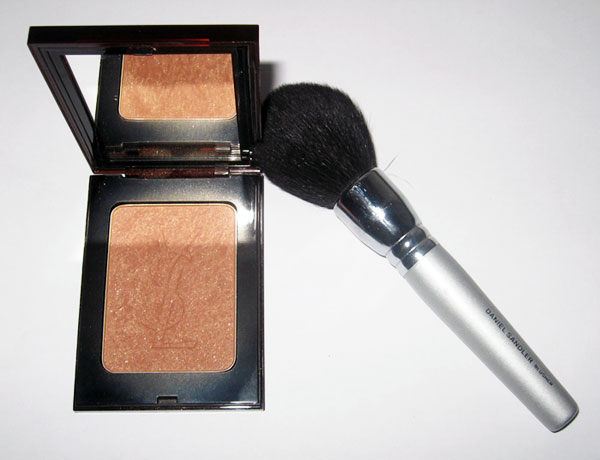 Cinnamon Sand is a medium shade, there are two more: N° 4 Apricot Sand and N° 6 Bronze Sand.
I find that the shade that I have is perfect for light to medium skin tones as it is not dark but not too light. The shade is buildable so you can make it more intense. It is not orange at all and looks
Read More
Here is a preview of Bourjois Fall 2011 makeup collection called Delhi  Shanghai.
Collection includes:
Mascara Volume Glamour Ultra Black, €11.95
Liner Feutre Ultra Black, €11.95
Sweet Kiss Lipsticks, €11.99
80 Fuchsia Cosmopolite
81 Rose Folk
82 Rose
Read More
When I saw the Le Gris L'wren nail polish by Lancome for the first time, I knew that it had to be mine.
It is a truly beautiful shade and I always get compliments when I am wearing it. The fact that I've got  compliment from a manicurist who has  pretty much all the shades I can think of speaks for itself.
I would describe this colour as a grey on a blue base.  It is opaque with one shade. I like the brush and the application and am happy with the quality in general. This was a LE but you may be able to find it on eBay probably.
I have to say that I love the nail polishes from this year's holiday collection by Lancome, too. Black and red are the colours I can never get tired of.
Read More