Chanel Dans La Lumiere de L'ete Makeup Collection for Summer 2016 is all about sandy browns, coppers for the eyes and face, and pinks with oranges for the lips and nails. Let's take a look.
Les Beiges Healthy Glow Multi-Colour, $65
Duo 01 and Duo 02 are lightweight powders with two shades that create that instant glow and perk up the complexion. There is also a Pinceau (Blush) Brush which retails for $55.
The LE Les 4 Ombres ($65) has that desert inspired pattern. You get three bronze and earthy toned shades and one khaki.
Here is actually a promo image of the collection to give you an idea of how you could use the products.
Other items are:
Read More
I am personally a huge fan of beauty and art collaborations, such as this one by François Nars and a contemporary artist Konstantin Kakanias, inspired by a glamorous  French Riviera they came up with 10 makeup products.
Dual-Intensity eye shadows and blushes and a brand new product for the brand – Lip Cover. Each comes in a special edition packaging.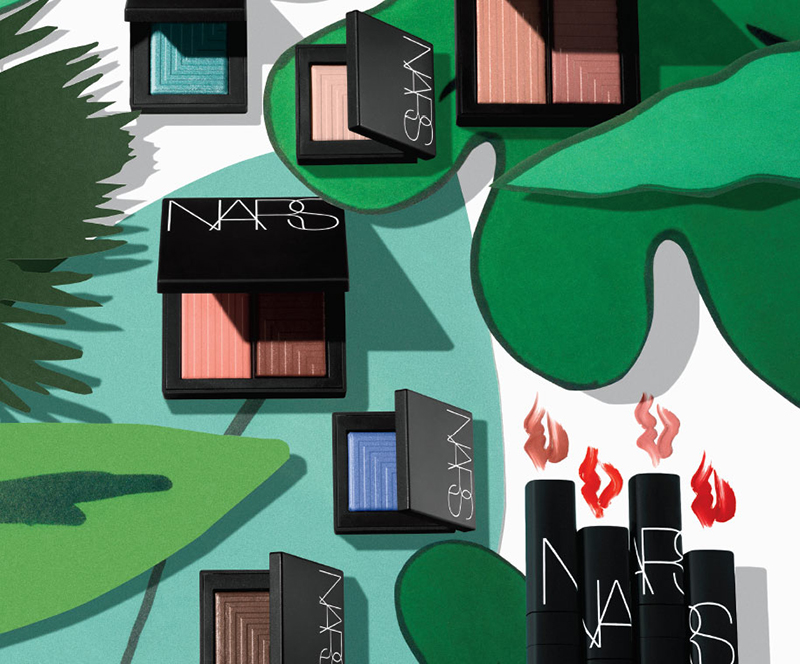 Lip Cover, $28/£21
"High pigment liquid lipstick. High fashion effect. Lip Cover delivers saturated slicks of coastal color steeped in exclusivity and ease. Rich and lustrous. Luminous finish."
Do Not Disturn, Vivid orange red
Overheated, Deep dusty rose
Get Dirty, Desert rose
Members Only,  Crimson
Dual Intensity Eye Shadows, $29/£21
Read More
Can you actually believe that it is May, the fifth month of the year?! Time flies, it feels as if it was 1st of January only yesterday.  And this month I actually have quite a few products, including some amazing new discoveries.
Makeup
Max Factor Glossfinity Nail Polish in 85 Cerise (review and swatches)
I have already finished a bottle of this, and am going through my second one, and I am wearing this, as I type, too. Such a gorgeous vibrant, juicy and glossy warm-toned red, it brightens up any look, and (almost) any mood. I am a fan.
For complexion I have been using these two products almost daily: Diorskin Nude Skin-Glowing Make-Up in Ivory (review and face swatches) Rouge Bunny Rouge Naked Disguise Concealer in Castalia.
Dior's foundation is simply brilliant, it is a re-discovery for me. I like the coverage it gives and the finish, it is not matte but not too dewy either.  The shade, Ivory is the lightest in the range, and looks great even on my currently greenish pale and tired complexion. As for the concealer, I plan on writing a detailed feature about it soon. Surprisingly, I have already used half of the tube, and the love is going strong.  It gives just  the kind of coverage I like – the formula is not thick but it brightens up the under eye area.
Other products I have been using all the time are Inglot  Sculpting HD Powder in 504 (review) which I talk about non-stop, as it is my favourite product for adding
Read More
The newest release from Dolce & Gabbana is the perfect example of a summer collection. And while I probably won't rush out to buy that yellow cream eye shadow, mostly because I already own some. But it just puts you in the mood for summer, and yes, somewhere in Italy (which I probably will do, can't wait!). But that bronzer! And those orange lipstick, blush and nail polish, too.
Just take a look at these beauties. Here is also a shot from the Fashion Week.
The products are:
Intense Nail Lacquer, £21/$27
Turquoise, Orange, Yellow and Turquoise
Perfect Mono Cream Eye Colour, £27/$37
Turquoise and Lemon
Classic Cream Lipstick, £27/$34.50
Cyclamen and
Read More
Back in the days, Urban Decay eye shadow palettes were a big deal in the beauty world.  I remember how I used to buy every single Book Of Shadows. Even though I don't even use them now, I could never give them away. I still have my Alice Book Of Shadows somewhere among my other "treasures".
I am sure, you know that the brand brought out a new Alice Through the Looking Glass palette to celebrate the launch of a new film which I am definitely seeing when it is in the theatres.
If that is something you are interested in – I suggest you get it as soon as possible, as it will be a sell out. The palette is available from Selfridges for £43 and Ulta for $60 already and is all kinds of gorgeous with a very colourful design
Read More