We continue the preview of the Autumn 2016 makeup collections, and now it's time to take a look at what Clarins prepared for us. This collection features new eye shadows quads, new mascara in black and brown and a renewed BB cream. Let's take a look.
4-Colour Eyeshadow Palettes, £34
These eye shadows can be  applied alone or layered for a variety of make- up looks. Each palette offers highly concentrated mineral pigments in a  of matte, satin and pearlescent finishes. Can be used wet or dry.
Shades: 01 Nude 02 Rosewood 03 Brown 04 Oud (Harrods and Selfridges exclusive shade)
BB Skin Detox Fluid SPF 25 £30
"Half make-up, half skin care, BB Skin Detox Fluid SPF 25 instantly
Read More
We all love personalised approach when it comes to everything including beauty, don't we? This is why it is awesome to see brands having that approach. I am personally a fan of Concoction hair care brand, and now it is awesome to see Clarins and their Boosters.
What are these?
Clarins Boosters are basically high-concentrated formulas which are created for a certain concern. You simply add several drops to the cream of your choice. There are three options to choose from:
Energy:
Tones are re-energises the skin
Minimises signs of fatigue
Revives radiance
Repair
Reduces feelings of discomfort
Optimises skin strength
Minimises the appearance of redness
Detox
Read More
Here is a preview of the latest blushers launches for SS16 from theBalm, Clinique and Kevin Aucoin.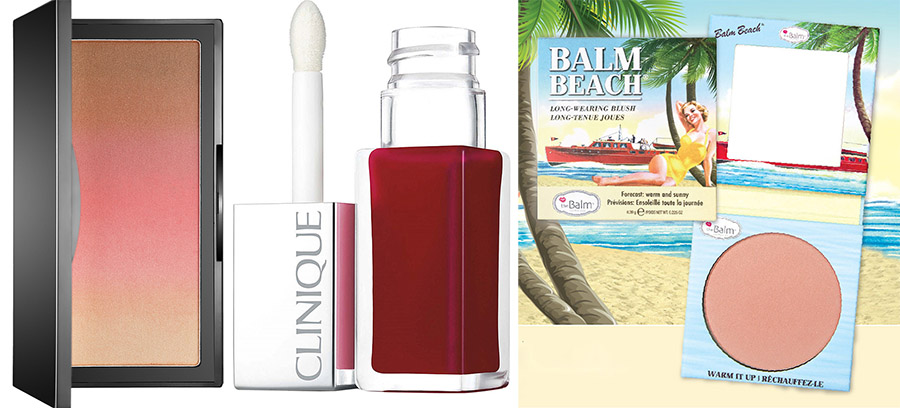 Clinique Pop Oil lip & cheek glow 7ml, £16 from Selfridges and Harrods.
"Bring a subtle pop of dewy colour to the lips and cheeks with Clinique's nourishing tint balm. Enriched with safflower, jojoba and sunflower seed oils, this fluid-gel formula feels both luscious and lightweight – ensuring a long-lasting, flawless finish."
Black Honey, Nectar Glow, Poppy Glow and Rose Glow (shown above)
theBalm Balm Beach blush, $21 from Nordstrom and ASOS.
Balm Beach is a part of the staining powder blushes range! And it is described as
Read More
I remember back in the days, tags were huge but I rarely see any these days. I recently came across the one called "Lipstick Tag", and decided to participate in it.
1.  How many lipsticks do you own?
A lot. Let's put it that way.
2.  What was your first ever lipstick?
To be honest, I don't even remember, and that is kind of sad. My first high-end lip product was Chanel, that I remember.
3.  What is your most worn lipstick?
Probably this red by Lancome.
4.  What is your favourite brand for lipsticks?
I really love how Ellis Faas lipsticks feel on. Also I am a fan of
Read More
We already previewed YSL's Autumn makeup collection, so here is a look at Dior. The brand posted a lot of photos and some videos over at their Instagram page, as did Peter Philips, their Creative Director.
And it looks like Dior's makeup is getting a whole new vibe with all those trendy colour correcting (Fix It Colour) and contouring (Diorblush Light & Contour) products.
And here is the look that was created for the Resort collection, and some key products:
Read More