Too Faced always bring out some of the most amazing releases for  the holidays. Their new collection is cute and girly, as usual.
Not to mention great quality and prices. Everything is already available from Sephora and will be available from Beauty Bay later.
You can choose from the following products:
La Belle Carousel, $49.   A unique looking, carousel inspired set includes the following products:
 12  eye shadows in Angel Hair (muted copper shimmer), Frost (intense white glitter), Tin Soldier (silver shimmer), Christmas Tree (forest green glitter), Santa's Boots (matte black), Tufted Suede (taupe), Haute Chocolate (chocolate shimmer), Yule Log (black sparkle), Nut Cracker (pale pink ivory), Nude Beach (glittery pale peach), Boxes and Bows (icy peach pink), Sugar Plum Fairy (deep purple glitter)
 2  Bronzers in Chocolate Soleil (matte chocolate), Sun Bunny (white shimmer)
2  Blushes in Who's Your Poppy (warm peach/gold shimmer), Luminous Peach (coral)
 Better Than Sex mascara
Everything Nice Set, $56
Read More
Have you got colour in your cheeks? Yes, that is  Arctic Monkeys "Do I Wanna Know?" (listen )
This song actually inspired me to write about my current favourite cheek products. But, and this will be a shock for regular readers, I have been neglecting blushes lately.  Yes, really.
And here are the two products that I have been using religiously lately…
TrishMcEvoy Golden Bronzer and NYX Blush in Taupe.
Trish's bronzer is probably my favourite out of all that I own. It is not too dark, too orange/muddy/shimmery/you name it. It warms up the complexion, and adds just the right amount of glow thanks to the delicate shimmer. Golden Bronzer looks amazing even on my light skin tone. Moreover, it is very finely milled, so blends beautifully and looks natural. Brilliant product. Maybe this will be the first ever bronzer that I use up?
You can buy Trish McEvoy from Selfridges, Nordstrom and Neiman Marcus.
Read More
Here is a preview of Chanel's holiday 2014 makeup collection  - Plumes Precieuses.
The star products are definitely the highlighting powder – Camelia de Plumes in Platimun (£47) and  Les 5 Ombres de Chanel (£42) Oiseaux de Nuit: luminous white, soft grey lavender, intense grey, intense black, antique gold.
Other products are: Joues Contraste  (£31/$45) in Caresse, shimmering peach,  Illusion d'Ombre ( £25/$36) in Envol, shimming peach, Stylo Yeux Waterproof (£19/$32) Or Blanc, white gold. Mascara Inimitable Intense Essential Noir (£25).
Read More
NARS Laced With Edge makeup collection for Holiday 2014 is here, and this season the brand decorated the packaging  with a special ornament. Not only the packaging, but also Daria Strokous' face for the promo
There are six lip products, three glosses and three lipsticks which are almost matching. I love the crimson "duo", of course.
Lips
Hardwired Lipstick (/$26)
Adriatic, Glistening Soft Cream
Femme Fleur, Shimmering Brick Red with Gold Pearl
Deadly Catch, Crimson
Lip Gloss (/$26)
Soleil D'Orient, Shimmering Pink Champagne
Corsica, Shimmering Pink Raspberry
Burning Love, Bright Ruby with subtle shimmer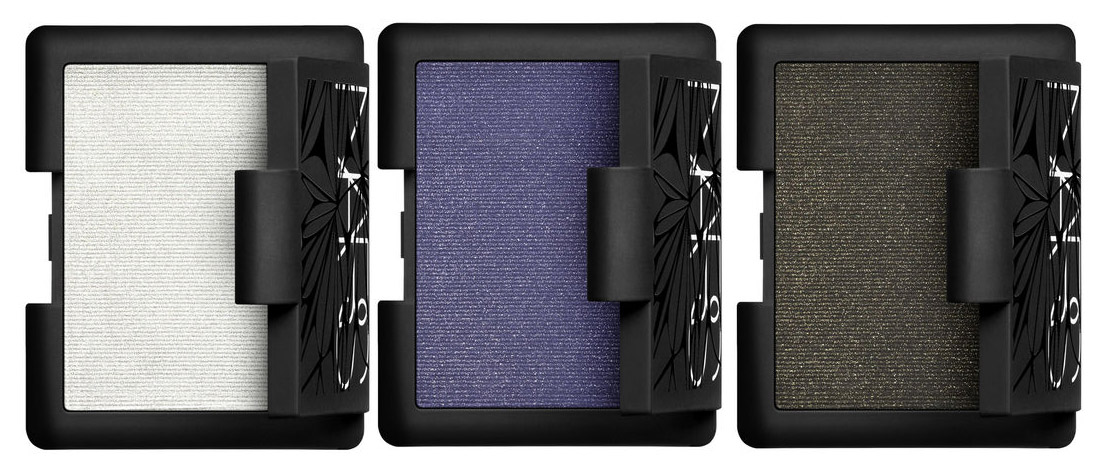 Three eye shadows.
Eyes
Hardwired Eyeshadow (/$26)
Read More
I am painting my nails at least twice per week.  I find that nice manicure not only never fails to improve my mood but also somehow increases my productivity. How can you not be productive with red nail polish on?
But there is one product that I often neglected in the past –  base coats.  A good base coat should make your nail polish last longer, protect the nails from staining, make them smoother, which would make the nail polish application easier, and maybe even strengthen them.
However, I wasn't pleased with any base coats I have tried in the past, they took forever to dry which made the whole process longer, and
Read More