I honestly can't believe that it is September next week, it seems like it was June only yesterday. But  this was an absolutely amazing month, and here are the beauty products that really stood out to me.
Makeup
Clarins Joli Rouge Lipstick in 738 Royal Plum  (review and swatches)
Clarins revamped their Joli Rouge line (as seen here), and now it looks even more chic, and the formula feels even more comfortable. Royal Plum is the shade to die for, it is a must have for Autumn! I have to confess that oxblood was the colour of the month for me. Max Factor Glossfinity Nail polish in 185 Ruby Fruit was the shade I wore on my toes all month long.
My love for  Clarins Blush & Bronzing Compact (review and swatches) is still going strong. Please excuse me for mentioning everywhere I possibly can but this was honestly the product of summer 2016 for cheeks. Get it if you can still find it.
YSL Faux Cils Mascara
This mascara does not need an introduction, it creates incredibly voluminous, full and thick lashes.  I am also a sucker for that beautiful gold packaging.
Revlon Colorstay Liquid Eye Pen
My eye liner of choice in the last several months, it is very easy to use, stays on for the whole day and gives an intense black effect.
Beauty
Elemental Herbology Nutritive Lip Complex
To be honest, I did not like it all that much at first because of the relatively strong herbal-y scent (and taste) but now I am a huge fan, and this is the only lip balm I am currently using. It really moisturises and nourishes the lips. I use it every single evening before going to bed.
In July I've purchased three mini products, and two of them became favourites in August. I haven't tried the dry shampoo yet.
OGX Beauty Nourishing Coconut Milk Conditioner
I wanted a travel-friendly conditioner, and when I saw this one in the shop, I had to get it after reading all the raves about the range. And, I have to admit that now I get all the hype. It smells incredible and leaves the hair really soft, smooth and glossy. Several people complimented my hair after this conditioner.
Toni & Guy  Casual Sea Salt Texturising Spray 
I've wanted a small bottle of some kind of volumizing hair product, and this seemed like a great option. And it is amazing, I personally find that it does add volume but doesn't make my hair look dry out and crusty, as some sea salt sprays tend to do. Big thumbs up from me.
Daniel Sandler Blusher Brush (as seen here)
I am actually surprised that I have never mentioned this brush in my month favourites, as it is one of the best and most frequently used brushes from my collection, I love it very much. It is incredibly soft and the shape is great for adding a touch of blush or bronzer to the face.
Read More
August is the month when I always go on a holiday, and now I am back and not ready  to get back to life.  This year I was very proud of myself for not over-packing or taking any extra products.
Here is the makeup I had with me for two weeks, and I could actually take even less lip products, everything else I have used religiously.  If I had to pick 3 products I've used/loved the most that would be:
YSL Faux Cils Mascara – it is absolutely incredible, the best mascara ever.
Revlon Colorstay Liquid Eye Pen – most of the days I love my cat eye, and this happen to be the liner I am using now, I really love the shape of the nib which is incredibly easy to use.
Clarins Blush & Bronzing Compact (review and swatches) it is
Read More
As I have already mentioned, I do not get excited for celebrity beauty collaborations that often. However, I am all in if Victoria Beckham has anything to do with it.
And here is finally a preview of the collection which Victoria posted herself!
What do you think? It looks very chic to me, in fact, it looks more like  Tom Ford beauty than Estee Lauder.
And, although
Read More
Dolce & Gabbana's Autumn makeup collection was inspired by the Sicilian landscape, and it is full of beautiful rich browns and subtle metallic hues.
Here is a little video for your viewing pleasure.
The products are:
Shine Lipstick in SN 001,  Chocolate 79
Classic Cream Lipstick in Honey 130
Nail Lacquer in  Raspberry 240, Ebano 827, Desert 820,  Wild Green 725
The Eye Shadow Quad in Enchanting Fall 118 and Smoky 105
Intense Colour Gloss in
Read More
Since I've just posted about the new eye brow gels, it seems like a perfect time to review the newest release from Rouge Bunny Rouge – their new eye brow products. I have actually already induced one of them in my July Monthly favourites. The brand does not bring out that many products so when they do – it is most likely something awesome. And what about these products?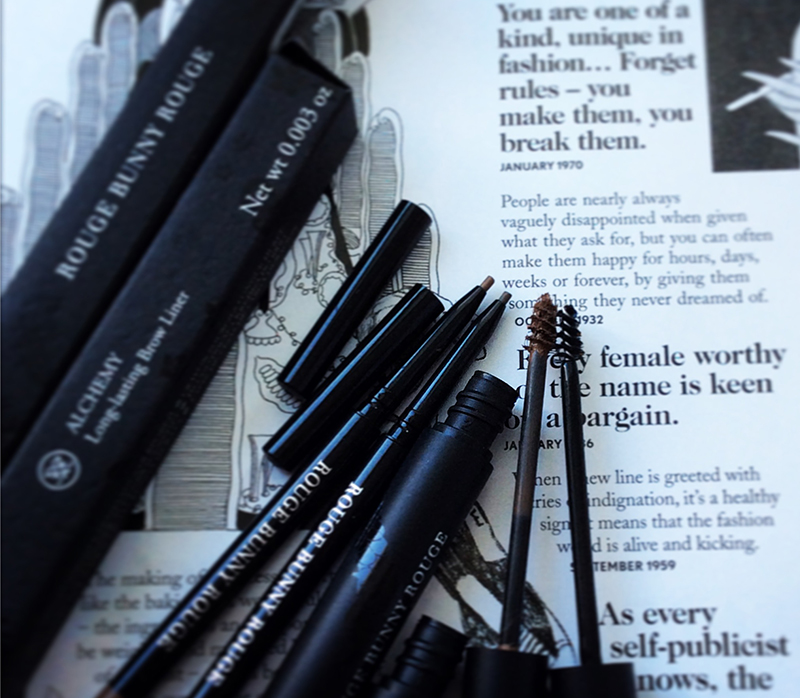 Long-lasting Brow Liner ALCHEMY, €26
Available in two shades:
 ANTIMONY, dark chestnut. Ideal neutral shade for dark brown and black natural brow colour.
TRONA, light hazelnut. Ideal neutral shade for almost any natural brow colour.
It was actually Antimony shades that was in my monthly favourites, and it is brilliant,  it is not  too cool or too warm,  it is also dark enough to add some definition but not too dark, just spot-on.
But it is the formula and the shape of the pencil that I love! As always, the design is exquisite,   this pencil comes in a slick black packaging. And the pencil itself is incredibly thin which allows a very precise application, you can draw in individual hairs and achieve really natural results. This is probably not the on-the-go product but it is
Read More