If you are a regular reader – you probably know how much I love Clarins Instant Light Radiance Boosting Complexion Base, I have mentioned it so many times, and here is a detailed review.
The brand brought out two new shades as a part of their summer collection – 04 Apricot and 05 Golden Bronze, and I was sent one of them for a review. So let's take a look.
Golden Bronze basically warms up the complexion and gives you a subtle healthy golden glow.
And you can pull it off, even if you have light skin, just mix a drop with your foundation, or apply where you'd apply bronzer.
If you are tanned – use it all over the face, and just
Read More
Spring is the start of  the new season, and it is the time when we all want changes. I thought I'd share a little list of things that inspire me these days. Hope you enjoy.
Here is part one, my beauty list:
1. Start Wearing Bright Lipstick!
My friend is wearing Illamasqua Atomic. And myself – Guerlain KissKiss in 325 Rouge Kiss.
I wrote a post about makeup during a hard time here. As, I've already said – it won't make whatever you are going through go away, but it does make a positive impact.  Every little thing helps.
2.  Get That Glow.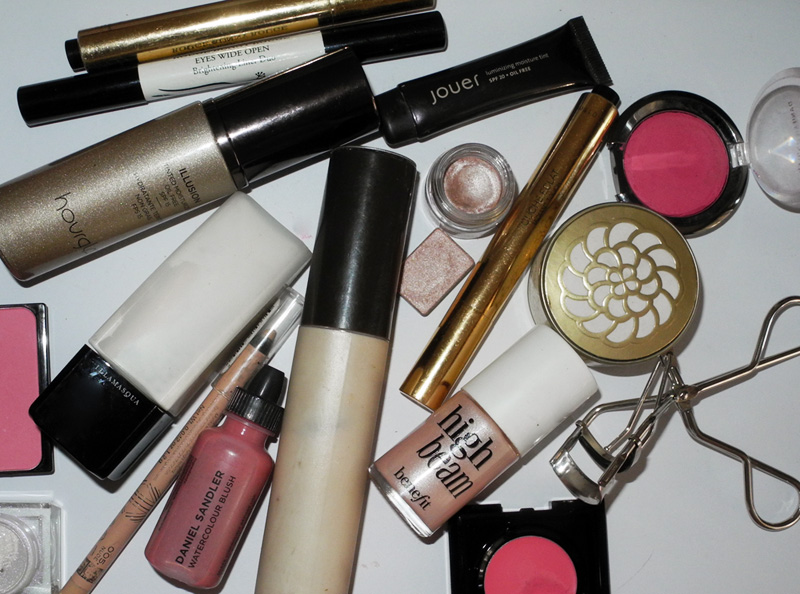 I actually did a very detailed post on how to fake achieve glowing  and radiant complexion with makeup. And you can all read about it here and here.
3. Invest in that "Radiance" Skincare.
Makeup is amazing! But it all starts with good skin. After winter it may look dull, grey and tired, this is why good quality serums and oils are a must-have. Below you can see two great options, and I plan on
Read More
Here is a preview of two latest makeup collections from NARS, their collaboration with Christopher Kane for summer 2015, and their bronze collection – Tahiti.
Christopher Kane's collection includes:
Illuminating Multiples  ($39) in  Violet Atom (sheer illuminating violet) and Quantum (sheer iridescent magenta).
Lip Glosses ($26) in Mezmer (sheer neon watermelon), Nebulous (sheer neon cantaloupe), Nucleus (seashell pink) and Glow Pink (sheer fuchsia).
Shimmer Eyeshadow ($25) in Outer Limits (iridescent rose gold) and Duo Eyeshadow in Parallel Universe (iridescent pink lilac and soft iridescent violet)
Blush ($30) in Starscape (neon pink) and
Read More
I am really loving the look of Stila's summer makeup collection – the new products look amazing.
There are six new shades of Stay All Day Liquid Lipsticks ($22) which are some of the best lipsticks (here is my review) as they are truly long-lasting and intensely pigmented.
Rosa (Bubble Gum Pink), Como (Bright Violet), Bella (Bright Pink), Venezia (Bright Red), Amalfi (Coral Pink)
Aqua Glow Watercolor Blush, $26
These look very cool! They are described as "weightless, water-based blush that create fresh glow to the skin." They come in Water Blossom (Pink Violet), Shimmering Lotus (Goldy Pink), Water Poppy (Red), Rosewater (Pale Pink), Water Lily (Rose
Read More
Last summer BECCA brought out their Souffle blushes, and this summer they are brining out  Beach Tint Lip Shimmer Soufflé (£20/€25).
What is it? It combines  BECCA heroes Beach Tint (my review) and
Read More