Besides  contouring and eye brow products almost every brand is brining out some kind of new lipstick this season. And it makes sense, as it it the easiest way to get into SS, beauty wise. I have already featured so many, but here are two newest offerings from butter LONDON and Clinique.
Shades featured: Passion Pop and Abbey Rose
Clinique Pop Lip Colour + Primer ($17.50 from Sephora)
Lightweight formula with a smoothing primer, gives a  bold beautiful colour and  as Clinique describe it a "modern-velvet finish".  I like how each shade has a corresponding packaging. There are 16 to choose from.
butter LONDON Moisture Matte LIPPY Lipstick ($20 from Nordstrom)
Read More
I have been travelling quite a lot lately just for the weekends And, although you still want to get everything you may need, taking full-sized products is not the best option.
This is why I've kept a lot of mini-sized bottles and sample sized tubes/pots to re-use them. Here is an overview of what I like taking with me for a weekend-away.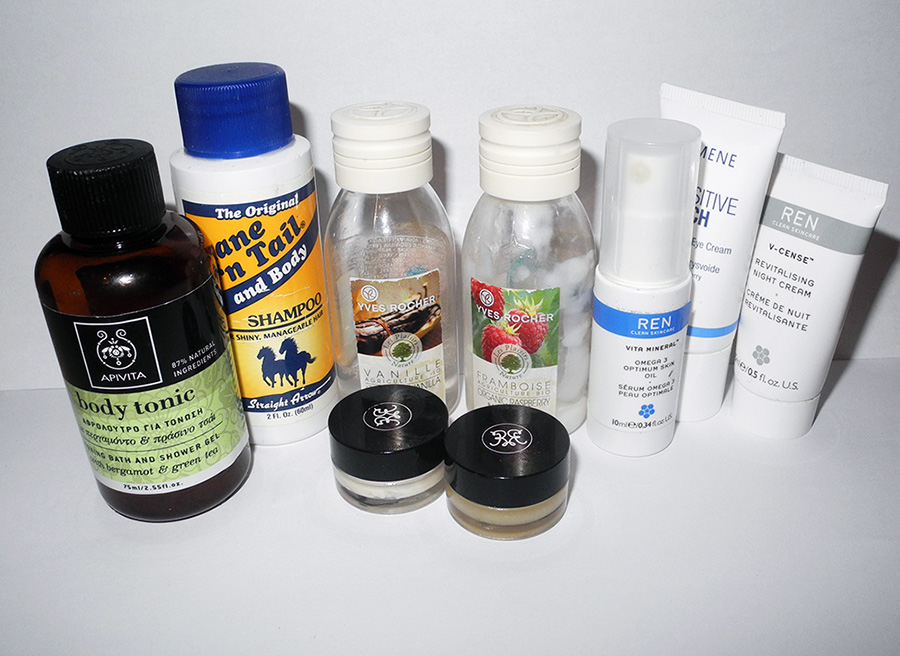 Cleansers:
1. Micellar Water (in Yves Rocher vanilla bottle) – this is Garnier's one to remove my makeup. It is gentle and effective.
2.  A good cleanser, Balance Me Cleanse and Smooth Face Balm  – my favourite one at the moment (in a small pot).
Face Creams:
3. Day cream is REN Evercalm Global Protection Day Cream which is in a small pot, next to the cleanser. I've bought it some time ago, and should definitely review it soon.
4. Eye cream is Lumene SENSITIVE Comforting Eye Cream. It is not bad but not enough for my very dry skin.
5. Of course, I had to take the mini size of  my Holy Grail oil from REN.  I have re-purchased it three times, and if I could have only one skincare product -this would be it.
6. The night cream is also from REN, and it
Read More
I've chosen three new blush launches that look absolutely incredible, and should be amazing.
NARS Dual-Intensity Blush ($45 from Sephora)
I believe these will be a huge hit, especially considering how popular the original NARS blushers are.   Dual-intensity blushes can be used both dry and wet, also can be worn alone or layered together.
Available in: Fervor – shimmering soft pink/ sparkling deep coppery rose, Panic – shimmering shocking fuchsia/ shimmering orange-pink, Jubilation – sparkling yellow gold highlighter/ shimmering soft nude-peach, Adoration – sparkling baby pink/ shimmering hot pink,  Craving – sparkling seashell pink highlighter/ shimmering beachy bronze,  Frenzy – sparkling soft pink-gold highlighter/ shimmering bright tangerine orange
Smashbox L.A. Lights Blendable Lip & Cheek Color ($29 from Nordstrom)
Read More
Did you know that the best aromatherapy brand –  Aromatherapy Associates celebrates their 30th anniversary this year. They brought out a limited edition Rose Body Velvet just for the occasion.
It has a pink and gold design and comes in a minimalistic white packaging.
As for the cream itself, as the name suggests, it is like a velvet that melts into the skin, and leaves it nourished and moisturised. A great one even if you have very dry skin like myself. And it works wonders after the cold months when the skin needs some extra care and love.
Being AA, you can be sure that it contains the highest quality essential oils that not only make the skin softer and smoother but  also smell amazing. And
Read More
I was looking for a new shampoo and L'Oréal Professionnel Mythic Oil range caught my attention.  There are actually two shampoos in the range, and I've chosen the sparkling one just because it was pretty.
And I really, really like it. Everything about it. Starting from a  very convenient pump, and the sparkles to a nice subtle oriental-y scent and the performance, of course.
In the official description the brand promises "lightweight nourishment", and it is exactly what it does. I don't
Read More