All the eye shadows from this new collection look killer, at least on the promos. And I also like how Daria Strokous looks on the promo, those retro chic vibes are all kinds of cool.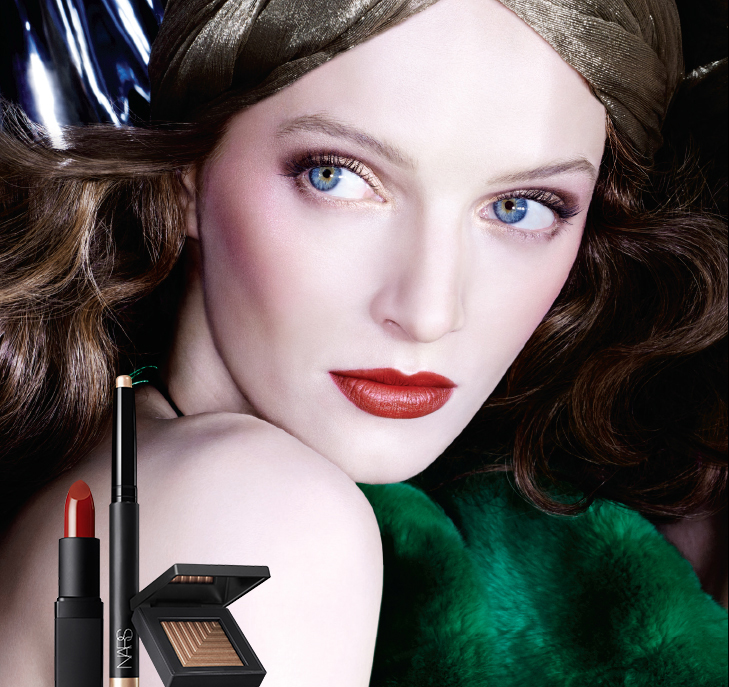 Dual-Intensity Eyeshadows,$29/£21
Pasiphae, Shimmering peacock burgundy
Telesto, Brown with golden shimmer
Blush (LE), $30/£23
Tribulation, Shimmery rosy sand
Lip Gloss, $29/ £19
Read More
Finally, the craziest months work-wise are behind, and I will have more time for important things in life, like beauty (ha!), catching up on the series that I am watching, reading books, and my friends.
Here are the products I have been loving in July. And, although, I have mentioned some of them so many times, there are also some new additions.
Just like last month, I have been using  Rouge Bunny Rouge Flawless Face Powder Precious Velvet (review) non-stop. It is a gorgeous light powder which sets the makeup, perfects the skin and looks really natural on.
Shadows wise, I am sure this won't be a surprise at all to see Solstice Halcyon (review and swatches) yet again because I simply adore that eye shadow, and also  Kiko's Water Eye shadow in 202 which is a gorgeous brownish purple with golden shimmer, this beauty deserves a feature, so stay tuned.
For some reason, lately I haven't been that much into red and berry lips, so it was about rosewood Clarins which I promise to post about soon, as it is a perfect nude, if you ask me, and L'Oreal Glam Shine in Dazzle 201 Sparkle Shower (review and lip swatches) which gives that oh-so-pretty sparkle in the sun and feels amazing on the lips.
Skincare and Body Care
Read More
Guerlain's Autumn 2015 makeup collection, Bloom of Roses, looks more like Spring collection to me with neutral and subtle, rose inspired beauty products. But, maybe it's a good thing to be unlike other brands, colour wise. And is actually my personal favourite along with Chanel.
The brand itself descibes this collection as  the one that brings "lightness and well-being to the season."
The new products are:
 KissKiss Roselips  ( £23) a rich tinted lip balm enriched with rose oil, available in six shades: Chic Pink R372 A powder pink beige,Peach Party R346 A vibrant sunny orange,Wonder Violette R374 A chic violet, Pink Me Up R373 A very fresh pink and, Crazy Bouquet R329 A delicious red and Morning Rose R371 A colourless balm boosted by an active ingredient that interacts with the natural pH levels of the lips to give them a slight tint (shown).
Nailift La Base (£19) which is like a nail perfector.
Rose Aux Joues blush (£33.50) with 'Pink Booster' pigments.  It is a re-designed blush and is available in 1. Morning Rose: a very fresh pink  (shown)/ 2. Chic Pink: a soft brick with fine golden pearl sparkles / 3. Peach Party: a tender coral / 4. Crazy Bouquet: a sunny bright red / 5. Wonder Violette: a powdery plum / 6. Pink Me Up: a punchy pink.
Products that are added to the already existing line are:
Read More
So, here is a preview of yet another Fall 2015 makeup collection, this time from Dior. And there are quite a few really exciting new products, and I am speaking about the cream eye shadows and stick blushes. Let's take a look.
 Addict Fluid Shadow, $32/£25
025 Magnetic, 275 Cosmic, 545 Phenix, 655 Universe, 825 Aurora and  825 Aurora
According to the brand, it's an "ultrafine, lightweight hybrid texture formula that illuminates the eyes with mirror shine and long-wearing colour."
 Diorblush Cheek Stick Velvet Colour Crème Blush, $34/ £24
675 Cosmopolite Coral, 675 Cosmopolite Rosewood and 845 Cosmopolite Pink
Has a delicate powdery finish, ultra-pigmented, powdery and creamy.
Dior Vernis, $27/£ 19
001 Mirror, 701 Metropolis,  785 Cosmopolite, 791 Darling Blue, 982 Black Out
5 Couleurs Cosmopolite Couture Colours & Effects Eyeshadow Palette, $63
766 Exubernate and 866 Eclectic
Rouge Dior Lipstick, $35/£26.50
Read More
Apparently, it's a National Lipstick Day on the 29th July. Please check out the feature I've written for Mode about my 7 lipstick picks.

Check out Must Have Lipsticks for Every Makeup Bag
Read More