How absolutely gorgeous is the look of the new ArtDeco makeup collection for summer 2015? It is called Here Comes The Sun, and it has pretty sun pattern on the products.  And there is a selection of amazing shades to create that sun-kissed complexion: bronze, brows, oranges and corals.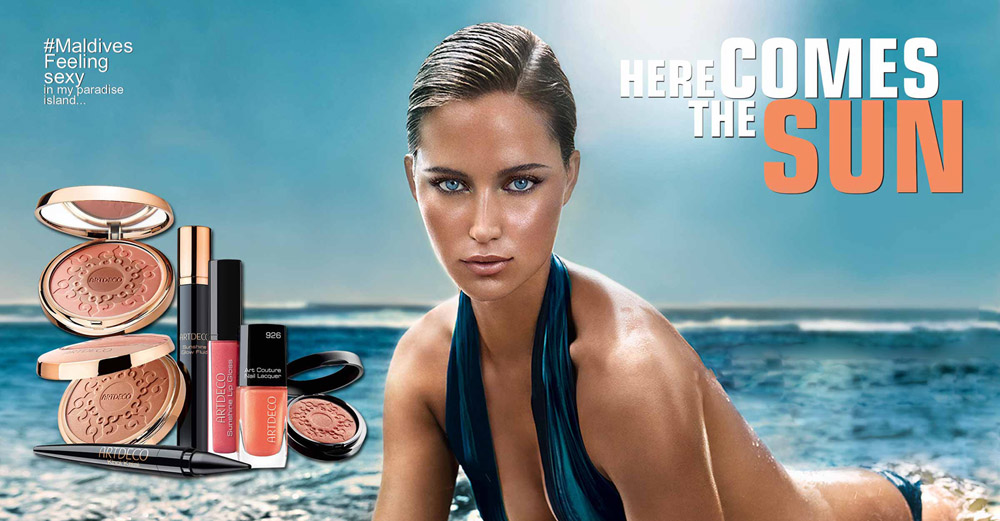 SUNSHINE BLUSH
Three-coloured blusher for a fresh, sun-kissed complexion. Mix the colours together using a blusher brush and apply to the cheeks according to your face shape. You can also use the colours separately to create a particular effect: brown tones for a tanned finish or orange tones for a fresh look.
BRONZING POWDER COMPACT 
Water-repellent bronzing powder with UV factor. Lighter, more transparent bronzing powder with a natural matte finish. Free from lanolin and mineral oil. Fragrance-free. Paraben-free.
02 Beach Walk and 04 beach party
15 Coconut,  21 Sand Beach, 26 Blazing Sun and
Read More
When it comes to more affordable brands Italian Collistar and German ArtDeco are the ones that I love. And I like how this season both teamed up a fashion and a design brand for their collections.
Here is what to expect from them for SS15:
Collistar and Kartell
There is a shimmering body oil, beautiful trio blush,  nail polishes, lip glosses, eye and lip liners and trio eye shadows. I will be checking out the blush and the lightest pink gloss.
And how gorgeous is Margareth Made?
ArtDeco and  Emilio de la Morena
Read More
If you follow me on Instagram or read my About section – you have probably noticed that black and red are my favourite colours. I can never have too many black clothes or too many red lipsticks and nail polishes.
I have written about that so many times, but today I want to share my latest red lip combo obsession which I have discovered "by accident " and have been wearing for weeks now. It is the red  that I have been rocking all holidays. I even included a photo…
So what are the products?
ArtDeco Soft Lip Liner Waterproof in #8 (review and swatches) (It is available for £8.40 from Beauty Bay.)
I have shared my love for this so many times… I like how long lasting and matte it looks, and the deep cool toned red. But I just wanted something brighter and warmer. So I have decided to put Stila Stay All Day Liquid Lipstick in Tesoro (review and swatches;  £15/$22. You can buy Stila from Sephora and Beauty Bay. Sephora) on top. On its own Stila is too warm and orange for my complexion. But together it was a dream-came-true combination.A classic matte, vibrant, full-on red! Show stopper, if you want.  It also
Read More
Can you believe that it's the last month of Autumn? And the holidays are just around the corner? Speaking of holidays, I still need to book everything. How very last minute, I know.
And today let's take a look at the beauty products that I have been loving in November.
Makeup
This month it was very similar base-wise for me, as in October.
I have been using BECCA's Shimmering Skin Perfector almost every day, since the lack of sleep and non-stop lifestyle do impact the way my skin looks. To fake a healthy glowing complexion, this is my personal must have.
On top I have been loving Awesome Aqua Radiance CC Cream or Daniel Sandler's Invisible Radiance Foundation and Concealer. DS's foundation is one of my all time favourites, it definitely is radiant and glowing. Yes, there is a theme here, my dry and dehydrated skin needs some glow and radiance…
It's the second month that I have been neglecting blushers almost completely. And my favourite cheeks product is still
Read More
It was quite a long time since I did my Current Top 5 Affordable Makeup Products, back in March to be precise. So, I think, it's time for an updated version.
L'Oréal Paris Color Riche Extraordinaire in 100 Mezzo Pink (review and lip swatches)
I am sure that it's not a surprise that I've included this  lip product, it is now my handbag staple, gorgeous baby pink everyday colour, beautiful moisturizing and long-lasting formula. Nice applicator and delicious scent. I highly recommend.
ArtDeco Soft Lip Liner Waterproof (Red 08 and Pink 80) £8.40 from Beauty Bay.
Ok, I know this is cheating because I have two shades but I love them both equally. Dark red 08 and dusky rose 80, they glide-on like a dream, despite the matte long -lasting formula. Can be used on their own all over the lips, or to cheat a fuller lip, with  lipstick or gloss on top.
 Inglot Eye Shadows AMC Shine 37 (review and swatches)
Read More