When it comes to more affordable brands, ArtDeco is one of my favourites, and I always try to check out their new releases when I am near their counter. Here is a preview of the summer 2014 makeup collection – Jungle Fever.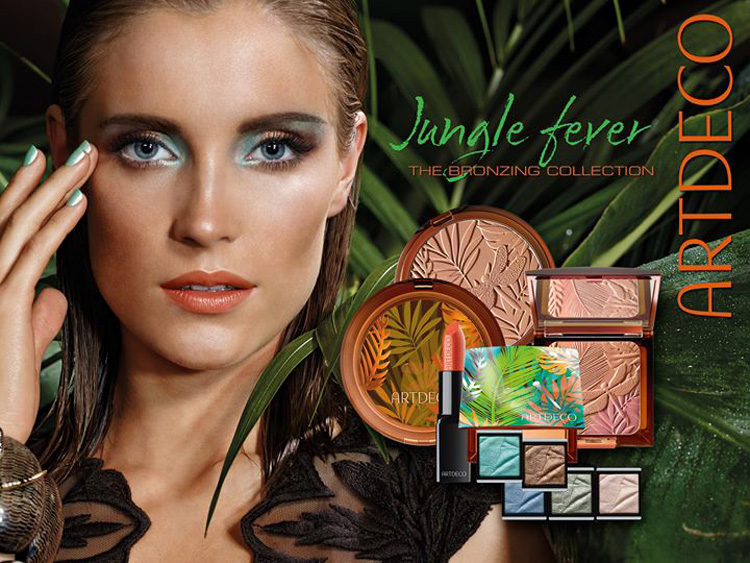 If you are familiar with the brand, you know that with each collection they bring out a new design of their beauty boxes, and here is how the pattern looks like this time.
Below you can see a trio beauty box and Bronzing Glow Blusher  Queen Of The Jungle. You actually get three shimmering shades in one compact: coral, soft fuchsia and rosewood. You can use them individually or  mix together.
There are eight new Art Couture Eye Shadow to choose from: 27 sugar pearl, 12 earthy-brown, 20 golden earth 83 sweet violet;  49 gold green, 32 green jungle 61 jungle river and 73 blue stream.
ArtDeco say that the texture combines the best features of a powder, baked, cream and liquid eye shadow. "The delicate texture becomes a
Read More
Here is a preview of the newest ArtDeco makeup collection – Love Is In The Air, very fresh, spring like and beautiful with all the green and violet tones.
Let's take a look!
The products are:
Lips
 Art Couture Lipstick Velvet: 667 Velvet Natural Beauty, 671 Velvet First Kiss
Perfect Color Lipstick: 57A Deep Love, 96 Happy Kiss
Lip Brilliance: 08 Brilliant Lip and 59 Brilliant Kiss
Soft Lip Liner Waterproof:  73 Deep Love
Nails
Ceramic Nail Lacquer: 233 Emerald Mirror, 246 Dark Violet,  247 My
Read More
I plan on writing a post about my  favourite beauty products of 2013 in New Year, but thought that I would still write about my December 2013 favourites, since there are several very nice products I'd like to share about.
Hourglass Arch Brow Sculpting Pencil in Soft Brunette  (review)
This has been a favourite every single month ever since I've got it.  It is perfect, I only wish the shade was a bit cooler, but that is fine.
Rouge Bunny Rouge Raven Glaze Lacquer Liner  (review)
It seems like I have been using this eye liner almost every day.  It is super easy to use and leaves a beautiful glossy black line.
ArtDeco Cream Rouge For Cheeks and Lips in 17 Creamy Mauve (review)  and Tarte Amazonian Clay Blush in Blushing Bride (review).
I like this blush combo so much that I even dedicated a post to it!  You can get a natural sheer wash of colour with ArtDeco, and add dimension and intensity with tatre. Plus such layering means long-staying power.
Bobbi Brown High Shimmer Lip Gloss  in Oyster (review)
I've decided to re-discover some old favourites, and this is one of them. I love shimmery cool toned glosses from time to time, and this gloss from Bobbi Brown is uber gougers on the lips, especially paired with
Read More
Read More
Here is a preview of the newest ArtDeco makeup collection, which was  inspired by the 20′s, and is called Vintage Glam.
All the products come in a beautiful silver packaging which looks pretty high-end.
You can choose from duo chrome nail polishes, gorgeous lipsticks, strass lip glosses, shimmer creams, glam eye liners, false
Read More