Can you believe that it's the last month of Autumn? And the holidays are just around the corner? Speaking of holidays, I still need to book everything. How very last minute, I know.
And today let's take a look at the beauty products that I have been loving in November.
Makeup
This month it was very similar base-wise for me, as in October.
I have been using BECCA's Shimmering Skin Perfector almost every day, since the lack of sleep and non-stop lifestyle do impact the way my skin looks. To fake a healthy glowing complexion, this is my personal must have.
On top I have been loving Awesome Aqua Radiance CC Cream or Daniel Sandler's Invisible Radiance Foundation and Concealer. DS's foundation is one of my all time favourites, it definitely is radiant and glowing. Yes, there is a theme here, my dry and dehydrated skin needs some glow and radiance…
It's the second month that I have been neglecting blushers almost completely. And my favourite cheeks product is still
Read More
It was quite a long time since I did my Current Top 5 Affordable Makeup Products, back in March to be precise. So, I think, it's time for an updated version.
L'Oréal Paris Color Riche Extraordinaire in 100 Mezzo Pink (review and lip swatches)
I am sure that it's not a surprise that I've included this  lip product, it is now my handbag staple, gorgeous baby pink everyday colour, beautiful moisturizing and long-lasting formula. Nice applicator and delicious scent. I highly recommend.
ArtDeco Soft Lip Liner Waterproof (Red 08 and Pink 80) £8.40 from Beauty Bay.
Ok, I know this is cheating because I have two shades but I love them both equally. Dark red 08 and dusky rose 80, they glide-on like a dream, despite the matte long -lasting formula. Can be used on their own all over the lips, or to cheat a fuller lip, with  lipstick or gloss on top.
 Inglot Eye Shadows AMC Shine 37 (review and swatches)
Read More
I am really in love with this latest collection from ArtDeco, so sultry and hot!
Very beautiful autumnal shades that every girl needs in her makeup bag. I like everything, but those lips and nails products are  a stand out for me. If you are looking for a great red/vampy shade – I'd totally recommend ArtDeco. Amazing German quality that won't cost a fortune.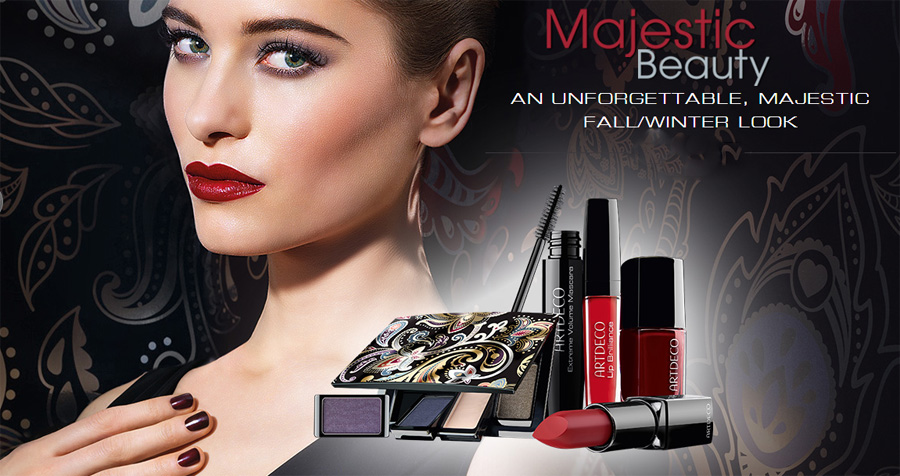 Let's take a look:
Lips
Art Couture Lipstick
204 cream crimson queen
660 velvet graceful rose
Lip Brilliance
04 brilliant crimson queen
57 brilliant purple monarch
Perfect Color Lipstick
29 black cherry queen
39 generous beige
Mineral Lip Styler
48 mineral black cherry queen
Cheeks
Read More
I am loving the look of this new ArtDeco makeup colletion inspired by Miami and summer weather.
You get lip glosses and eye shadows in a stick form, waterproof mascara, long-lasting  eye liners and juicy shades of nail polishes. Everything you need for a warm-weather makeup bag…
And how pretty is the promo image?
The products are:
Glossy Lip Color: 12 Glossy Orange, 16 Glossy Pink Grapefruit, 20 Glossy Strawberry (love the look of it!), 26 Glossy Exotic, 32 Glossy Havana and
Read More
I don't watch that many YouTube beauty videos, but there is one that I really liked, and that was Lip Products Addict Tag.  I thought I'd do my own version in form of a post. So here we go…
My favourite lip treatment, sadly, has been discontinued, so the one that you can buy now has to be NUXE's Reve de Miel. I am not very original here, but this thing is da bomb! It does everything you'd want a lip balm to do,  nourishes and moisturizes the lips; it's a perfect overnight balm.
You can get if for  around £10  from Feel Unique and  Look Fantastic 
Best Eye Catching Red 
I do love a good red and have a lot in my rotation, but I've noticed that I get the most compliments whenever I wear Daniel Sandler's Red Carpet Red. The name speaks for itself, no?  It's a gorgeous and flattering red, I highly recommend.
You can buy it from Feel Unique for £13.25.
Best Luxury and Best Drugstore Lipstick
My  most-used luxury lipstick has to be Dior Addict, so I'll include this
Read More