It doesn't really matter if you celebrate  Valentine's Day or not, any reason to get a lill' treat for yourself or someone else would work, right?
So here are just a few ideas of what you could get! By the way, I plan to make my own beauty wish list this weekend, so will definitely share next week.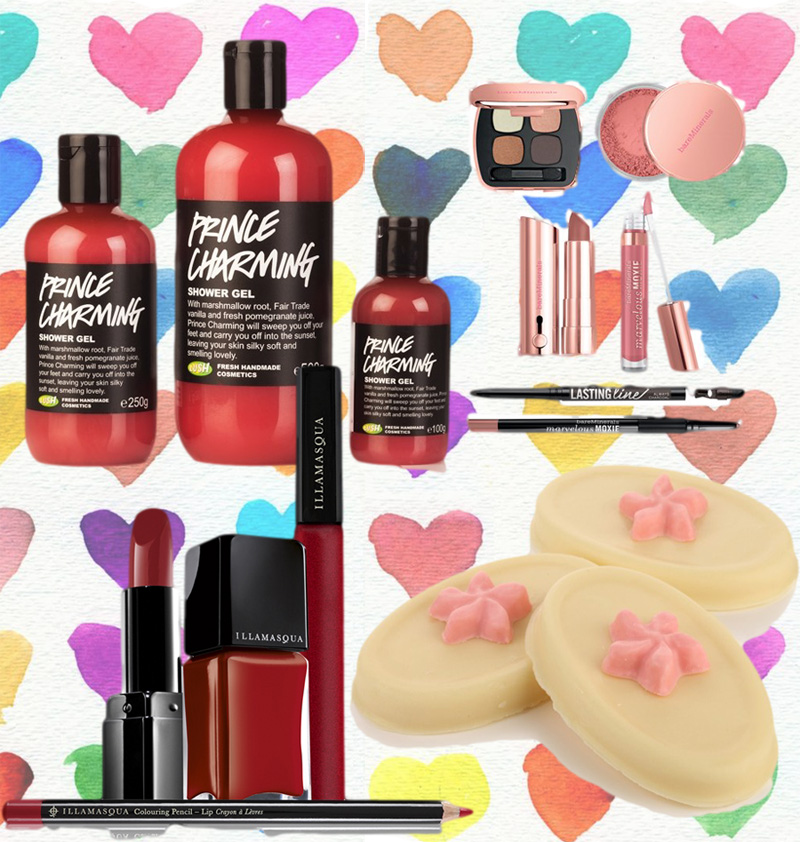 Illamasqua brought out a set with wicked reds called I am the One which retails for £50 and includes four products: two of them are new actually – Intense Lip Gloss in Touch, Lip Colouring in Feisty,  and two best-sellers  – Nail Varnish in  Throb and Lipstick in Maneater.
I personally love myself some Lush for VDay, in fact,
Read More
So… the official Pantone colour for SS14 is Radiant Orchid. And you can actually see  cool toned pink/lavender/orchid beauty products in  several Spring 2014 makeup collections.
I am personally a big fan of  sheer lip products of such shades, and wouldn't mind something for nails and eyes, too.
Luckily Sephora has a huge selection of the makeup in this trendy  shade, and I have chosen five that I personally wouldn't mind having in my own makeup bag:
Givenchy Gelée D'Interdit Smoothing Gloss
Read More
If you are not a huge fan of the sheer textures in lipsticks you are gonna love these new products by ArtDeco and Bare Minerals.
Both products are promised to be vibrant and smooth with a glossy and opaque coverage and a long-lasting effect.
I haven't tried them myself yet but I am really looking forward to as these look and sound amazing. And after seeing swatches I want pretty much all the shades of these gorgeous lip laquers.
Bare Minerals Pretty Amazing
Courage, Warm Strawberry
Fearless, Rosy mauve
Bravado, Brick rose
Strength, Red
Free Will, Pink Nude
Ambition, Fuchsia
Moxie, Bright petal pink
Charisma, Coral Pink
ArtDeco
Read More
This week I was browsing some US websites as I've ordered some things for myself  ( my friend kindly agreed to help) and I came across some interesting sets which I personally think are worth the attention.
So if you are from the US, you may find this interesting. I could have included so many sets but I've limited them to four only.
All the sets are relatively new and I would personally  get all of them for myself.
Buxom Fashion Show…& Tell™ , $29
A collection of seven ready-to-wear Big & Healthy Lip Polishes.
This set contains:
0.05 oz x 7 Mini Big & Healthy Lip Polish in
Sugar (rose glow),
Katie (princess pink),
Mia (fuchsia shimmer),
Alison (vibrant pink shimmer),
Sasha (champagne shimmer),
Linda (sheer plum wine),
Kesha (sheer pink rose)
My opinion: I think it's an amazing value for 7 glosses and a great chance to get a lot of shades for less than $30.
Too Faced Beauty In A Box: Endless Summer ($120 Value),$45
A limited-edition kit featuring a handpicked collection of our favorites from Too Faced, plus a how-to guide.
This set contains:
0.11 oz Shadow Insurance
0.17 oz Eye Shadow Quad in Lovey Dovey (sable brown with gold micro-glitter), Honey Pot (warm gold shimmer), Heaven (matte ivory) and Neptune (turquoise shimmer)
0.33 oz Sun Bunny Bronzer (satin suntan/ rich satin bronze)
0.12 oz Glamour Gloss in Plush (candied coral)
0.4 oz Lashgasm Mascara in Black
1 oz Tanning Bed In A Tube
My opinion: I think it's a wonderful set for summer, pretty much everything you need and an amazing value.
The first two sets are from Sephora and the next two are
Read More
Before the holidays I won this amazing set from the Bare Escentuals  via their twitter.
It is called Sweet Sparklers and includes:
Mini 100% Natural Lipcolor in Sherbet (baby pink)
Mini 100% Natural Lipcolor in Rose Crepe (blush rose)
Mini 100% Natural Lipgloss in Pink Prosecco (blushing effervescence)
Mini 100% Natural Lipgloss in Kir Royale (twinkling sheer plum)
First of all I have to say that it looks so cute and pretty, absolutely love it!
I haven't tried the lipsticks yet so I can't tell you my opinion about them yet but the colours look so lovely that I am almost sure that I am going to love them both.
As for the glosses – I
Read More