Do you remember my post about the pink makeup products for Spring? Pink is always the hottest shade for the new season, I personally believe that  rose-tinted cheeks instantly changes everything! You look fresher, and even younger, in a way.
This is why I've decided to show you five different variants that you may like…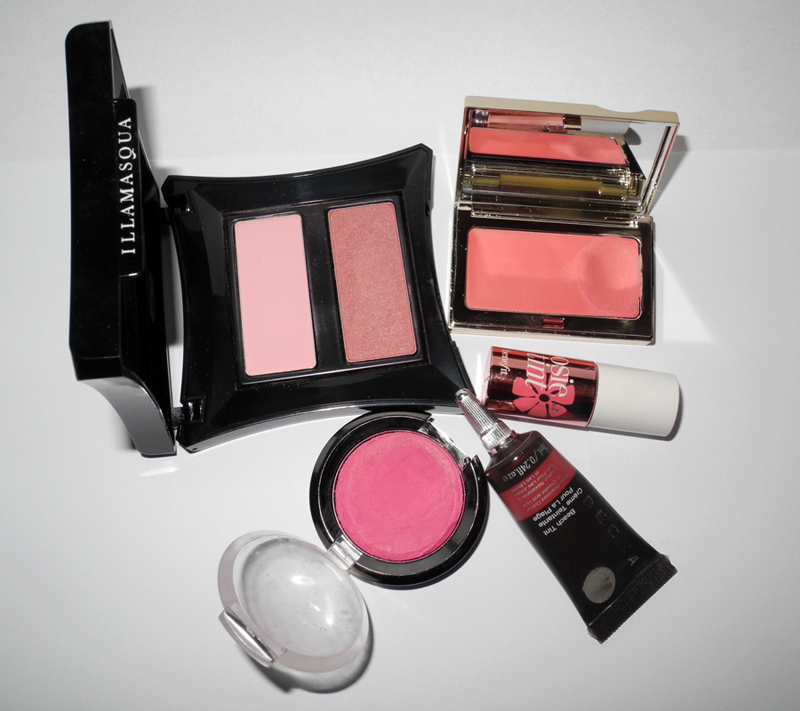 Clarins Clarins Multi-Blush Cream Blush 02 Candy (review and swatches)
This is a good option for those that are afraid of pigmented  and "greasy" blushes, you can get a very sheer coverage with Multi-Blush, plus  the texture is more cream-to-powder, so should work for all skin types. This  is the most natural shade out of five.
Daniel Sandler Watercolour Creme -Rouge Blusher in Hot Pink (review and swatches)
Hot Pink is probably my personal favourite from the bunch. It may
Read More
I have already posted about so many new blush launches, but BECCA's Beach Tint Shimmer Soufflé  is probably the most exciting!
Remember my post in January and how I was worried about the new release? Well, the new blushers look even better than I  could imagine.
Beach Tint Shimmer Soufflé (£22.00) combines BECCA Beach Tint and Shimmering Skin Perfector! It doesn't get better than this!
BECCA promise
Read More
I love pink lipsticks, I really do. And I have quite a few, so I've decided to pick up five that I am loving at the moment to share with you!
Rimmel Colour Show Off Lipstick in Pink Gossip (full review and swatches)
I adore this lipstick line from Rimmel (and not only this one, I think they make the best affordable lipsticks).  It has a nice texture, beautiful flattering warm toned pink shade and a matte finish, which I personally don't find to be drying. In fact, I've used up half of this lipstick, if not more, and that says a lot. I only wish they had a different packaging but, I guess, most girls love pink…
Illamasqua Lipstick in Immodest (review and lip swatches)
Illamasqua do know how to make a lipstick that catches attention,  this bright, pigmented, matte pink will brighten up any makeup look.  Just make sure
Read More
How beautiful is this BECCA Ultimate Creme Eyeliner in Belle Epoque? It is a gorgeous shimmering plum which comes in a cute signature BECCA packaging.
The formula is amazing, it is very creamy and applies smoothly, you can get a subtle line or build up the intensity, plus it's very easy to use it on a waterline. I'd say it is pretty foolproof! Even if you mess up a bit, this shade is more forgiving than matte black, so may be a nice one to start with if you a beginner when it comes to gel/cream eye liners.
Moreover,  it can be used as a
Read More
Finally I am writing about my 2013 favouries. You can read about my 2012 makeup favourites here.
But there are quite a few products that I want to mention, so I've decided to divide it into several posts, not to make it too long.
So the first part is about  makeup products for the face. And I did not want to include a product in each category, but wanted to mention the products that stood out to me.
The last thing that I have to mention  -  I have dry sensitive skin, and the age group is 25-30.
Clarins BB Skin Perfecting Cream SPF 25 (review)
This was the BB cream of the year for me. The base that I wore almost all the summer, it was a great match for my tanned skin. It feels light on the skin and gives a medium coverage, plus smells really nice.
Hourglass Illusion Tinted Moisturizer (review)
At first I wasn't a huge fan of this product, but now I use it whenever  my skin needs some glow and luminosity, and there is no need for the highlighter.  It gives a very good coverage for a TM, I personally  don't even need a concealer.
BECCA Luminous Skin Colour Ultra-Sheer Foundation SPF 25+ (review)
This is a discovery of the year. This foundation gives a very light coverage and has an almost fluid texture, so suitable for the days when your skin looks nice but you want to even out the complexion.
Rouge Bunny Rouge Tinted Moisturiser Sketches on Water (review)
If I could keep only one "base" – this would be it. It's my
Read More