Today I opted for a very simple and minimal makeup, both in terms of colours and the quantity of products.  Today it's all about work and I am not going out anywhere afterwards, so  I was not in the mood for any experiments, and , quite frankly, did not have time.
Face
I've used Rouge Bunny Rouge Home Time Defying Foundation Skin Sanctuary which I promise to review soon. I totally forgot that I had the samples of it, the post is already in the process. I then added some Benefit's Dandelion  to brighten up the complexion  and BECCA's Beach Tint in Raspberry as a pop of colour on the cheeks and on top of the lip balm.
 Eyes
I have used Benefit's powder eye shadows in Leggy and Dandy Brandy which are very soft and smooth, and blend beautifully. Lighter shade all over the lead and darker shade for definition. I have also lined the eyes with a black (and not brown, shocker!)  Clarins Crayon Khol, smudged it
Read More
Right, so where do I start?
First, of all, I really love the YSL's Manifesto campaign with Jessica Chastain, how gorgeous is she? She never looks bad, in my opinion, anyway.
As for the scent itself,  it is actually really nice, the notes are: bergamot, black currant, Sambac jasmine, lily of the valley, cedar, sandalwood, vanilla and tonka bean, I find that it smells feminine and sexy.
Speaking of YSL, I have been using their Forever Youth Liberator night cream for some time now and will tell you my thoughts about it soon.
There is definitely a purple theme going on
Read More
Before I start, I have to say that it was very hard to narrow my list  of favourite makeup products of 2012 but I've tried my best.
Let's take a look at what I've chosen…
Face
Benefit Erase Paste
I don't really use concealer on a daily basis, unless I have a new, really bad spot,  I just use Touche Eclat under my eyes and that's all. But if I had to choose my favourite "concealer" type of product – that would be this one. It is a creamy peach corrector which works great for the  dark under eyes circles. I had a review of it but because of some tech problems, it was deleted, need to re-write it soon.
Omorovicza Complexion Perfector BB SPF 20 
One of my favourite face products you can read the details why here. If you can afford it, I would definitely recommend.
Rouge Bunny Rouge Tinted Moisturiser Sketches on Water
This gives a very natural finish and light coverage and you can't see it on the face, at all! Miracle for dry skin in cold weather, as it doesn't enhance any dry patches.  See all the shade available here.
Daniel Sandler Invisible Radiance Foundation and Concealer
It is a very nice foundation that gives a dewy finish so works great for my dry skin. The shade Porcelain is a great fit for fair skin and works for me in AW, in SS, I use the second lightest shade – Beige. Plus it comes with concealer which is a great deal for the price. Want to know more?
BECCA Shimmering Skin Perfector in Pearl
This product probably doesn't even need an introduction. It's the best highlighter out there, it gives a  very natural and beautiful effect.
Cheeks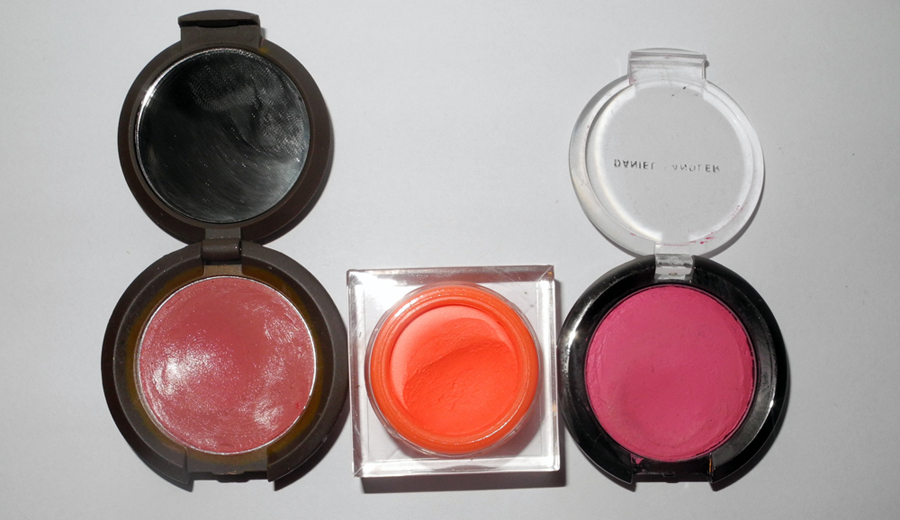 Wow, I was able to choose only three blushers, although I was very tempted to add more of them.
BECCA Cream Blush in Amaryllis 
My favourite blush for AW months, perfect cool toned and natural looking, gives a nice
Read More
I want to show you a preview of the new collection of one of my favourite brands – BECCA Cosmetics.
Their newest collection is called Dethroned and it was inspired by the bold look of regal elegance. There are four brand new ranges of products in this collection, which I am personally very excited about.
I really love the lip colour and the nail polish (Camelot) the model is wearing.
Remember Rebecca with the swatches of lipsticks on her hand?  Here they are finally!
Ultimate Matte Lip Colour
High-impact lipstick imparts rich, intense colour with a creamy, ultra-matte finish. Hydrating formula glides on comfortably and stays in place.
Adele, raspberry, Amelia, poppy pink, Antoinette, merlot, Aurora, coral red, Claudine, nude, Eloise, ballerina pink, Isolde, nude mauve and Josephine, crimson
 Ultimate Crème Eyeliners
Colour-rich and long-wearing, this versatile formula lays down with the precision of a liquid liner and the ease of a cream. Brush on smooth, dramatic strokes, smudge for a smokey kajal effect or glide over lids as intense shadow.
Romanesque, matte black, Renaissance, matte brown, Belle Epoque, shimmering plum and
Read More
I used to write about my monthly favourites back in 2009, I think, but somehow stopped doing that. So I thought why not giving it another go in 2013?
So here is the list of my January 2013 Favourites and this time I've chosen only makeup, not to make a huge list. But next time I will probably add some of my beauty favourites, too. What do you think?
So here we go…
Lips
If I could choose only one favourite product of January – that would be Clarins Gloss Prodige in 09 Water Lily which is now my favourite lip gloss!  It is  hydrating, smoothing and looks  beautiful on the lips. And it smells delicious, too.
Face
Another product from Clarins would be their Beauty Flash Balm which is a must have for me in winter months, it makes my face look polished and brings back the glow. I also like how the foundation applies afterwards.
Speaking of foundation –  my top pick would be Rouge Bunny Rouge Tinted Moisturizer Sketches on Water. If you have dry skin, I would totally recommend, it blends into the skin and
Read More