Last summer BECCA brought out their Souffle blushes, and this summer they are brining out  Beach Tint Lip Shimmer Soufflé (£20/€25).
What is it? It combines  BECCA heroes Beach Tint (my review) and
Read More
I've chosen three new blush launches that look absolutely incredible, and should be amazing.
NARS Dual-Intensity Blush ($45 from Sephora)
I believe these will be a huge hit, especially considering how popular the original NARS blushers are.   Dual-intensity blushes can be used both dry and wet, also can be worn alone or layered together.
Available in: Fervor – shimmering soft pink/ sparkling deep coppery rose, Panic – shimmering shocking fuchsia/ shimmering orange-pink, Jubilation – sparkling yellow gold highlighter/ shimmering soft nude-peach, Adoration – sparkling baby pink/ shimmering hot pink,  Craving – sparkling seashell pink highlighter/ shimmering beachy bronze,  Frenzy – sparkling soft pink-gold highlighter/ shimmering bright tangerine orange
Smashbox L.A. Lights Blendable Lip & Cheek Color ($29 from Nordstrom)
Read More
BECCA brand is famous for their brilliant products for perfecting the skin, in fact that is brand's main philosophy (read my interview with the founder here). This is why when new corrector and concealers  are being released – they just have to be great.
And, as I've said about a million times, how gorgeous are the promo photos?
Here are the details about both products:
Under Eye Brightening Corrector ($29 from Sephora and £19 from SpaceNK)
"This first of its kind, full-coverage crème corrector completely eradicates under eye darkness by brightening and evening skin tone. Infused with ultra-fine light-reflecting illuminators, this rich, luminescent crème won't settle into fine lines or wrinkles and preps skin for smooth, even concealer coverage. Pairs perfectly with the Ultimate Coverage Concealing Crème to conceal, correct and brighten the under eye area."
Ultimate Coverage Concealing Crème ($32 from Sephora and £24 from Space NK)
Read More
Contouring is still a big thing, and we  will be seeing a lot of  new products coming our way in the  next season. Like this new palette from Laura Mercier or sculpting Chubby Sticks from Clinique.
But I am personally definitely am excited about the two new products from BECCA:
BECCA Lowlight/Highlight Perfecting Palette, ($42 from Sephora)
BECCA's cream products are brilliant, so I have high hopes for this lill' kit with:
Read More
It is the time when I  am telling you about my favourite products of the year. I did not pick a product in each category just for the sake of having one, but rather only those that really stood out for me.
The first part will be about makeup. Here we go…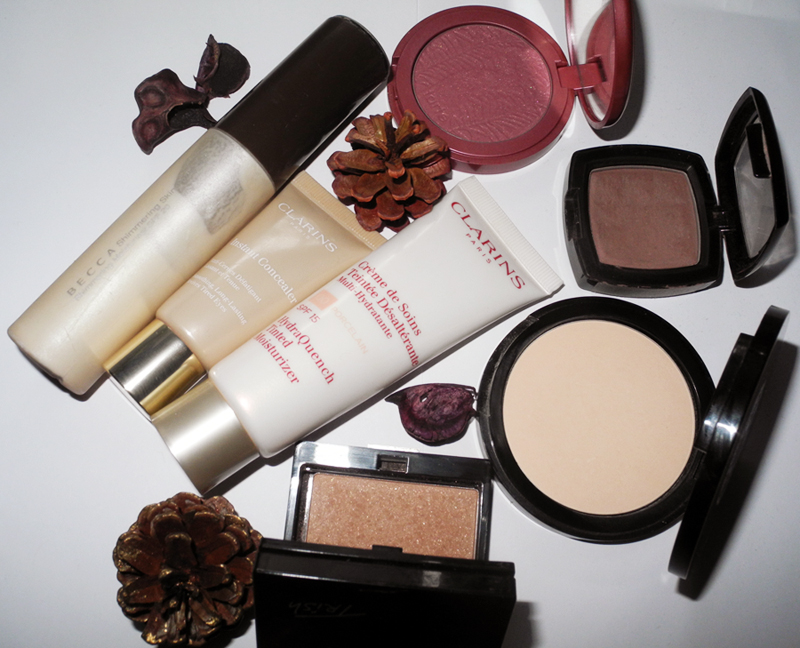 Face
Base:Clarins HydraQuench Tinted Moisturizer (review)
Although there were quite a few "foundations" I loved, this  tinted moisturizer was the base of 2014. It gives a natural and glowing light-t0-medium coverage, and leaves the skin looking beautiful.  HydraQuench is one of my favourite skincare ranges, and this TM is just as good, as everything else, works perfectly for my very dry, dehydrated and sensitive skin. I am very pleased that it never accentuated any dry patches I sometimes have.
Concealer: Clarins Instant Concealer (review)
Definitely the best concealer out there, covers the dark circles and brightens the under eye area, doesn't get in the fine lines, stays on really well.
Powder: Rouge Bunny Rouge  Flawless Face Powder Precious Velvet (review)
I have to say that
Read More