Remember my post about the BECCA Beach Tint Shimmer Souffles?
Great news, the brand brought out one more new product – Shadow & Light Contour Perfector!
This is an oil free, lightweight, powder formula that, according to BECCA, melts into the skin.
There are two shades in this product:
Deep, matte Shadow Bronze uses black undertones that add warmth and dimension to the face
White-gold infused Light Bronze creates light and lift with a subtle touch of shimmer
Looks
Read More
Summer is the time when we all are enjoying our vacations or just the weekends near the pool or by the ocean. While some women are more than happy to be bare-faced, some still want to enhance their look with the help of the makeup.
But what beauty products are the best for the water and sun involved activities?

Here are some recommendations:
Face
Full on foundation-concealer-powder face is never a good idea on the beach. Instead always apply a sun-protective cream of your choice. Avene Very High Protection Emulsion Very Water Resistant 50+ SPF is a good one.
Eyes
As we know, eye brows frame the face, so never underestimate their importance. To make yours look groomed and polished try using Make Up For Ever's Aqua Brow, the formula is long-lasting and water resistant, so it will stay on for hours without smudging.
According to various surveys, mascara is the most popular makeup item, so a lot of women don't want to be without it even on the beach. But what if your favorite mascara is not available in a waterproof version? Anastasia
Read More
If you follow me on Twitter, you know that I am currently away for the second week. Unfortunately, I am busy from dusk till dawn but I do appreciate the productive working time.
Here is a sneak preview of what I've packed makeup and beauty wise with me. I was very strict with myself, and limited it all to one (no7 Boots)  travel makeup bag.
Here is what makeup I had with me. All products from my current top 5  luxury makeup favourites post, a lot of Rouge Bunny Rouge products, as I plan to write a feature for the brand soon,  three blushes (I ended up using only tarte) and three lip shades, inducing my Tom Ford lipstick.
As for skincare, this is
Read More
When you have a lot of makeup products –  you sometimes forget  that you have a certain item in your collection. This is why I love to look through the things that I have from time to time.
Recently I have re-discovered (& love d using) the following products:
 BECCA Eye Tint in  Pewter (review and swatches)
I don't know why I've stopped using this, it is just SO good! You can apply a very thin and sheer layer, or build up the intensity to a dark and deep shade. The staying power is amazing, on my lids it lasts for the whole day, without primer, without fading or creasing.  I need other shades.
Inglot Lipstick in 401 (review)
Out of all the orange and coral lipsticks (and glosses) that I have – this one suits me the best. I don't like such shades on me that much, but Inglot's 401 lipstick is simply gorgeous, the colour is
Read More
Do you remember my post about the pink makeup products for Spring? Pink is always the hottest shade for the new season, I personally believe that  rose-tinted cheeks instantly changes everything! You look fresher, and even younger, in a way.
This is why I've decided to show you five different variants that you may like…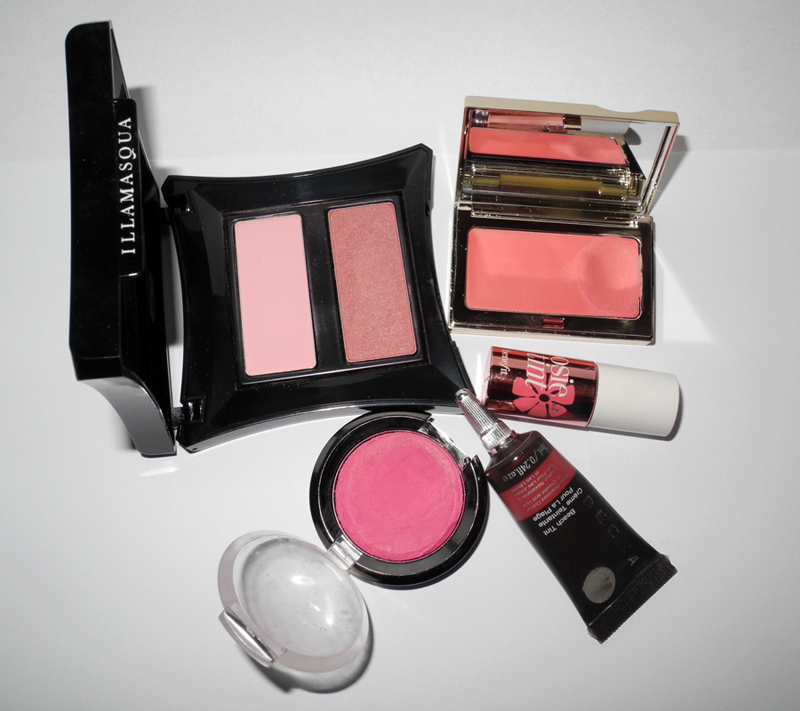 Clarins Clarins Multi-Blush Cream Blush 02 Candy (review and swatches)
This is a good option for those that are afraid of pigmented  and "greasy" blushes, you can get a very sheer coverage with Multi-Blush, plus  the texture is more cream-to-powder, so should work for all skin types. This  is the most natural shade out of five.
Daniel Sandler Watercolour Creme -Rouge Blusher in Hot Pink (review and swatches)
Hot Pink is probably my personal favourite from the bunch. It may
Read More