Today I want  to show you three of my favourite  creamy highlighters…
Please excuse the finger marks on the products,
I swear that I've tried to make them look decent before taking the photo
The first one - BECCA's Shimmering Skin Perfector in Pearl is my personal favourite and the one that I use on myself all the time, it was recommended to me by Lisa Eldridge years ago, and I love it. It adds a beautiful cool-toned  glow to the face, without being shimmery. You can that luxe glow which you can see in top photo shoots. There are several ways you can use it, all the details here.
The second one is Benefit's High Beam, and I have used half of it already actually. While BECCA is more subtle, this one gives more glow and has more defined pink undertones, but I still love and use it a lot.  I like the fact that
Read More
YES! It's about time! I can't even remember how many times  I've wished for a new cool-toned stain from Benefit. And, it happened.
The brand is releasing a new addition to the range – Lolli Tint, which is described as candy-orchid tinted lip & cheek stain.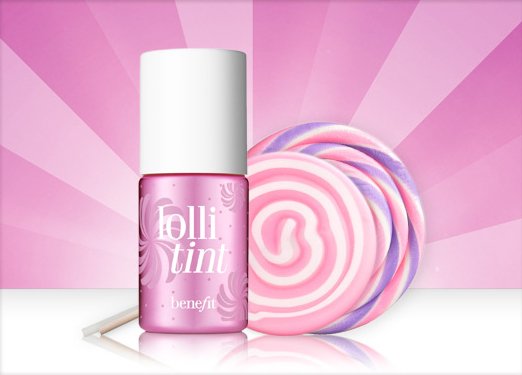 In the
Read More
Another day, another Face Of The Day.
So what makeup is on my face today?
Face
I am wearing Clarins Extra-Comfort Foundation and Instant Concealer which I will definitely review in the future. But so far I really like both. This is a great foundation for dry skin, it gives a dewy finish and feels comfortable and non-drying. As for concealer, it doesn't feel heavy or cakey but, at the same time, gives a nice coverage.
I've added Benefit's High Beam for some glow and ArtDeco's Cream Rouge in Creamy Mauve for a
Read More
Benefit  Cosmetics never fail, when it comes  to Christmas sets. They always have such an excellent gift selection (among the best, in my opinion) for the loved ones or for yourself. I have to admit, I have bought quite a few sets for myself over the years, as it is a great way to get familiar with the brand and save money.
So here is what they released this year! And there are a lot of kits to choose from.
1. It's a Love Fest £39.50/€55
They're Real, Sun Beam medium, the POREfessional, Ultra Plush Lip Gloss mini in CORALista
2 Gimme Some Lovin' £39.50/€55
They're Real, Hoola,  High Beam mini, the POREfessional mini
3. Show Me The Love £39.50/€49
They're Real, Benetint, the POREfessional mini
4. Love Me B. Right! £39.50/€55
 the POREfessional,  It's Potent Eye Cream,  Total Moisture facial Cream mini, Triple
Read More
Today I wanted to keep it very simple in terms of makeup, it's almost like the recent tag –  5 product makeup face.
I have used a very light base – BECCA's Luminous Skin Colour which looks very natural on, as if you are not wearing anything, so it won't cover any major imperfections. But it does even out the skin tone and  makes it [the skin] show through.
Then I added Daniel Sandler's Watercolour Blush in Flush, which is one my my favourites, beautiful perky pink with light, non-greasy texture and long-lasting formula.  It's perfect !
High Beam is one
Read More