Since my post about pink blushers got so many views, I've decided to write one about reddish ones, too. Do let me know, if you'd like me to choose 5 corals/peaches and berries/plums…
So here is what I've picked:
Hourglass Aura Cheek Tint in Flush (review and swatches)
I think that Flush is a perfect name for this sheer water-based blusher, it gives the most natural and beautiful effect.  Cheek Tint is easy to blend, plus it has a nice staying power.
Max Factor Miracle Touch Creamy Blush in 18 Soft Cardinal (review and swatches)
This is probably my personal favourite! It is a gorgeous cream blusher with "wet & glossy" texture, it doesn't enhance any dry patches and looks like a second skin, I use it
Read More
Do you remember my post about the pink makeup products for Spring? Pink is always the hottest shade for the new season, I personally believe that  rose-tinted cheeks instantly changes everything! You look fresher, and even younger, in a way.
This is why I've decided to show you five different variants that you may like…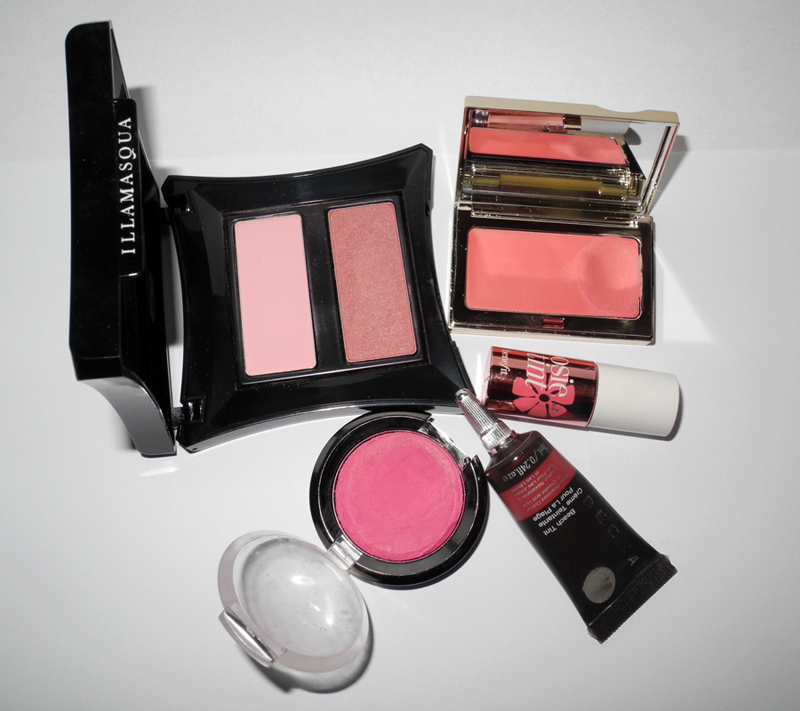 Clarins Clarins Multi-Blush Cream Blush 02 Candy (review and swatches)
This is a good option for those that are afraid of pigmented  and "greasy" blushes, you can get a very sheer coverage with Multi-Blush, plus  the texture is more cream-to-powder, so should work for all skin types. This  is the most natural shade out of five.
Daniel Sandler Watercolour Creme -Rouge Blusher in Hot Pink (review and swatches)
Hot Pink is probably my personal favourite from the bunch. It may
Read More
Here is the makeup that I have been wearing lately:
Peter Thomas Roth CC Cream (which is great, by the way), nice coverage but doesn't feel heavy on.
Tom Ford Bruised Plum lipstick. It is gorgeous, will write about it in all the details soon.
Something light on the eyes , like 
Read More
It's time for February beauty Favourites!
 Omorovicza Queen Of Hungary Mist (review)
My face really loves this hydrating  spray, it smells amazing, look luxurious and is an instant pick-me-up for the skin.
Estelle & Thild Rose Otto Advanced Age Prevent Facial Oil and Rose Otto Advanced Age Prevent Serum
The review  of these Swedish gems is in the process. I have been using  both products religiously this month, and am loving the results.
Makeup
NYX Taupe Blush (review and swatches)
My newest makeup love! I don't know how I ever lived without it.  Have posted a review, comparisons and a photo of how it looks like applied on the skin, so take a look.
Daniel Sandler Invisible Radiance Foundation and Concealer (review and swatches)
Re-discovered my love for
Read More
I have quite a few products on my  beauty wish list, and I am constantly adding new things to my Pinterest board but today I've decided to share the things that are on top of my list. In fact, these are the things that I plan to buy in the near future. I may have even ordered some of them already
By the way, I love looking at my old wish lists and seeing how many products I have already bought.
So here we go:
1 . Marc Jacobs Nail Enamored Hi-Shine Nail Lacquer in Lola ($18). The design is to die for, and the shade looks beautiful!
2. Tom Ford  Lipstick in Bruised Plum, Cherry Lush or Crimson Noir ($49). It's my Birthday soon, so this will be a lill' treat.
3. Charlotte Tilbury Rock'n'Kohl iconic liquid eye pencil in Barbarella Brown (£19). I also want the Colour Chamelion and the mascara.  I want quite a few Charlotte's products.
4. Concoction ShampYou  Bakhour, (£11 + 2 serums). I really love Concoction products, and want to
Read More