I have posted about the new Bobbi Brown's collection only recently. The thing is that the brand brought out a new festive and gorgeous release in glam golden packaging.  And of course with red and gold, along with shimmering products to make you a star during the holiday season!
Lips
Lip Gloss 
Gold Glitter
Scarlet (LE)
 High Shimmer Lip Gloss
Each gloss is $25
Scotch on the Rocks Shimmer Lip Color
Beige Gold Shimmer
Malt Shimmer
Scotch on the Rocks Lip Color
Each lipstick is
Read More
Every year I say that holiday beauty launches are the best. Why?  You can get  value sets from your favourite brands, and save some money; or you can get a kit from a brand that you've always wanted to try, and that will give you an idea about the quality and the performance.
What else? You can buy a set of glosses/liners/nail polishes, leave some shades for yourself, and give others to your girlfriends.
You just can't go wrong! And here is a preview of the Bobbi Brown's beauty offerings for this Christmas.
 Deluxe Lip & Eye Palette ($80). Comes in a  tortoise shell palette and includes different shades of Creamy Lip Colors and Eye Shadows. You also get a mini Eye Shadow and Lip Brush.
 Lip Gloss Trio ($48). Lip Glosses in Pink Sunset and Pink Pop, Midnight Violet High Shimmer Lip Gloss.
Copper Diamond Shimmer Brick ($45), warm golden hue, comes in a tortoise shell case.
 Warm Eye Palette ($48.50). Matte shades in
Read More
Autumn is the season when most exciting beauty launches are happening. We already had a preview of some of the new foundations, I plan to write a feature about the new lip products (and some of them are just awesome), and today let's take a look at the new single eye shadows/ liners.
Dolce & Gabbana Coffee,  Jouer Starlight, Bobbi Brown Midnight Forest and Clinique Rasberry Berret, Peach Pop and Deep Dive
Dolce&Gabbana 'Perfect Mono' Matte Cream Eye Color, $36 from here
Long-lasting formula and matte velvet finish.
Shades: Cocoa, Coffee, Desert,  Elegance, Idaco,  Lava, Nude  and Sage
Jouer Long Wear Creme Mousse Eyeshadow, $30 from here.
Unlike, the D&G ones, these offer a
Read More
There are so many new foundations out this Autumn that I've lost the count. Almost every brand is brining out one. Here are only some…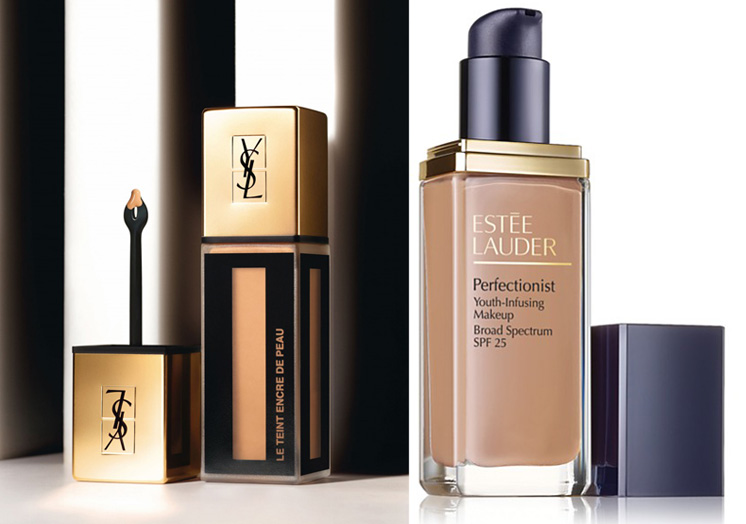 YSL pic from magazine.flaconi.de
YSL Le Teint Encre de Peau -Lloyd Simmonds about it here.
Tom Ford Traceless Perfecting Foundation SPF15
Clarins True Radiance Foundation
Shiseido Sheer & Perfect Compact Foundation
Chanel Vitalumière Loose Powder Foundation SPF15
Sisley Phyto Teint Expert Foundation
Marc Jacobs Smart Wand Tinted Face Stick, $42 from Sephora.
Max Factor Skin Luminizer  Foundation
Laura Mercier Smooth Finish Flawless Fluide from Sephora for $48.
Estee Lauder Perfectionist Youth-Infusion Makeup SPF 25, already available here and here.
There is
Read More
Bobbi Brown released a Raw Sugar makeup collection recently, and the brand is actually bringing out one more summery collection – Surf & Sand.
The stars of the collection are definitely the two palettes:
Surf: Cream: a creamy beige. Bikini Bronze Metallic: a warm copper sparkle. Pink Quartz Metallic: a shimmering soft pink. Surf Sparkle: a soft aqua blue. Sunshine Metallic: a golden beige. Sea Foam Sparkle: a soft pastel green. Sunny Gold Metallic: a warm gold shimmer. Oyster Sparkle: a warm silver.
Sand: Pale Cream: a pale warm porcelain. Blazing Star Sparkle: a peach opal. Bikini Bronze Metallic: a warm copper sparkle. Gold Sparkle: a soft pale gold. Sand: a warm porcelain. Frappe: a medium ash beige. Golden Copper Metallic: a golden bronze. Saddle: a dark grey brown.
Each palette retails for
Read More