Bobbi Brown's new collection Greige features a palette of greys and browns for smoky eyes, gorgeous trio liners, and also some new products for face, lips and nails.
Kate Upton is wearing  dark autumnal shade of lipstick in the promo paired with a smoky eye and Greige nail polish.
There is a really cool Greige Eye Palette, $70 which includes  both matte an metallic smoky greys and browns, there are 8 shades.
There are also three shades of Intense Pigment Liners ($36 each) which come in Black Plum, Forest and Midnight.
Nail Polish ($15) in  Greige and Glitter Nail Polish in Smokey Topaz
Rich Lip Color  ($27) in  Crimson, Old Hollywood, Rose
Read More
This month "Beauty Favourites" will be a little bit different, it will be more about the [makeup] products that I have been using on my face.
May was a very busy month for me, and I was always in a rush, so often I had to do my makeup on the go, so I had a makeup bag with the products always ready. The products have been more or less the same throughout the month, so let's take a look: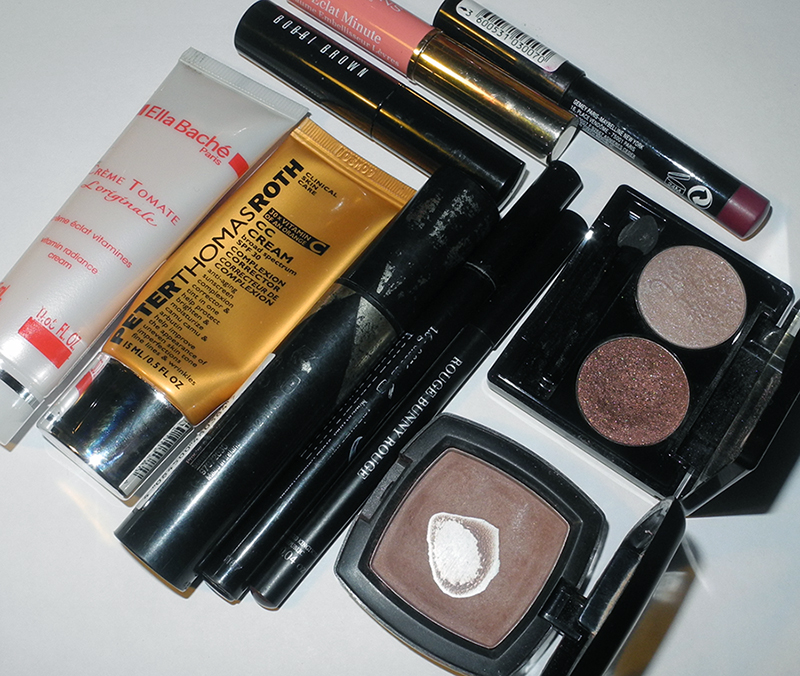 Face
Ella Bache Tomato Vitamin Radiance Cream (as seen on my Instagram)
I've bought it after someone highly recommended it to me, and so far I really love it, it really adds glow and radiance  to your complexion, even if you had less than 5 hours of sleep.
Peter Thomas Roth CC Cream Broad Spectrum SPF 30 Complexion Corrector (review)
This is an excellent product which combines great coverage and SPF factor but still feels light on the skin. One of my favourites for summer, the mini size is also great for carrying around.
NYX Blush in Taupe (review)
The photo speaks for itself. I am
Read More
Here is a preview of Bobbi Brown Telluride Makeup Collection for Summer 2015.  It was inspired by one of Bobbi's favourite destinations – mountains in Colorado, Telluride and the late afternoon sun there.
The shades in this collection are: tawny nude, rose gold, and bronzy pinks. According to Bobbi, this is also a great collection for the Summer/Autumn transitional time.

The products are:
 Telluride Eye Palette, LE (£39.50)
Sunset-inspired palette which includes Dual-Ended Eye Shadow/Eye Liner Brush and  the following shades: Cream Woodrose, Velvet Plum, Metallic Blazing, Star Sparkle, Heather Rose, Shimmer Wash, Antique Rose and Smokey Brown
Pot Rouge for Lips & Cheeks (£19.50)
Read More
Can you believe that it is MAY already? Where did 2015 go?  Maybe that is because I am crazy busy these days that I don't notice anything around me, who knows…
But back to April Beauty Favourites. I did not have that many makeup favourites, and did not want to mention the same products over, and over again – so here are 3 hero products that I have been using every single day when I did my makeup ( I was sick for a week in April which was horrible), and some new  beauty loves…
Photo is from my Instagram
The three makeup heroes I've mentioned are: Rouge Bunny Rouge Raven Glaze Lacquer Liner (review and swatches), Max Factor Glamour Extensions 3-in-1 Volumising Mascara (review),  Bobbi Brown Natural Brow Shaper & Hair Touch Up in Slate (review). I haven't been experimenting with eye makeup that much this month, and these are the products that just work. Eye brow gel to tint my eye brows and keep them in place, ultra black liner for that feline flick and mascara for thick and long lashes.
There are also three products that I've mentioned in my Spring Beauty Guide: Balance Me Radiance Rose Face Oil and Aromatherapy Associates Hydrating Rose Radiance Skin Serum for that
Read More
It's time for March favourites! Can you believe that 1/3 of Spring is already behind?
Let's start with makeup, this month I have a good mix of products price-wise, from affordable Rimmel and Max Factor, to a high-end Rouge Bunny Rouge and uber luxurious Omorovicza.
Makeup
Bobbi Brown Natural Brow Shaper & Hair Touch Up in Slate (review)
This is still the only brow product that I use on a daily basis. It makes the brows look fuller, tints them and holds them in place. This is love.
Omorovicza Complexion Perfector BB SPF 20 (review and swatches)
This month I have re-discovered my love for this base. It is like a good looking skin in a bottle. The skin is glowing and radiant, and the  tone is evened out and perfected.  I have written a very detailed review in the past, so you are welcome to take a look.
Max Factor Creme Puff Blush in Alluring Rose (review and face swatches)
This is still my favourite blusher, just like last month. Alluring Rose is a gorgeous warm nude with a spot-on radiance effect. It lifts the face instantly, I'd recommend these blushes to everyone.
Max Factor Colour Elixir Gloss Nude Pomade in 10 Pristine Nude (review and lip swatches)
This gloss  has
Read More