Nude eye shadow palettes continue to take the (beauty) World by storm. Here are the newest variations.  Do you like the look of them, or do you have enough nude palettes to last you for a life time?
Bobbi Brown The Nude Library 25th Anniversary Edition, $200 from Saks
This palette was created to celebrate Bobbi Brown's 25th anniversary, and  features the most-loved and best-selling nude eye palettes from Bobbi's archives. Sounds like a must-have, Bobbi does know her  neutral shades.
Estée Lauder Sultry Nudes Eye Shadow Palette, £44 from Harrods.
A palette which features 14 eye shadows with different finishes. There is also a
Read More
Can you actually believe that it is May, the fifth month of the year?! Time flies, it feels as if it was 1st of January only yesterday.  And this month I actually have quite a few products, including some amazing new discoveries.
Makeup
Max Factor Glossfinity Nail Polish in 85 Cerise (review and swatches)
I have already finished a bottle of this, and am going through my second one, and I am wearing this, as I type, too. Such a gorgeous vibrant, juicy and glossy warm-toned red, it brightens up any look, and (almost) any mood. I am a fan.
For complexion I have been using these two products almost daily: Diorskin Nude Skin-Glowing Make-Up in Ivory (review and face swatches) Rouge Bunny Rouge Naked Disguise Concealer in Castalia.
Dior's foundation is simply brilliant, it is a re-discovery for me. I like the coverage it gives and the finish, it is not matte but not too dewy either.  The shade, Ivory is the lightest in the range, and looks great even on my currently greenish pale and tired complexion. As for the concealer, I plan on writing a detailed feature about it soon. Surprisingly, I have already used half of the tube, and the love is going strong.  It gives just  the kind of coverage I like – the formula is not thick but it brightens up the under eye area.
Other products I have been using all the time are Inglot  Sculpting HD Powder in 504 (review) which I talk about non-stop, as it is my favourite product for adding
Read More
Looking for a new bronzer? You can see some of the new ones here – summer 2016 launches.
But here are there options from Gueralain, Bobbi Brown and NARS that caught my attention.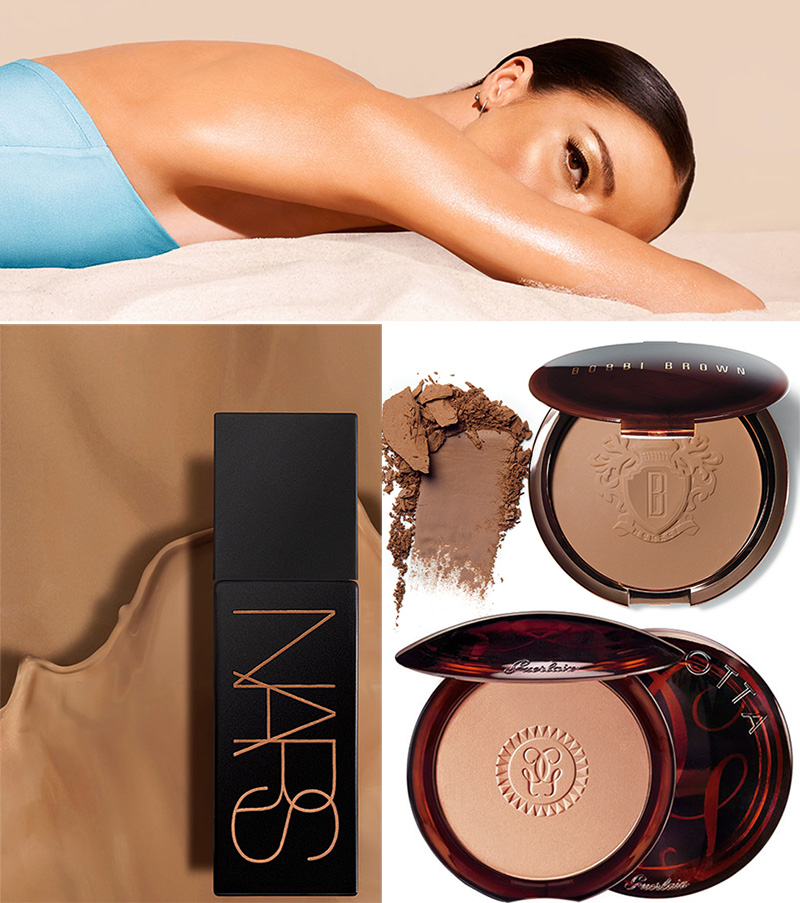 Guerlain Terracotta 2016 Original Bronzing Powder,  £36 from Harrods and $53 from Saks.
Cult  Terrracotta bronzers are out again! They offer  "an instant natural glow, at any time of year, in one quick, easy motion. Its formula, enriched with moisturising active ingredients, does not dry out the skin. It ensures long-lasting comfort. Neither too shiny nor too powdery thanks to an ultra-thin film which perfectly embraces all the contours of the face."  Shades: Golden Deep, Moyen Brun, Intense, Nat Blondes, Brunettes, Blondes (shawn),  Nat Brunettes and Moyen Blondes.
Bobbi Brown Face & Body Bronzing Powder, $48  Nordstrom
"A warm,
Read More
Are you ready for more new lip launches? Meet the new lipsticks from Bobbi Brown and Laura Mercier.
Laura Mercier Velour Lovers Lipstick £22 from Feel Unique and  Selfridges and $28 from Neiman Marcus, Bergdorf Goodman and Nordstrom.
"A highly pigmented, moisturizing lip color with a satin matte finish. Velour Lovers Lip Lover is a revolution in matte lipstick that couples delicate mattifying powders with moisturizing mango butter that creates a velvety texture that is smooth, creamy and long-wearing. Formula is buildable, offering medium to high coverage with a matte, sateen finish."
Available in 12 shades.
And check out the video…
Read More
Here is a preview of the newest beauty launches that caught my attention this week for: Face, Eyes and Lips.
Bite Beauty Amuse Bouche Lipstick, $26 from Sephora
Wow, look at all those shades!  Black Truffle (Black Violet) and Liquorice (Oxblood) look killer, I need.
"Swipe on bold, creamy lip color  created and crafted by hand, Bite's small batch, low-heat process preserves a balanced blend of lip-quenching nutrients, vitamins, and omega oils that are essential for achieving healthy-looking lips. Made with 12 edible oils and triple milled pigments, this lipstick provides saturated lip color with weightless coverage and a citrus flavor made from fresh pressed fruit."
theBalm Batter Up Eye Shadow Stick, $17/£15/€18.50 from Nordstrom and ASOS.
"Long-wearing cream
Read More