I already did a post about Bobbi Brown's kits and palettes for the holiday season, and today I want  to show you their Hollywood Glam collection which features Katie Holmes with red lip, eye liner and glam hair style.
So what products are available, as a part of this release?
Lips
Lip Color, £22
Old Hollywood, a medium, cool red
High Shimmer Lip Gloss, £18
Candlelight, a champagne glitter.
Pure Gold, a golden yellow
Rosé, a true pink glitter.
Lip
Read More
Here is a preview of yet another holiday 2013 makeup collection. Bobbi Brown released a lot of beautiful and wearable value sets for eyes, lips and face. Plus you can get some of her brushes, too.
So, let's take a closer look.
Twilight Pink Lip & Eye Palette £59/$80
Eyes hadows: Ivory, Dusk Sparkle, Canary Shimmer Wash,Cool Ivory, Nude, Slate, Opal Sparkle, Truffle, Twilight Pink Metallic, Espresso
Lip color shades: Golden Pink, Nude Pink, Pale Mauve, Bronzed Pink
 Smokey Cool Eye Palette, £37.50/$48.50
Ivory, Graphite Sparkle, Smokey Grey Shimmer Wash, Truffle, Platinum Sparkle, Caviar
 Smokey Warm Eye Palette, £37.50/$48.50
Ivory, Antique Gold Metallic, Blonde, Golden Chocolate Metallic, Chiffon Sparkle, Espresso
Hot Cocoa Palette £63/$80
Eye shadows: Cream,Velvet Plum Metallic, Chino, Nude Beach Metallic, Warm Sand, Pink Dusk Metallic, Sandy Pearl Sparkle, Black Chocolate
Blush in
Read More
Here is a selection of the new makeup products that caught my attention. There is something for complexion, eyes and lips.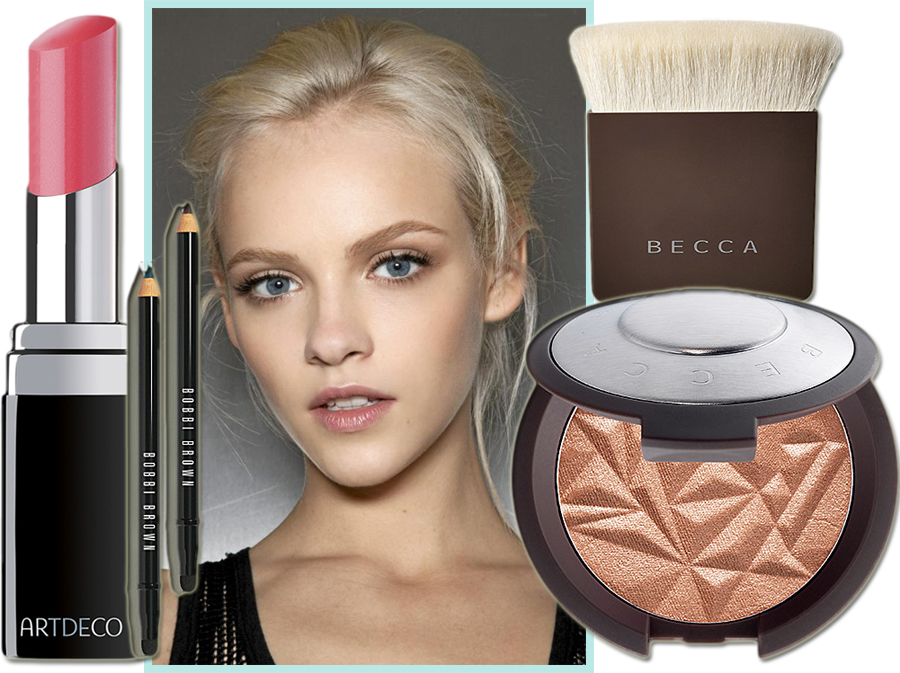 First of all, take a look at this gorgeous BECCA's Shimmering Skin Perfector Pressed in Rose Gold ($38) and The One Perfecting Brush ($49).  Here is a actually a video of both products in use.
As for the eyes, Bobbi Brown brought out Smokey Eye Kajal Liners (£18/$27) available in Jade, Pacific, Black Amethyst, Black
Read More
Here is a preview of Bobbi Brown's Fall 2013 makeup collection - Rich Chocolate. Which, as you can guess by the name, is all about the beautiful brown shades.
The star product of the collection is the new eye palette:
Rich Chocolate Eye Palette, £39.50
Bone Eye Shadow, Stone Eye Shadow, Frappe Eye Shadow, Caramel Sparkle Eye Shadow, Champagne Truffle Shimmer, Wash Eye Shadow, Cocoa Eye Shadow andRich Chocolate Eye Shadow.
 Lips
Sheer Color Lip Gloss,  £18
Chocolate Raspberry, a black burgundy
Lip Gloss,  £18
Pale Pink, a pinky mauve
Tea Berry, a deep plum
Lip Color,  £ 19
Berry, a deep plum
Baby Pink, a pinky
Read More
If you are over all the BB and CC launches and just want to try a  "regular" new foundation, you may want to take a look at the newest Givenchy offering or  these brand new products from Bobbi Brown and Shiseido.
Shiseido Sheer & Perfect Foundation SPF 18
This one comes in 18 shades and here is what is promised:
"A long-lasting foundation designed to cancel out the appearance of redness, blemishes and visible pores without concealing your skin's natural beauty. It leaves you looking fresh and radiant. The oil-free foundation is formulated with three types of optical powder to ensure smooth, beautiful skin, while leaving you silky-soft and shine-free."
The price is $35
Bobbi Brown
Read More