I did write about a lot of Spring 2014 lip products launches but most of them were high end. So what about more affordable options?
There are actually two new releases that caught my attention, and I personally plan to try both.
Color Riche Extraordinaire by L'Oréal Paris ( €14.90) and Rouge Edition Velvet by Bourjois (€13.90).
Bourjois  promise a smooth, non-drying and
Read More
I have quite a few products on my  beauty wish list, and I am constantly adding new things to my Pinterest board but today I've decided to share the things that are on top of my list. In fact, these are the things that I plan to buy in the near future. I may have even ordered some of them already
By the way, I love looking at my old wish lists and seeing how many products I have already bought.
So here we go:
1 . Marc Jacobs Nail Enamored Hi-Shine Nail Lacquer in Lola ($18). The design is to die for, and the shade looks beautiful!
2. Tom Ford  Lipstick in Bruised Plum, Cherry Lush or Crimson Noir ($49). It's my Birthday soon, so this will be a lill' treat.
3. Charlotte Tilbury Rock'n'Kohl iconic liquid eye pencil in Barbarella Brown (£19). I also want the Colour Chamelion and the mascara.  I want quite a few Charlotte's products.
4. Concoction ShampYou  Bakhour, (£11 + 2 serums). I really love Concoction products, and want to
Read More
Remember this photo with the most gorgeous plummy shades? I've decided to write about the lip product in more details, as it is truly wonderful.
And it is Bourjois Color Boost Glossy Finish Lipstick in 06 Plum Russian and I have been wearing it a lot!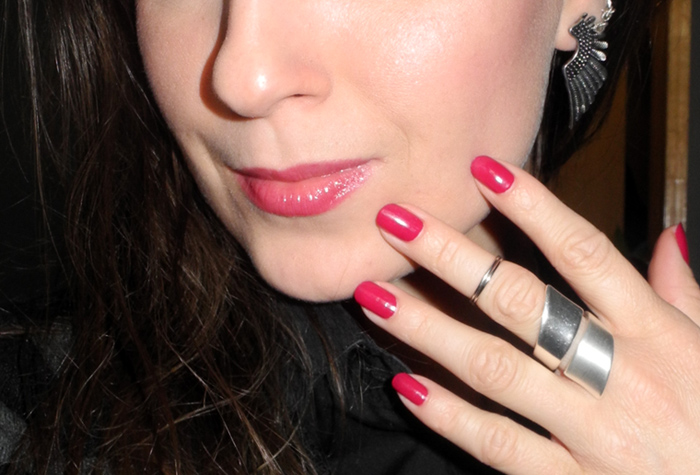 On the photo above it is actually used rather lightly but you can easily build up the shade and make it more intense which is perfect for the Winter season.
I like the fact that the formula is glossy and it feels light and moisturizing on the lips, even when I have some dry patches, they are not horribly enhanced, as with some lip products.
Here is how it looks like swatched on the skin. Glossy Finish is a
Read More
I used to be a bit obsessed with all the different nail polishes. All those out-of-this-world stunning shades and innovative finishes  really rocked my world. Of course, I am no way even close to the  real nail polish fanatics, but I do have several shades of yellow, for example.
But recently something changed and I've been wearing classic colours all the time, think red/berry/plum.  I don't know why, but every time I paint my nails with green or brown, I'm not feeling it. It's been like this for about two months. Back to the basics?
The only shades that
Read More
Unlike my latest beauty purchases, this time it's a bit more fun. Unfortunately, I don't remember any prices since I've been getting a lot of products on that day,  but at least, you can see what I've got.
1. Toni & Guy Cleanse dry shampoo. I've finished my Klorane shampoo which was amazing, by the way, so thought I'd pick this one up to try.
2. Aussie Aussome Volume Shampoo. Believe it or not, but I have never tried Aussie products,  so decided to give it a go.
3. Rimmel Salon Pro Kate nail polish in 703 Rock 'n Roll. I wanted to get this for a long time for so many reasons. In fact, I am wearing it,
Read More