Since we are talking about new lip launches today, I thought I'd share about my current top 5 lipsticks in different colour families, from berry to pink; and from red  to coral.
I have stupidly forgot  to include my favourite current red in the photo (but you can see it here), which is Daniel Sandler's Red Carpet Red (get it here for £13.25). The shade lives up to the name, whenever I wear it I get a lot of compliments, even from people that don't like red lips in general. Yes, really. I think this is the best Daniel's lip product, and I do have quite a few.
What about other four?
Dior Addict 561  Baby Rose Lipstick (review and lip swatches)
I don't really do nude, so this is my perfect everyday shade, a sheer baby pink with a beautiful delicate shimmer. Don't worry, it's nothing like those pearly shades from the past. I've been wearing it a lot lately, looks like I will have to re-purchase it soon.
Where to buy: from Selfridges for £24.
Givenchy Le Rouge Lipstick 302 Hibiscus Exclusif (review and lip swatches)
You all know my
Read More
When you have a lot of makeup products –  you sometimes forget  that you have a certain item in your collection. This is why I love to look through the things that I have from time to time.
Recently I have re-discovered (& love d using) the following products:
 BECCA Eye Tint in  Pewter (review and swatches)
I don't know why I've stopped using this, it is just SO good! You can apply a very thin and sheer layer, or build up the intensity to a dark and deep shade. The staying power is amazing, on my lids it lasts for the whole day, without primer, without fading or creasing.  I need other shades.
Inglot Lipstick in 401 (review)
Out of all the orange and coral lipsticks (and glosses) that I have – this one suits me the best. I don't like such shades on me that much, but Inglot's 401 lipstick is simply gorgeous, the colour is
Read More
I did write about a lot of Spring 2014 lip products launches but most of them were high end. So what about more affordable options?
There are actually two new releases that caught my attention, and I personally plan to try both.
Color Riche Extraordinaire by L'Oréal Paris ( €14.90) and Rouge Edition Velvet by Bourjois (€13.90).
Bourjois  promise a smooth, non-drying and
Read More
I have quite a few products on my  beauty wish list, and I am constantly adding new things to my Pinterest board but today I've decided to share the things that are on top of my list. In fact, these are the things that I plan to buy in the near future. I may have even ordered some of them already
By the way, I love looking at my old wish lists and seeing how many products I have already bought.
So here we go:
1 . Marc Jacobs Nail Enamored Hi-Shine Nail Lacquer in Lola ($18). The design is to die for, and the shade looks beautiful!
2. Tom Ford  Lipstick in Bruised Plum, Cherry Lush or Crimson Noir ($49). It's my Birthday soon, so this will be a lill' treat.
3. Charlotte Tilbury Rock'n'Kohl iconic liquid eye pencil in Barbarella Brown (£19). I also want the Colour Chamelion and the mascara.  I want quite a few Charlotte's products.
4. Concoction ShampYou  Bakhour, (£11 + 2 serums). I really love Concoction products, and want to
Read More
Remember this photo with the most gorgeous plummy shades? I've decided to write about the lip product in more details, as it is truly wonderful.
And it is Bourjois Color Boost Glossy Finish Lipstick in 06 Plum Russian and I have been wearing it a lot!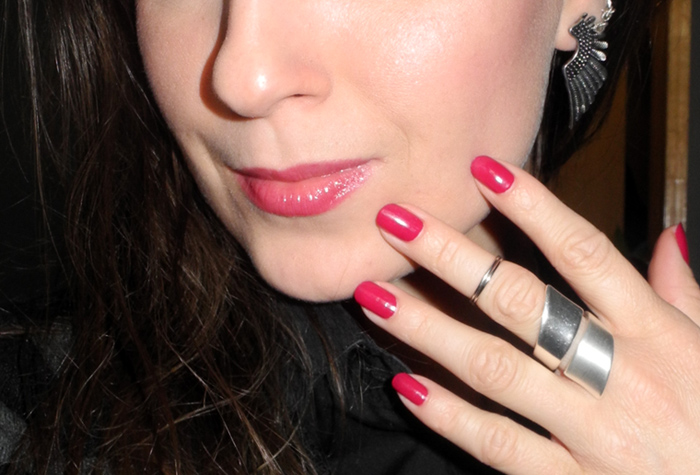 On the photo above it is actually used rather lightly but you can easily build up the shade and make it more intense which is perfect for the Winter season.
I like the fact that the formula is glossy and it feels light and moisturizing on the lips, even when I have some dry patches, they are not horribly enhanced, as with some lip products.
Here is how it looks like swatched on the skin. Glossy Finish is a
Read More