The look from Burberry's SS15 was a fresh complexion, modern-looking  softly defined eye with no mascara, and a bold red lip.
As for the collection – the star of the new releases is definitely  the Runway Blush Palette , £45
Other new products are:
Eye Colour Wet and Dry Eye Shadow, £22.50/$29
200 Tea Rose
201 Rose Pink
307 Stone Blue
309 Aqua Green
Nail Polish, £15/ $22
Read More
I have already posted about some new eye shadows for Spring 2015, and here are more releases.
Burberry Beauty Wet & Dry Eyeshadow ($29 from Nordstrom)
These are promised to be silky-smooth eye shadows that can be used both dry, and wet for a more intense and saturated finish.
The shades shown above are: 103 Almond, 204 Mulberry and 301 Chestnut Brown
Yves Saint Laurent Couture Mono Eyeshadow ($30 from Nordstrom)
YSL also brought out mono eye shadows which are available in different finishes: matte, satin, metallic or shimmer.
The shades shown above are: 01 Paris, 08 Zellige, 10 Khol, 13 Fougue
Besides the monos, YSL released two
Read More
Never underestimate the importance of a good eye brow product!  Even several years ago there weren't that many to choose from, but today the  brands are bringing out  new amazing releases.
And here are two that caught my attention:
Armani Eye and Brow Maestro, $34/£26.50
"Born backstage, Giorgio Armani's new 4-in-1 eye perfector; Stunning runway ready eyes. Brow shaper, Eye liner, Eye shadow, Hair root touch up, and Contour. Its natural finish is waterproof and gives 20 hours of wear with a 100% natural finish."
The shades are: 01 Black, 02 Dark Brown, 03 Red, 04 Medium Brown, 05 Light Brown, 06 Medium Blonde, 07 Light Blonde, 08 Grey and 09 Gold
Where to buy: Harrods, Selfridges, Nordstorm, Saks.
Burberry Effortless Brow Definer, $33/£22.50
Read More
Here is a preview of the new gorgeous festive makeup collection form Burberry. All the products this Christmas come in a beautiful golden packaging.
The star of the collection is definitely the Fragranced Luminising Powder (£45.00). It smells of My Burberry perfume and adds a nice glow to the face.
Other new products are: Complete eye Palette Gold no. 25 (£40) Lip Glow gold NO.25 (£18.50),  Lip Mist Gold NO.217 (£22.50) and Nail Polish Gold NO.447 (£15.00)
Read More
Burberry is one of those shows that I get excited about, I always want to see what kind of look Wendy Rowe (go and read her website, it's awesome) would create to accompany the beautiful clothes.
And the AW look really caught my attention because of the gorgeous nudish purple/pink shades on the eyes and a chic autumnal purple on the nails.
So what products were used?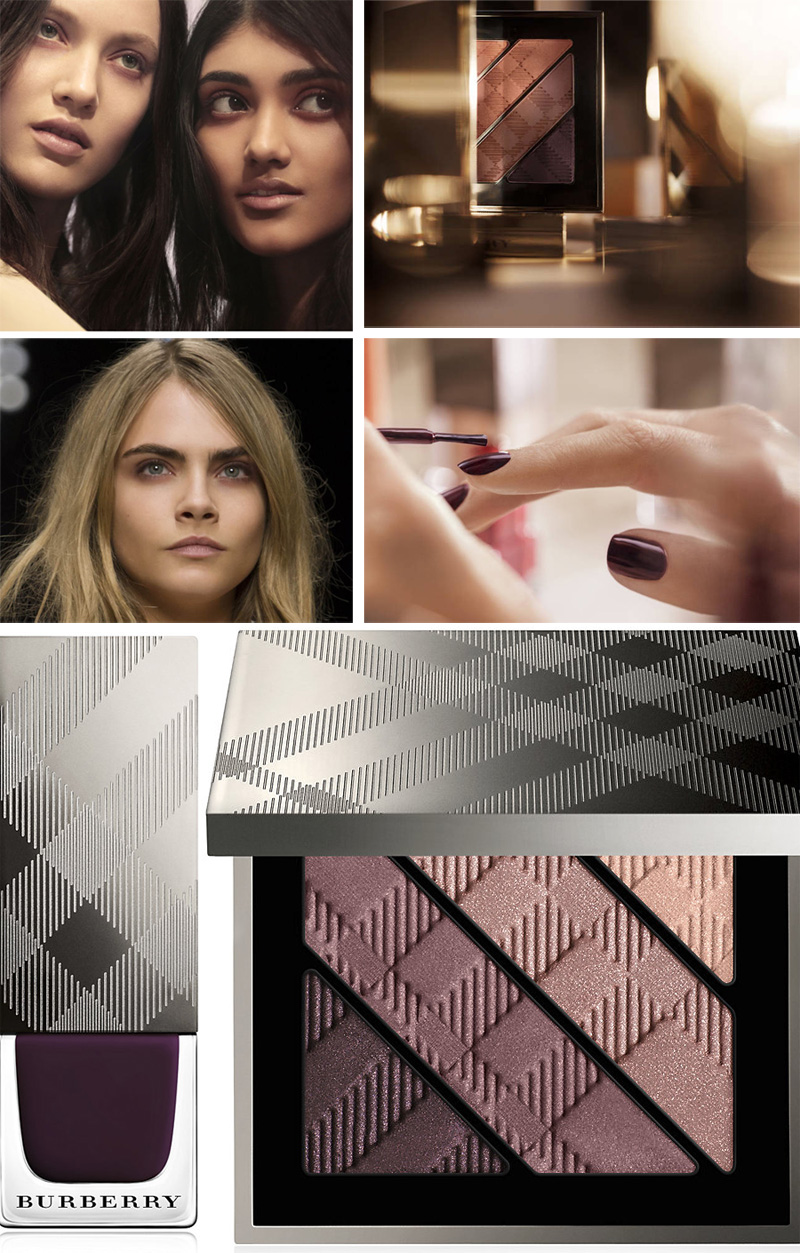 Complete Eye Palette in Nude Blush ( get it for £40) and  Nail Polish in Elderberry (available for £15).
There are a lot of amazing new palettes for AW 2014, but I'd say that  this Burberry one is the coolest. And Burberry eye shadows are truly amazing, so you can't go wrong with them!
What other new
Read More