There are so many beauty products released each week that it's hard to follow all the new launches. In today's feature I've decided to share three new products for face, eyes and lips that caught my attention.
Burberry Eye Colour Cream, £25
You can now actually buy Burberry from Feel Unique; the eye shadows are not available from the website yet though.
Official description: "A creamy, blendable eye shadow that delivers an effortless wash of luminising colour. The cushion-soft, lightweight cream eye shadow glides across the skin to deliver illuminating colour that can be easily blended to create a bespoke finish. The long-lasting, crease-free formula can be worn alone to add tone, depth and shadow or combined for a more dramatic result. "
The shades are: Gold Copper 100, Mink 102, Dusty Pink 104, Pink Heather 106, Dusky Mauve 108, Damson 110, Pale Grey 112.
Why I've picked it? Cream eye shadows are easy to use, you can even apply with your finger, they last for hours. Burberry powder eye shadows are phenomenal, so these  should be brilliant, too.
SEPHORA COLLECTION Colorful Cheek Ink Gel, $14 from Sephora.
Read More
When I saw Burberry's Lip & Cheek Bloom some time ago, I got really excited, as there is nothing like a good cream blush and lip product two-in-one. Finally they are here!
The texture is described as "airy and bouncy" and the formula – as "sheer and buildable". While the finish is supposed to be matte and fresh-looking.
Don't they just look gorgeous? After week of being sick (seriously, I don't remember when I felt this bad for the last time), this looks like an instant pick-me-up!  And I am sure they'd make anyone look better!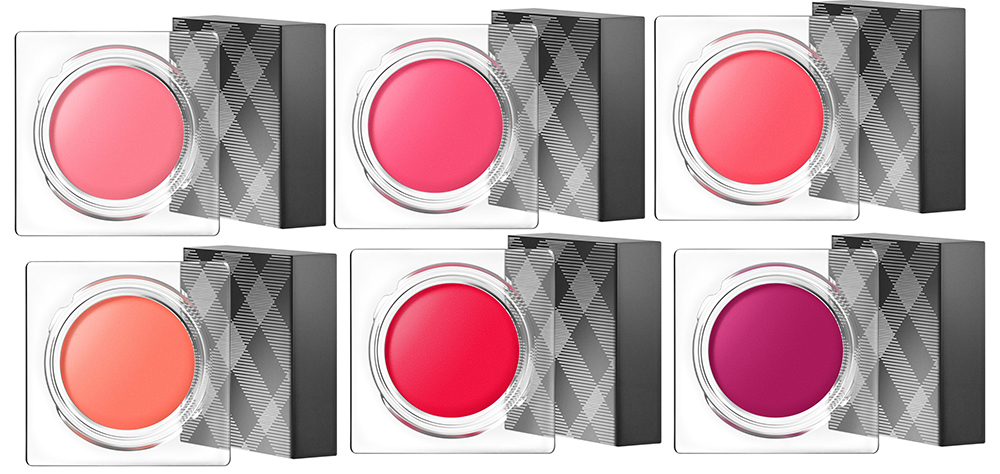 There are six shades to choose from:
Read More
As promised, here is the second post about the upcoming new lipsticks for SS15. And this time it's more of a "classic"  selection, even a matte option:
Be301 Carrera, By Dolce, Oxblood
Burberry Kisses (£25 from Harrods)
"The weightless gel texture formula delivers a customisable make-up result – a single kiss of colour gives understated luminosity, two or three kisses gives intense depth and vibrancy. Enriched with a blend of tea, lavender and rosehip."
Shiseido Veiled Rouge Lipstick ($25 from Nordstrom, £19.50 from Harrods.)
"Long-wearing, hydrating
Read More
The look from Burberry's SS15 was a fresh complexion, modern-looking  softly defined eye with no mascara, and a bold red lip.
As for the collection – the star of the new releases is definitely  the Runway Blush Palette , £45
Other new products are:
Eye Colour Wet and Dry Eye Shadow, £22.50/$29
200 Tea Rose
201 Rose Pink
307 Stone Blue
309 Aqua Green
Nail Polish, £15/ $22
Read More
I have already posted about some new eye shadows for Spring 2015, and here are more releases.
Burberry Beauty Wet & Dry Eyeshadow ($29 from Nordstrom)
These are promised to be silky-smooth eye shadows that can be used both dry, and wet for a more intense and saturated finish.
The shades shown above are: 103 Almond, 204 Mulberry and 301 Chestnut Brown
Yves Saint Laurent Couture Mono Eyeshadow ($30 from Nordstrom)
YSL also brought out mono eye shadows which are available in different finishes: matte, satin, metallic or shimmer.
The shades shown above are: 01 Paris, 08 Zellige, 10 Khol, 13 Fougue
Besides the monos, YSL released two
Read More