Burberry is one of those shows that I get excited about, I always want to see what kind of look Wendy Rowe (go and read her website, it's awesome) would create to accompany the beautiful clothes.
And the AW look really caught my attention because of the gorgeous nudish purple/pink shades on the eyes and a chic autumnal purple on the nails.
So what products were used?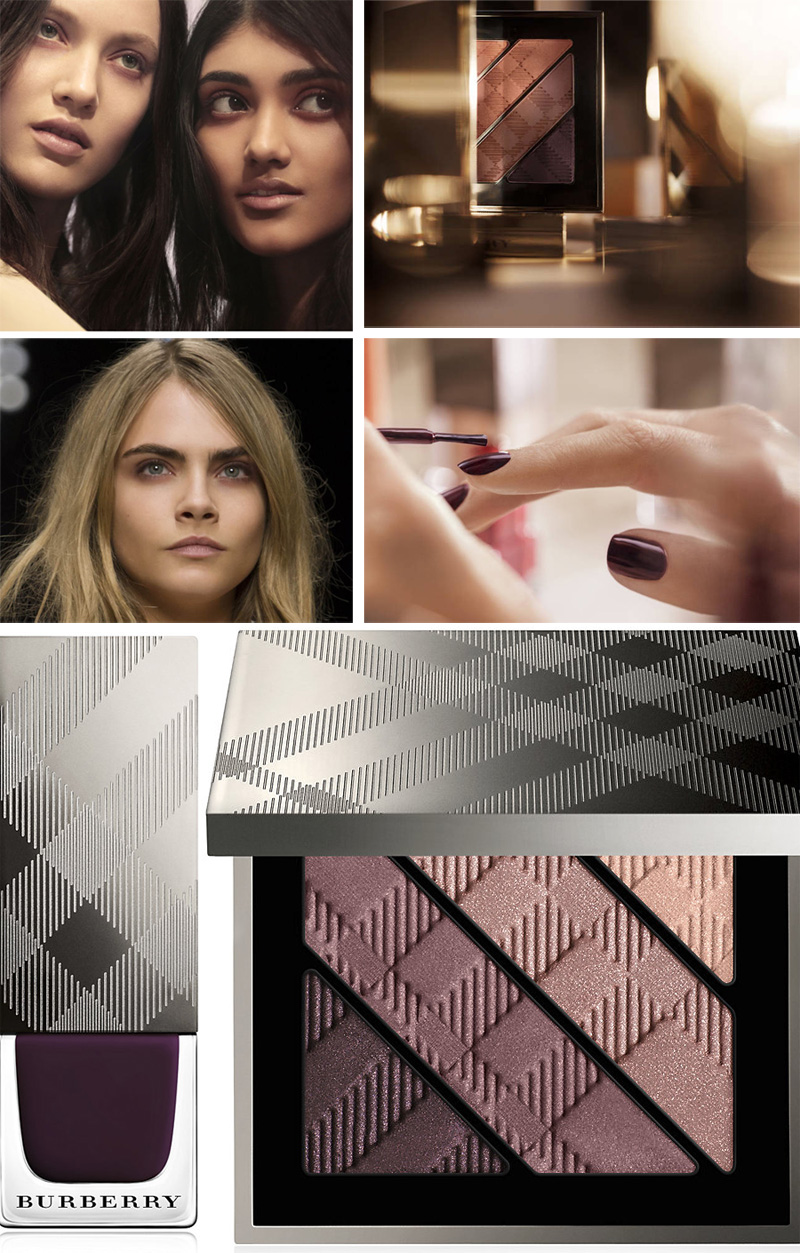 Complete Eye Palette in Nude Blush ( get it for £40) and  Nail Polish in Elderberry (available for £15).
There are a lot of amazing new palettes for AW 2014, but I'd say that  this Burberry one is the coolest. And Burberry eye shadows are truly amazing, so you can't go wrong with them!
What other new
Read More
I've decided to share some of AW  2014 beauty campaigns that caught my eye.
First of all, here is a quick preview of the upcoming collection from Illamasqua – Once.   Hopefully, there will be more beautiful images and some exciting new products.
First look at Burberry's AW beauty campaign.  It's great to see different ethnicities, and  how the dusky pink shades look nice on both girls. Wendy Rowe did a great job, as usual.
I also really like the look from
Read More
There are no words, how beautiful the new Burberry Summer Showers makeup collection looks like.  This is something different  for the brand, instead of the often boring usual nudes they are offering juicy, vivid, candy-like, shades for this season. Plus there are two new products – cream blush in a stick formula and BB Cream, yes, really. I told you, Burberry rocks!
How incredibly fresh and young does the model look? This is such a perfect makeup for SS. Although I would personally apply more mascara on myself.
There are nine products in general (and several shades of BB Cream) and they are are divided into three categories: Pink Azalea, Orange Poppy and
Read More
Here is one more Spring 2014 makeup collection with pink and rose shades, it is even called English Rose. Burberry's new release is just beautiful.
One of my favourite eye shadow palettes is actually Burberry's Pink Taupe (and I use the pink and brown mostly, not a fan of other two shades), so I am actually pretty excited for their pink eye palette. Unlike some pinks, this one should look flattering on.
There are two Complete Eye Palettes (£40)  Rose Pink, which I love, and Sage Green.
Two lip glows, which look amazing. I am a big fan of cool toned glass like glosses. Those Lip Glows (£18.50) are: Lavender and
Read More
First of all, I am sorry about the lack of posts, I have been very ill, again. And, although I have been at home all this week, I was in bed most of the time, feeling horrible. But now I can finally do some reading and also write some posts, I have actually missed those things. I've even missed work, hopefully will be back to normal life soon…
It is the time of the year when you'd expect red and glitter in terms of nail polish, and you'd be correct. But, I have noticed an interesting trend. Quite a few new nude nail varnish collections. I guess, you could never go wrong with a chic, sophisticated, and polished  manicure!  That is timeless, I'd say.
Image of the model: butter LONDON for La Perla
Lets's take a look!
First of all, Burberry finally launched their
Read More