When I saw Burberry's Lip & Cheek Bloom some time ago, I got really excited, as there is nothing like a good cream blush and lip product two-in-one. Finally they are here!
The texture is described as "airy and bouncy" and the formula – as "sheer and buildable". While the finish is supposed to be matte and fresh-looking.
Don't they just look gorgeous? After week of being sick (seriously, I don't remember when I felt this bad for the last time), this looks like an instant pick-me-up!  And I am sure they'd make anyone look better!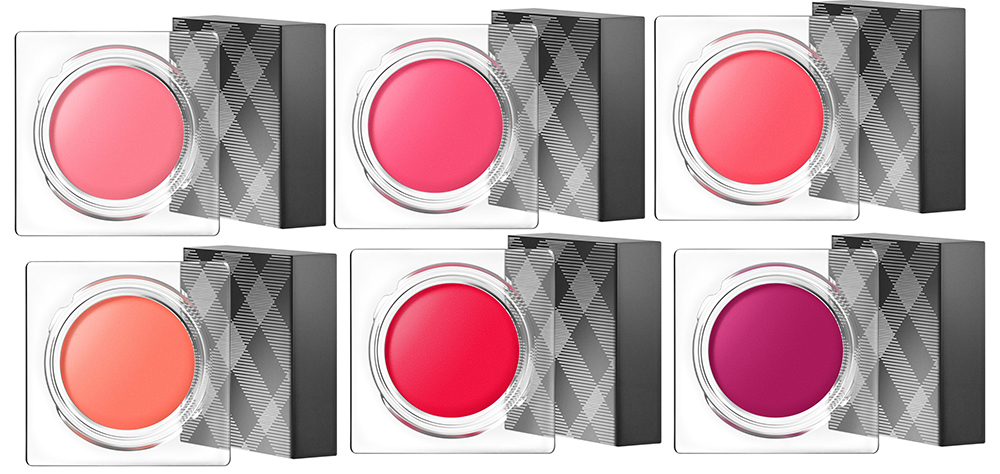 There are six shades to choose from:
Read More
As promised, here is the second post about the upcoming new lipsticks for SS15. And this time it's more of a "classic"  selection, even a matte option:
Be301 Carrera, By Dolce, Oxblood
Burberry Kisses (£25 from Harrods)
"The weightless gel texture formula delivers a customisable make-up result – a single kiss of colour gives understated luminosity, two or three kisses gives intense depth and vibrancy. Enriched with a blend of tea, lavender and rosehip."
Shiseido Veiled Rouge Lipstick ($25 from Nordstrom, £19.50 from Harrods.)
"Long-wearing, hydrating
Read More
The look from Burberry's SS15 was a fresh complexion, modern-looking  softly defined eye with no mascara, and a bold red lip.
As for the collection – the star of the new releases is definitely  the Runway Blush Palette , £45
Other new products are:
Eye Colour Wet and Dry Eye Shadow, £22.50/$29
200 Tea Rose
201 Rose Pink
307 Stone Blue
309 Aqua Green
Nail Polish, £15/ $22
Read More
I have already posted about some new eye shadows for Spring 2015, and here are more releases.
Burberry Beauty Wet & Dry Eyeshadow ($29 from Nordstrom)
These are promised to be silky-smooth eye shadows that can be used both dry, and wet for a more intense and saturated finish.
The shades shown above are: 103 Almond, 204 Mulberry and 301 Chestnut Brown
Yves Saint Laurent Couture Mono Eyeshadow ($30 from Nordstrom)
YSL also brought out mono eye shadows which are available in different finishes: matte, satin, metallic or shimmer.
The shades shown above are: 01 Paris, 08 Zellige, 10 Khol, 13 Fougue
Besides the monos, YSL released two
Read More
Never underestimate the importance of a good eye brow product!  Even several years ago there weren't that many to choose from, but today the  brands are bringing out  new amazing releases.
And here are two that caught my attention:
Armani Eye and Brow Maestro, $34/£26.50
"Born backstage, Giorgio Armani's new 4-in-1 eye perfector; Stunning runway ready eyes. Brow shaper, Eye liner, Eye shadow, Hair root touch up, and Contour. Its natural finish is waterproof and gives 20 hours of wear with a 100% natural finish."
The shades are: 01 Black, 02 Dark Brown, 03 Red, 04 Medium Brown, 05 Light Brown, 06 Medium Blonde, 07 Light Blonde, 08 Grey and 09 Gold
Where to buy: Harrods, Selfridges, Nordstorm, Saks.
Burberry Effortless Brow Definer, $33/£22.50
Read More