Here is a preview of two Spring 2015 nail polish collections, it is all about pastel and ethereal pinks, yellows, greens and blues.
 butter LONDON High Tea
I love how the brand describes this collection: "The High Tea collection sits classic couture and rocker chic side-by-side with a twist, flaunting an intoxicating blend of bold pastels and bright crèmes to create a fresh palette for spring". There are 6 shades to choose from: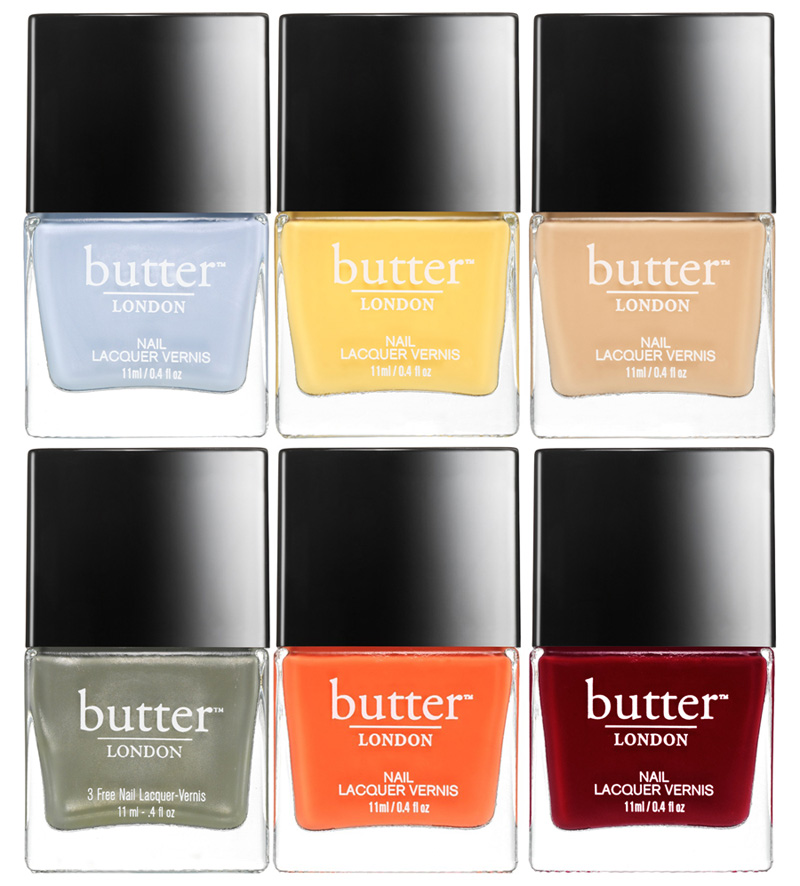 Ruby Murray, Opaque, deep berry creme.
High Tea, Opaque, nude creme.
Sloane Ranger,  Olive, khaki creme nail lacquer infused with silver shimmer.
Cheers! Opaque, marigold yellow creme
Kip, Opaque, skycloud shimmer.
Tiddly, Opaque, melon creme
My personal favourite is Ruby Murray, of course. It is already available from here. There is also a High Tea cosmetics collection.
As for Zoya,
Read More
Here is a preview of two absolutely  gorgeous nail polish collections for the holidays.
Deborah Lippmann Fantastical
DEAR MR. FANTASY, mystic marvelous magenta (shimmer)
DREAM WEAVER, mesmerizing mood stone (shimmer)
MAGIC CARPET RIDE, eccentric ebony explosion (glitter)
MARRAKESH EXPRESS, spiced sienna splurge (glitter)
WEIRD SCIENCE, charming chartreuse chemistry (shimmer)
XANADU, celestial cerulean curiosity (glitter)
There are six unique shimmer or glitter nail polish shades which  will definitely  make a statement on your nails. By the way, Derorah suggests that  all the shades can be mixed together and layered for an even more
Read More
I really love the promos of the new butter LONDON  cosmetics and nail polish collection. A gorgeous redhead girl and a statement look is exactly what you need as an inspiration for the AW season.
So what are the new products?
Two  Lippy Tinted Lip Balms ($20) in Jaffa and Tramp Stamp, two Lippy Liquid Lipstick ($18) in Ladybird and Ruby Murray. Wink Colour Mascaras ($20) in  British Racing Green and Cor Blimey Wink Cream Eye Shadows($18) in Twigged and Coriander, and Wink Eye Pencils ($18) in Busker and Cor Blimey.
My personal favourite is Cheeky Cream Blush ($20) in Ruby Murray, which is a deep plum.
You can buy the collection from Macy's.
Besides the colour collection, you can also get new nail polishes, and
Read More
butter LONDON never let down when it comes to brining out new unique shades. Plus who doesn't love their British slang names?
Lolly Brights, summer 2014 nail polish collection, is not an exception, with four metallic shimmers and two juicy and bright creams.
The shades, as shown above, are:
Read More
Here is a preview of the beautiful butter LONDON nail polish  collection for Spring with nude, earthy and warm toned metallics to channel the boho chic, or boho rock, as the brand suggests.
Here is the promo image for some inspiration.
There are six nail lacquers, and I love how the brand also explains what the word behind the name means:
Goss, an opaque, rosy shimmer. An informal abbreviation for gossip reserved for the most talented of gossipmongers.
Trallop, an opaque, caramel crème. Risky business is the name of the game for this promiscuous lass
 Keen, opaque, peach crème. Peachy…a fond exclamation that finds kinship with dandy, and swell.
Trifle, an opaque, plum base with
Read More