Chanel Dans La Lumiere de L'ete Makeup Collection for Summer 2016 is all about sandy browns, coppers for the eyes and face, and pinks with oranges for the lips and nails. Let's take a look.
Les Beiges Healthy Glow Multi-Colour, $65
Duo 01 and Duo 02 are lightweight powders with two shades that create that instant glow and perk up the complexion. There is also a Pinceau (Blush) Brush which retails for $55.
The LE Les 4 Ombres ($65) has that desert inspired pattern. You get three bronze and earthy toned shades and one khaki.
Here is actually a promo image of the collection to give you an idea of how you could use the products.
Other items are:
Read More
I have to say that I am really loving Kristen Stewart in the new Chanel campaign, those eye brows and eye makeup are spot on!
The products from the collection are:
Stylo Eye Shadows ($34) in 157 Beige Dore,  177 Rose Petale, 187 Brun Chatain, 197 Vert Grise and 207 Bleu Nuit.
Les 4 Ombres ($61) in 264 Tisse Particulier, 266 Tisse Essentiel and 272 Tisse Dimensions.
La Palette Sourcils de Chanel ($50) in 40 Naturel
Read More
Sometimes it feels really weird that I love makeup. My Mum couldn't care less about it, and I did not really read glossy magazines or watch beauty shows on TV growing up.  (I did do it all but it was when I already knew that I love all things beauty).
My Mum did have quite a few lipsticks and a mascara but she was not obsessed with all those things and wore makeup only for special occasions. She did like perfume though, as long as I remember.
So I've decided to ask her what makeup products she truly loves. And since I've mentioned perfume – her most used one these days.
Before I start I have to mention that she does use  foundation and mascara occasionally but  she doesn't really have a favourite and would just use whichever [I give her]. However, the  products shown above she loves and uses on a regular basis.
As you can already guess, Mum's favourite makeup product is a lipstick. She has a fair complexion with dark eyes and very dark hair so bright reds and berries look amazing on her.
Yves Saint Laurent Volupte Sheer Candy in 06 Luscious Cherry (review and swatches).  This is her
Read More
Besides the lipsticks, the other makeup product almost every brand is bringing out for SS16 is  foundation. And while cushions and foundations with the dropper  (BECCA, Stila, Kiko Armani, Rouge Bunny Rouge etc) are having a real moment this season, "classic" foundations are still going strong.
And here are three that caught my attention with the official description:
Chanel LES BEIGESHealthy Glow Foundation (£36 from Selfridges)
"An invisible foundation that creates a natural healthy glow by giving skin the radiance of a day spent outdoors, while protecting it from harsh environmental conditions. The perfection of a natural glow. With a range of subtle, easy-to-wear beiges, CHANEL's Healthy Glow Foundation frees women from their fears of using foundation and gives every skin tone a lasting healthy glow. The soft and comfortable texture glides over the skin and melts away. The texture becomes imperceptible and allows the skin to breathe freely, while protecting it from harsh environmental conditions. The complexion is evened-out and enhanced with a sheer finish."
Dior Diorskin Forever Perfect Makeup Broad Spectrum,  ( £33 from Selfridges and from $50 from Saks)
"Everlasting 16-hour perfection from morning to
Read More
Spring is the time for new lipstick releases, as we could see in the previous years. And we can see the same situation for SS16, too.
I have already posted about the new releases from Clarins and YSL. But there are just so many more coming out our way – think Guerlain, Lancome, Chanel, Tom Ford, Givenchy, Clinique, Estee Lauder, Armani and more.
Today let's take a look at three of them: Chanel, Tom Ford and Givenchy.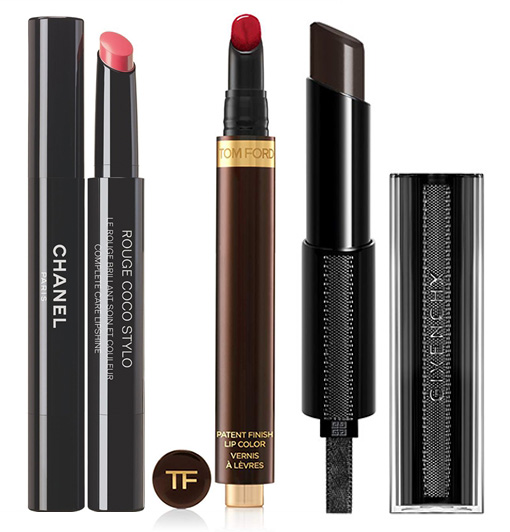 Chanel  Rouge Coco Stylo (Complete Care Lipshine) ($37 from Chanel)
"The intensity of a lipstick, the shine of a lipgloss and the comfort of a lip balm — all in one creamy yet lightweight formula. This innovative formula is enriched with nourishing Apple Seed Extract and hydrating Jojoba Oil and Coconut Oil. Silk Powder, Beeswax and special ingredients help visibly smooth, plump and add brilliant 3D shine to the lips."
Available in 8 shades, the one shown above is
Read More