It's time for February beauty Favourites!
 Omorovicza Queen Of Hungary Mist (review)
My face really loves this hydrating  spray, it smells amazing, look luxurious and is an instant pick-me-up for the skin.
Estelle & Thild Rose Otto Advanced Age Prevent Facial Oil and Rose Otto Advanced Age Prevent Serum
The review  of these Swedish gems is in the process. I have been using  both products religiously this month, and am loving the results.
Makeup
NYX Taupe Blush (review and swatches)
My newest makeup love! I don't know how I ever lived without it.  Have posted a review, comparisons and a photo of how it looks like applied on the skin, so take a look.
Daniel Sandler Invisible Radiance Foundation and Concealer (review and swatches)
Re-discovered my love for
Read More
In the 14th of February Chanel are bringing out some new lip products, plus they have arranged their already existing (lip) products by the colour family:  natural, pink-red and violet-plum. The model of this campaign is the gorgeous Sigrid Agren.
 Chéri 61 – Limited Edition
 Irrésistible 62 – Limited Edition
ROUGE COCO 61 CHÉRI, ROUGE COCO SHINE 69 FLIRT, ROUGE COCO SHINE 89 SATISFACTION,ROUGE ALLURE 144 CONQUISE, ROUGE ALLURE VELVET 43 LA FAVORITE, LÈVRES SCINTILLANTES 181 BLISS, ROUGE DOUBLE INTENSITé 53 CORAL PEACH, le CRAYON LÈVRES 34 NATURAL and 89 BEIGE SATIN.
 ROUGE COCO SHINE, £24
 Mutine 90 – Limited Edition
Satisfaction 89
Emotion 92
Bohème 91
 ROUGE ALLURE, £25
Read More
The beauty story in December's Allure really caught my attention. I think Maud Laceppe,MUA, did a great job, Mirte  Maas looks gorgeous.
I am personally not a huge fan of orange/coral lips (it's all about plums and berries for me), but these are so beautiful that it made me reach for my ChaCha tint to bring some sunshine in my life. The eye makeup is also spot on! The lipstick Mirte is wearing is Chanel's Rouge Allure  in Melodieuse.
As for the second look, the lip colour is probably not for everyone for an every day life (Chanel's Rouge Allure Velvet in 40 La Sensuelle), but it looks great in this story. But it's the hair that I love, glossy and shiny. I wish I could wake up,
Read More
Pink is the colour for Spring 2014, a lot of beauty brands have at least one rose-tinted product in their seasonal release. And it's not a surprise, what other shade can perk up your complexion and make it look fresh and youthful?
Even the promo photos of the leading luxury beauty brands [YSL, Givenchy, Lancome, Burberry, Dior, Guerlain] give us an inspiration on how to wear pink, which is always feminine and classy. And with all the variations of this prettiness, colour and texture wise, every girl, no matter what age and skin tone, can find a suitable product.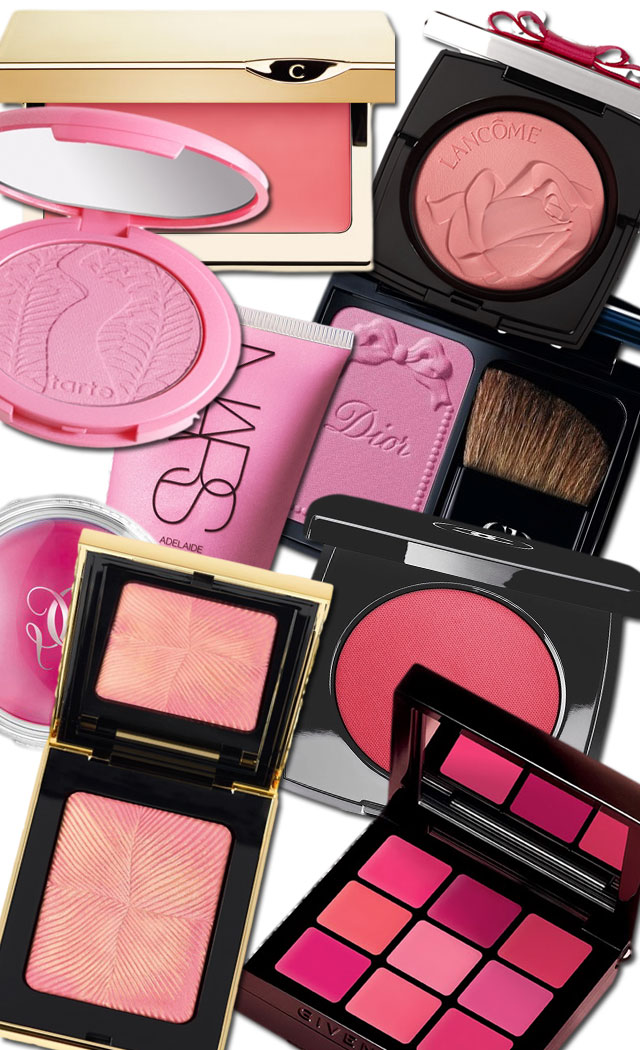 Here are some of the products you can choose from:
Clarins Multi-Blush Cream Blush in 02 Candy, Lancome Blush Highlighter, Tarte Amazonian Clay Blush in
Read More
I already did a post about my favourite bases and cheek products of 2013, so here is the second part which is all about the eyes, lips and nails.  To compare my list t0 2012 favourites click here.
So here we go…
Eyes
I will start with the eye brows, and my favorite and most-used product, hands down, was Hourglass Arch Brow Sculpting Pencil in Soft Brunette (review). It is a must have for me now, easy to use, long-lasting and great shade.
As for the liners – it was super easy to choose: Rouge Bunny Rouge Raven Glaze Lacquer Liner (review), black and glossy liner is in my personal top favourites ever. When I am in the mood for the cat eye, this is the product I always use. Plus it's so easy to control.
For an every day use, and I'm sure this is no surprise to you, I always use Lancome's Le Crayon Khol in Brun Noir (review). I have so many eye pencils, but 99% of the time I use this one. It's a perfect blackened brown which is very soft and easy to blend, dreamy.
When it comes to mascaras, I have two favourites, as well. One in a classic black shade, which is  Chanel Le Volume de Chanel Mascara in 10 Noir (review), easily one of the best mascaras I have ever tried, ultra black and mega volumizing. I have a small sample but am buying a full size.
I also want to mention a colourful mascara - Rouge Bunny Rouge Dramatic Lash Mascara Megaplumes in Oxblood Panache (review). It is an innovative shade which looks beautiful on the lashes, what you is is what you get.
And, of course, I have to mention Anastasia's Genius Top Coat (review) which changed my beauty life.
There are so many  great eye shadows that I could
Read More