Pink is the colour for Spring 2014, a lot of beauty brands have at least one rose-tinted product in their seasonal release. And it's not a surprise, what other shade can perk up your complexion and make it look fresh and youthful?
Even the promo photos of the leading luxury beauty brands [YSL, Givenchy, Lancome, Burberry, Dior, Guerlain] give us an inspiration on how to wear pink, which is always feminine and classy. And with all the variations of this prettiness, colour and texture wise, every girl, no matter what age and skin tone, can find a suitable product.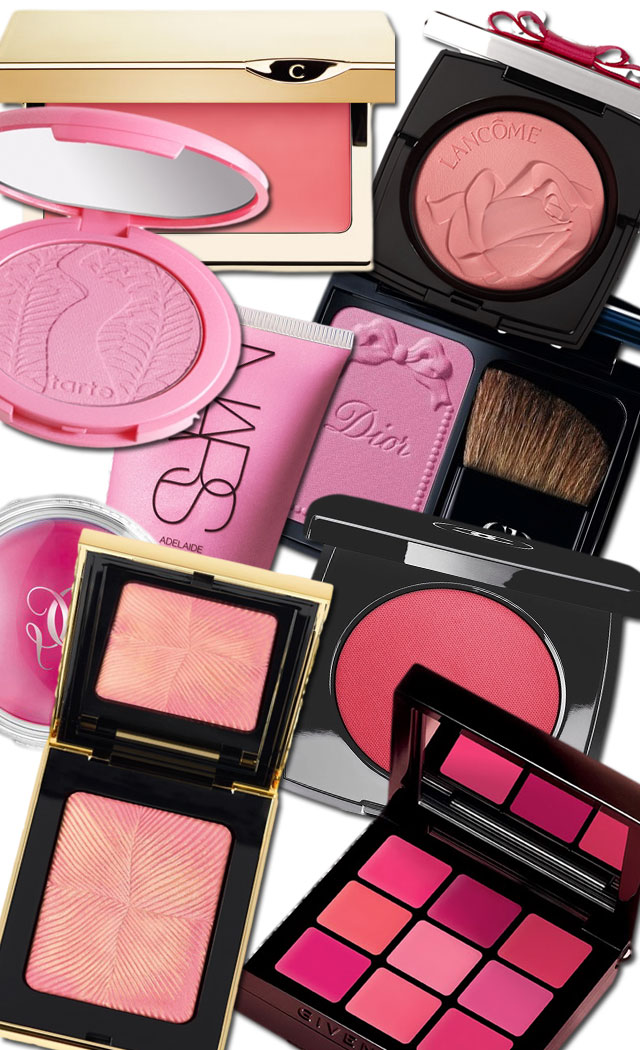 Here are some of the products you can choose from:
Clarins Multi-Blush Cream Blush in 02 Candy, Lancome Blush Highlighter, Tarte Amazonian Clay Blush in
Read More
I already did a post about my favourite bases and cheek products of 2013, so here is the second part which is all about the eyes, lips and nails.  To compare my list t0 2012 favourites click here.
So here we go…
Eyes
I will start with the eye brows, and my favorite and most-used product, hands down, was Hourglass Arch Brow Sculpting Pencil in Soft Brunette (review). It is a must have for me now, easy to use, long-lasting and great shade.
As for the liners – it was super easy to choose: Rouge Bunny Rouge Raven Glaze Lacquer Liner (review), black and glossy liner is in my personal top favourites ever. When I am in the mood for the cat eye, this is the product I always use. Plus it's so easy to control.
For an every day use, and I'm sure this is no surprise to you, I always use Lancome's Le Crayon Khol in Brun Noir (review). I have so many eye pencils, but 99% of the time I use this one. It's a perfect blackened brown which is very soft and easy to blend, dreamy.
When it comes to mascaras, I have two favourites, as well. One in a classic black shade, which is  Chanel Le Volume de Chanel Mascara in 10 Noir (review), easily one of the best mascaras I have ever tried, ultra black and mega volumizing. I have a small sample but am buying a full size.
I also want to mention a colourful mascara - Rouge Bunny Rouge Dramatic Lash Mascara Megaplumes in Oxblood Panache (review). It is an innovative shade which looks beautiful on the lashes, what you is is what you get.
And, of course, I have to mention Anastasia's Genius Top Coat (review) which changed my beauty life.
There are so many  great eye shadows that I could
Read More
Here is a preview  of Chanel's Spring 2014 makeup collection – Chanel  Notes De Printemps.
Face
Poudre Universelle Compacte
Le Blush Creme de Chanel
67 Chamade
69 Intonation, LE
Nails
Le Vernis
Eyes
Illusion D'ombre
Read More
It's time for the monthly favourites!  And I think, next time I will be doing 2013 favourites, so I better start planning it soon. Also, I can't wait for the holidays, as I have a lot of plans.
Chanel Le Volume de Chanel Mascara in 10 Noir (review)
I still think that it is  one of the best mascaras in the World!  It makes even my not-so-impressive lashes look fantastic, adds tonnes of volume and is ultra black. I have a mini size but I am so getting a regular one soon!
 BECCA Luminous Skin Colour Ultra-Sheer Foundation
I better write a review about this wonderful product soon. As the name suggests, it gives a very sheer coverage and is undetectable on the skin. With a little bit of concealer where you need it – you can get a perfect complexion which looks very natural.
Clarins Instant Concealer (review)
As I've already said, it instantly brightens up the way you look, feels light and is pretty long-lasting.
Ellis Faas Hot Lips L406 Rose Violet (review)
My latest love in terms of lip products.  I have been wearing it non-stop, as it applies smoothly, has a
Read More
Looks like Face Of the Day is now a more, or less regular feature. Maybe at some point, I will get brave enough to include photos of myself, too. Who knows?! But, as for now, here are the products that I've used and my opinion about them.
This look was all about my good ol' blush love – Chanel Orchid Rose. I used to wear it every single day years ago, so I've decided to show it some love today.
I've started with Hourglass Illusion Tinted Moisturizer in Ivory to get a medium coverage and glowing effect, that way I didn't even need a highlighter. It's a great "foundation" for dull Autumn days. I've added some YSL's Touche Eclat under the eyes, to brighten up the area and make me look less tired.
As, I've already mentioned, I've used Chanel Joues Contraste in Orchid Rose blush, which is a pretty warm-toned shade.  To add even more warmth to the face – I've used  YSL's Terre Saharienne Bronzing Powder  in N° 5 Cinnamon Sand.
Eyes
I wanted this look to be all about
Read More