There are so many new foundations out this Autumn that I've lost the count. Almost every brand is brining out one. Here are only some…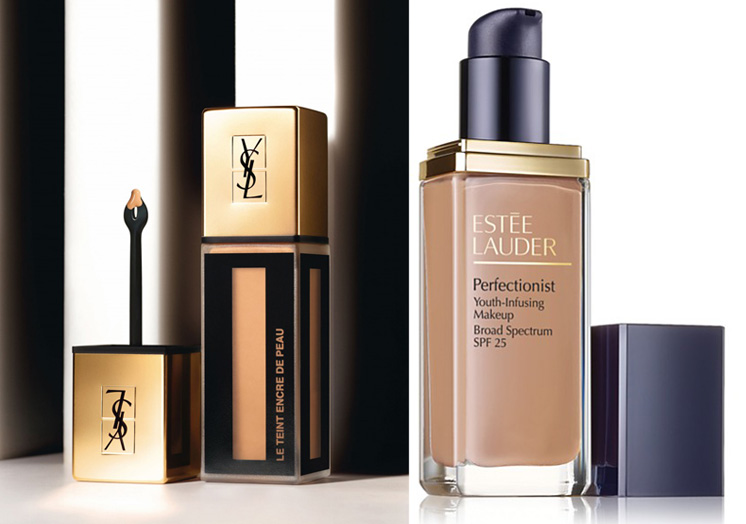 YSL pic from magazine.flaconi.de
YSL Le Teint Encre de Peau -Lloyd Simmonds about it here.
Tom Ford Traceless Perfecting Foundation SPF15
Clarins True Radiance Foundation
Shiseido Sheer & Perfect Compact Foundation
Chanel Vitalumière Loose Powder Foundation SPF15
Sisley Phyto Teint Expert Foundation
Marc Jacobs Smart Wand Tinted Face Stick, $42 from Sephora.
Max Factor Skin Luminizer  Foundation
Laura Mercier Smooth Finish Flawless Fluide from Sephora for $48.
Estee Lauder Perfectionist Youth-Infusion Makeup SPF 25, already available here and here.
There is
Read More
If you are curious about all the upcoming AW 2014 makeup collections, here is a first post with the preview. And this time it's YSL and Chanel.
Wow, look at the YSL's makeup collection for Autumn. It is called Leather Fetish…
I am loving the promo image with Cara. Those fuchsia matte lips rock. The Fetish palette, which is black leather and gold logo, also looks amazing on the promo, plus you can never have to many basic shades like browns and greys.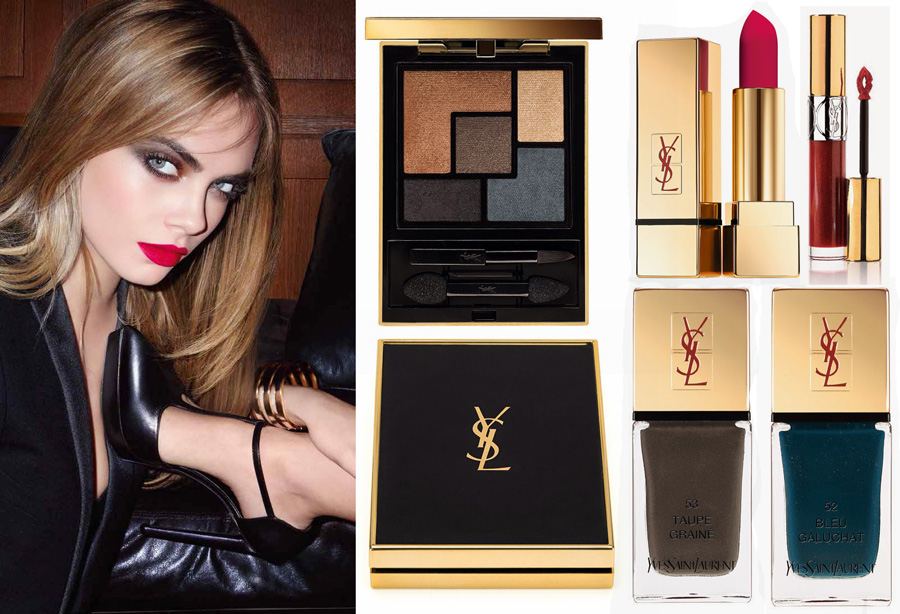 The products on the photo are: Fetish Palette, La Laque Couture Leather 53 Taupe Graine and 52 Bleu Galuchat, Rouge Pur Couture 208 Fuchsia Fetish and Gloss Volupte 106.
To find out more
Read More
If you are a fan of Chanel and their special limited edition compacts – your heart will beat faster now. Why? Because the brand released a new drop-dead gorgeous DENTELLE PRÈCIEUSE (Illuminating Powder), £46, this week.
Gabrielle Chanel considered lace to be "one of the prettiest imitations ever made of nature's fantasies", so the brand, inspired by
Read More
Here is a preview of Chanel's summer 2014 makeup collection – Reflets d'Été de Chanel. And this is probably my favourite Chanel  beauty promo  in a while.
How gorgeous are the model's  orange manicure (Mirabella Le Vernis), bronzed lids and glossy lips?!
This collection will have a lot of fans, since there is what to chose from: five nail polishes, jelly glossimers, three new cream eye shadows, new (tanned rose) cream blush and colourful mascaras!
The products are:
Levres Scintillantes
03 Glaze
 184 Hello, Jelly, LE
 185 Sexy, Jelly
 186 Happy, Jelly
188 Sunny, Jelly
Le Blush Creme de Chanel
Read More
I wasn't a fan of Chanel quads (European version),  so was excited when they launched  new  Chanel Les 4 Ombres Multi-Effect Quadre Eyeshadows.
They have four different textures: matte, satiny, iridescent or metallic.
And there are eight palettes (£40 each) to choose from:
202 Tisse Camelia, 204 Tisse Vendome, 208  Tisse  Gabrielle, 214 Tisse
Read More