Clarins are bringing out  a  Festive Eye Make-Up Palette for Chrismas 2015 which includes ten eye shadows in matte, satin and iridescent textures. The shades are mostly nude and others are the smoky eyes best friend.
You should also know that the packaging is reusable and it was  created as part of
Read More
It's time for monthly favourites! And this time I've decided to mention only those products that I have been really loving. Somehow I have re-discovered 17 Sheer Moisture Foundation which is now discontinued but which has been my base of choice lately, as it gives that beautiful light and glowing finish.
The other product  which is not shown is Garnier HandRepair Intensive Restoring Hand Cream because I have used it all up. And, just like the body cream, this one is brilliant.Works wonders on my very dry hands and feet, it improved the condition [of my skin] dramatically, moisturized and nourished.
Makeup
Clarins Joli Rouge Lipstick in 738 Royal Plum (review and lip swatches)
I have an old version of the lipstick but I will have a few samples of the new Joli Rouge to review and compare them for you. This is an amazing product! The sheer formula can be built up,  or worn as a barely-there stain.  And this the most beautiful dark plum, looks gorgeous on the lips, have been wearing it non-stop.
The only other makeup product is the new Rouge Bunny Rouge Naked Disguise Glide Concealer. And this, without a doubt, is now one of my favourite concealers ever. The texture is light  but at the same time it transforms the under eye area by brightening and covering the dark circles. It doesn't look or feel heavy and doesn't set into the fine lines. I like the brand's description "your skin but better", and I agree.
Skincare
REN Evercalm Gentle Cleansing Milk
I can't believe that I still
Read More
Since we were talking about lipsticks yesterday, I thought that'd be a good idea to share about the lipstick which is a part of Clarins' Autumn collection.
I was sent Rouge Eclat in the shade 22 Red Paprika (there is also one called 21 Tawny Rose).
Clarins lip products are fantastic, and  Rouge Eclat is not an exception.  It feels amazing on the lips, almost like a lip balm but with an intense colour. According to the brand, it protects against dehydration, and boosts collagen. And in reality Rouge Eclat one of those lipsticks that feel comfortable on and  stay on nicely, without any drying.
My friend who is not a lipstick wearer who tried this lipstick was impressed that the formula makes it really easy to apply the product as it glides on and doesn't make a mess.
One more thing that
Read More
As always, there are tonnes of new lip products our for Autumn. And here is a first preview of some of them. A balm from Burberry,  hydra-gel lipstick from Dior, revamped Joli Rouge from Clarins and a new line from Bobbi Brown.
Stay tuned for part 2 of the new lipstick launches.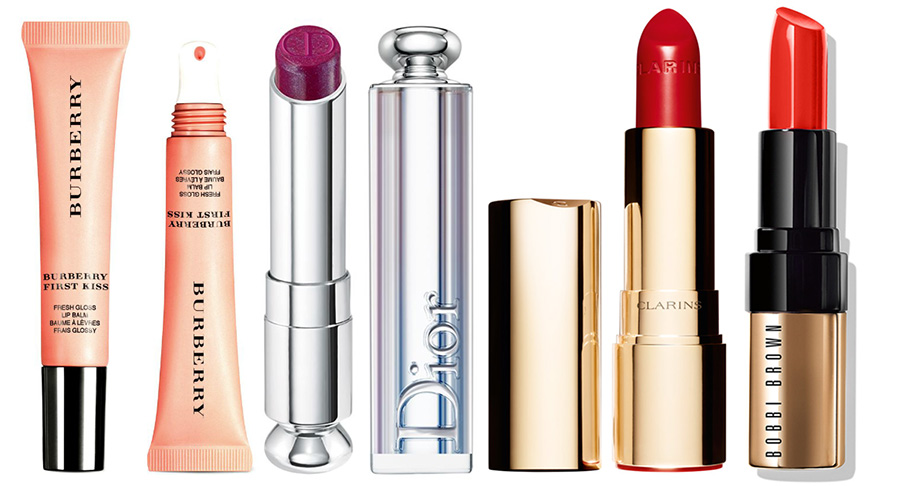 Burberry  First Kiss Fresh Gloss Lip, $26 Available from Saks
Official description: "A soft glossy balm that melts onto the lips, delivering a comforting first kiss of colour and hydration.  Unique cooling ceramic applicator for a smooth finish and invigorated feel, the sensorial gloss-balm hybrid glides effortlessly.  Fuller-looking lips, the moisture-infused formula hydrates lips while smoothing them."
The shades are: No.01 Soft Peach (shown), No.02 Coral Glow, No.03 Rose Blush, No.04 Crushed Red, No.05 Sweet Plum
Dior Addict Hydra-Gel Core Lipstick £26.50 from Harrods and Nordstrom for $35
Official description: "Dior ushers in a new era in lip make-up with the breakthrough creation of a lipstick that boasts a hydra-gel core and a top coat effect for sensational mirror shine. Concentrated in
Read More
Can you believe that tomorrow  is September already? Where did the time go? Yeah, I do realize that I say this almost every month. Actually, August was probably the best month for me this year so far so I am kind of sad that it's over…
So, what beauty products I've been loving this month?
I have to start with shimmering body oils. I am sorry for going on, and on about them. But I am such a die hard fan that I am convinced that every girl needs one in her life. It is a  life game changer! A good oil moisturises the skin and you get that polished and glossy look the models rock in the magazines. I love Omorovicza and Clarins, but there are cheaper options out there, too.
One more products that I won't shut up about is the Aromathepary Assosiates Deep Relax Bath and Shower Oil (review). In fact, some of my friends associate this scent with me at this point. This is the best product for relaxing. If you don't believe in aromatherapy – wait until you try this one. I know that it is not the cheapest one but it will last for ages.
I also have to mention Nivea Extended Moisture, Body Lotion, Dry to Very Dry Skin, as it is a brilliant body moisturizer. Unfortunately, I don't have a bottle any more so couldn't include it in the photo. But I do promise to write a review soon.
Skincare
Clinique Take The Day Off Cleansing Balm (review). I've decided to go back to this simple cleanser in August, as
Read More