Clarins' Autumn makeup collection, Ladylike, looks pretty amazing with all those brand new products, and beautiful new shades of the already existing range. Let's take a look…
The new products are:
Ombre Matte Cream-to-PowderEyeshadows, £19
Cream-to-powder eye shadows with Bamboo extract are promised to be smooth, lightweight and long-lasting.
The shades are: 01 Nude Beige, 02 Nude Rose, 03 Taupe, 04 Rosewood, 05 Sparkle Grey  and 06 Earth.
Perfect Eyes and Brows Palette, £35
This  kit contains everything you need for your eye brows to look neat: 3 eye shadows, brow wax, highlighter, mini twizers, and two mini brushes.
Instant Light Eye Perfecting Base, £22
I am a  personally a huge  fan of Clarins Instant Light Concealer, so have big hopes for this new Perfecting Base which contains oat sugar extract and helps to smooth, brighten  and illuminate the  eye area, and make the
Read More
It seems like it's now a tradition to show you  what beauty and makeup products I take with me when I am away, just like in this post. So, since I am currently visiting my family, here is a quick update on what products I took with me.
To tell the truth, I barely wear any makeup these days but I did take quite a few products (and a lot of brushes) since people always ask me for a makeover.
I am very happy with the skincare that I've packed with me, including a lot of mini bottles which I am currently testing.  I only wish I took more than three nail polishes, as my 5-years-old-cousin loves to borrow them
Speaking of my cousin, she insisted on inspecting my "treasures" as she described my makeup bag… When she saw the red lipstick I had,  she told me that she had to put it on me, since it'd make me look gorgeous. What can I say? She does know beauty.
Read More
Clarins make the best lip products, so I knew that their version of lip crayons, which came out as a part of summer's Colours of Brazil collection, would be amazing.
But they are actually even better than I expected. Creamy and pigmented but smooth, lightweight and hydrating at the same time.
Clarins' Lip Crayons have a luminous glossy finish, and give just enough of "statement" on the lips . They are basically like a balm in a stick form that give you a pretty pop of colour for summer. I find that
Read More
There are so many new foundations out this Autumn that I've lost the count. Almost every brand is brining out one. Here are only some…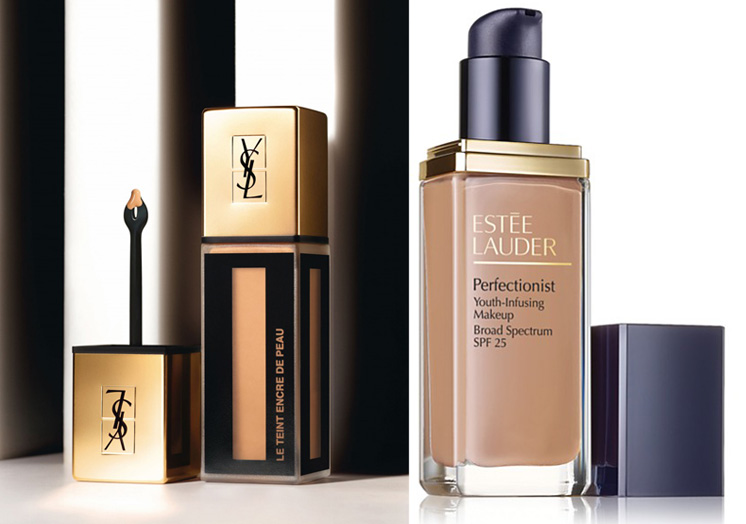 YSL pic from magazine.flaconi.de
YSL Le Teint Encre de Peau -Lloyd Simmonds about it here.
Tom Ford Traceless Perfecting Foundation SPF15
Clarins True Radiance Foundation
Shiseido Sheer & Perfect Compact Foundation
Chanel Vitalumière Loose Powder Foundation SPF15
Sisley Phyto Teint Expert Foundation
Marc Jacobs Smart Wand Tinted Face Stick, $42 from Sephora.
Max Factor Skin Luminizer  Foundation
Laura Mercier Smooth Finish Flawless Fluide from Sephora for $48.
Estee Lauder Perfectionist Youth-Infusion Makeup SPF 25, already available here and here.
There is
Read More
It's been quite some time since I did the "empties" post last time. Since this  weekend I was cleaning my bathroom, and found several empty bottles, I though I'd share with you. I usually throw those away immediately, but here are some that I've kept for the post
So, here we go…
A lot of Clarins, nothing new here. Clarins Extra-Comfort Toning Lotion for Dry and Sensitive Skin and Clarins Water Comfort One-Step Cleanser with Peach Essential Water are simply brilliant. Both products!  One of the best toner, and  a great morning cleanser when you don't have time or don't want to spend a lot of time massaging in your cleansing balm. I will definitely re-purchase both in the future.
The Double Serum  doesn't even need an introduction, it was probably the most talked about, multi-award winning,  serum in the last two years.  And rightly so, it is very good.
The best on-line shop to buy Clarins from is Escentuals.
Body Care
Lately I've been obsessed with
Read More