Since my post about pink blushers got so many views, I've decided to write one about reddish ones, too. Do let me know, if you'd like me to choose 5 corals/peaches and berries/plums…
So here is what I've picked:
Hourglass Aura Cheek Tint in Flush (review and swatches)
I think that Flush is a perfect name for this sheer water-based blusher, it gives the most natural and beautiful effect.  Cheek Tint is easy to blend, plus it has a nice staying power.
Max Factor Miracle Touch Creamy Blush in 18 Soft Cardinal (review and swatches)
This is probably my personal favourite! It is a gorgeous cream blusher with "wet & glossy" texture, it doesn't enhance any dry patches and looks like a second skin, I use it
Read More
I was asked about the Clarins Be Long mascara so many times… This is why I am happy to share my opinion about it.
Lately I've been loving volumizing mascaras that give a real wow-effect, such as Chanel's Le Volume de Chanel and Max Factor's Excess Volume Extreme Impact , so I was a bit afraid that this one could be too subtle. But, luckily, you can get not only "natural looking lashes" with this mascara. You can achieve more dramatic results, too.
Be Long has a small rubbery bendy  brush which  makes the application very easy, you can also apply it to the bottom lashes, without getting the product everywhere. Plus you can get even the smallest and the shortest lashes with it. Win-win!
So what are the results? You get
Read More
It is time for March beauty favourites, and this month I have discovered some  new amazing products and re-discoverer some  products I've been loving for years.
So what products I re-discovered?
Jo Malone Vanilla & Anise Cologne
I have finally picked up a second bottle of this spicy and warm scent, which is among my all-time favourites.  I like that it is relatively simple, but not boring. Vanilla & Anise is not extremely mainstream, and I don't meet hundreds of people smelling the same. I better write a proper feature about it soon. 
Clarins Instant Light Natural Lip Perfectors (review and swatches)
I could be "the face" for these glosses
What do you think, Clarins? First of all I adore these balms and I always have them around. But also I have converted so many people to them (it's like a sect now). Yes, I even got e-mails from people telling me that they've discovered this gloss thanks to my numerous raves and now love it, too. And are you a fan already?
As for the new products…
Josie Maran 100% Pure Agran Oil (review)
This was my
Read More
I have re-organized a lot of my makeup/skincare/body care/ hair care products this month. Yes, I am still trying to think of the best storage for my nail polishes.
It was a great thing to do since I a) re-discovered a lot of products b) gave away cosmetics that I don't use any more to my aunt c) it's just nice to have everything neat and tidy.
I actually like keeping some of my most-used products in the Jo Malone packaging, the classic cream and black boxes fit  enough of products and look nice in my flat.  Above you can see  my personal most used primers-bases-concealers.
Showing you my top "base" products seemed like a nice idea, so here we go:
Hourglass Illusion Tinted Moisturizer in Ivory (review and face swatches)
I did not like it that much at first, but now I absolutely adore it. It gives a good coverage for a tinted moisturizer, and is a great product for the days when (you &) your skin is tired and lacks a glow, as it
Read More
Do you remember my post about the pink makeup products for Spring? Pink is always the hottest shade for the new season, I personally believe that  rose-tinted cheeks instantly changes everything! You look fresher, and even younger, in a way.
This is why I've decided to show you five different variants that you may like…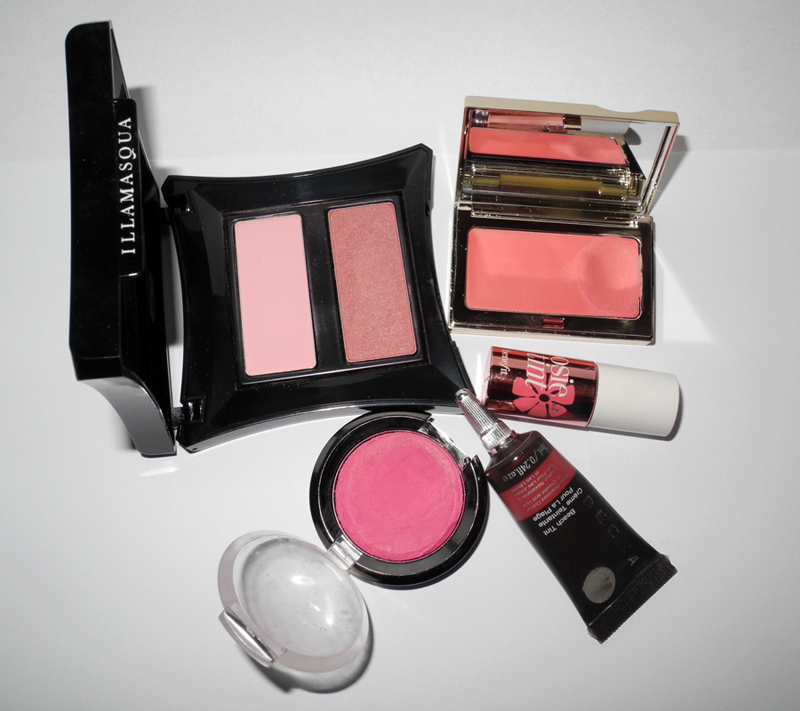 Clarins Clarins Multi-Blush Cream Blush 02 Candy (review and swatches)
This is a good option for those that are afraid of pigmented  and "greasy" blushes, you can get a very sheer coverage with Multi-Blush, plus  the texture is more cream-to-powder, so should work for all skin types. This  is the most natural shade out of five.
Daniel Sandler Watercolour Creme -Rouge Blusher in Hot Pink (review and swatches)
Hot Pink is probably my personal favourite from the bunch. It may
Read More