Finally, the craziest months work-wise are behind, and I will have more time for important things in life, like beauty (ha!), catching up on the series that I am watching, reading books, and my friends.
Here are the products I have been loving in July. And, although, I have mentioned some of them so many times, there are also some new additions.
Just like last month, I have been using  Rouge Bunny Rouge Flawless Face Powder Precious Velvet (review) non-stop. It is a gorgeous light powder which sets the makeup, perfects the skin and looks really natural on.
Shadows wise, I am sure this won't be a surprise at all to see Solstice Halcyon (review and swatches) yet again because I simply adore that eye shadow, and also  Kiko's Water Eye shadow in 202 which is a gorgeous brownish purple with golden shimmer, this beauty deserves a feature, so stay tuned.
For some reason, lately I haven't been that much into red and berry lips, so it was about rosewood Clarins which I promise to post about soon, as it is a perfect nude, if you ask me, and L'Oreal Glam Shine in Dazzle 201 Sparkle Shower (review and lip swatches) which gives that oh-so-pretty sparkle in the sun and feels amazing on the lips.
Skincare and Body Care
Read More
Apparently, it's a National Lipstick Day on the 29th July. Please check out the feature I've written for Mode about my 7 lipstick picks.

Check out Must Have Lipsticks for Every Makeup Bag
Read More
Clarins Autumnal collection focuses mainly on the eyes with soft pink & beige shades for the day time and purple & black for the evenings. There are also new eye brow pencils and two lipsticks to choose from.
Pretty Day 5-Colour Eyeshadow Palette (LE, £33) Pretty Day and Pretty Night
Five wearable eye shadows: beige, pink and shimmering taupe; and matte and shimmering warm browns.
Ombre Matte (£19)
Two new shades of these cream-to-powder eye shadows in 07 Carbon 08 Heather. If you are wondering about these eye shadows in general, here is my review of other shades.
Crayon Khôl (£17)
Two shades in
Read More
I rarely post beauty empties, as I don't like gathering empty bottles and I do finish a lot of them, but it is different with makeup, I barely ever finish anything, so having three empties is a big deal. Plus I  really love all of them, so it was worth mentioning…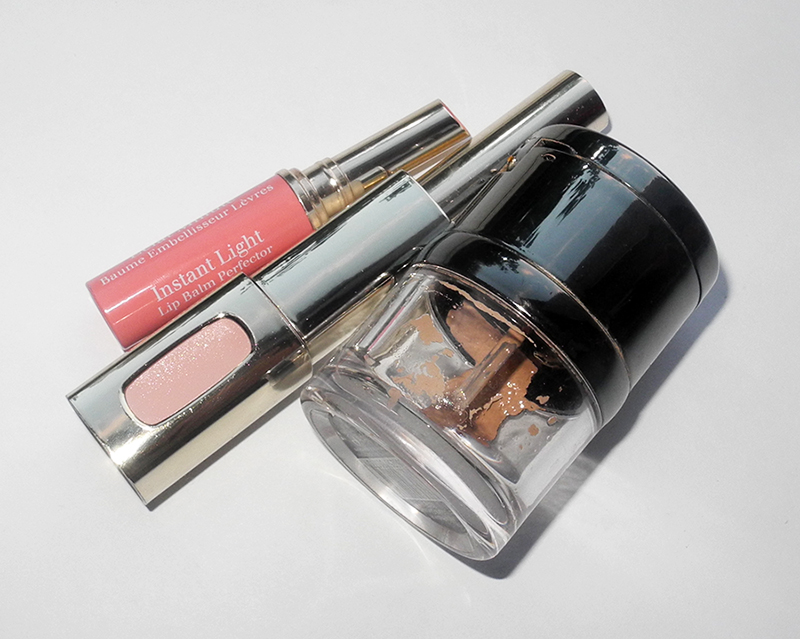 Daniel Sandler Invisible Radiance Foundation and Concealer (review)
This is the second foundation I have ever finished in my life. The first one was Max Factor's Second Skin which was the best affordable foundation on the market, in my opinion (it is sadly discontinued). Invisible Radiance Foundation and Concealer is a great choice if you want  a medium, natural looking coverage and a beautiful glowing finish.
Clarins Instant Light Lip Balm Perfector (review and swatches)
Read More
If you a regular reader, you know my obsession with shimmering body oils. I personally think that it's a must have for summer.
Today I want to share about a really lovely one – Clarins After Sun Shimmer Oil.
Although, this is a nourishing oil, it feels light on the skin, absorbs quickly and doesn't leave the greasy residue.  It adds that beautiful glow thanks to the micro-pearls and evens out the skin-tone slightly.
Unfortunately,  I did not have a chance to use it after the sun (hopefully, yet) but it works great for my pale greenish/blueish legs anyway. It also adds extra healthy glow after the fake tan.
The oil has a
Read More