During the last several weeks I had a lot of stress, did not sleep that well, plus I have to take some medicine for three months, among other things. Why am I even telling that? So that you can release that my skin doesn't look fantastic, unfortunately.
That's when lill' things like Clarins' Instant Light Radiance Boosting Complexion Base are like life complexion savers.
I actually have a lot of different bases but most of the times, I just skip this step altogether. But not now!
This is a  lightweight base that doesn't feel greasy or oily on the skin, plus I'd say that is makes the skin softer (yes, I did touch it) and smoother. I don't have particularly large pores  or major imperfections, but I would say that it definitely improves (visually) the look of the skin.
With my tired, glow-lacking, post-winter  complexion I can  really appreciate the
Read More
Clarins' Makeup collection for Summer 2014 called Colours of Brazil is absolutely  gorgeous with all the gold and blue shades and beautiful  prints and  embellishments.
My personal favourite product has to be the Colours of Brazil Quartet & Eye Liner Palette (£32)
Truly stunning shades of eye shadows and that eye liner is to die for. Plus you get a special edition compact.
There is one more product for the eyes - TrulyWaterproof Mascara (£21) in black.
According to the brand, it is both lengthening and volumizing, the formula contains the combination of bitter orange tree wax and squalance from olive, which nourishes and conditions the lashes. It will be a part of the permanent line, unlike all the other products from the collection.
I am a huge fan of Clarins lip products, so am happy to see six shades of the new product, the brand's variant of
Read More
I am a huge fan of Clarins skincare, as you all know, so that is why I was excited to try their Double Serum. This was the most promoted Clarins product in years and the campaign was huge.  There were a lot of different reviews, a lot of people raved, some  were put off by the mineral oil. And I've decided to wait, and use up the whole bottle before sharing my experience.
As you can tell from the photo above, I did use up the whole bottle. And… I did love this serum a lot.
It is  a two-phased system Hydric + Lypidic system, which means that you mix it before applying to the face. It is labelled as "age control with 20 anti-ageing pure plant extracts", and I was told that it will be more effective if you are 25+.
So what is my impression?
This AW season I was sick twice, and this product literally saved my skin! You know how the skin can react to a long-time cold? Yes, that. And this serum was the only thing I've used morning and night. It literally brought my dry, flaky and dull skin "back to life".
And what about the general effect?
I am
Read More
It's the last day of January, so it means that it's my dearest brother's Birthday, time for monthly favourites.
First of all, this month it's been all about the face oils, different ones, some of  them are pictured below. As I've shared recently I've been walking a lot, thinking more about the food I eat and about my skincare, and I can definitely see the positive changes in the way I feel, and in the way my skin looks.
You can read my post about the oils shown above here. In fact, as I am writing this, I plan on purchasing some new oils. I've heard so many great things about Tarte's Maracuja Oil and Josie Maran's oil, so have to give them a go! Or maybe I should just get this set? It looks SO good!
I have been also loving all my body and hair oils and plan to get some  new ones, too. Making the list, so your recommendations are welcomed.
As for other beauty products, I've been loving:
Makeup
Maybelline Color Tattoo 24HR in Metallic Pomegranate (review)
It is such a gorgeous brownish purple with golden shimmer, my new love in terms of eye shadows.
Clarins Instant Light Radiance Boosting Complexion Base in Rose
Review coming soon. If you want a subtle glow and radiance to your skin, this is the  product for you. There are quite a few ways you can use it, and I personally love using it all over the face under the light base, so that it can
Read More
Pink is the colour for Spring 2014, a lot of beauty brands have at least one rose-tinted product in their seasonal release. And it's not a surprise, what other shade can perk up your complexion and make it look fresh and youthful?
Even the promo photos of the leading luxury beauty brands [YSL, Givenchy, Lancome, Burberry, Dior, Guerlain] give us an inspiration on how to wear pink, which is always feminine and classy. And with all the variations of this prettiness, colour and texture wise, every girl, no matter what age and skin tone, can find a suitable product.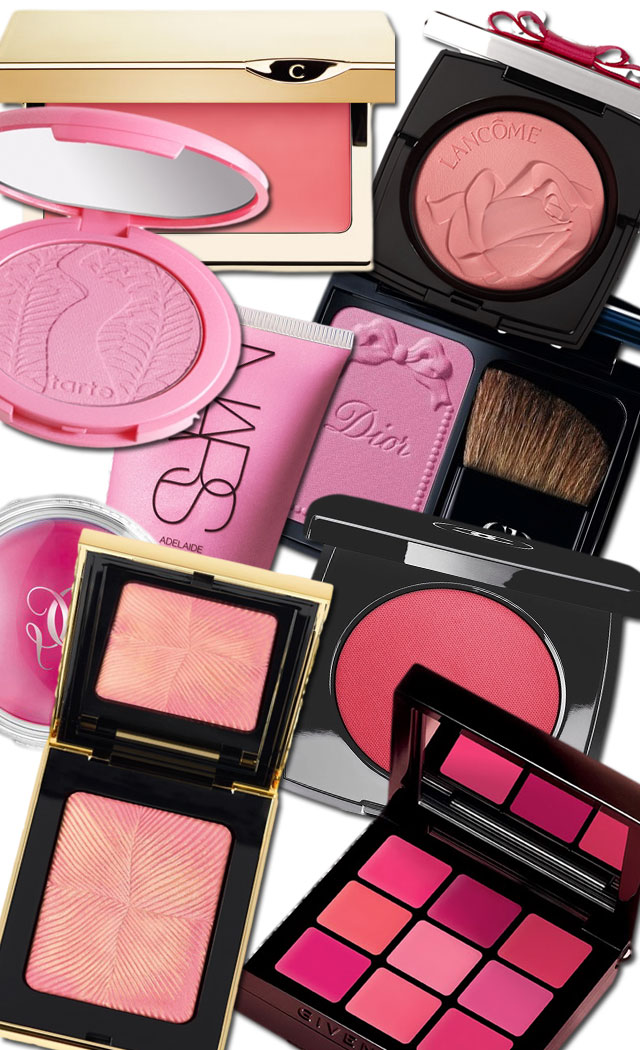 Here are some of the products you can choose from:
Clarins Multi-Blush Cream Blush in 02 Candy, Lancome Blush Highlighter, Tarte Amazonian Clay Blush in
Read More