It's a about time I share top 14 most popular posts from 2014. It is better late than never, right?
1 Kate Moss Rimmel Lipstick Review and Lip Swatches  - link
2 Beauty Inspiration: Blair Waldorf's Wedding Makeup – link
3 Yves Saint Laurent Volupte Sheer Candy Review, Photos and Swatches – link
4 Emily Blunt's makeup – link
5 Rouge Bunny Rouge Eye Shadow Palette Raw Garden in Chronos Review, Swatches – link
6 Daniel Sandler Watercolour Blushes Review and Swatches - link
7 Clarins
Read More
Here is finally a third part of my 2014 favourites: you can see part one here and part two here. This time it is all about skincare…
Cleansers
Elemis Pro-Collagen Cleansing Balm (Review) This was definitely my favourite cleanser of the year, it smells divine, feels gentle on the skin and leaves it smooth and plumped. Having a massage with it is so relaxing and pampering, a great way to finish off a busy day and have some "me" time.
One-Step Facial Cleanser with Orange Extract (review)
When I am in a rush, and don't have time for a "proper" cleanse, which is usually in the mornings, – this is the product I reach for. I find that it works great for my dry and sensitive skin, removes the makeup and does leave the skin feeling amazing, as if I did the whole cleanse-tone routine. Did I mention the lovely scent?
Clarins Gentle Exfoliator Brightening Toner (review)
Another Clarins product, a
Read More
Some of the Spring 2015 makeup collections are already available! For example Clarins' Garden Escape from Nordstrom and Harrods.
The makeup look from the promo photo is absolutely beautiful, fresh and  feminine. With the colours that represent Spring – pink and green.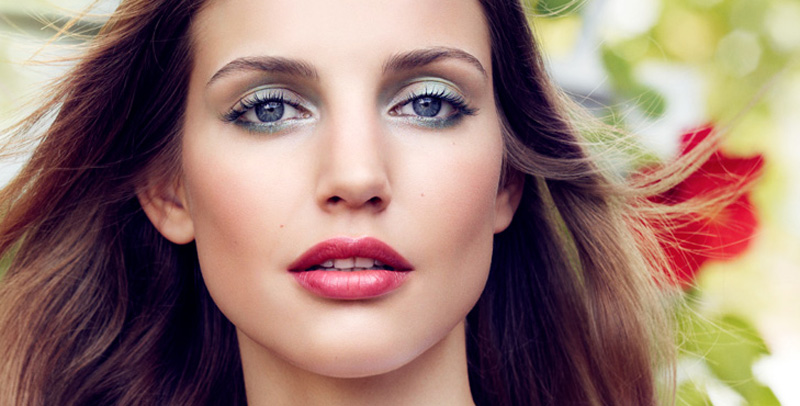 Fantastic news for all the fans of the brand's Instant Light Natural Lip Perfectors, there is now a new product in the line -Instant Light Lip Balm Perfector, ($23/£18 here).
It comes in 6 shades: 01 Rose, 02 Coral,  03 My Pink, 04 Orange, 05 Red and 06 Rosewood. It is described as a "rich, creamy balm that plumps and illuminates the lips".  Are you excited or what?
Besides the new balms, there are also some other amazing products:
Read More
Here is, as promised, the second part of my Favourite Beauty Products of 2014 features.
This time it's all about the eyes & lips. Enjoy, and don't forget to share yours.
Eyes
Eye Shadows Platte – theBalm Shady Lady Vol 2 (review)
I have re-discovered this beauty in summer, and  this was the palette I travelled with most of the times, amazing formulas, great colour selection, thin packaging and great mirror – what else do you need? theBalm eye shadows are among the best.
 Mascara – Clarins Be Long (review)
I've managed to get lush looking lashes with Be Long, it separates perfectly, is never clumpy, and gives a nice , rather dramatic effect, if you use several coats. The brush, for me, is mess-free. I have recommended it to several friends, and they loved it, too.
Cream Eye Shadow - Max Factor Excess Shimmer Eye Shadows  (review)
Definitely one of the coolest eye shadows I've discovered  in ages.  Mousse-like texture that allows you to get a sheer   hint of shimmer, or layer it on for a more intense look. It is stunning both ways!
Eye Shadows – Rouge Bunny Rouge Eye Shadow in Solstice Halcyon  (review)
This is
Read More
It is the time when I  am telling you about my favourite products of the year. I did not pick a product in each category just for the sake of having one, but rather only those that really stood out for me.
The first part will be about makeup. Here we go…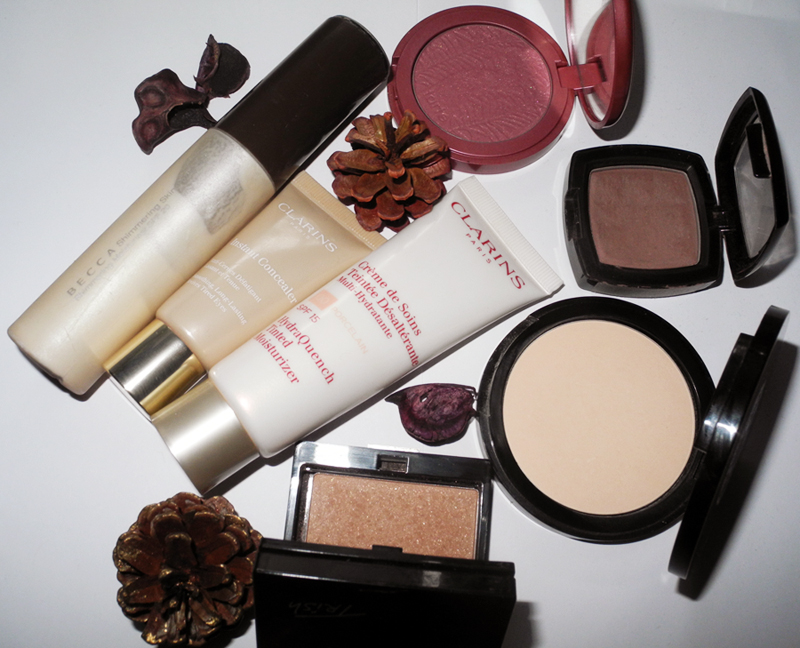 Face
Base:Clarins HydraQuench Tinted Moisturizer (review)
Although there were quite a few "foundations" I loved, this  tinted moisturizer was the base of 2014. It gives a natural and glowing light-t0-medium coverage, and leaves the skin looking beautiful.  HydraQuench is one of my favourite skincare ranges, and this TM is just as good, as everything else, works perfectly for my very dry, dehydrated and sensitive skin. I am very pleased that it never accentuated any dry patches I sometimes have.
Concealer: Clarins Instant Concealer (review)
Definitely the best concealer out there, covers the dark circles and brightens the under eye area, doesn't get in the fine lines, stays on really well.
Powder: Rouge Bunny Rouge  Flawless Face Powder Precious Velvet (review)
I have to say that
Read More