If you are a regular reader – you probably know how much I love Clarins Instant Light Radiance Boosting Complexion Base, I have mentioned it so many times, and here is a detailed review.
The brand brought out two new shades as a part of their summer collection – 04 Apricot and 05 Golden Bronze, and I was sent one of them for a review. So let's take a look.
Golden Bronze basically warms up the complexion and gives you a subtle healthy golden glow.
And you can pull it off, even if you have light skin, just mix a drop with your foundation, or apply where you'd apply bronzer.
If you are tanned – use it all over the face, and just
Read More
Spring is the start of  the new season, and it is the time when we all want changes. I thought I'd share a little list of things that inspire me these days. Hope you enjoy.
Here is part one, my beauty list:
1. Start Wearing Bright Lipstick!
My friend is wearing Illamasqua Atomic. And myself – Guerlain KissKiss in 325 Rouge Kiss.
I wrote a post about makeup during a hard time here. As, I've already said – it won't make whatever you are going through go away, but it does make a positive impact.  Every little thing helps.
2.  Get That Glow.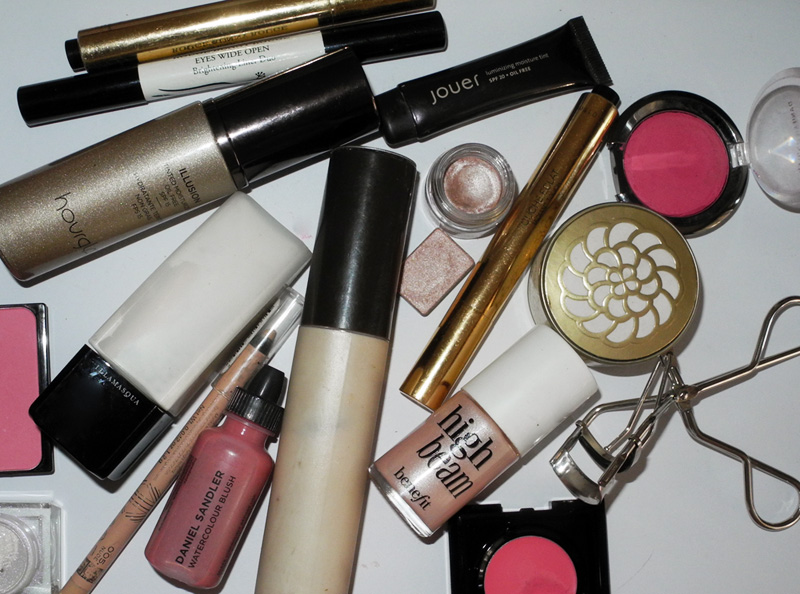 I actually did a very detailed post on how to fake achieve glowing  and radiant complexion with makeup. And you can all read about it here and here.
3. Invest in that "Radiance" Skincare.
Makeup is amazing! But it all starts with good skin. After winter it may look dull, grey and tired, this is why good quality serums and oils are a must-have. Below you can see two great options, and I plan on
Read More
Here is a preview of Clarins' Aquatic Treasures makeup collection for Summer 2015. And it is a nicely edited and small one.
And I personally really like the promo image, the model is gorgeous and I really  want to sit by the pool, or even better near the ocean, right about now.
You can always count on Clarins when it comes to seasonal bronzers – this time they brought out Aquatic Treasures Summer Bronzing Compact (£30) which has marine inspired motives and comes in a beautiful  packaging.
Threre are two new (LE) shades of the amazing ( I really love mine) Instant Light Radiance Boosting Complexion Base (£26) to give you that sun-kissed glow in 04 Apricot 05 Golden Bronze.
Also two new (LE) shades of Ombre Iridescente (£19) which are iridescent cream-to-powder eye shadows in: 01 Aquatic Rose and
Read More
Considering  that it is Spring, even I wanted to incorporate some colour in my look. And by colour I mean navy and emerald, not pink and orange.
I did not buy a new nail polish in ages, somehow I couldn't find the shade that would stand out to me. But when I saw Rimmel's Lycra Salon Pro Nail Polish,  411 Navy Seal, I knew that I had to get it. It is such a gorgeous muted dusty navy blue. I love my  blue nail polishes and somehow didn't have such shade in my collection, so I am very happy to have it now.
Have been wearing it on my nails for the last week, so expect the nails of the day soon.
It goes perfectly
Read More
Recently several girlfriends asked me about  wearable/"beginners" red. So I thought I'd write about it here, as some of you may be interested in this topic, too.
Althought I personally love matte  full-on red, I perfectly understand that not everyone is ready for it. This is why sheer formulas may be a good option to begin with.
I have chosen three that I love. And these all are high-end. Why? Well, if you buy a "cheap" red, you will always find an excuse not to wear it. But if you invest in a luxury lipstick – you'd have to. And, let's face it, who doesn't love beautiful things?
Clarins Instant Light Lip Balm Perfector 05 Red (review and swatches)
This is the
Read More