Only recently I've posted about the new shades of Clinique Chubby Sticks for eyes and lips, and guess what?
Their Chubby Sticks for cheeks are finally available, too. It's about time.
I love how user-friendly makeup is these days, it is pretty much impossible to mess it up, even if you are not an expert. You just apply the, 0il-free, blush to your cheeks from the tube and
Read More
Clinique brought out quite a few new products. And, although Clinique is not the first brand that I turn to when I am shopping for makeup, some of the colours look incredible on the promos, so I will have to see them in real life.
There are four new shades of the Chubby Stick Shadows, and don't they just look beautiful and so much fun?! It's amazing to see something different from the usual bronze and gold shade for the eyes.
Oversized Orchid, Plush Periwinkle and Grandest Gold, Biggest Blossom
The new shades are already available from Harrods for £17.
One more product that makes me pretty excited is the brand's new
Read More
I am a big fan of cleansing balms and melting cleansers mostly because they work great for my dry and sensitive skin, and  also because I love to massage my face while using a cleanser.
It all started with Elemis Melting Cleansing Gel (review) back in 2011, and I never looked back! Over the years I have now tried quite a few, so decided to make a lill' round-up. Maybe, if you are looking for such kind of cleanser, this will be helpful.
Elemis
Read More
I don't really shop at Clinique a lot, so their  Take The day Off Cleansing Balm was a random purchase and I am very happy that I've bought it.
It is actually a very lovely product, as it gently removes all the makeup and impurities, without drying out the skin.
I personally don't find it oily or greasy and love the solid formula which  transforms into a silky balm on the skin.  I usually massage it for several minutes, while watching something. I find that I get the best results that way, facial massage is very effective indeed. This cleanser doesn't dry out my skin, as I've already said, but leaves it smooth and soft.  Plus I find it pretty economical, as you don't really need that much.
It does remove eye makeup, but I always use a separate make-up remover for
Read More
Only recently I've posted about the MAC 15 pan neutral eye shadows palettes and here are two more, very tempting, offerings for the nude-ish eye shadows lovers.
The NARSissist eye palette, £55/$79
I think I need this one in my life, with the 15 NARS best-selling shades, it looks stunning: All About Eve I: a flesh-toned neutral, Madrague II: a matte caramel,  Fez: a velvety cocoa,  Bali: a neutral,  Coconut Grove: a deep brown infused with reflections, Madrague I: a matte cream, Nepal: a soft, sheer rose, Ashes to Ashes: a shimmery violet-based brown, Brousse II: a black violet, Mekon: an espresso infused with gold, Bellissima I: a shimmering beige with subtle glitter, Lhasa: a lavender grey,  Bad Behavior: a deep pewter, Dogon II: a charcoal black and Pandora II: a matte black.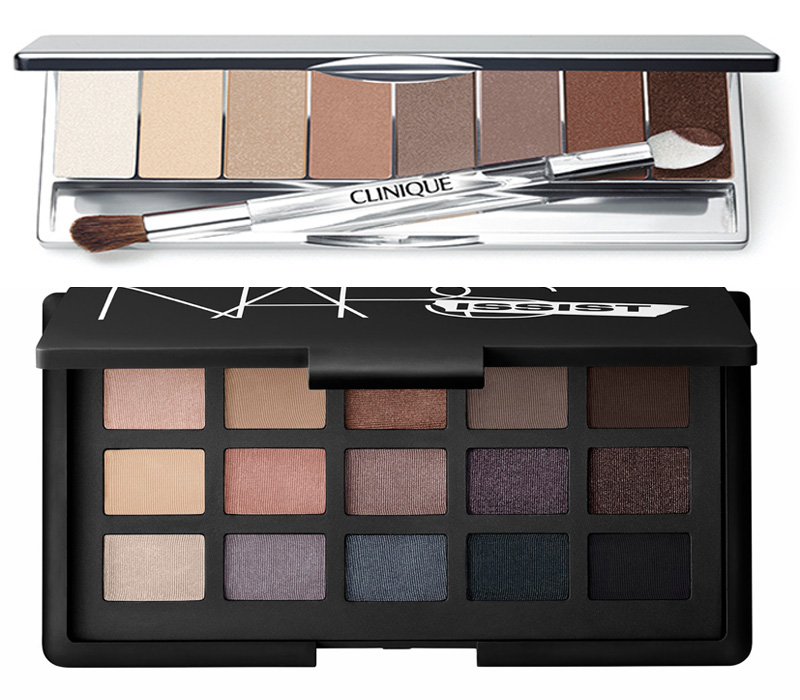 Clinique
Read More