Here is a preview of the latest blushers launches for SS16 from theBalm, Clinique and Kevin Aucoin.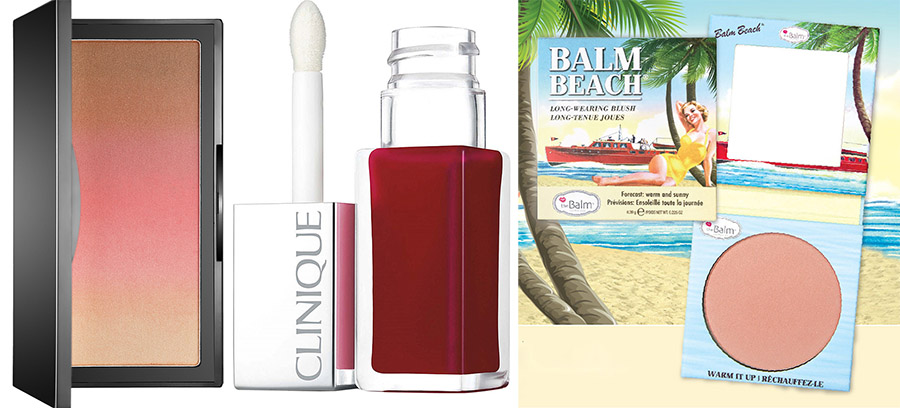 Clinique Pop Oil lip & cheek glow 7ml, £16 from Selfridges and Harrods.
"Bring a subtle pop of dewy colour to the lips and cheeks with Clinique's nourishing tint balm. Enriched with safflower, jojoba and sunflower seed oils, this fluid-gel formula feels both luscious and lightweight – ensuring a long-lasting, flawless finish."
Black Honey, Nectar Glow, Poppy Glow and Rose Glow (shown above)
theBalm Balm Beach blush, $21 from Nordstrom and ASOS.
Balm Beach is a part of the staining powder blushes range! And it is described as
Read More
You just can't get wrong with a lip set or a palette when it comes to Christmas beauty presents.  And here are only some that caught my attention, there are a lot of other sets. In fact, you can see some of them here.
Here is a selection with a different price point, too.

Bobbi Brown University Lip Palette, $60 from Sephora
12 x 0.45 oz Lip color in Salmon, Beige, Raisin, Brown, Rose, Pink, Orange, Blackberry, Burnt Red, Red, Beige Gold, Berry Shimmer.
Handy compact palettes are a great addition to any make-up artist's kit or any makeup lover's collection.
Clinique Days of the Week Lipstick Gift Pack, £31.50 from Look Fantastic
This is such a cool idea – a lipstick shade for every day. The price is also amazing, you'd pay that for one high-end lippie.
Sweet Sunday , Monday Mojo, Take-On Tuesdays, Welcome Wednesday, Throwback Thursday, Finally Friday and
Read More
Can you believe that tomorrow  is September already? Where did the time go? Yeah, I do realize that I say this almost every month. Actually, August was probably the best month for me this year so far so I am kind of sad that it's over…
So, what beauty products I've been loving this month?
I have to start with shimmering body oils. I am sorry for going on, and on about them. But I am such a die hard fan that I am convinced that every girl needs one in her life. It is a  life game changer! A good oil moisturises the skin and you get that polished and glossy look the models rock in the magazines. I love Omorovicza and Clarins, but there are cheaper options out there, too.
One more products that I won't shut up about is the Aromathepary Assosiates Deep Relax Bath and Shower Oil (review). In fact, some of my friends associate this scent with me at this point. This is the best product for relaxing. If you don't believe in aromatherapy – wait until you try this one. I know that it is not the cheapest one but it will last for ages.
I also have to mention Nivea Extended Moisture, Body Lotion, Dry to Very Dry Skin, as it is a brilliant body moisturizer. Unfortunately, I don't have a bottle any more so couldn't include it in the photo. But I do promise to write a review soon.
Skincare
Clinique Take The Day Off Cleansing Balm (review). I've decided to go back to this simple cleanser in August, as
Read More
As I have already mentioned on Twitter, it is easier to say what brand is not bringing out eye brow products for AW. You can browse the "Launches" section to see for yourself. And here are a few that I haven't mentioned before…
As you can see from the photo above, now you don't need a Pro eye brow brand to get a specific product, these days a lot of beauty brands have a huge selection: from stencils and powders to pencils and gels.
Smashbox Brow Gloss Stick
It gives eye brows a natural sheen, there is a spoolie on the other end.
 Smashbox Brow Tech Highlight Stick
A highlighting brow pencil that glides on for subtle color and multi-dimensional, shi mmery finish. Double-ended with a spoolie brush.
 Smashbox Tech Matte Pencil
A brow pencil with an ultra-fine point that allows you to mimic hairs to extend your brows and fill in sparseness.
Clinique Just Browsing Brush-On Styling Mousse, $16.50 from here.
Read More
Even several years ago contouring was a pro thing but now everyone does it. It seems like contouring is now such an essential, as mascara, or we are getting there.
In the past it was hard to find a good product, as often they were too orange, too muddy etc. But now, with such a competition, the brands stepped up their game, so finding  a suitable shade and formula shouldn't be a problem.
If you are still not contouring (now it sounds like a sect, ha!), SS 15 is a perfect time to start, as there are tonnes of new releases. I have already mentioned  Kat Von D, BECCA and Laura Mercier. By the way, if you are not ready to spend a lot on this step – Jane shares about the new Chiseled  palette from Barry M here.
But there are more…
Smashbox Step-By-Step Contour Stick Trio  (get it here for $45)
Read More