Several brands are bringing out new eye pencils for Autumn. So far I have the details about Clinique and Smashbox. So let's take a look!
Smashbox Always Sharp Waterproof Kôhl Liners are available in eight shades: Violetta,  Sumatra, Storm, Raven, Penny Lane, French Navy, Cabana and Bare.
The idea behind these is that they self-sharpen every time the cap is removed.  I would really love to see if it is true! If it is, that'd be a prefect product for a crisp and precise line. A dream came true. The price is $20.
As for Clinique – their
Read More
It's about time for my June favourites, right? But I guess it is better late than never, so here we go.
First of all I want to show you two products that I couldn't find when I was taking a  group photo. Since I am completely re-doing my place, it's a total mess and it can be hard to find things…
Face
Amazemitt
I was away half of June and this lill' mitt was a great product to have with me. Although it is suggested that you use it without any cleanser to take the makeup off (and it does work that way), this time I've used it with a cleanser to make sure that everything was properly removed from my face.
Bronzer
I don't wear bronzers, unless I have some tan on. And since now I do, mostly thanks to self tanners, I've been wearing this YSL's Terre Saharienne bronzer a lot in June. It warms up the complexion and has the right amount of shimmer, which is not over the top, but spot on.
Eyes
Eye Shadows
I have been absolutely in love with Daniel Sandler's Eye Shadow Quad in Scandal at Midnight, I've used it both on myself and on the beautiful model on the shoot I worked on recently.  And, as I've already mentioned Desire is perfect for
Read More
Clinique are launching a range of nail polishes which will retail for £12/$16 and are described as "glossy, long-wear colour that's easy on the eyes". Which means that it won't irritate the eyes when you touch them with your hands.
Besides the regular line, there will be limited edition collections, as this summer one with eight shades to choose from: Splish Splash, Juiced Up, Hot Date, Summer in the City , 70 and Sunny, Hula Skirt, Pinkini,  and Grape Ice.
They are actually already available in the USA.
Read More
Since yesterday we were talking about some new launches for lips, let's take a look at some new products for the eyes today.
Clinique Chubby Stick Shadow Tint for Eyes ($16/£16) are finally here! And these are promised to be  lightweight,  creamy, long-wearing and  versatile.
There are twelve shades: nudes and browns,  greens, pinks and purples, also blues and grey. I personally like quite a few shades.
Bountiful Beige,  Ample Amber, Lots O'Latte,  Fuller Fudge, Whopping Willow and
Read More
I am loving the look of the new Clinique Chubby Stick Intense, there are quite a few  shades that I would like to try.
These are basically the intense version of the original Chubby Sticks.  Great idea, vibrant colour that can be used on the go, what is not to like? These should be out in November and will retail for £16.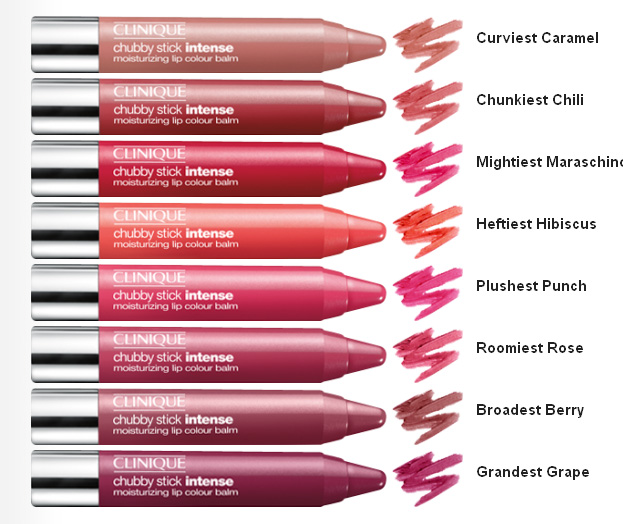 Which shade do you like the best?
Read More