I was browsing Makeup4all the other day, and stumbled across this post from 2010. The point was to choose only three products I could use for my makeup. I was actually surprised by my choices, so thought I would do the same thing six years later.
So here is what I would go for and why:
Eye liner (ArtDeco Long Lasting Liquid Liner 01 Black)
I just have to have some kind of definition for my eyes, black liquid eye liner or a brown eye pencil, or even some eye shadows. But if I could use only one product- that would be this. These days I am loving ArtDeco, but there are lots of other nice ones I like.
Mascara ( Max Factor Voluptuous False Lash Effect Mascara, review coming later)
Read More
Regular readers know that I am a big fan of Daniel Sandler blushers, they are so unique with that one-of-a-kind liquid formula. I have written so many times about them, and here is a link to a very detailed review with the tips from Daniel himself. I also wrote about the cream formula, too.
I like that Daniel doesn't bring out tonnes of products but when he does – they are awesome.  This month he added two new shades of the liquid Watercolours and one cream version to his line, and they all are dreamy.
You can choose from Rose Glow ( a pastel pink-peach shimmer) and Golden Glow (warm bronze shimmer); the cream shade is Soft Bronze (a delicate pink-peach hybrid with a twist of a bronze). And they are honestly my favourite shades from Daniel so far, and I have quite a collection at this point.
All three shades give that healthy glowing effect which
Read More
I rarely post beauty empties, as I don't like gathering empty bottles and I do finish a lot of them, but it is different with makeup, I barely ever finish anything, so having three empties is a big deal. Plus I  really love all of them, so it was worth mentioning…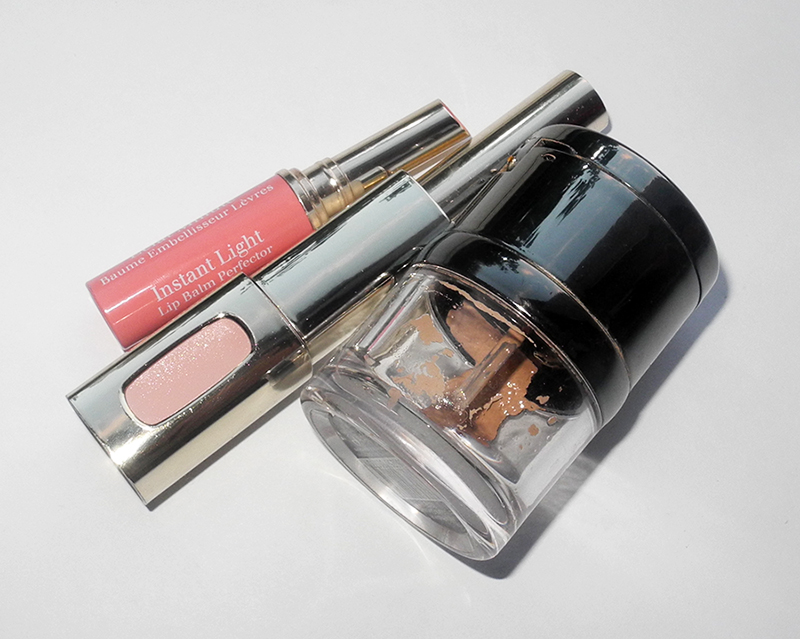 Daniel Sandler Invisible Radiance Foundation and Concealer (review)
This is the second foundation I have ever finished in my life. The first one was Max Factor's Second Skin which was the best affordable foundation on the market, in my opinion (it is sadly discontinued). Invisible Radiance Foundation and Concealer is a great choice if you want  a medium, natural looking coverage and a beautiful glowing finish.
Clarins Instant Light Lip Balm Perfector (review and swatches)
Read More
I was away with my friends for the weekend, and it was exactly what I needed, we had such an amazing time, walked around, tried new food and just laughed a lot.
I thought I'd share what lip products I had with me. I could actually have less but since I wanted to make an effort for once and have a choice I took quite a few. And here they are together with everything else I had with me, so that you'd see the proportions.
Plus,  I've decided to share about the lip products, as regular readers will recognize all the other products as I talk about them non-stop anyway. But if you have any questions about any of the products – please leave me a comment.
Also, since I usually talk about luxury lip products, I thought it'd be nice to include some budget-friendly options this time.
Clarins Instant Light Lip Balm Perfector. (review and swatches) – the best "nude"
I am totally in love with this line. I have already used up 01 Rose and now am half way through Rosewood. These are absolutely brilliant, just like the glossy version. I also have two more shades which are equally great!
Rouge Bunny Rouge Lip Potion Devilish Nectar – just for fun.
This is actually a  lip gloss with Chilli which makes your lips fuller.  It also contains  golden shimmer so the lips do look pretty. I did not get a chance to use it this time but it was nice to have options.  I will
Read More
I can get inspiration for the posts pretty much from everything, and often it is music.
The other day I have been listening to this song (The Echo Friendly "Panic" here)  with the  following lyrics: "Put on my blush and lipstick and try to look optimistic".I was having a rough time, so it made me think…
Makeup can be seen [and often is] as something shallow, and vain, but it is not necessarily so. If it makes you feel better, and lifts up your spirits, why not using it?
Of course, it won't change the situation, but it can be a great distraction, and even "help", during the worst times.
I think it is easy to get all apathetic when it's hard to see the reasons to keep going. But, when you make an effort and put on makeup, do your hair and nails, and spritz your favourite perfume – it makes a difference. Trust me, I know what I am talking about. After all, how can looking bad when you feel bad can help?
And… what are my "optimistic" shades of blush and lipstick. Definitely
Read More