It's time for February beauty Favourites!
 Omorovicza Queen Of Hungary Mist (review)
My face really loves this hydrating  spray, it smells amazing, look luxurious and is an instant pick-me-up for the skin.
Estelle & Thild Rose Otto Advanced Age Prevent Facial Oil and Rose Otto Advanced Age Prevent Serum
The review  of these Swedish gems is in the process. I have been using  both products religiously this month, and am loving the results.
Makeup
NYX Taupe Blush (review and swatches)
My newest makeup love! I don't know how I ever lived without it.  Have posted a review, comparisons and a photo of how it looks like applied on the skin, so take a look.
Daniel Sandler Invisible Radiance Foundation and Concealer (review and swatches)
Re-discovered my love for
Read More
I can't live without a good blusher. Well, I guess, I can, but don't want to. This is why I have already dedicated so many posts on the Spring 2014 blushers: Hourglass, Clinique, byTerry and Make Up For Ever and all the prettiest pink blushers for SS14. But these are not all! In fact, I have already spotted some new additions for us, blusher addicts!
For example, these two killer shades from the Blush King Daniel Sandler – Acid and Trip Watercolour Fluid Blusher Duo (£25, they come as a set).
Wow, Daniel is taking colour to the new level. I imagine you'd need just the tiniest drop of these to give an uber effect! By the way, if you think such
Read More
My Mum doesn't wear makeup. Only lipstick sometimes. But recently she decided to change her hair style, got some new clothes and asked me if I could select some makeup for her.
Wow! I definitely approve
She has light skin, dark hair and eyes, so here are the basics that I have chosen. She doesn't need that many products simply because she won't even use them – so, knowing her taste and requirements, here is what I've chosen:
Face
I am  not yet 100% sure about the foundation that will suit her the best. So far she liked this Bourjois one (shown on the photo). But if  you have suggestions for a lady around 50 with dry skin, feel free to share. And thanks to everyone on Twitter for their recommendations!
Blush is a must have in a makeup bag of any girl, in my opinion, as it instantly changes the appearance. This Max Factor blush is one of my personal favourites and I know that it will look great on her, too. Will have to pick up another one soon, as I am giving away my personal one.
Eyes
My Mum
Read More
I have already showed you Daniel Sandler's eye quads in Scandal at Midnight and Sheer Beauty and now it's time for Beyond Sunset.
And this is just a perfect palette for summer and tanned skin with the beautiful warm browns and gold shades: Cocoa, Stone, Sand, Amber.
You get two matte browns which are very flattering and would work great for a lot of different looks, the most gorgeous warm gold and grey with subtle silver shimmer.
I would say that this is the most pigmented palette out of three, the colour pay-off is fantastic. The shadows are silky and soft, the matte shades are not chalky at all.  They go on
Read More
So, as promised, here are some makeup tips on how to look  your best for when you are tired but  still want to make the best out of your appearance.   In part one, I have shared all my tips about the complexion and now it's time for makeup itself.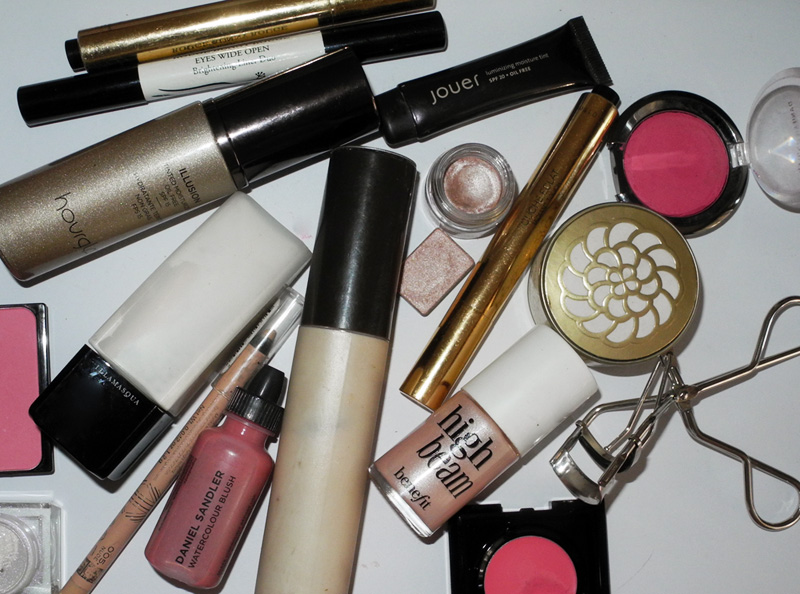 Eye Brows
I find that the way your eye brows look makes a huge difference in your appearance, as they frame your face.  Just make sure that you don't create a very dark or harsh shape, unless you are going for a dramatic look. Just feel in any gaps you may have and cheat the shape slightly, if you wish to. I like Anastasia's kit with the powders and wax.
 Eyes
Curl your lashes! Now this is a very important step. I have already shared that it took me years  (WHY?) to get decent curlers, shu's of course, although all the Top MUAs always raved about curling your lashes. I should have invested earlier, as they [curlers] make a huge difference. They do open up your eyes! I refuse to be without mine now.
As for the eye shadows, I  would suggest
Read More