My Mum doesn't wear makeup. Only lipstick sometimes. But recently she decided to change her hair style, got some new clothes and asked me if I could select some makeup for her.
Wow! I definitely approve
She has light skin, dark hair and eyes, so here are the basics that I have chosen. She doesn't need that many products simply because she won't even use them – so, knowing her taste and requirements, here is what I've chosen:
Face
I am  not yet 100% sure about the foundation that will suit her the best. So far she liked this Bourjois one (shown on the photo). But if  you have suggestions for a lady around 50 with dry skin, feel free to share. And thanks to everyone on Twitter for their recommendations!
Blush is a must have in a makeup bag of any girl, in my opinion, as it instantly changes the appearance. This Max Factor blush is one of my personal favourites and I know that it will look great on her, too. Will have to pick up another one soon, as I am giving away my personal one.
Eyes
My Mum
Read More
I have already showed you Daniel Sandler's eye quads in Scandal at Midnight and Sheer Beauty and now it's time for Beyond Sunset.
And this is just a perfect palette for summer and tanned skin with the beautiful warm browns and gold shades: Cocoa, Stone, Sand, Amber.
You get two matte browns which are very flattering and would work great for a lot of different looks, the most gorgeous warm gold and grey with subtle silver shimmer.
I would say that this is the most pigmented palette out of three, the colour pay-off is fantastic. The shadows are silky and soft, the matte shades are not chalky at all.  They go on
Read More
So, as promised, here are some makeup tips on how to look  your best for when you are tired but  still want to make the best out of your appearance.   In part one, I have shared all my tips about the complexion and now it's time for makeup itself.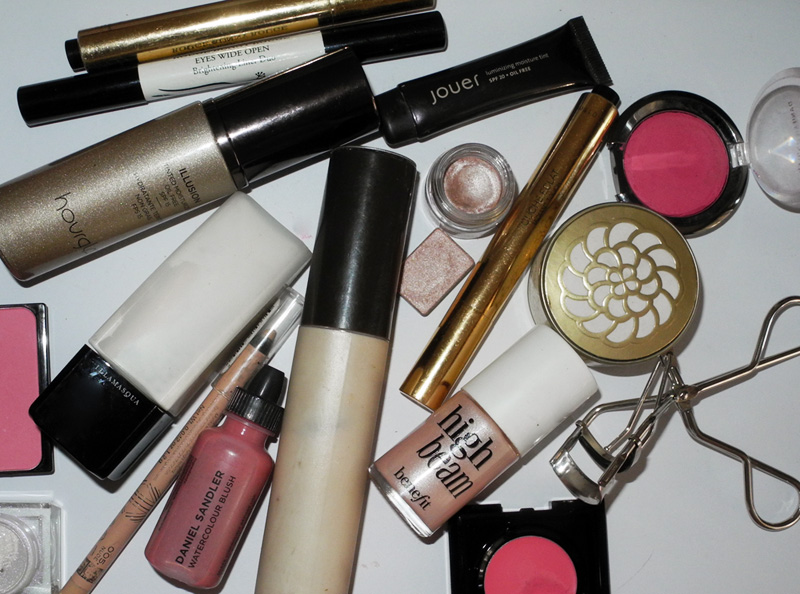 Eye Brows
I find that the way your eye brows look makes a huge difference in your appearance, as they frame your face.  Just make sure that you don't create a very dark or harsh shape, unless you are going for a dramatic look. Just feel in any gaps you may have and cheat the shape slightly, if you wish to. I like Anastasia's kit with the powders and wax.
 Eyes
Curl your lashes! Now this is a very important step. I have already shared that it took me years  (WHY?) to get decent curlers, shu's of course, although all the Top MUAs always raved about curling your lashes. I should have invested earlier, as they [curlers] make a huge difference. They do open up your eyes! I refuse to be without mine now.
As for the eye shadows, I  would suggest
Read More
It's about time for my June favourites, right? But I guess it is better late than never, so here we go.
First of all I want to show you two products that I couldn't find when I was taking a  group photo. Since I am completely re-doing my place, it's a total mess and it can be hard to find things…
Face
Amazemitt
I was away half of June and this lill' mitt was a great product to have with me. Although it is suggested that you use it without any cleanser to take the makeup off (and it does work that way), this time I've used it with a cleanser to make sure that everything was properly removed from my face.
Bronzer
I don't wear bronzers, unless I have some tan on. And since now I do, mostly thanks to self tanners, I've been wearing this YSL's Terre Saharienne bronzer a lot in June. It warms up the complexion and has the right amount of shimmer, which is not over the top, but spot on.
Eyes
Eye Shadows
I have been absolutely in love with Daniel Sandler's Eye Shadow Quad in Scandal at Midnight, I've used it both on myself and on the beautiful model on the shoot I worked on recently.  And, as I've already mentioned Desire is perfect for
Read More
I already posted a detailed review of Daniel Sandler's Eye Shadow Quad in Scandal at Midnight and today I'd like to tell you about another one which is called Sheer Beauty(£28).
And I think it's a perfect name for this quad as the shades are definitely sheer and the colours are subtle. It is a perfect palette for when you are in the mood for a light and delicate eye makeup and, probably, want your look to be all about that "bright lip".
The eye shadows glide on effortlessly and blend beautifully, leaving a wash of colour.
I personally love
Read More