I rarely post beauty empties, as I don't like gathering empty bottles and I do finish a lot of them, but it is different with makeup, I barely ever finish anything, so having three empties is a big deal. Plus I  really love all of them, so it was worth mentioning…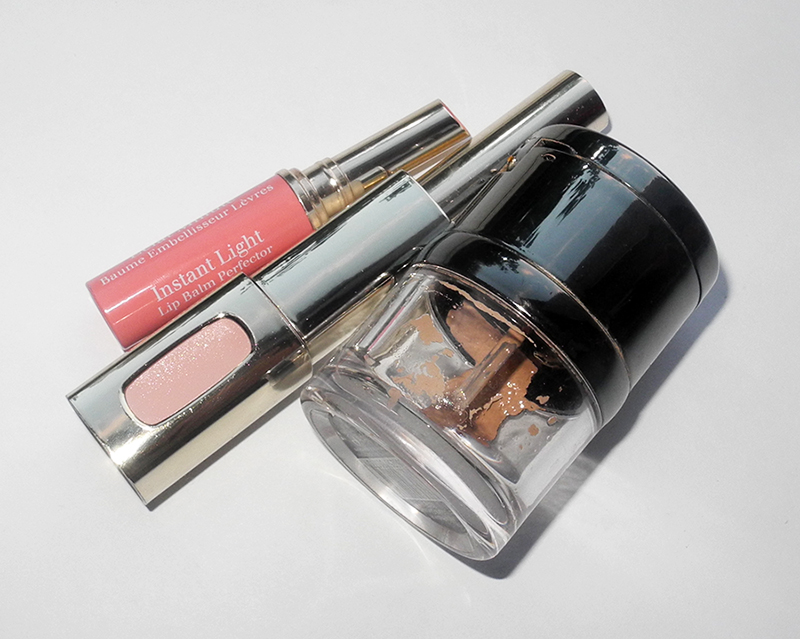 Daniel Sandler Invisible Radiance Foundation and Concealer (review)
This is the second foundation I have ever finished in my life. The first one was Max Factor's Second Skin which was the best affordable foundation on the market, in my opinion (it is sadly discontinued). Invisible Radiance Foundation and Concealer is a great choice if you want  a medium, natural looking coverage and a beautiful glowing finish.
Clarins Instant Light Lip Balm Perfector (review and swatches)
Read More
I was away with my friends for the weekend, and it was exactly what I needed, we had such an amazing time, walked around, tried new food and just laughed a lot.
I thought I'd share what lip products I had with me. I could actually have less but since I wanted to make an effort for once and have a choice I took quite a few. And here they are together with everything else I had with me, so that you'd see the proportions.
Plus,  I've decided to share about the lip products, as regular readers will recognize all the other products as I talk about them non-stop anyway. But if you have any questions about any of the products – please leave me a comment.
Also, since I usually talk about luxury lip products, I thought it'd be nice to include some budget-friendly options this time.
Clarins Instant Light Lip Balm Perfector. (review and swatches) – the best "nude"
I am totally in love with this line. I have already used up 01 Rose and now am half way through Rosewood. These are absolutely brilliant, just like the glossy version. I also have two more shades which are equally great!
Rouge Bunny Rouge Lip Potion Devilish Nectar – just for fun.
This is actually a  lip gloss with Chilli which makes your lips fuller.  It also contains  golden shimmer so the lips do look pretty. I did not get a chance to use it this time but it was nice to have options.  I will
Read More
I can get inspiration for the posts pretty much from everything, and often it is music.
The other day I have been listening to this song (The Echo Friendly "Panic" here)  with the  following lyrics: "Put on my blush and lipstick and try to look optimistic".I was having a rough time, so it made me think…
Makeup can be seen [and often is] as something shallow, and vain, but it is not necessarily so. If it makes you feel better, and lifts up your spirits, why not using it?
Of course, it won't change the situation, but it can be a great distraction, and even "help", during the worst times.
I think it is easy to get all apathetic when it's hard to see the reasons to keep going. But, when you make an effort and put on makeup, do your hair and nails, and spritz your favourite perfume – it makes a difference. Trust me, I know what I am talking about. After all, how can looking bad when you feel bad can help?
And… what are my "optimistic" shades of blush and lipstick. Definitely
Read More
Can you believe that it's the last month of Autumn? And the holidays are just around the corner? Speaking of holidays, I still need to book everything. How very last minute, I know.
And today let's take a look at the beauty products that I have been loving in November.
Makeup
This month it was very similar base-wise for me, as in October.
I have been using BECCA's Shimmering Skin Perfector almost every day, since the lack of sleep and non-stop lifestyle do impact the way my skin looks. To fake a healthy glowing complexion, this is my personal must have.
On top I have been loving Awesome Aqua Radiance CC Cream or Daniel Sandler's Invisible Radiance Foundation and Concealer. DS's foundation is one of my all time favourites, it definitely is radiant and glowing. Yes, there is a theme here, my dry and dehydrated skin needs some glow and radiance…
It's the second month that I have been neglecting blushers almost completely. And my favourite cheeks product is still
Read More
It's been a while since I did a post about brushes…  So, I think, it's time a for a little update. I've decided to show you my most used face brushes whether it's on myself or when I am doing someone's makeup.
There are 6 that I absolutely have to have.
Let's take a look:
Rouge Bunny Rouge Face Contour Brush 012 (Review)
This is my newest brush, and  my favourite for contouring. I have quite a few which I've collected over the years but they all are forgotten now, since I have this one. It has a perfect shape that goes right under the cheekbones. The bristles are firm but soft, which makes it a perfect contouring brush.
Can be purchased from Beauty Bay and Beauty Habit.
Japonesque 924 Travel Blush Brush (review)
Japonesque  rule the brush world, they are among the best. And their 924 Blush Brush is my favourite face brush that I own from them. It feels incredibly nice and soft on the skin and blends the product nicely. This is my blush brush of choice but I often use it for powder, too, as I am not a big fan of big powder brushes.
Daniel Sandler Blusher Brush (mentioned here)
Although
Read More