I already reviewed Daniel Sandler's Long Lasting Waterproof Eyeliners. I have five shades out of six: Black Velvet, Brown Velvet, Purple Velvet,  Grey Velvet and Green Velvet (Blue Velvet is the one missing).
But recently those liners got a lill' makeover; now, instead of black packaging, you get a matching colourful one, which I personally like a lot. Plus Daniel added a new shade – Aqua Velvet, which he kindly sent for me to try.
And… it is my favourite one! After the brown one. But you know me and the brown eye pencils, I can't live without those.
But back to the Aqua shade. If I had to write a feature about my top 5 Daniel Sandler Cosmetics today, this would be in it, for sure.  Yes, I like it
Read More
I have re-organized a lot of my makeup/skincare/body care/ hair care products this month. Yes, I am still trying to think of the best storage for my nail polishes.
It was a great thing to do since I a) re-discovered a lot of products b) gave away cosmetics that I don't use any more to my aunt c) it's just nice to have everything neat and tidy.
I actually like keeping some of my most-used products in the Jo Malone packaging, the classic cream and black boxes fit  enough of products and look nice in my flat.  Above you can see  my personal most used primers-bases-concealers.
Showing you my top "base" products seemed like a nice idea, so here we go:
Hourglass Illusion Tinted Moisturizer in Ivory (review and face swatches)
I did not like it that much at first, but now I absolutely adore it. It gives a good coverage for a tinted moisturizer, and is a great product for the days when (you &) your skin is tired and lacks a glow, as it
Read More
Do you remember my post about the pink makeup products for Spring? Pink is always the hottest shade for the new season, I personally believe that  rose-tinted cheeks instantly changes everything! You look fresher, and even younger, in a way.
This is why I've decided to show you five different variants that you may like…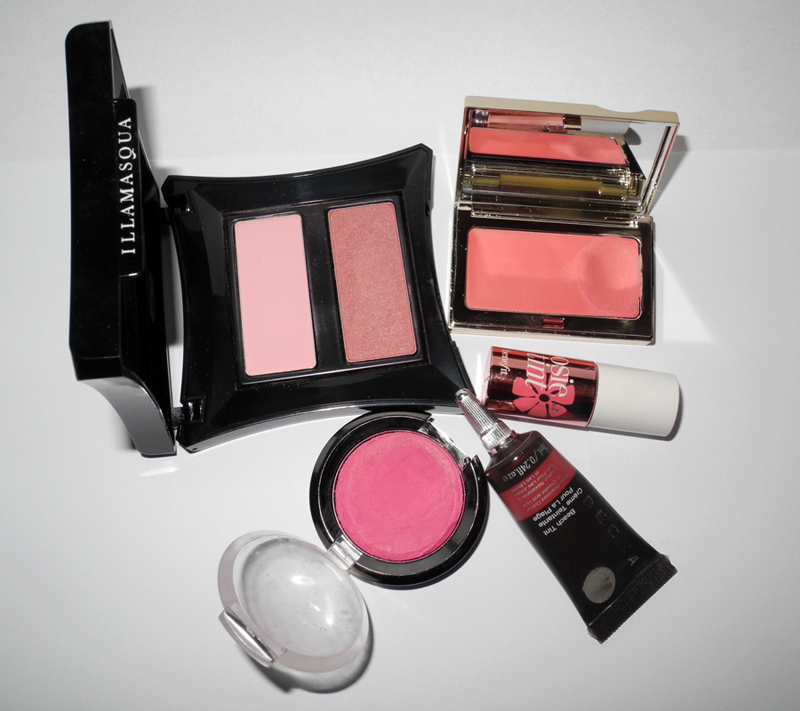 Clarins Clarins Multi-Blush Cream Blush 02 Candy (review and swatches)
This is a good option for those that are afraid of pigmented  and "greasy" blushes, you can get a very sheer coverage with Multi-Blush, plus  the texture is more cream-to-powder, so should work for all skin types. This  is the most natural shade out of five.
Daniel Sandler Watercolour Creme -Rouge Blusher in Hot Pink (review and swatches)
Hot Pink is probably my personal favourite from the bunch. It may
Read More
It's time for February beauty Favourites!
 Omorovicza Queen Of Hungary Mist (review)
My face really loves this hydrating  spray, it smells amazing, look luxurious and is an instant pick-me-up for the skin.
Estelle & Thild Rose Otto Advanced Age Prevent Facial Oil and Rose Otto Advanced Age Prevent Serum
The review  of these Swedish gems is in the process. I have been using  both products religiously this month, and am loving the results.
Makeup
NYX Taupe Blush (review and swatches)
My newest makeup love! I don't know how I ever lived without it.  Have posted a review, comparisons and a photo of how it looks like applied on the skin, so take a look.
Daniel Sandler Invisible Radiance Foundation and Concealer (review and swatches)
Re-discovered my love for
Read More
I can't live without a good blusher. Well, I guess, I can, but don't want to. This is why I have already dedicated so many posts on the Spring 2014 blushers: Hourglass, Clinique, byTerry and Make Up For Ever and all the prettiest pink blushers for SS14. But these are not all! In fact, I have already spotted some new additions for us, blusher addicts!
For example, these two killer shades from the Blush King Daniel Sandler – Acid and Trip Watercolour Fluid Blusher Duo (£25, they come as a set).
Wow, Daniel is taking colour to the new level. I imagine you'd need just the tiniest drop of these to give an uber effect! By the way, if you think such
Read More