Are you ready for this? Dior are launching cream blushers this summer!
There will be four limited edition  Diorblush Cheek Creams (€31) with the matching nail polishes (€23.40) which will be available, according to
Read More
This summer Tyen was inspired by the legendary  bird of paradise that supposedly flies in the sky, without never coming to earth.
The promo images are a real eye candy and the shades of this collection are a true summer feast, bright  vibrant and juicy: pinks, corals, tans and all variations of green and blue.
The model on the promo is Daria Strokous and I think she pulls of blue pretty well!
The products are:
Jelly Lip Pen £19
476 Ilhabela
516 Copacabana
636 Carioca
656 Gaïa
Diorskin Nude Tan Paradise Duo £40
001 Pink Glow
002 Coral Glow
 5 Couleurs Eyeshadow, £40
374 Blue Lagoon
434 Peacock
Dior Addict Lipstick, £24
431 On The Beach
471 Flamingo
751 Exotique
771
Read More
I personally really like the old Dior Addict glosses, so I have big hopes for this new version of the Addict Glosses.
The face of the range is Daphne Groeneveld and you can see the results of the collaboration below.
The new glosses are promised  to give "astounding shine and supreme comfort, all thanks to advanced technology which envelopes the lips in a uniquely fine, non-sticky film." The gel formula contains  high percentage of hyaluronic acid spheres  so it should be also hydrating, glossy and shiny.
There are 24 shades divided into three groups: The Shimmer, The Pearly and The Pure.
Besides that, there are four It Shades:
Read More
Before I start, I have to say that it was very hard to narrow my list  of favourite makeup products of 2012 but I've tried my best.
Let's take a look at what I've chosen…
Face
Benefit Erase Paste
I don't really use concealer on a daily basis, unless I have a new, really bad spot,  I just use Touche Eclat under my eyes and that's all. But if I had to choose my favourite "concealer" type of product – that would be this one. It is a creamy peach corrector which works great for the  dark under eyes circles. I had a review of it but because of some tech problems, it was deleted, need to re-write it soon.
Omorovicza Complexion Perfector BB SPF 20 
One of my favourite face products you can read the details why here. If you can afford it, I would definitely recommend.
Rouge Bunny Rouge Tinted Moisturiser Sketches on Water
This gives a very natural finish and light coverage and you can't see it on the face, at all! Miracle for dry skin in cold weather, as it doesn't enhance any dry patches.  See all the shade available here.
Daniel Sandler Invisible Radiance Foundation and Concealer
It is a very nice foundation that gives a dewy finish so works great for my dry skin. The shade Porcelain is a great fit for fair skin and works for me in AW, in SS, I use the second lightest shade – Beige. Plus it comes with concealer which is a great deal for the price. Want to know more?
BECCA Shimmering Skin Perfector in Pearl
This product probably doesn't even need an introduction. It's the best highlighter out there, it gives a  very natural and beautiful effect.
Cheeks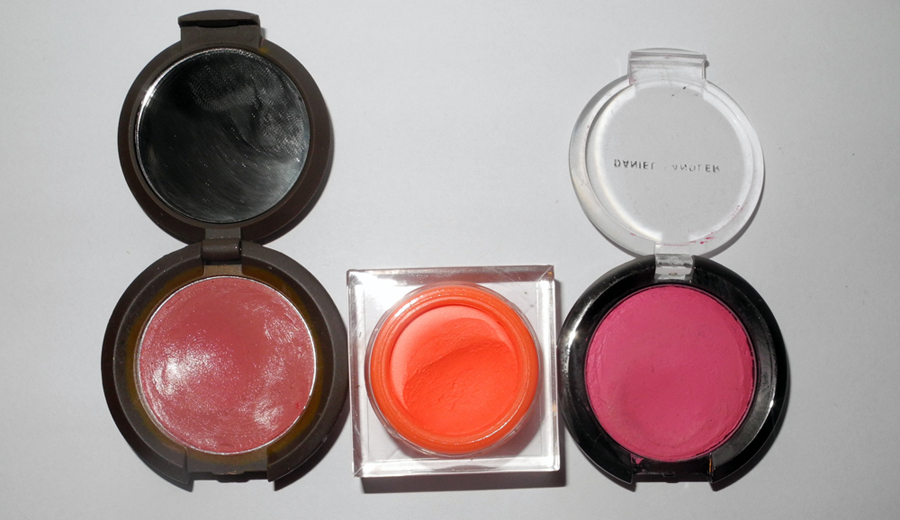 Wow, I was able to choose only three blushers, although I was very tempted to add more of them.
BECCA Cream Blush in Amaryllis 
My favourite blush for AW months, perfect cool toned and natural looking, gives a nice
Read More
I used to write about my monthly favourites back in 2009, I think, but somehow stopped doing that. So I thought why not giving it another go in 2013?
So here is the list of my January 2013 Favourites and this time I've chosen only makeup, not to make a huge list. But next time I will probably add some of my beauty favourites, too. What do you think?
So here we go…
Lips
If I could choose only one favourite product of January – that would be Clarins Gloss Prodige in 09 Water Lily which is now my favourite lip gloss!  It is  hydrating, smoothing and looks  beautiful on the lips. And it smells delicious, too.
Face
Another product from Clarins would be their Beauty Flash Balm which is a must have for me in winter months, it makes my face look polished and brings back the glow. I also like how the foundation applies afterwards.
Speaking of foundation –  my top pick would be Rouge Bunny Rouge Tinted Moisturizer Sketches on Water. If you have dry skin, I would totally recommend, it blends into the skin and
Read More