If you are into the looks from the Fashion Weeks (I post them here), you probably remember the makeup Pat McGrath created for Dior's AW14 show got.
The beautiful full-on metallic moss and teal eye looks were stunning, so it was obvious that a lot of people were wondering what eye shadows were used, and here is a sneak preview…
Here is a first look on the palettes
Read More
It's time  for May  beauty favourites! It was very hard to narrow things down but I've managed to, almost.
First of all I want to  talk about -
Tools
This month I was away for two weeks (one week at one place, and then another one – different one), but I always had Elemis Skin Brush (review) with me, and I've used it religiously.  I personally use it on the dry body, brushing towards the heart.  The results are amazing, but you can read all the dets in my review linked above. I have two Elemis brushes, because I just had to! And I would definitely recommend you picking one up.
shu uemura Eyelash Curlers (review). I use these curlers every single day without a fail. Without them, my makeup is just incomplete, and my lashes don't look that nice. A must-have for everyone.
I did take a picture of only ten products on purpose, so that I don't go on and on in this post. But I just have to mention this Rouge Bunny Rouge brush, it's my staple now.
Makeup
Dior Addict 561  Baby Rose Lipstick (review and lip swatches)
I've
Read More
Since we are talking about new lip launches today, I thought I'd share about my current top 5 lipsticks in different colour families, from berry to pink; and from red  to coral.
I have stupidly forgot  to include my favourite current red in the photo (but you can see it here), which is Daniel Sandler's Red Carpet Red (get it here for £13.25). The shade lives up to the name, whenever I wear it I get a lot of compliments, even from people that don't like red lips in general. Yes, really. I think this is the best Daniel's lip product, and I do have quite a few.
What about other four?
Dior Addict 561  Baby Rose Lipstick (review and lip swatches)
I don't really do nude, so this is my perfect everyday shade, a sheer baby pink with a beautiful delicate shimmer. Don't worry, it's nothing like those pearly shades from the past. I've been wearing it a lot lately, looks like I will have to re-purchase it soon.
Where to buy: from Selfridges for £24.
Givenchy Le Rouge Lipstick 302 Hibiscus Exclusif (review and lip swatches)
You all know my
Read More
Here is a quick preview of the new eye makeup products that are out for Summer 2014. Let's take a look!
Lancome launched two new products Le Base Paupières Pro £21 and Le Sourcil Pro £18.50 . The first if the bare-skin effect eye shadow base, available in 6 shades; and the second is  a double ended brow pencil with two key benefits, to fill in the brows and to highlight.
Dior brought out a fun summer It Lash Collection with four colourful mascaras and eye liners.  Dior Addict It-Lash Volumizing Mascara, $26 is available in 092 Black, 162 Purple, 272 Blue and 872 Pink. The Dior Addict It-Line Liquid Eyeliner, $31 is a gel based long-lasting liner which is available in the
Read More
Here is a preview of the Dior's summer 2014 makeup collection, Transatlantique, which has a strong nautical theme. Different shades of blue, gold and orange. Plus some gorgeous face products: Nude powders and primers.
Below you can see an overview of the products.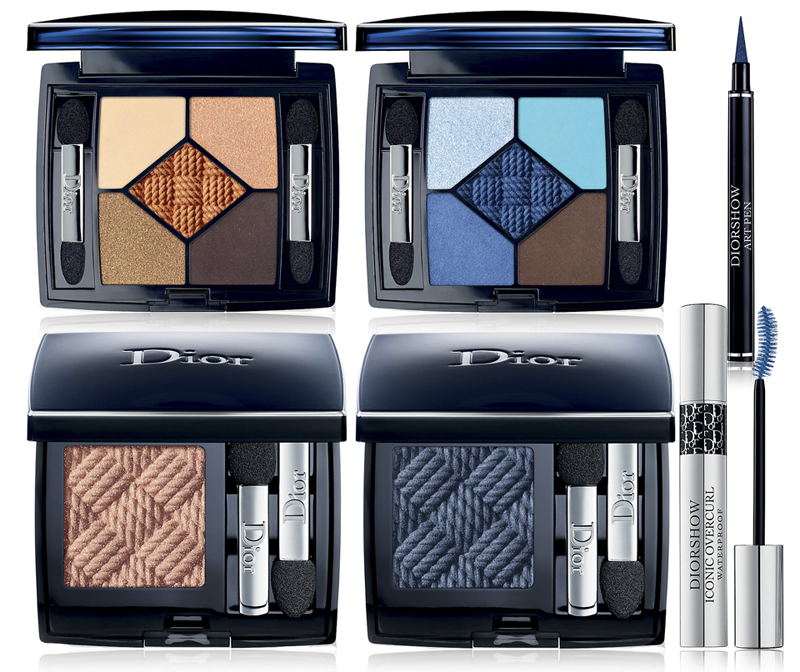 Eyes
5 Couleurs Transat Edition, £41
564 Sundeck
344 Atlantique
Diorshow Mono Transat Edition, £24.50
541 Pavillion
261 Cabine (navy)
Diorshow Art Pen Bleu Croisière, £24.50
Diorshow Iconic Overcurl Waterproof, £24.50
Read More