When it comes to skincare and body care, there are a lot of brands that I like, but there are four that I have been using religiously and loving for many years now, and I am talking about Clarins, Elemis, REN and Aromatherapy Associates.
It was hard to pick only one set from each but I've managed. Here are two sets for face and two for body.
Clarins Moisture Must-Haves, £35
HydraQuench Cream Normal to dry skin 50 ml
HydraQuench Intensive Serum Bi-Phase 15 ml
HydraQuench Cream-Mask 15 ml
Makeup bag
HydraQuench range is my favourite from Clarins and I have tried a lot of their products, and  it is the best time to stock up, and I always get one of their Christmas sets, great savings!
You can buy Clarins from: Escentual.com,  Nordstorm,  Sephora, Boots,  Bergdorf Goodman, Selfridges, Harrods
REN Instant Beauty Heroes, £50
REN is another brand that I love buying from during the holidays to save some money.
Glycolactic Radiance Renewal Mask 50ml "A potent exfoliating mask formulated to renew the complexion, dramatically improve skin tone and radiance and reduce the appearance of fine lines and wrinkles."
Keep Young and Beautiful Instant Firming Beauty Shot 30ml "A gel-serum that instantly firms, lifts and plumps the skin to leave it looking dramatically smoother, tighter and more youthful. A liquid matrix of Hyaluronans supercharges the skin with firming moisture and encourages elastin synthesis to firm and remodel the skin over time."
Flash Rinse 1 Minute Facial 75ml "A transforming treatment that instantly revitalises and visibly rejuvenates the skin. Formulated with potent water-activated Vitamin C it will neutralise urban grey in a flash, leaving skin looking firm and glowing with renewed health and radiance."
You can buy REN from:  Cult Beauty, Feel Unique, Sephora, Look Fantastic
Read More
Spring is the start of  the new season, and it is the time when we all want changes. I thought I'd share a little list of things that inspire me these days. Hope you enjoy.
Here is part one, my beauty list:
1. Start Wearing Bright Lipstick!
My friend is wearing Illamasqua Atomic. And myself – Guerlain KissKiss in 325 Rouge Kiss.
I wrote a post about makeup during a hard time here. As, I've already said – it won't make whatever you are going through go away, but it does make a positive impact.  Every little thing helps.
2.  Get That Glow.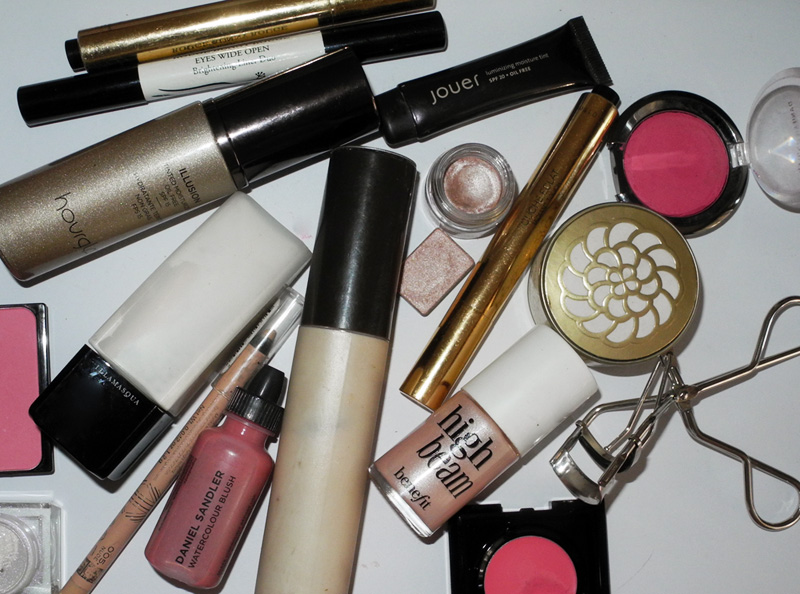 I actually did a very detailed post on how to fake achieve glowing  and radiant complexion with makeup. And you can all read about it here and here.
3. Invest in that "Radiance" Skincare.
Makeup is amazing! But it all starts with good skin. After winter it may look dull, grey and tired, this is why good quality serums and oils are a must-have. Below you can see two great options, and I plan on
Read More
It is almost the end of January, and I am still talking about my favourite beauty products of 2014…
This time it is all things body, hair and feet & hands. Here we go.
Body
Garnier Oil Beauty Oil-Infused Nourishing Scrub  (review)
This is such an amazing scrub for  dry skin, it is not harsh, not drying, leaves the skin smooth and ready for the moisturizer. Add a nice scent and affordable price – and you get a perfect product!
Neutrogena Norwegian Formula Nourishing Body Lotion With Nordic Berry (review)
I have so many body creams, lotions and balms with different price tags but this is among my favourites. The scent is divine, the texture is gorgeous, and it moisturizes even my very dry skin. I have used up several bottle of this, and need a new one again.
Hands and Feet
 Elemis Treat Your Feet Foot Cream (review)
This is
Read More
Here is finally a third part of my 2014 favourites: you can see part one here and part two here. This time it is all about skincare…
Cleansers
Elemis Pro-Collagen Cleansing Balm (Review) This was definitely my favourite cleanser of the year, it smells divine, feels gentle on the skin and leaves it smooth and plumped. Having a massage with it is so relaxing and pampering, a great way to finish off a busy day and have some "me" time.
One-Step Facial Cleanser with Orange Extract (review)
When I am in a rush, and don't have time for a "proper" cleanse, which is usually in the mornings, – this is the product I reach for. I find that it works great for my dry and sensitive skin, removes the makeup and does leave the skin feeling amazing, as if I did the whole cleanse-tone routine. Did I mention the lovely scent?
Clarins Gentle Exfoliator Brightening Toner (review)
Another Clarins product, a
Read More
I know that a lot of readers are wondering what to get their husbands/boyfriends (or even brothers/fathers/male friends) for Christmas.
This is why I have asked "men from my life" what they would like to get – to share with you some ideas. I just hope that now they won't think that I am getting all those things for them… 😉
I have promised not to give away their names, so here are just the quotes and age group. Most of my male friends are 30-35 but I have asked several younger and several older men,  for the variety.
1 "Post shaving products. I'd prefer my favourite brand, but it's not that important, as long, as they are good" (At least four men said that).
2 "A good  facial cream. I have started using them after your (Ed.  – that'd be mine) recommendation, and now I can't imagine not having one. Every men needs it! I love Dior and Shiseido." (Age  group  30-35)
3. " A new cologne would be amazing.  I love
Read More