Here is a preview of two Christmas 2013 nail polish collections: Essie and Zoya.
While Essie released some gorgeous red based polishes, Zoya brought out some blue and silver tones.
Toggle to the top, sparkling crushed garnet red.
Shearling darling, rich, plush ebony red.
Warm & toasty turtleneck, wisteria pink angora.
Mind your mittens, deep, double diamond
Read More
Here is a preview of two nail polish collections for Fall 2013 from Essie and Zoya.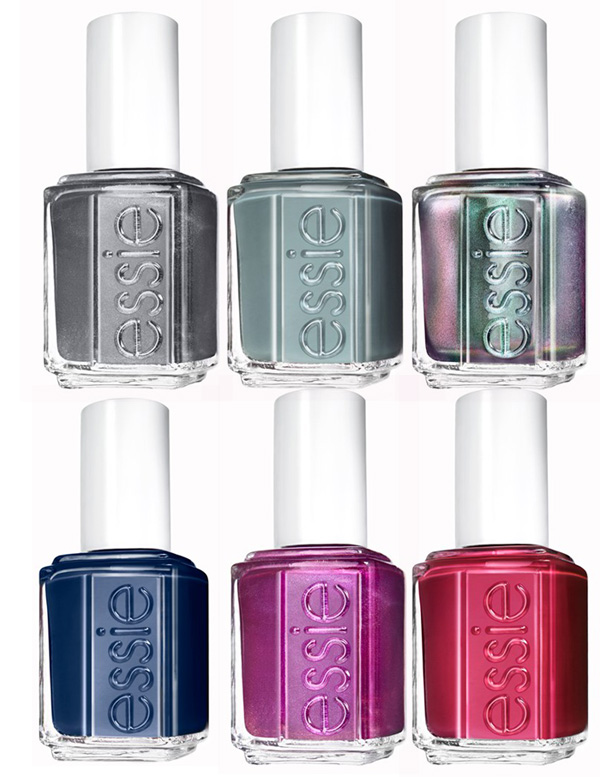 The shades are:
Cashmere Bathrobe
Vested Interest
For The Twill Of It
After School Boy Blazer
The Lace Is On
Twin Sweater Set
And I personally really love all the blue and grey shades from this collection.
As for Zoya,
Read More
Here is a preview of Essie summer 2013 nail polish collection.
The shades are:
Naughty Nautical, marine blue-green shimmer
Sunday Funday, tangerine coral crush shimmer
The Girls Are Out, fuchsia peony sparkle
Full Steam Ahead, pearlescent punch lilac
The More The Merrier, juicy lime green
Rock The Boat, shimmering french blue
My personal favourite has to be Naughty Nautical.
Read More
It's time to take a look at the new Spring offerings it terms of nail polish. Are you ready?
First of all, here is the new collection from LVX, I was very impressed with their nail polish in Sanguine so will be checking out their new creations, for sure.

Viridian, emerald green opaque crème; Indigo Bleu, new bleu opaque crème; Citrine, golden citrus opaque crème; Fantom, timeless white opaque crème; Cerulean, audacious blue opaque crème; Azalea, daring lilac opaque crème.
And this is how they represent each shade,  I love how well thought through and beautiful everything is! Well done.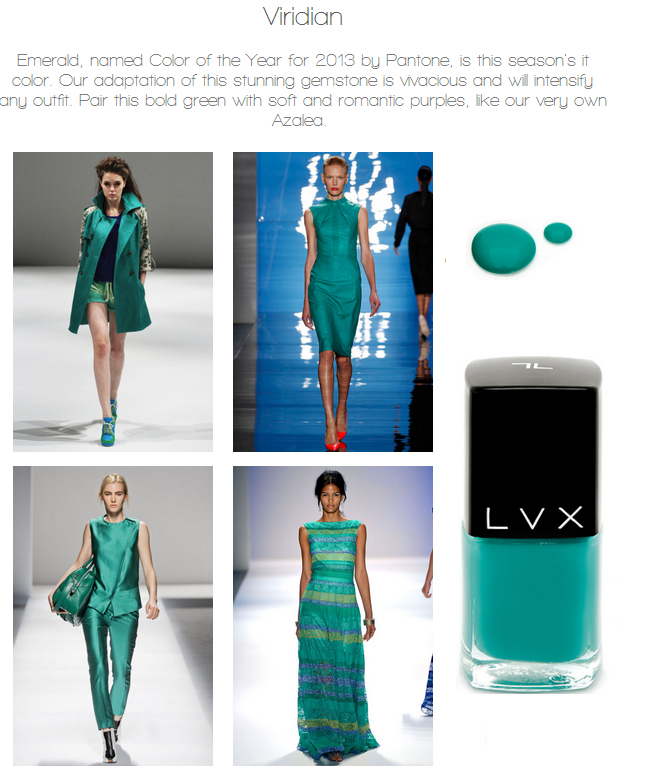 Essie Spring 2013
There are six shades to choose from: Madison Ave-Hue: Chic, Upper East Side pink. Go Ginza: Soft cherry-blossom pink. Avenue Maintain: Lovely Parisian blue. Bond with Whomever: Posh London lilac. Maximillian Strasse Her: Cool grey-green and
Read More
I am on a mission to find a nail polish that I want to get for myself, as it's been a while since I've bought any. And here are some new launches that caught my attention.
Deborah Lippmann Girls collection.
Can't say that I am uber excited colour wise, but you just gotta love the Girls' inspired collection, I think the shades are just spot on and I can almost see each character wearing their "name shade".
HANNAH Hapless Hunter Green, MARNIE Prim And Proper Pink, SHOSHANNA Virtuous Vivid Violet, JESSA Bohemian Burgundy.
This set will be available from 15th January, which is the date of season two premier. In the US this set will retail for $45.
 Nails Inc Bling it on Leather & Skulls
The black leather set has my name all over it, although am not sure I would wear skulls.  I think, I should get it actually. The tan one is also nice. Each  set is £19.
Illamasqua Rubber Nail Varnish
There are
Read More