We continue our preview of SS15 nail polish launches  And, although I am a huge fan or red, recently I have been wearing other colours on my nails, too.  I am feeling nudes and jades recently.  That Flowerista shade from Essie also looks hot, I'd totally  rock it.
Essie Flowerista
Two vibrant shades, two nudes and two chic grey and mint.
Flowerista, rich vibrant plum with red undertones
Perennial Chic, sumptuous tawny tulip
Picked Perfect, antique almond peony
Garden Variety, teal blue orchid
Blossom Dandy, mint crème hydrangea
Petal Pushers, smoky stone rose
Available from Nordstrom for $8.50 and from Debenhams for £8.
Deborah Lippmann Whisper
Read More
Looks like it's already a tradition to write about Essie and Orly together. So let's preview the brands' holiday collections today.
Essie:
Interesting that this collection is all about different shades of pink and ruby, there is also an ivory and a molten gold.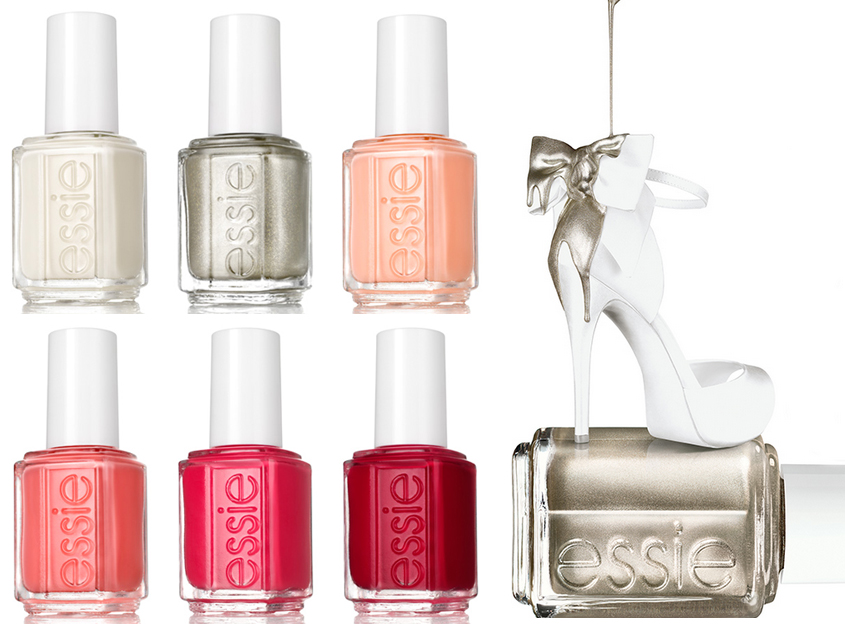 Jiggle Hi, Jiggle Low, own the night and take center stage in shimmering style with this bold molten gold.
Jump In My Jumpsuit, do the happy dance with this jubilant juicy red that's very of the moment.
Tuck in My Tux, tailored to perfection this silken ivory crème is devastatingly elegant and in total control.
Double Breasted Jacket, an unstoppable passion for fashion gives this tourmaline ruby a luxurious advantage.
Bump Up The Pumps, step out in this raucous coral mauve that will keep you warm all season.
Back In The Limo, take a spin in this fresh take on a sheer bright ripe melon – and roll up in style.
You can  purchase Essie from Nordstorm and from Beauty Bay.
 Orly:
This is a
Read More
I already showed you the nail polish collection that really caught my attention - OPI's Nordic, inspired by Scandinavia, and here are two more collections – Essie and Orly.
Orly:
Wow, just wow,  this collection is gorgeous. I'd wear all the shades, except Brush It On, which is beautiful, just not my style. But Highlight, Smoked Out, Darkest Shadow, Edgy and Blend look really cool.
Essie:
Read More
Here is a preview of two nail polish collections for summer 2014: Orly and Essie. Both include 6 bright juicy shades to rock this season.
Orly's Baked collection includes:  Ablaze ( shimmer),  Hot Tropics (shimmer), Lush (glitter), Neon Heat ( creme), Saturated (shimmer), and  Tropical Pop (creme).
As for  Essie, their
Read More
Here is a preview of  several nail polish collections for Spring 2014, lots of pastels, and not only!
Gorgeous promo photo from Deborah Lippmann, it really is very spring inspired with all the flowers and soft shades.
Blue Orchid – blossoming baby blue, Build Me Up Buttercup – blooming buttery bouquet, Flowers In Her Hair – magnificent mint medley, La Vie En Rose – pastel petal pink, Spring Buds – pretty playful pistachio, Tip Toe through the tulips – perennial pale peach.
As for OPI, their collection  was inspired by Brazil this season:
Next Stop… – The Bikini Zone
This amethyst-toned pewter suits me just fine.
 Don't Bossa Nova Me Around
 – Nobody can stop me from wearing this creamy nude!
Taupe-less Beach – There's nothing optional about wearing this enticing taupe.
 I São Paulo Over – There
He was sipping coffee with this mocha-toned beauty.
 OPI Scores a Goal!
 – Make your point in this winning shade of rich chocolate.
AmazON…AmazOFF
 – I'm making the switch to this deep jungle green.
 I Just Can't Cope-acabana – Nothing lifts your spirits like this sunshine yellow.
 Where Did Suzi's Man-go? – He went to fetch her this delicious mango
Read More