I've decided to try out some affordable skin and body care (to feature here, since a lot of people are always asking for the best money-saving products) so went out and bought quite a few Garnier products, since I really love a lot from them. In fact, my favourite cheap face and body creams are from the brand.
So today, I am finally going to tell you about my favourite not-expensive body scrub which I've picked up back in February.
And it is Garnier's Oil Beauty Oil-Infused Nourishing Scrub.
Let me tell you, I am very picky when it comes to body scrubs, and this one ticks all the boxes for me.
It has nice exfoliating particles which are not too tiny (I hate that sand paper feeling), but don't hurt the skin, on the other hand.
The scrub doesn't leave my skin feeling dry, since it contains four oils!Argan, Macadamia, Almond & Rose.  At the same time, because I have
Read More
I have picked up some beauty products to celebrate Makeup4all's 5th Blogaversary. By the way, have you entered the GIVEAWAY?
I wanted a holistic silk sleeping eye mask for ages but just couldn't justify the purchase because of the high price (it is £45).
But  Feel Unique had an offer that I just couldn't resist.   They offered a free Aromatherapy Associates Deep Relax Bath & Shower Oil 55ml  which retails for £39 (which is my Holy Grail beauty product) for free with their Aromatherapy Associates Relax Eye Mask  (£46).
I though it was a great deal, so obviously, I had to get it!
I have also ordered a
Read More
I often get asked about the affordable skin and body care.  Is it even possible to find great options without spending too much? Turns out it is!
So, what about my favourite [not expensive] face and body creams? They both are actually from the same brand – Garnier. In fact, I love tonnes of Garnier products, and will probably share about my other favourites pretty soon.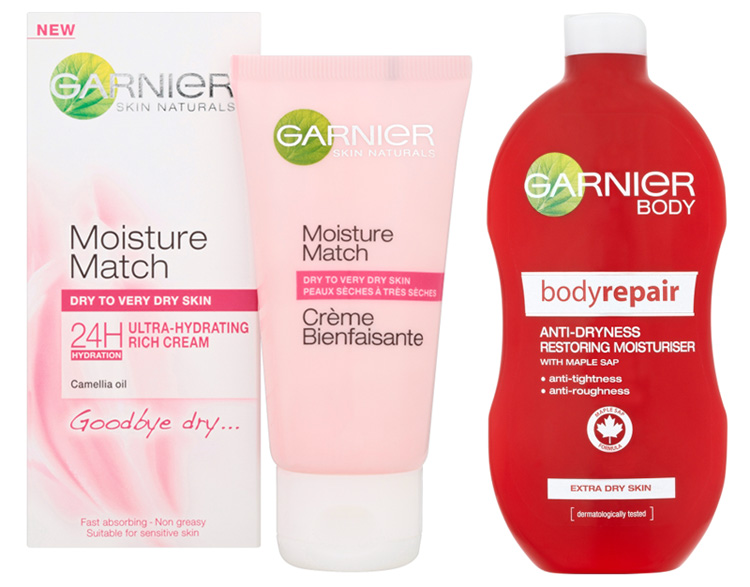 I have very dry skin and not that many products work for me… But these two rock, especially considering the price, I am very impressed!
I am using the stock images since I have just used up Garnier Moisture Match Ultra Hydrating – Goodbye Dry (50ml £5.10) and used up Garnier Body Bodyrepair Anti-Dryness Restoring Moisturiser Extra Dry Skin (400ml £5.20) a long time ago. In fact, I've  gone through two tubes of it, and need to get a new bottle.
The face cream smells
Read More
I really love using Garnier Simply Essentials 2-in-1 Makeup Remover, and I am actually using a second bottle now so I thought I'd give their makeup removing wipes a go.
I would not recommend using wipes on a daily basis but they are great for when you are travelling or can't wash your face properly for some other reason.
To tell the truth, I was impressed with these, definitely the best wipes I have tried. They are well-soaked with a remover so they don't drag the skin. In fact, they softly remove the makeup and don't dry out the skin.
I did not really use waterproof makeup but I did a good job removing the regular one. Just make sure that you hold them long enough so that it dissolves mascara, there is no need to rub!
I will totally re-purchase in the future.
Read More
People always ask me for affordable and good products. So here is one of them – Garnier Simply Essentails 2 In 1 make Up Remover.
I've decided to give it a go because I've heard great things about it. And this makeup remover did not disappoint!
Although I did not try using it to remove waterproof makeup (only Anastasia's  Lash Genius which was not a problem to remove) , it works great for removing my everyday makeup!  I find it gentle but effective, I don't have to rub my face or eyes to remove the products.  Plus it doesn't dry out my skin which is great.
So, yes, I would recommend it and would definitely re-purchase it myself.
I don't remember the exact price, unfortunately, but found it on-line for £2.99 for 200 ml. What is not to like?
Read More