Lately I haven't really been buying that many beauty & makeup products because a) nothing really caught my eye, and I did swatch quite a lot products recently b) I want to save some money to afford more travelling this year.
This is why I've bought only two beauty products for myself this month, I did get some nice products for friends and family, though.
So what are those?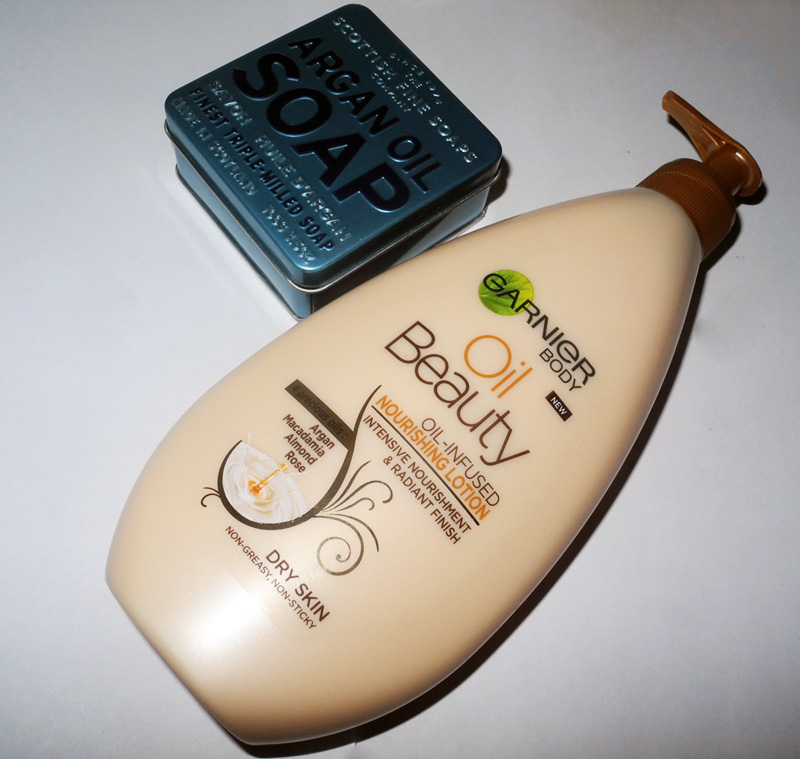 Garnier Oil Beauty Oil-Infused Nourishing Lotion 250ml (you can buy it here for £4.99)
I have a body scrub and an oil from this series and adore both, so thought  it was about time to pick up a body lotion, too. Garnier body creams are my favourite budget options for very dry skin, so I have big hopes for this one.
I have also picked up
Read More
It's been a while since I've written  my  "new beauty purchases" post, in which I show you the beauty products that I buy for my personal use, so here it goes.
Here are only three things on the photo, but I have bought a lot more:
And what about the products on the photo?
I am  huge fan of
Read More
Today I want to share about two amazing budget cleansing products from Garnier. I have actually used up both of them, and will definitely re-purchase.
And I am talking about  Cleansing Micellar Water and Express 2 in 1 Eye Make-Up Remover.
Both are very effective and efficient. The micellar water doesn't have any harsh scent, doesn't irritate the skin, gently cleanses and removes makeup.  I am going to get a new bottle as soon, as I get home.
It doesn't remove waterproof makeup that well, but that's where
Read More
Can you believe that  today is the first of May? Last month of Spring, time flies…
New month = new monthly favouries. And I really love all the products below.
Makeup wise, I had pretty much the same favourites, as in March: , RBR eye shadows in Solstice Halcyon, Marc Jacobs' Lola nail polish, NYX's Taupe, Peter Thomas Roth CC Cream and Clarins' gloss.

This is why this time I want to tell you about some other products:
Brushes
This month I just have to mention two brushes. First of all, I've been using a "classic" flat foundation brush. I usually apply bases  with my  fingers or kabuki Sigma brushes but I've decided to start using those original foundation brushes again. So, I've been loving this one from Lancome. I still remember how much I wanted to buy that set, my friend bought it for me in the States. And I like the results and the finish it creates.
My other brush hero is Rouge Bunny Rouge's Face Contour Brush 012. This is a brilliant tool for contouring, more details coming soon.
Face
Elemis Pro-Radiance Illuminating Flash Balm (review)
This product
Read More
I've decided to try out some affordable skin and body care (to feature here, since a lot of people are always asking for the best money-saving products) so went out and bought quite a few Garnier products, since I really love a lot from them. In fact, my favourite cheap face and body creams are from the brand.
So today, I am finally going to tell you about my favourite not-expensive body scrub which I've picked up back in February.
And it is Garnier's Oil Beauty Oil-Infused Nourishing Scrub.
Let me tell you, I am very picky when it comes to body scrubs, and this one ticks all the boxes for me.
It has nice exfoliating particles which are not too tiny (I hate that sand paper feeling), but don't hurt the skin, on the other hand.
The scrub doesn't leave my skin feeling dry, since it contains four oils!Argan, Macadamia, Almond & Rose.  At the same time, because I have
Read More