I have been travelling quite a lot lately just for the weekends And, although you still want to get everything you may need, taking full-sized products is not the best option.
This is why I've kept a lot of mini-sized bottles and sample sized tubes/pots to re-use them. Here is an overview of what I like taking with me for a weekend-away.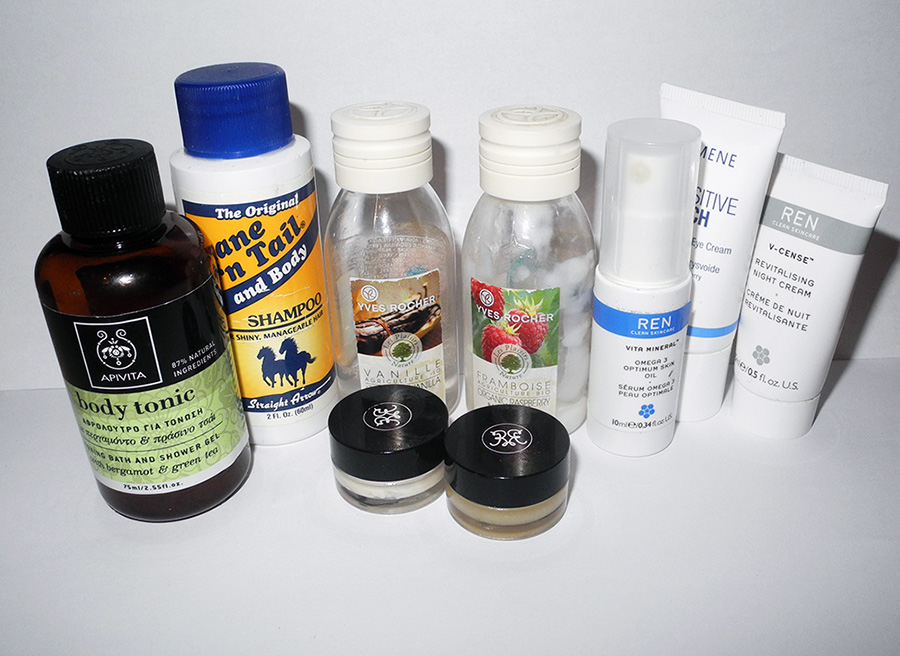 Cleansers:
1. Micellar Water (in Yves Rocher vanilla bottle) – this is Garnier's one to remove my makeup. It is gentle and effective.
2.  A good cleanser, Balance Me Cleanse and Smooth Face Balm  – my favourite one at the moment (in a small pot).
Face Creams:
3. Day cream is REN Evercalm Global Protection Day Cream which is in a small pot, next to the cleanser. I've bought it some time ago, and should definitely review it soon.
4. Eye cream is Lumene SENSITIVE Comforting Eye Cream. It is not bad but not enough for my very dry skin.
5. Of course, I had to take the mini size of  my Holy Grail oil from REN.  I have re-purchased it three times, and if I could have only one skincare product -this would be it.
6. The night cream is also from REN, and it
Read More
I am actually surprised that  I have so many  favourites this month, as beauty wasn't exactly my priority in January. But I truly loved all the products I am going to mention.
Makeup
Surprisingly, it was all about the brown tones for me this month. I always wear red or berry, but felt like a wanted a change and be rebellious with the nudes. This probably doesn't even make sense to some of you, I know.
Rouge Bunny Rouge Sheer Lipstick- Succulence Of Dew in Perfume Of His Gaze - it is described as "sheer tanned nude-beige", and I totally agree. Never thought that I'd be wearing something like this. But never say never. Plus, it's only makeup, it is supposed to be fun.
I am sure that you are already bored to death  with me talking about this Trish McEvoy's bronzer, but this is literally the only product I have been using on my cheeks lately (this and NYX Taupe). And  Hourglass No. 2 Foundation/Blush brush is my favourite tool  for bronzer/blush/healthy glow & colour on my cheeks.
Speaking of Hourglass, their Visionaire Eye Shadows Duo in Gypsy was another favourite. Along with Inglot's  Eye Shadows AMC Shine 37 – I can never get enough of these two!
Finally, there is a mascara  that I have been using so much that all the words on it on it completely rubbed off – Max Factor Mastepiece Transform High Impact Volumising Mascara. It gives amazing volume, ultra-black colour and instant wow-effect.
Skincare
I
Read More
It is almost the end of January, and I am still talking about my favourite beauty products of 2014…
This time it is all things body, hair and feet & hands. Here we go.
Body
Garnier Oil Beauty Oil-Infused Nourishing Scrub  (review)
This is such an amazing scrub for  dry skin, it is not harsh, not drying, leaves the skin smooth and ready for the moisturizer. Add a nice scent and affordable price – and you get a perfect product!
Neutrogena Norwegian Formula Nourishing Body Lotion With Nordic Berry (review)
I have so many body creams, lotions and balms with different price tags but this is among my favourites. The scent is divine, the texture is gorgeous, and it moisturizes even my very dry skin. I have used up several bottle of this, and need a new one again.
Hands and Feet
 Elemis Treat Your Feet Foot Cream (review)
This is
Read More
I have  posted a photo on Instagram of two of my current favourites last week, and thought I'd write about them in more details.
You all know how much I love my high-end luxury bath & shower  products, but these two have completely replaced them recently. And let me tell you why…
 Old Spice Shower Gel in Champion.
I will be honest – I have  stolen borrowed  it from someone who is obsessed with it, and who always smells nice. I do love me some Old Spice, so I loved this one too. It doesn't smell too manly, at least not for me. And now a shower with this gel is  my favourite way to start  mornings (and also post workout), followed by a cup of earl Grey. It's all about the small pleasures in life, you know?!
By the way, how can you not have a good day when the name is "Champion"?
Garnier Oil Beauty Oil Infused Nourishing Lotion
Read More
Lately I haven't really been buying that many beauty & makeup products because a) nothing really caught my eye, and I did swatch quite a lot products recently b) I want to save some money to afford more travelling this year.
This is why I've bought only two beauty products for myself this month, I did get some nice products for friends and family, though.
So what are those?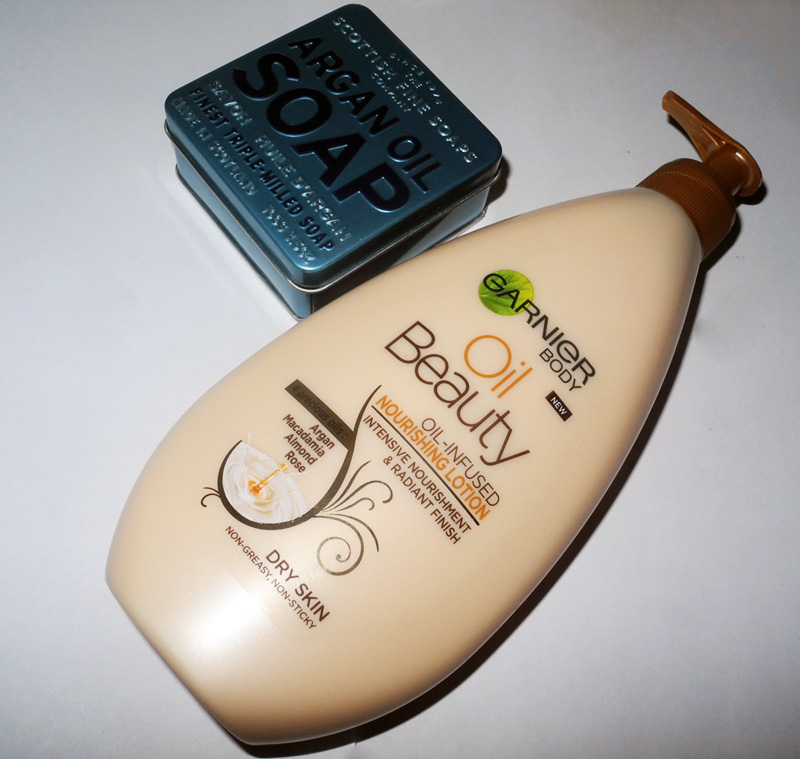 Garnier Oil Beauty Oil-Infused Nourishing Lotion 250ml (you can buy it here for £4.99)
I have a body scrub and an oil from this series and adore both, so thought  it was about time to pick up a body lotion, too. Garnier body creams are my favourite budget options for very dry skin, so I have big hopes for this one.
I have also picked up
Read More