If you are not a fan of the traditional Christmas collections with red, gold and  everything glam, you may love the newest offering from Givenchy.
Their Folie de Noirs collection is dark and mysterious. I would even call it gothic! Definitely my favourite collection from the brand in a while – everything looks gorgeous, and there is nothing I wouldn't wear.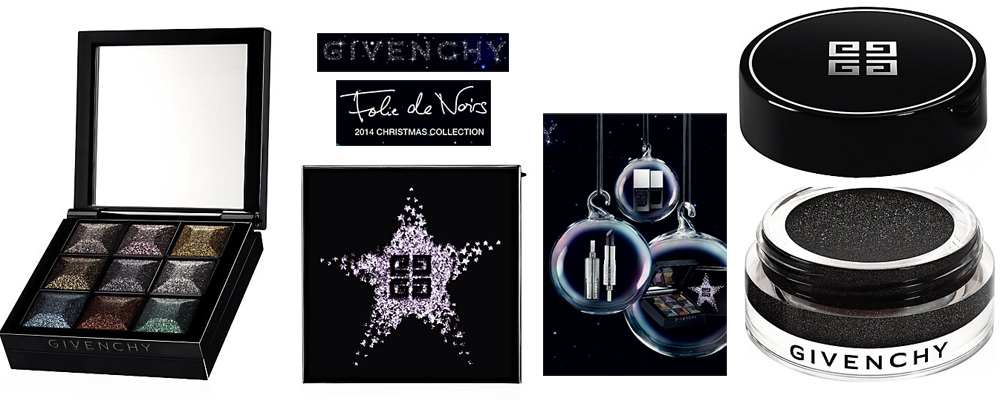 The star of the collection is the Le Prismissime Yeux Noirs En Folie, £40. 50. You get nine shimmering shades which come in a compact with a star on top.
There are two other products for the eyes – black shimmering eye shadows Ombre Couture Noir Sequin (£18) and a midnight blue mascara Phenomen'eyes Bleu Folie (£23).
Besides the products for the eyes, there are two nail polishes
Read More
Here is a quick update about some brand new luxury makeup products that caught my attention.
GIVENCHY Les Mini Prismes
A mini compact Givenchy case just looks adorable! Inside you get  The Le Prisme Yeux Quator in Purple Show 71,  Le Prisme Visage Mat in Beige Mousseline 84, Le Prisme Blush quad in Vintage Pink 22. There is also a mirror, mini powder brush, and eye shadow.
You can buy it from Sephora for $39
LANCOME Golden Riviera limited edition star bronzer
How gorgeous is this Lancome's bronzer?  Only
Read More
I've decided to share some of AW  2014 beauty campaigns that caught my eye.
First of all, here is a quick preview of the upcoming collection from Illamasqua – Once.   Hopefully, there will be more beautiful images and some exciting new products.
First look at Burberry's AW beauty campaign.  It's great to see different ethnicities, and  how the dusky pink shades look nice on both girls. Wendy Rowe did a great job, as usual.
I also really like the look from
Read More
Here is a preview of the Givenchy Autumn 2014 makeup collection - Extravaganzia. And I love the lines for this campaign – Naturally Eccentric. Extravagantly Natural.
The products in this collection are:
Palette Extravagancia: Must-Have, £45
This palette was inspired by mother-of-pearl and includes pink lipstick,  and four eye shadows which are satin brown and purple, burnished gold and shimmering silver.
Blush Memoire de Forme in Rose Extravagant, £26
This new blush formula is described as a non-sticky "associative polymer gel with innovative elasticity". It contains 70% of water so should feel  light, smooth and hydrating on the skin.
Noir Couture, £23.50 and Ombre Couture, £18
No5 Violet Etonnant, a purple  mascara and  No12 Or Insolite, metallic and sparkling  eye shadow.
Read More
I don't watch that many YouTube beauty videos, but there is one that I really liked, and that was Lip Products Addict Tag.  I thought I'd do my own version in form of a post. So here we go…
My favourite lip treatment, sadly, has been discontinued, so the one that you can buy now has to be NUXE's Reve de Miel. I am not very original here, but this thing is da bomb! It does everything you'd want a lip balm to do,  nourishes and moisturizes the lips; it's a perfect overnight balm.
You can get if for  around £10  from Feel Unique and  Look Fantastic 
Best Eye Catching Red 
I do love a good red and have a lot in my rotation, but I've noticed that I get the most compliments whenever I wear Daniel Sandler's Red Carpet Red. The name speaks for itself, no?  It's a gorgeous and flattering red, I highly recommend.
You can buy it from Feel Unique for £13.25.
Best Luxury and Best Drugstore Lipstick
My  most-used luxury lipstick has to be Dior Addict, so I'll include this
Read More