Here is a preview of Givenchy's Superstellar makeup collection for Autumn 2016 which is already available from Neiman Marcus.
Givenchy Le Prisme Superstellar Eye Shadow Palette, $63
The (quite literally) star of the collection.  Apparently with this product Nicolas Degennes creates a bridge to a fantasy world inspired by super heroes and heroines. You get three shades for the eyes and complexion: "the plum defines eyes for greater intensity; pink coral acts as a spotlight to showcase brows or the upper eye lid and can be used as a blush; and
Read More
How great is it that more brands are launching eye brow products? Here are a few worth checking out:  eye brow pencils, gels and even palettes.
Rouge Bunny Rouge Long-Lasting Brow Liner Alchemy, €26
"The exceptionally fine and sharp tip allows for ultimate precision of lines, instantly releasing the pigments for maximum control.
The easily blendable, wax-based formula and the delicate matt finish create a very natural-looking result: waterproof and smudge-free, it will stay put for 10 hours and longer. Enriched with natural antioxidants, Vitamins E and C."
Shades:
TRONA, Light hazelnut. Ideal neutral shade for almost any natural brow colour.
ANTIMONY, Dark chestnut. Ideal neutral shade for dark brown and black natural brow colour.
Later the brand will also launch Brow Expert Gel Silhouette Of Grace  in Airglow and Earthshine.
Givenchy Brow Studio Eyebrow Couture Definer, £18.00
"Retractable lead and a creamy texture, achieves sculpted, more intense brows in just one stroke. The coverage is intense, the finish powdery matte. Brows are evenly coloured, for a sophisticated, waterproof effect that lasts more than eight hours."
Brow Studio Mister Brow Filler, £17.50
"Fills in any sparse areas and flawlessly shapes the brows. Its fluid, quick-drying formula instantly dries down to a powder finish on application. The curved brush
Read More
Here is a preview of Givenchy Les Saisons summer 2016 makeup collection which is all about the sun-kissed complexion and innovative textures.
Poudre Bonne Mine, £36
Cult Givenchy bronzing powders in  Moonlight Saison, Première Saison, Douce Saison,  Ambre Saison and Extrême Saison.
"Based on new-generation technology, the formula is a baked gel which transforms into powder when applied. The Healthy Glow Powder naturally enhances the skin colour. It's a daily indulgence that gives the complexion a perfectly "nude-skin effect" and healthy glow, thanks to its totally weightless texture, without any powdery veil. An unprecedented comfort which gives a long lasting tailor-made result."
Mister Radiant Primer (£29 for 30 ml),  Mister Radiant Bronzer (£29 for 30 ml), Mister Radiant Blush (£25 for 20 ml)
"Gorged with water, this sheer primer gel provides extreme freshness and glides on like a totally invisible and imperceptible veil with a nude finish. A unique combination of tinted microbeads work to naturally exalt the radiance of the complexion. Upon
Read More
Givenchy La Revelation Originelle Spring 2016 makeup collection is exactly what we all need in January. Gorgeous highlighter, and refreshing pink for lips, nails and cheeks. There are also a brown eye liner, grey mascara and colourful eye shadows.
The star of the collection is definitely the uber gorgeous illuminator Poudre Lumiere Originelle (£41.50), an enhancing powder for an imperceptible, soft focus finish. It is a light pink highlighter  that leaves the skin radiant and luminous.  Quite possibly the most beautiful powder of the season.
There is also a new shade of the cult  Le Prisme Blush (£32) in 41 Lune Rosée which combines the following shades: peach, light pink, rose pink and coral. Seems like another must have to perk up the complexion.
I love the idea of the brand's  Mister Scrub (£22 ) which is a gentle exfoliator in a stick format and  Mister Gentlebalm (£22) which is a lip balm that combines a moisture booster and a colour enhancer to nourish, hydrate and naturally reveal lip colour.
The nail polish in this collection is the pastel pink Le Vernis (£17)  in 29 Rose Divin
As for the eye products:
Read More
Spring is the time for new lipstick releases, as we could see in the previous years. And we can see the same situation for SS16, too.
I have already posted about the new releases from Clarins and YSL. But there are just so many more coming out our way – think Guerlain, Lancome, Chanel, Tom Ford, Givenchy, Clinique, Estee Lauder, Armani and more.
Today let's take a look at three of them: Chanel, Tom Ford and Givenchy.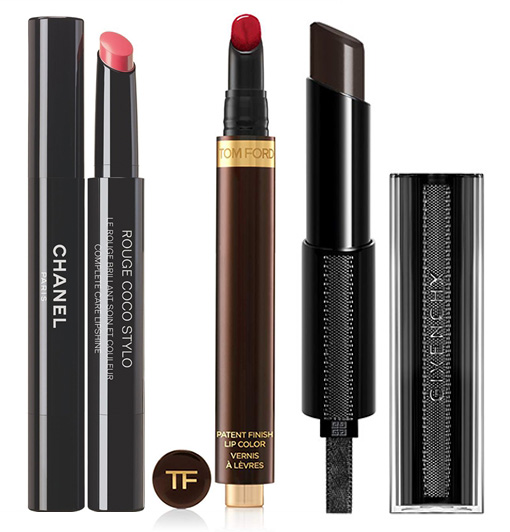 Chanel  Rouge Coco Stylo (Complete Care Lipshine) ($37 from Chanel)
"The intensity of a lipstick, the shine of a lipgloss and the comfort of a lip balm — all in one creamy yet lightweight formula. This innovative formula is enriched with nourishing Apple Seed Extract and hydrating Jojoba Oil and Coconut Oil. Silk Powder, Beeswax and special ingredients help visibly smooth, plump and add brilliant 3D shine to the lips."
Available in 8 shades, the one shown above is
Read More