Givenchy La Revelation Originelle Spring 2016 makeup collection is exactly what we all need in January. Gorgeous highlighter, and refreshing pink for lips, nails and cheeks. There are also a brown eye liner, grey mascara and colourful eye shadows.
The star of the collection is definitely the uber gorgeous illuminator Poudre Lumiere Originelle (£41.50), an enhancing powder for an imperceptible, soft focus finish. It is a light pink highlighter  that leaves the skin radiant and luminous.  Quite possibly the most beautiful powder of the season.
There is also a new shade of the cult  Le Prisme Blush (£32) in 41 Lune Rosée which combines the following shades: peach, light pink, rose pink and coral. Seems like another must have to perk up the complexion.
I love the idea of the brand's  Mister Scrub (£22 ) which is a gentle exfoliator in a stick format and  Mister Gentlebalm (£22) which is a lip balm that combines a moisture booster and a colour enhancer to nourish, hydrate and naturally reveal lip colour.
The nail polish in this collection is the pastel pink Le Vernis (£17)  in 29 Rose Divin
As for the eye products:
Read More
Spring is the time for new lipstick releases, as we could see in the previous years. And we can see the same situation for SS16, too.
I have already posted about the new releases from Clarins and YSL. But there are just so many more coming out our way – think Guerlain, Lancome, Chanel, Tom Ford, Givenchy, Clinique, Estee Lauder, Armani and more.
Today let's take a look at three of them: Chanel, Tom Ford and Givenchy.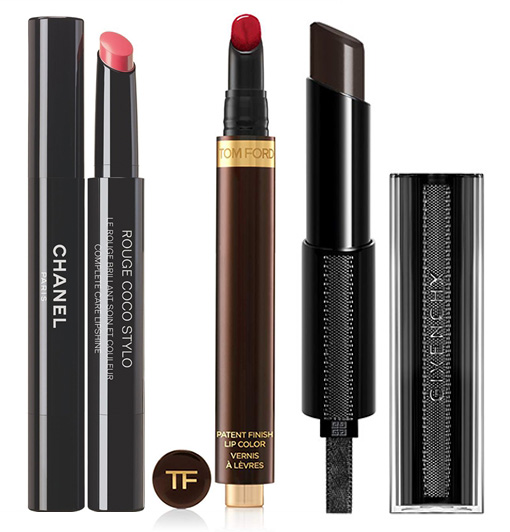 Chanel  Rouge Coco Stylo (Complete Care Lipshine) ($37 from Chanel)
"The intensity of a lipstick, the shine of a lipgloss and the comfort of a lip balm — all in one creamy yet lightweight formula. This innovative formula is enriched with nourishing Apple Seed Extract and hydrating Jojoba Oil and Coconut Oil. Silk Powder, Beeswax and special ingredients help visibly smooth, plump and add brilliant 3D shine to the lips."
Available in 8 shades, the one shown above is
Read More
Givenchy Les Nuances Glacees Makeup Collection for Christmas 2015 is a well-edited luxury release with a crispy white glittering packaging.
You get a La Palette Glacee, six eye shadows, inspired by iced chocolate. According to Givenchy, these shades are about reflective pearlescent particles in different sizes create a deep 3D effect.
A special edition of Le Rouge, Le Rouge Glace in a beautiful festive shade.
Bronze Liner Vinyl and bronze Noir Couture Volume mascara. There is also a
Read More
If you liked Makeup4all Facebook page , you could see some of the looks from SS16 Fashion Weeks. I have actually also posted about the hottest seasonal trend at my Mode account, too. (Can you guess what it is?)
Speaking of SS, you gotta love those early previews of the  Spring 2016 makeup collections. And here are a few which I've spotted on Instagram.
Givenchy Spring 2016 Makeup collection  teasers from Nicolas Degennes, Creative Director for Givenchy beauty.
Dior Makeup Collection for Spring 2016 from Peter Philips's account, Creative and image director of
Read More
This season Givenchy's makeup collection is about black vinyl eye products and gorgeous reds for lips and nails, there is also a cream blusher.
The products are:
Prime Quatuor  Palette Metallic Reflection one matte and three metallics
Mister Intense Black. An intense black vinyl top coat for the lashes.
Liner Vinyl. Thin brush and
Read More