This Spring's makeup collection COLOreCREATION from Givenchy is all about the bold, bright playful colours. Exactly what you'd need for a new season!
The products are:
Must-have Le Prisme Visage Color Confetti, £38
Multi-coloured illumonator with transparent and luminous pearlescent particles, can be used all over the face for a brightening effect.
Color Kajal, £16
Smooth and colourful, long-lasting bright eye pencils.
 Vert Invention No. 1
Turquoise Imagination No. 2
 Violet Creation No. 3
Gelee D'Interdit, £21.50
Read More
Here is, as promised, the second part of my Favourite Beauty Products of 2014 features.
This time it's all about the eyes & lips. Enjoy, and don't forget to share yours.
Eyes
Eye Shadows Platte – theBalm Shady Lady Vol 2 (review)
I have re-discovered this beauty in summer, and  this was the palette I travelled with most of the times, amazing formulas, great colour selection, thin packaging and great mirror – what else do you need? theBalm eye shadows are among the best.
 Mascara – Clarins Be Long (review)
I've managed to get lush looking lashes with Be Long, it separates perfectly, is never clumpy, and gives a nice , rather dramatic effect, if you use several coats. The brush, for me, is mess-free. I have recommended it to several friends, and they loved it, too.
Cream Eye Shadow - Max Factor Excess Shimmer Eye Shadows  (review)
Definitely one of the coolest eye shadows I've discovered  in ages.  Mousse-like texture that allows you to get a sheer   hint of shimmer, or layer it on for a more intense look. It is stunning both ways!
Eye Shadows – Rouge Bunny Rouge Eye Shadow in Solstice Halcyon  (review)
This is
Read More
I have posted about a lot of new lip launches but what about the eyes? Don't worry, there are a lot of exciting new products, as well. Cream, powder, singles, duos, palettes. There is something for everyone.
Let's take a look…
The promo is Charlotte Tilbury's Supermodel Look.
Chantecaille Le Chrome Luxe Eye Duos, $58/ £48
The duos inspired by Venice: Grand Canal Duo in Laguna, a flattering green gray, and Rialto, a radiant gold and Piazza San Marco Duo in Pigeon, a midnight purple, and Marble a soft gray.
Available from Nordstorm already and SpaceNK
Tom Ford Cream Color, $42/£28
Metallic, pigmented and highly reflective molten-toned eye shadows from Tom Ford are pure luxury. The shades are Platinum and Spice.
Available from
Read More
If you are not a fan of the traditional Christmas collections with red, gold and  everything glam, you may love the newest offering from Givenchy.
Their Folie de Noirs collection is dark and mysterious. I would even call it gothic! Definitely my favourite collection from the brand in a while – everything looks gorgeous, and there is nothing I wouldn't wear.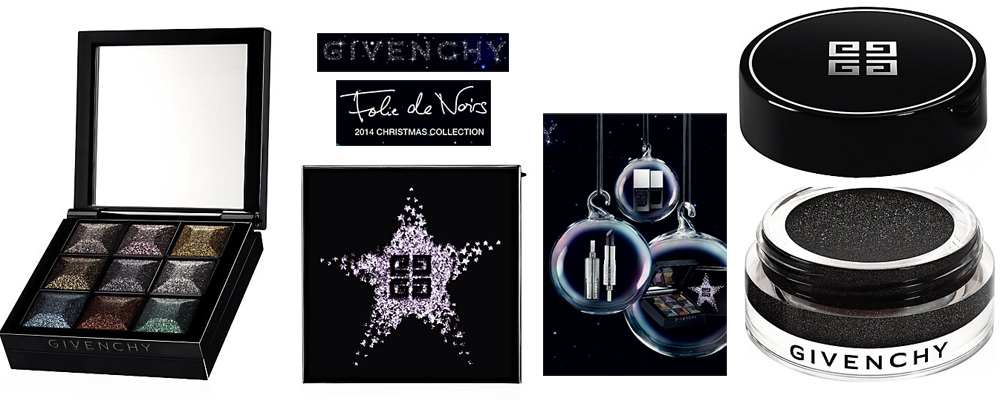 The star of the collection is the Le Prismissime Yeux Noirs En Folie, £40. 50. You get nine shimmering shades which come in a compact with a star on top.
There are two other products for the eyes – black shimmering eye shadows Ombre Couture Noir Sequin (£18) and a midnight blue mascara Phenomen'eyes Bleu Folie (£23).
Besides the products for the eyes, there are two nail polishes
Read More
Here is a quick update about some brand new luxury makeup products that caught my attention.
GIVENCHY Les Mini Prismes
A mini compact Givenchy case just looks adorable! Inside you get  The Le Prisme Yeux Quator in Purple Show 71,  Le Prisme Visage Mat in Beige Mousseline 84, Le Prisme Blush quad in Vintage Pink 22. There is also a mirror, mini powder brush, and eye shadow.
You can buy it from Sephora for $39
LANCOME Golden Riviera limited edition star bronzer
How gorgeous is this Lancome's bronzer?  Only
Read More