I love pink lipsticks, I really do. And I have quite a few, so I've decided to pick up five that I am loving at the moment to share with you!
Rimmel Colour Show Off Lipstick in Pink Gossip (full review and swatches)
I adore this lipstick line from Rimmel (and not only this one, I think they make the best affordable lipsticks).  It has a nice texture, beautiful flattering warm toned pink shade and a matte finish, which I personally don't find to be drying. In fact, I've used up half of this lipstick, if not more, and that says a lot. I only wish they had a different packaging but, I guess, most girls love pink…
Illamasqua Lipstick in Immodest (review and lip swatches)
Illamasqua do know how to make a lipstick that catches attention,  this bright, pigmented, matte pink will brighten up any makeup look.  Just make sure
Read More
Pink is the colour for Spring 2014, a lot of beauty brands have at least one rose-tinted product in their seasonal release. And it's not a surprise, what other shade can perk up your complexion and make it look fresh and youthful?
Even the promo photos of the leading luxury beauty brands [YSL, Givenchy, Lancome, Burberry, Dior, Guerlain] give us an inspiration on how to wear pink, which is always feminine and classy. And with all the variations of this prettiness, colour and texture wise, every girl, no matter what age and skin tone, can find a suitable product.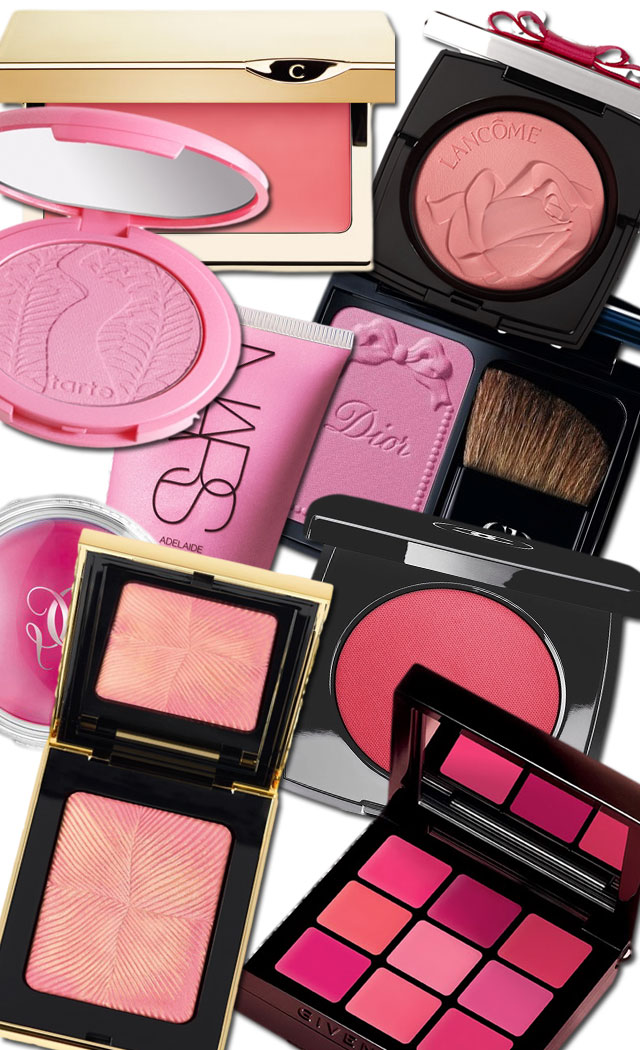 Here are some of the products you can choose from:
Clarins Multi-Blush Cream Blush in 02 Candy, Lancome Blush Highlighter, Tarte Amazonian Clay Blush in
Read More
I already did a post about my favourite bases and cheek products of 2013, so here is the second part which is all about the eyes, lips and nails.  To compare my list t0 2012 favourites click here.
So here we go…
Eyes
I will start with the eye brows, and my favorite and most-used product, hands down, was Hourglass Arch Brow Sculpting Pencil in Soft Brunette (review). It is a must have for me now, easy to use, long-lasting and great shade.
As for the liners – it was super easy to choose: Rouge Bunny Rouge Raven Glaze Lacquer Liner (review), black and glossy liner is in my personal top favourites ever. When I am in the mood for the cat eye, this is the product I always use. Plus it's so easy to control.
For an every day use, and I'm sure this is no surprise to you, I always use Lancome's Le Crayon Khol in Brun Noir (review). I have so many eye pencils, but 99% of the time I use this one. It's a perfect blackened brown which is very soft and easy to blend, dreamy.
When it comes to mascaras, I have two favourites, as well. One in a classic black shade, which is  Chanel Le Volume de Chanel Mascara in 10 Noir (review), easily one of the best mascaras I have ever tried, ultra black and mega volumizing. I have a small sample but am buying a full size.
I also want to mention a colourful mascara - Rouge Bunny Rouge Dramatic Lash Mascara Megaplumes in Oxblood Panache (review). It is an innovative shade which looks beautiful on the lashes, what you is is what you get.
And, of course, I have to mention Anastasia's Genius Top Coat (review) which changed my beauty life.
There are so many  great eye shadows that I could
Read More
So… the official Pantone colour for SS14 is Radiant Orchid. And you can actually see  cool toned pink/lavender/orchid beauty products in  several Spring 2014 makeup collections.
I am personally a big fan of  sheer lip products of such shades, and wouldn't mind something for nails and eyes, too.
Luckily Sephora has a huge selection of the makeup in this trendy  shade, and I have chosen five that I personally wouldn't mind having in my own makeup bag:
Givenchy Gelée D'Interdit Smoothing Gloss
Read More
I don't like pink in anything but makeup. And I LOVE pink in makeup, especially cool-toned pinks. I also love roses, so the fact that the Spring 2014 Givenchy collection is called Over Rose, and is all about pink makes me uber happy.
In fact, this is definitely among my favourite Spring collections.
I love how Nicolas Degennes, Make-Up and Colour Artistic Director Givenchy, is describing it:
"Removed from a certain naiveté with which it is often associated, pink is a subtle colour that delivers multiple messages. Gourmand, it is as enchanting as a river of strawberry cordial. Pink candyfloss from childhood. Romantic, it is draped in poetry and tenderness. Sensual and excessive, it blossoms in extreme femininity."
Sounds really beautiful, and looks gorgeous [the collection], too.
Must Have Prismissime Euphoric Pink, £44.50
Nine pretty pink shades for lips and cheeks: Passionate, Loving ,Youthful, Romantic, Tender, Childlike, Aphrodisiac, Sentimental, Dreamer. This looks like the product of this Spring.
OMBRE COUTURE Cream Eyeshadow No. 10, Rose Illusion, £18
This shade is a part of the Spring collection, but there is a new line of the permanent shades of
Read More