Guerlain brought out a real eye candy which is their Terracotta Natural Healthy Glow Powder Duo, $53 (Neiman Marcus and Bloomingdales).
This is actually a powder which is lighter than the usual Terracotta, so it will look amazing on  the paler skin tones, creating some warmth and glow. There is a reviving pink for Blondes or apricot for Brunettes. You can mix the two shades together or use them separetely. And how gorgeous is that compact?  And don't forget the signature scent of  freesia and orange blossom, tonka bean and vanilla.
Here is also a preview of the classic Terracotta bronzer and the brush.
The brand also released a new mascara and single eye shadows, which seem to be a new popular format as a part of their Eye Event collection.
 Guerlain Cils d'Enfer Maxi Lash So Volume
Read More
Spring 2015 makeup collection from Guerlain, Les Tendres, is all about the  glowing fresh complexion and tender pink tones, very girly, delicate and feminine. Exactly what we need after long winter months and sparkly/red makeup…
The products are:
Face
MÉTÉORITES BABY GLOW Light-Revealing Sheer Make-Up Baby Glow Anti-Fatigue Effect IP 25 – PA ++ (£35.50 / €47.50/$54)
2 – Clair
3 –Medium
4 – Doré
This is basically the famous meteorites in a tube – the brand promises that Baby Glow (and who doesn't want a baby glow?!) gives radiance and luminosity to the complexion and has a signature meteorites scent, too.
MÉTÉORITES PERLES DE BLUSH (£34.50 / €46/$53)
"A harmony of 3 pearls: a fuchsia that revives the natural colour of the cheeks, an iridescent champagne that illuminates the curve of the cheekbones and a rose petal pink that gently revives the complexion."
MÉTÉORITES COMPACT Light-Revealing Powder (£40 / €52/$62)
Pure light for fair skin: Green dots hide redness, while white illuminates the complexion. Champagne gently evens out the skin tone.
Tone-on-tone light for medium skin: Beige and champagne dots delicately illuminate the complexion, while peach adds a perfecting touch.
Warm light for golden skin: Golden dots illuminate the complexion, while fuchsia joyfully revives radiance and chocolate warms up the skin.
Eyes
ÉCRIN 4 COULEURS Long-Lasting Eyeshadows, Captivating Colours (£41/ €55/$65)
Read More
Pantone just announced their colour of 2015 this week – and it's Marsala (PANTONE® 18-1438).
 Leatrice Eiseman, Executive Director of the Pantone Colour Institute describes it  the following way: "The naturally robust and earthy wine red hue 'enriches our mind, body and soul, exuding confidence and stability."
Here is the look that Sephora created in collaboration with Pantone, and I personally absolutely love the eye makeup!
They have actually created  a special section where you can Shop  all things "Marsala".
And I've decided to share my top
Read More
Guerlain's Christmas 2014 makeup collection was inspired by the opera and ballet.
Olivier Echaudemaison describes the elegant Guerlain woman in a little black dress, beautiful statement lipstick and a shimmering powder on her décolleté and arms.  You can get your inspiration from Natalia on the promo photo, and re-create the look with the help of brand's new gorgeous products.
Coque d'Or Perfumed shimmer powder body & hair, £55 / €79
Guerlain  reproduced Coque d'Or's original bottle and reinterpreted it in gold-lacquered glass just for this collection.  This shimmering  golden powder can be used on both body and hair. It is scented with the notes of rose, bergamot and patchouli.
Petrouchka Palette Eye & Blush Palette £56.00 / €77
The palette that, according to the brand is as "dazzling as the gilding of the Bolshoi or the Opéra Garnier." It contains five eye shadows and  four blushes: fresh pink and coral revive the cheekbones; rosewood and brown sculpt them to perfection. See it featured here.
Météorites Perles d'Etoile, £37.50 / €49
This year's Guerlain meteorites feature the famous bow inspired by Coque d'Or and come in a golden packaging with six shades of pearls  inside for a luminous glow.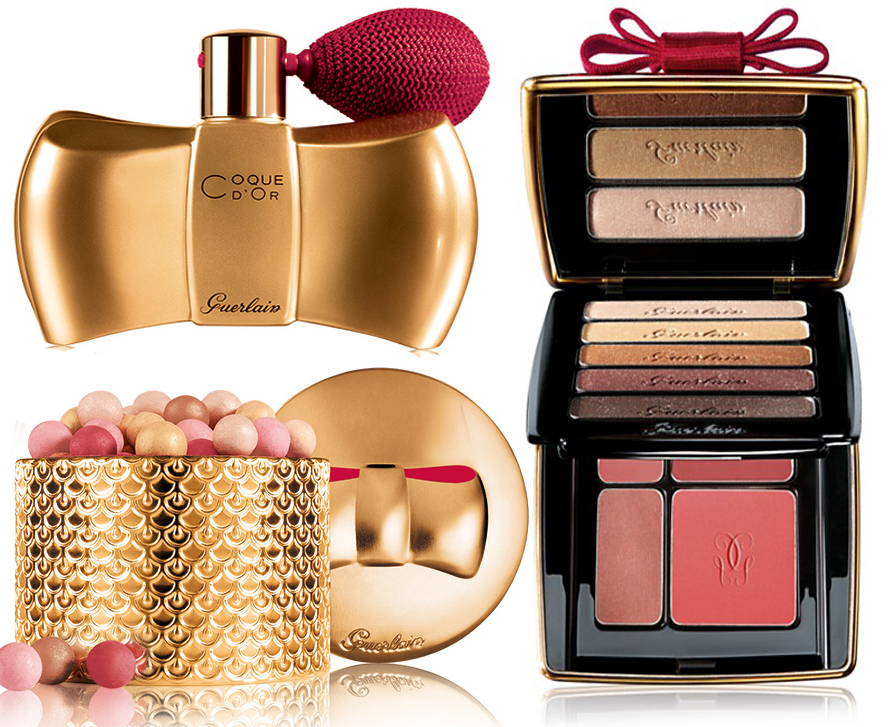 Rouge G Rouge Parade, £33 / €45
Read More
I have already posted about some of the amazing lip products that are coming out for AW (part 2 on the way, so stay tuned). And here is a sneak preview of the new palettes that will be released for holidays.
I am personally very excited about the LORAC Mega PRO palette with 24 matte and shimmer shades. It will be out on the 7th October and will retail for $59 from Ulta and LORAC.
It's been forever since I've bought a big palette, so maybe it's time to do it! [I have stopped buying them since I never use those anyway, and they just gather dust and I've been trying to de-clutter my place, too. And some palettes are bulky, and do take a lot of space]. Maybe this palette will change the situation.
Now, what about the other items?
You can
Read More