Are you a fan of the iconic Guerlain's KissKiss lipstick? I am! That is why I am  super exciting that the brand is brining those beauties back this Autumn.
The formula is enriched with mango butter which feels hydrating on the lips, and  the lipstick offers  satin and radiant finish. The gorgeous packaging, created  by Herve van der  Straeten, feels properly luxurious, and is
Read More
I usually post  about the new individual beauty products on Facebook but today I've decided to feature new lips, eyes and face makeup products in one post, as they all deserve attention! And I  personally love all three launches a lot.
As for the lips – Guerlain brought out two uber-gorgeous collector's  Rouge G de Guerlain Rose Lip Color  lipsticks (£33/$54). There are two shades with the matching case: 864 Rose Grenat, velvety red-pink and  866 Rose Glace, nudish pink.
As for  the face – Givenchy released  a new  Poudre Première Universal Nude, £35
According to the press release  it "provides a veil of pure transparency for perfect mattness and unveiled natural radiance. The single shade perfectly suits every skin tone, from the lightest to the darkest complexions."
The face of the line is the gorgeous Maria Carla Boscono.
The brand also re-launched their iconic Prisme Libre, £35
You get a
Read More
Look what just landed in my inbox – gorgeous promo photos of Guerlain's Summer 2014 makeup collection – Sun Celebration! I have already posted about this year's Terracotta release, by the way, too.
This summer Guerlain Terracotta celebrates 30 years, so the brand brought out a drop-dead gorgeous Terracotta Sun Celebration Powder (£47 / €65). Seriously, how beautiful is that bronzer/blush  wooden compact (it has a mirror, too) with flaming orange, burnished brown, sensual golden shimmer, sunset pink shades and a golden metallic sun in the centre?
Terracotta Le Parfum (£46 / €62)
Guerlain describe this fragrance as "The Allure of the Sun, in a Bottle". Thierry Wasser interprets the legendary powder as a fragrance.  It is  "irresistibly sensual, exotic and luminous, inspired by the radiant realm of Terracotta." The notes are: fresh bergamot, tiaré flower and ylang – ylang.
So what else is  in the collection?
Read More
All the fans of Guerlain Terracotta – rejoice, this years the brand brought out a new and exciting product – Joli Teint.
Joli Teint Beautifying Foundation SPF 20 – PA++ £34.50 / €46.50
Olivier Echaudemaison, Guerlain's Creative Director, describes it as a foundation which "combines translucency, lightness and luminosity". According to the brand, it's the first Beautifying Foundation for an instant Sun-kissed Healthy Glow. It should help to counter the fatigue that dulls the complexion and add some healthy colour, glow and luminosity to the face.
There are five shades to choose from: Clair,  Naturel, Moyen, Fonce and Ebony.
Sunless Tinted Self Tanning Gel £35.50 / €48.00
Moisturizing tinted gel that creates an instant tan, enriched with agran oil.
After
Read More
Pink is the colour for Spring 2014, a lot of beauty brands have at least one rose-tinted product in their seasonal release. And it's not a surprise, what other shade can perk up your complexion and make it look fresh and youthful?
Even the promo photos of the leading luxury beauty brands [YSL, Givenchy, Lancome, Burberry, Dior, Guerlain] give us an inspiration on how to wear pink, which is always feminine and classy. And with all the variations of this prettiness, colour and texture wise, every girl, no matter what age and skin tone, can find a suitable product.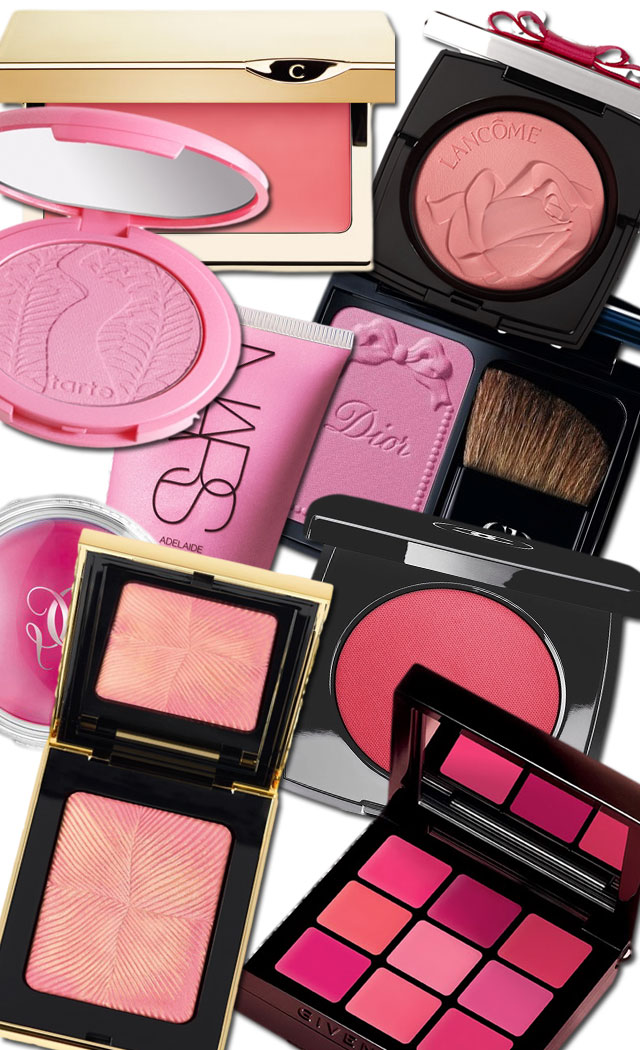 Here are some of the products you can choose from:
Clarins Multi-Blush Cream Blush in 02 Candy, Lancome Blush Highlighter, Tarte Amazonian Clay Blush in
Read More