This holiday season Guerlain is offering something different – bright pop of colour with  a sleek black lacquered packaging.
Here is  what  Olivier Echaudemaison, Creative Director says about the collection:  "The festive season is finally here! May it be the most cheerful, the most glamorous and the wildest during the few nights that bring the year to a close. As ravishing and radiant as ever, Natalia loves to play up her unique physique, while keeping her sense of humour. As a dazzling pin-up, she reveals another facet of her talent and beauty. Pop open the champagne!"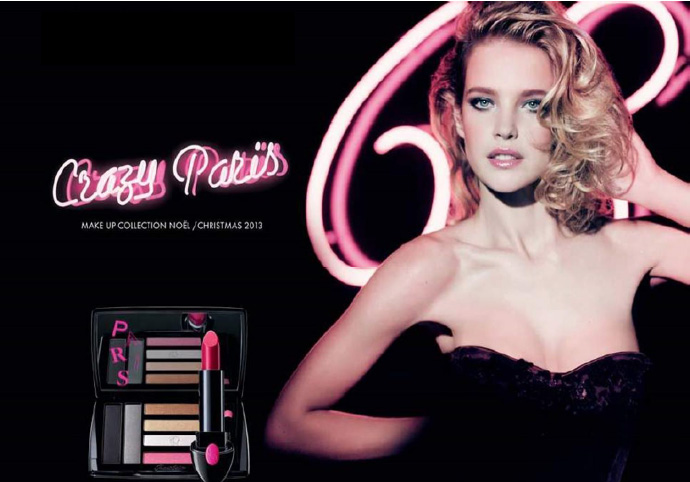 LA PETITE ROBE NOIRE SO CRAZY PERFUMED SHIMMER POWDER BODY & HAIR RRP £51 / €74
Sparkling loose powder with La Petite Robe Noir scent.
CRAZY PARIS EYE PALETTE –NEON LOOK £54 / €74
Grey and black matte powder liners to use dry or damp, velvety and iridescent eye shadows in copper, beige, white and hot pink.
MÉTÉORITES CRAZY PEARLS ILLUMINATING POWDER – PURE RADIANCE  £37 / €49
Six shades: beige and rosy beige to even out the skin, mauve to refresh, white to light up, gold to illuminate and pink for a healthy glow.  Come in black and pink Crazy Paris design.
CRAZY METORITES RADIANCE POWDER, £46.50 / €61
Vibrant Colours, the original
Read More
Here is a preview of the absolutely gorgeous Fall 2013 makeup collection by Guerlain.
The star of the collection is the stunning Madame Rougit 4-colours blush (£42). Guerlain explains that "pale pink illuminates the cheekbones, coral ensures a peachy complexion and beige creates a velvety skin texture. The raspberry tone adds a fresh tone to cheeks.".
There is also a beautiful   Colour Lacquer nail polish (£18) in Madamebatifole, deep and intense fuchsia, in this collection.
Fans of the brand will be also excited about the new  Ecrin 2 Couleurs eyeshadows (£30).
There are eight variations to choose from:  Two candy, Two extravagant, Two gossip, Two lovely, Two parisian, Two rock, Two spicy and Two stylish.
There are even more
Read More
Last week was a very busy one for me and I hardly got any sleep, so in the mornings it was a big challenge to a) get out of my bed b) look half decent. This made me analyse what products I was reaching for in such situation makeup wise.
Of course, everything starts with skincare but I'd love to concentrate on makeup today. But… the honourable mention goes to Omorovicza's Queen Of Hungary and Clarins' Beauty Flash Balm.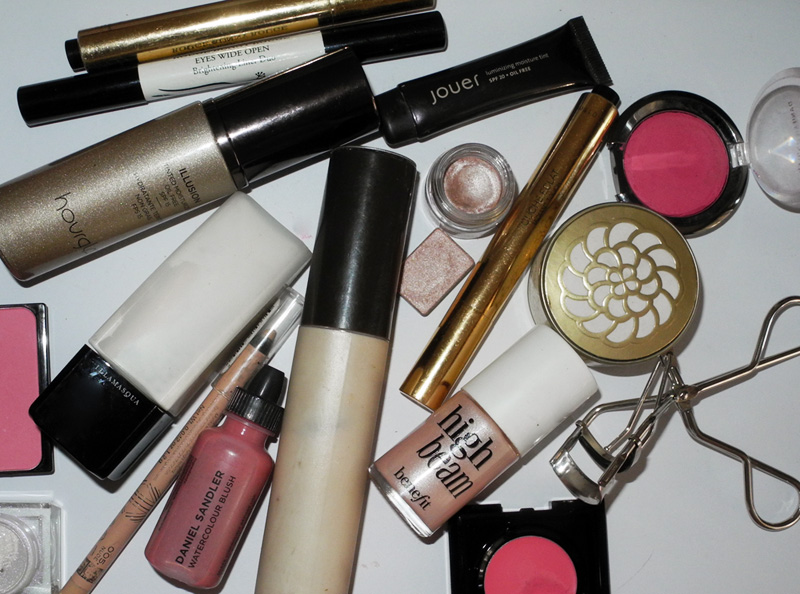 Since you want to look radiant and glowing and not  shimmering, shiny and "sweaty" don't go overboard with the products you use.  One illuminating/highlighting product is enough, and it's up to you to decide on which stage you'd like to use one.
Primers
It can be a primer and my pick would be Illamasqua's Satin Primer, as it gives a beautiful healthy sheen to the [dry] skin. But  if sheen is not enough for you, there are a lot  of primers with delicate shimmer on the market, so you can go for one of those.
Foundations
Illuminating bases (foundations and tinted moisturizers) are a big hit, as you can
Read More
I have been on a mission "Spring Cleaning" lately.
It's an amazing feeling when you get rid of the things that you don't wear anymore. The main thing is to be very strict with yourself – if  you haven't worn a particular item for months, or even years, most likely you won't wear it any time soon. So don't even start the "what if"…
Guerlain Eau De Lingerie, new, LE, £60 for 125 ml. This is a lingerie spray withaphrodisiac properties with the notes of: iris, rose, white musk, vanilla, sandalwood and ambrette.
Plus when you give away of the things you don't wear you feel motivated (and can justify) for the new purchases. I have been doing that, as well! And it it very refreshing. In fact, I have bought two new dresses (see one here) this month already. Although I don't really wear dresses that often, but I felt like it was time for a change.
Jo Malone Abigail*ryan Red Roses scent sachet, New, LE, £22
But why am I even telling you that all?
Because it's an introduction to today's post – scented products for your closet. This may
Read More
It's that time of the year when brands start bringing out their pre-summer collections that you can take  with you on  a mini break or a proper holiday. And, oh my goodness, I really need on of those and have my fingers crossed for one around May time…
So let's take a look at the gorgeous Guerlain Terracotta collection for this summer, 2013.
TERRACOTTA 4 SEASONS Tailor-made Bronzing Powder £46.50 / €62
This is a cult product already and doesn't even need an introduction, this year Guerlain added several new shades to the range:
00 NUDE For pale complexions. Comes with a fresh pink blush to illuminate the complexion, 02 NATURAL BLONDES, 03 NATURAL BRUNETTES, 08 EBONY For dark complexions. Comes with a red blush.
Other shades are: 04 MEDIUM BLONDES and 05 MEDIUM BRUNETTES.
00 Nude sounds amazing!
Olivier Échaudemaison application tips:
"Apply your Terracotta powder by tracing a figure "3" on each side of the face: from the forehead down towards the cheeks, then down along the jaw line to the chin and down the neck.
For the finishing touch, take a little more Terracotta powder with your brush and sweep it over the raised areas of the face, the places that catch the sun most – the forehead, nose, cheekbones and chin. The result is an instant glow.'
TERRACOTTA SKIN Glow-enhancing perfector £34/€46
This gives you a corrective coverage of a foundation  and the sheer transparency of a Terracotta powder, this powdery cream creates perfect make-up results while unifying your complexion and giving it a subtle, healthy glow.
Available in Nude, Blondes and
Read More