Don't we all want radiant glowing complexion for Spring/Summer? We want it all year round but after those dull grey winter months, especially. This is why the brands are brining out so many products from this category. Here are four new ones that are worth your attention.
Hourglass Ambient Light Correcting Primer, $44 from Sephora. Later from Barneys New York,  Bergdorf Goodman, Net-A-Porter.com, Space.NK,
"Light correcting primers that blur, smooth and perfect the skin for a soft, subtle glow. The oil-free, weightless formulas neutralize, brighten and soften light as the first step in creating your perfect light."
Dim Light – A natural beige that neutralizes light to create soft, dim lighting
Luminous Light – A champagne pearl that brightens light to create a luminous candlelit glow
Mood Light – A soft, sheer pink that softens light to create the most forgiving mood lighting
Illamasqua Beyond Powder, £32 from Selfridges
"A baked highlighting powder subtly adding a warm hue to your complexion for a natural, radiant glow. Whether you want to achieve an all over illuminating finish or simply highlight certain points, Beyond's lightweight
Read More
Recently I was talking a lot about lipsticks with some girls I work with, and this inspired me to wear a different shade each day for a month. I wear the same ones over, and over again but considering how many I have it was about time to change my habit.  So here are the ones I wore last week…
NYX Soft Matte Lip Cream in Transylvania (lip swatch)
I am obsessed with it, as you may know, I have to stop myself from wearing it every single day. It is the most perfect vampy (Hey, Drac! yes, I absolutely had to do it) shade.  Whenever I wear it – I am always asked about it. The formula is not too drying and can be applied evenly.  This is the most affordable product from the selection and there are tonnes of other colours in the line.
Illamasqua Intense Lipgloss in Boost (review and lip  swatch)
Technically this is not a lipstick but, as the name suggests, it is pretty intense when layered so I've included it, too. It smells of sweets, feels moisturising on and is the most unique shade out of these all, a violet with a blue base, so beautiful.
ArtDeco Soft Lip Liner Waterproof in #8  and Stila Stay All Day Liquid Lipstick in Tesoro (review and lip  swatches). Wearing this combo on my Twitter profile photo.
This is my ultimate
Read More
My favourite beauty product over the holidays was definitely Illamasqua's Ore pigment, a glittery bronze which is so-so gorgeous, I highly recommend. But, besides the shimmering eye shadow, I've re-discovered some of my festive-appropriate eye liners. And my top two were:
Rouge Bunny Rouge Quartz Eyeliner Devotion Ink in Tanzanite Essence (review and swatches)

Illamasqua Precision Ink in Wisdom (review and swatches)
They are just  extremely beautiful. Both are easy to control, have a gorgeous sparkling effect and nice pigmentation.  Wisdom is described as
Read More
I am happy to see that Illamasqua's new collection looks like one of their first releases with  original shades of makeup and stunning promo images created by Alex Box.
The collection is called Earth, and I love the tribal vibes of the photos.
The products are:
Nomadic palette, £34
Four matte and metallic eye shadows: Loam (a deep earth green), Terra (an earth clay red), Solitude (a poetic grey) and Gravity (a glazy grey).
Glamore Lipstick (£20) in Kin, sophisticated burnished, satin finish
Pure Pigment Powder (£17) which is a
Read More
Illamasqua just launched their newest makeup collection with some great basic products, like eye and lip pencils, nude lipstick and blush; and a trendy contouring palette.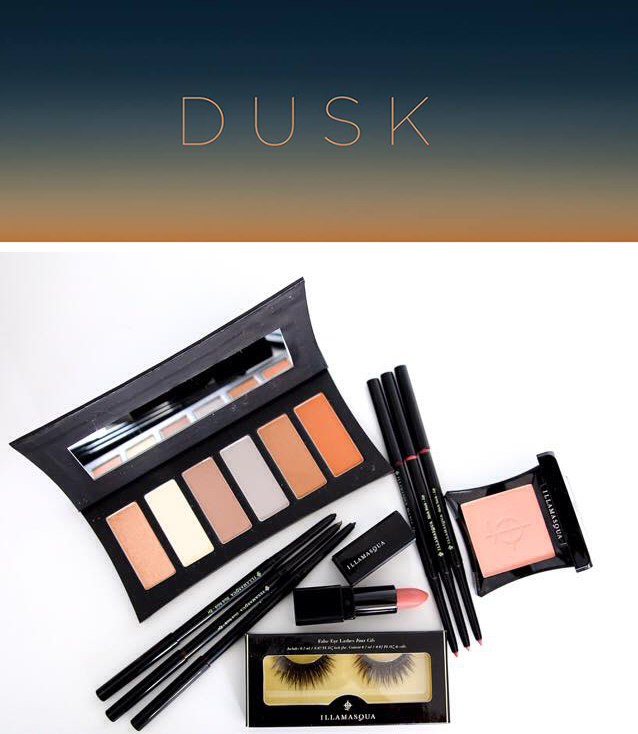 The photo above is from the brand's Facebook page.
The products are:
Sculpting Palette (Contouring and Highlighting Palette), £44
It includes six  versatile powder shades. Here are the tips on the best way to use it: " Using the Contour Brush, apply Cirrus to the highest points of the face to subtlety highlight features. With the same brush, gently create an under-shadow by applying Nimbus to the hollow of the cheek and down the sides of the nose. Follow by blending Heroine (light to medium skin-tones) or Create (medium to deep skin-tones) over the under-shadow created with Nimbus for a more realistic finish. Achieve a cooler tone to your contour by mixing in Nimbus; or create a warmer effect by mixing in Steal. Illuminate your highlighted areas by layering Rush down the bridge of the nose, and above the cheek bones, blending towards the hair line."
False Eye Lashes in Quiver, £15
Read More