New nude palettes, anyone?
Illamasqua  Rose Gold Palette,  £44
It comes in a rose gold cardboard packaging and includes the following shades: Slink (Champagne), Stealth (Buttermilk), Servant (Eggshell), Vernau (Yellow Ochre), Bronx(Bronze Gold), Wolf (Chocolate Brown), Forgiveness (Chocolate Plum), Fist (Deep Plum), Rim (Black Coffee), Tango (Rich Copper Bronze), Terra (Earth Clay Red), Obsidian (Rich Black).
Illamasqua is available from Selfridges and ASOS.
Laura Mercier Flawless
Read More
I am sorry that there were no updates for several days, work and life in general just got too busy, but I am back with yet another selection of the new products for lips, eyes and face that caught my attention. This time it is all about Illamasqua,  Marc Jacobs and YSL.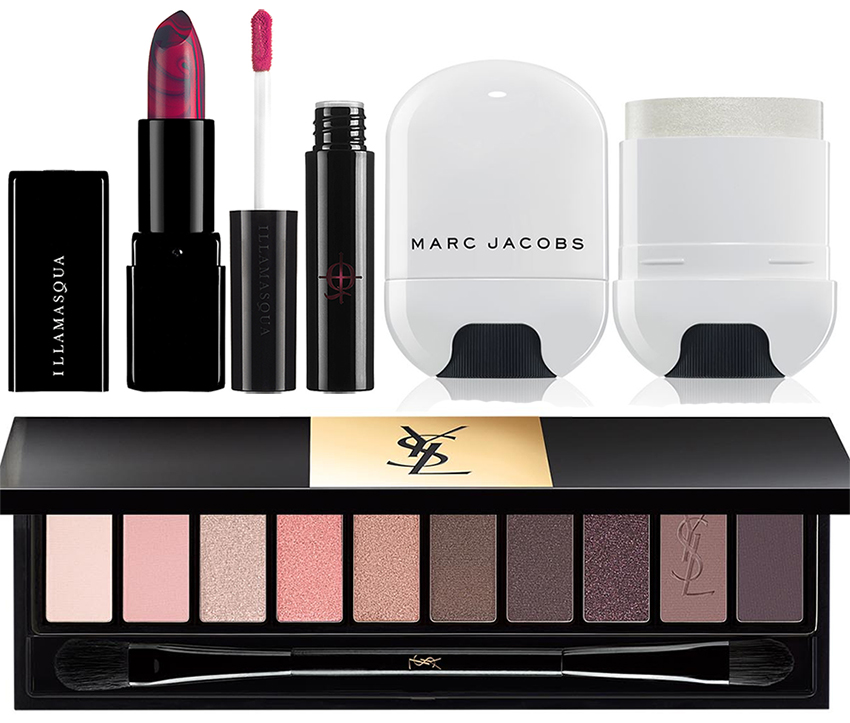 YSL Couture Variation 10-Color Expert Eye Palette, $95 from  Bergdorf Goodman and £49 from Harvey Nichols.
They say you can never have to many nude eye shadows, and this one looks gorgeous. Inspired by  the fabric swatch sheets of Yves Saint Laurent's creative studio, there are 10 neutral shades which come in different finished; housed in an elegant and sleek packaging.
Illamasqua Marbled Lava lips lipstick (£19.50) and Lip Pure Liquid Lipstick (£19.50) from HqHair, Net-a-Porter, ASOS and Selfridges.
It looks like Illamasqua are finally back to their roots with
Read More
I have to admit that I am slightly obsessed with dystopian novels, and  love all those futuristic and manus x machina themes. And, yes, I do have a board on Pinterest.
It may have something to do with the fact that I did culture studies back at uni and read lots of philosophical theories on the subject.  Whatever it is, I have been always fascinated with the futuristic beauty.
Here is actually a photo I've posted on Instagram recently.

The products shown are:
And here are also some kick ass beauty looks from the relatively recent  MET Gala, how
Read More
Don't we all want radiant glowing complexion for Spring/Summer? We want it all year round but after those dull grey winter months, especially. This is why the brands are brining out so many products from this category. Here are four new ones that are worth your attention.
Hourglass Ambient Light Correcting Primer, $44 from Sephora. Later from Barneys New York,  Bergdorf Goodman, Net-A-Porter.com, Space.NK,
"Light correcting primers that blur, smooth and perfect the skin for a soft, subtle glow. The oil-free, weightless formulas neutralize, brighten and soften light as the first step in creating your perfect light."
Dim Light – A natural beige that neutralizes light to create soft, dim lighting
Luminous Light – A champagne pearl that brightens light to create a luminous candlelit glow
Mood Light – A soft, sheer pink that softens light to create the most forgiving mood lighting
Illamasqua Beyond Powder, £32 from Selfridges
"A baked highlighting powder subtly adding a warm hue to your complexion for a natural, radiant glow. Whether you want to achieve an all over illuminating finish or simply highlight certain points, Beyond's lightweight
Read More
Recently I was talking a lot about lipsticks with some girls I work with, and this inspired me to wear a different shade each day for a month. I wear the same ones over, and over again but considering how many I have it was about time to change my habit.  So here are the ones I wore last week…
NYX Soft Matte Lip Cream in Transylvania (lip swatch)
I am obsessed with it, as you may know, I have to stop myself from wearing it every single day. It is the most perfect vampy (Hey, Drac! yes, I absolutely had to do it) shade.  Whenever I wear it – I am always asked about it. The formula is not too drying and can be applied evenly.  This is the most affordable product from the selection and there are tonnes of other colours in the line.
Illamasqua Intense Lipgloss in Boost (review and lip  swatch)
Technically this is not a lipstick but, as the name suggests, it is pretty intense when layered so I've included it, too. It smells of sweets, feels moisturising on and is the most unique shade out of these all, a violet with a blue base, so beautiful.
ArtDeco Soft Lip Liner Waterproof in #8  and Stila Stay All Day Liquid Lipstick in Tesoro (review and lip  swatches). Wearing this combo on my Twitter profile photo.
This is my ultimate
Read More