Here is a preview of the new Illamasqua collection for Christmas 2013,  I love the promo images and the style, makes me think of the 20′s for some reason.
So what are the new products?
Fatale palette, £34
Quartet of powder eye shadows: bronzed gold, sultry berry shimmer, chestnut brown and seductive violet shimmer.
Sculpting Duo Powder, £26
Heliopolis & Lumos Champagne Gold, shimmering/ Soft
Read More
I was asked about my orange/coral/peach nail polishes, so I thought I'd write about those.
But I have to warn you that I (and this is shocker for a lot of people, I understand) don't really like such shades. I have managed to gather six and some of them are definitely no longer available. But this will give you an idea, I guess.
This post also made me look at my old nail polish features and realize that my photos/ manicure techniques have improved a lot, thank goodness.
Illamasqua Nail Varnish in Alarm
This is technically a red with a coral twist but I thought I'd include it anyway, as it is my favourite and I am so happy I got it. It's perfect for summer time and I use it a lot, as you can see.  See it on the nails.
 Inglot Nail Enamel in 949
Bright true orange with a hint of very delicate shimmer that is visible in the direct sunlight. This is like summer in a bottle.
Sally Hansen Hard as Nails Xtreme Wear in 36 Crushed
I have got this one
Read More
New collection from Illamasqua never fails to get me excited. I have already posted a preview of their newest release – Sacred Hour on Facebook  and now it's time to take a look at all the details. In my opinion, colour-wise, this is one of the coolest collections they released recently. Just take a look at all  the gorgeous shades!
And the promos are stunning, as always!
Dawn Spirit
Dusk Warrior
This collection includes:
Velvet Blusher (£18) in Sleek and Peaked, cream to powder formula.
Reflection Palette, £34
Nail Varnish (£14.50)  in
Read More
Last week was a very busy one for me and I hardly got any sleep, so in the mornings it was a big challenge to a) get out of my bed b) look half decent. This made me analyse what products I was reaching for in such situation makeup wise.
Of course, everything starts with skincare but I'd love to concentrate on makeup today. But… the honourable mention goes to Omorovicza's Queen Of Hungary and Clarins' Beauty Flash Balm.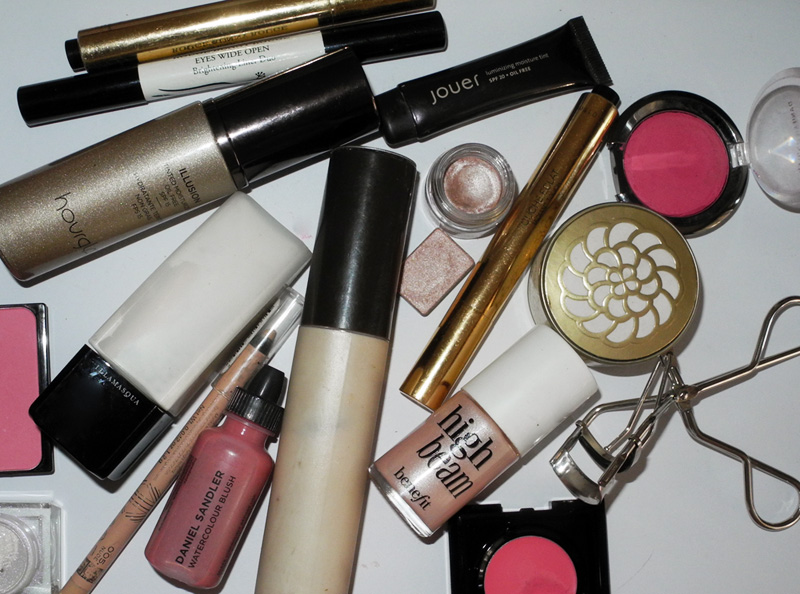 Since you want to look radiant and glowing and not  shimmering, shiny and "sweaty" don't go overboard with the products you use.  One illuminating/highlighting product is enough, and it's up to you to decide on which stage you'd like to use one.
Primers
It can be a primer and my pick would be Illamasqua's Satin Primer, as it gives a beautiful healthy sheen to the [dry] skin. But  if sheen is not enough for you, there are a lot  of primers with delicate shimmer on the market, so you can go for one of those.
Foundations
Illuminating bases (foundations and tinted moisturizers) are a big hit, as you can
Read More
I was asked about my Illamasqua lipsticks several times on Twitter so  I thought, why not featuring them all together?
I have four shades and have already written about each in details, so this is more of a round-up.
Before I start, I have to say that I really like the brand's lipsticks, they give an amazing colour pay-off and stay on really well.  Since they have a matte finish, make sure that you take a good care of your lips so that the lipstick doesn't enhance any dry patches and goes on smoothly.
Over
This coral with pink undertones, looks
Read More