Spring is the start of  the new season, and it is the time when we all want changes. I thought I'd share a little list of things that inspire me these days. Hope you enjoy.
Here is part one, my beauty list:
1. Start Wearing Bright Lipstick!
My friend is wearing Illamasqua Atomic. And myself – Guerlain KissKiss in 325 Rouge Kiss.
I wrote a post about makeup during a hard time here. As, I've already said – it won't make whatever you are going through go away, but it does make a positive impact.  Every little thing helps.
2.  Get That Glow.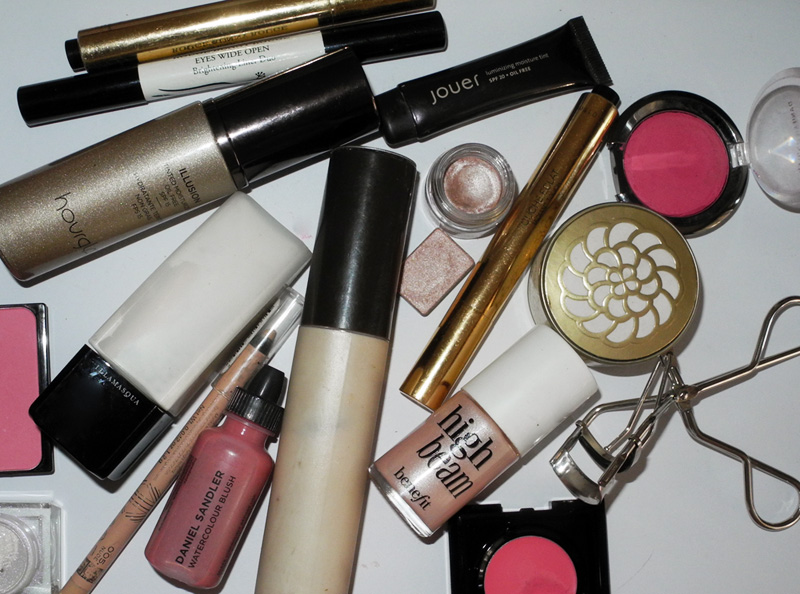 I actually did a very detailed post on how to fake achieve glowing  and radiant complexion with makeup. And you can all read about it here and here.
3. Invest in that "Radiance" Skincare.
Makeup is amazing! But it all starts with good skin. After winter it may look dull, grey and tired, this is why good quality serums and oils are a must-have. Below you can see two great options, and I plan on
Read More
The second biggest thing for SS15, after contouring (I have featured tonnes of products here) is definitely eye brows!
And while contouring may not be that necessary – groomed eye brows is a must! Luckily, most brands do at least some kind of products these days, so you get to pick from premium offerings to budget-friendly options.
Here are some of the newest releases:
Lancome Sourcil Tint Longwear Eyebrow Pen ($26 from Nordstrom)
A  felt-tip pen with  matte finish. Available in Blond, Brun, Chatain and Noir.
Bobbi Brown Perfectly Defined Long-Wear Brow Pencil  ($42 from Bloomingdales/ £29.50 from Harrods)
An
Read More
Makeup wise, it was pretty much all the same in February, and you can read about all the products here.  There is also something very different from  me this month – I've been loving nude lipsticks (which is  a complete shock for me), and I will write a feature about it soon.
There are only two other makeup products that I want to mention:
Illamasqua's Nail Varnish in Nomad. I wore in for the whole last week of the month, and this gorgeous jade set me in the mood for Spring.  Not too pastel but not too bright, it is just perfect.
Max Factor's  Creme Puff Blush in 25 Alluring Rose. This is a shade created for medium  and dark skin  tones, so on me it looks like a bronzer. It blends out beautifully and gives a gorgeous glow.  Look out for the feature about these new blushes this week.
As for the beauty products – I was very stressed and completely out of time  in February, so shower time was the ultimate luxury and "me" time when I could just think and reflect on what was going on. I have tonnes of shower products in my tiny bathroom, and have been loving all of them, but two
Read More
In case you've missed, almost every brand brought out something for contouring this season, and I have already featured a lot of products. But there are even more…
Here are four other options. I haven't tried any of the products, so can't share my impression, this is why I've included the official description.
MAKE UP FOR EVER Pro Sculpting Duo, $39 from Sephora
" This weightless, innovative gel-powder is comfortable to the touch and blends seamlessly for traceless highlighting and contouring without any sign of makeup. Undetectable and totally natural, it helps you master the art of light and shadow to reveal your most naturally sculpted look"
The shades are:
Color 1 Pink Beige – for fair to medium skin
Color 2 Golden – for medium deep to deep skin
COVER FX Contour Kit, $48 from Sephora
Read More
I have to give it to Illamasqua, the promo images of their new campaign Facets are the best ones they released in this year. Such a beautiful fabric on the background with the rich colours and beautiful dimensional embroidery.
And how gorgeous is the makeup? Inspiration alert!
The star products of the collection are the two new palettes, which will definitely become best-sellers.
Multi Facet Palettes, £45
Multi Facet palettes come with a compact with mirror, and a mini double-ended angled and blending brush.
Aura: Gleam in Aurora,  Cream Pigment in Hollow, Eyebrow Cake in Thunder, Powder Blusher in Tremble and four Powder Eyeshadows.
 Semblance: New Gleam in Mirage,  Cream Pigment in Hollow, Eyebrow Cake in Thunder, Powder Blusher in Hussy and four  Powder Eyeshadows.
As for other products, they are:
Lipsticks, £18.50
Read More