Here is a preview of the Illamasqua's latest makeup collection which is called Once. This collection is illustrated with a set of quite romantic images, and the whole collection is about muted natural wearable shades.
So, if  you want something more edgy and fierce – browse the brand's previous launches.
As for Once, there is a new  category  of product available now:
Intage Metallix, £16.50
Courtier, vintage nude
Bibelot, vinateg green
Embellish, vintage  brown
It is actually described as a cream-gel textured product.
As for the other items, they are:
Nail Varnish, £14.50
Read More
In the past I did the features about 5 Pink-ish and 5 Red-ish blushers but what about coral/orange/peach shades?
Summer is like the best season to pick up 5 colours coral/orange shades, right? So here we go…
YSL 4 Audacious Orange  (review and swatches)
It is my personal favourite true orange. It is like a sunshine in a jar, instantly brightens the face and I love the fact that you it doesn't have reddish/pinkish undertones, it is a true orange. The texture is cream-to-powder and blends nicely into the skin. Plus this also wins for the most luxurious packaging.
Buy it from Selfridges or SaksFifthAvenue.
Jouer Petal (review and swatches)
I have to admit that I did not like this cheeks and lips tint that much at first, but now I do. Although it is described as soft rose pink on the official website, I still decided to include it in this selection. Maybe because it's like a soft peachy pink to me. The texture is sheer and  not heavy.
Available from Cult Beauty.
BECCA Beach Tint in Grapefruit (review and swatches)
If you
Read More
I've decided to share some of AW  2014 beauty campaigns that caught my eye.
First of all, here is a quick preview of the upcoming collection from Illamasqua – Once.   Hopefully, there will be more beautiful images and some exciting new products.
First look at Burberry's AW beauty campaign.  It's great to see different ethnicities, and  how the dusky pink shades look nice on both girls. Wendy Rowe did a great job, as usual.
I also really like the look from
Read More
Here is a preview of the newest Illamasqua makeup collection for summer 2014. To tell the truth, I miss their old collections with a lot of promo images and tonnes of new products with original and innovative colours…
Here is a promo image and a group shot of all the new releases.
So,  there are two new shades of Velvet Blushers (£21.50) which are a matte cream-to-powder blushes.
 Flirtatious, soft pink
 Conviction, bold pink
Besides the blushers, there is a
Read More
Do you remember my post about the pink makeup products for Spring? Pink is always the hottest shade for the new season, I personally believe that  rose-tinted cheeks instantly changes everything! You look fresher, and even younger, in a way.
This is why I've decided to show you five different variants that you may like…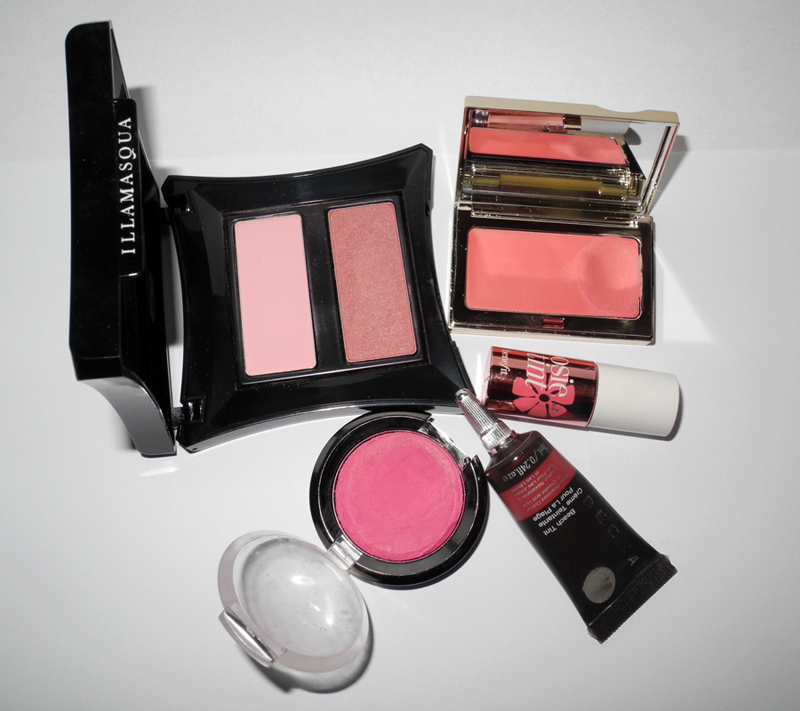 Clarins Clarins Multi-Blush Cream Blush 02 Candy (review and swatches)
This is a good option for those that are afraid of pigmented  and "greasy" blushes, you can get a very sheer coverage with Multi-Blush, plus  the texture is more cream-to-powder, so should work for all skin types. This  is the most natural shade out of five.
Daniel Sandler Watercolour Creme -Rouge Blusher in Hot Pink (review and swatches)
Hot Pink is probably my personal favourite from the bunch. It may
Read More