Last week(s) was very stressful and intense for me, I've barely had time for anything (lack of sleep, eating on the go, putting makeup on in a taxi) but I still had to look good. This is why I had to stick to the products that work the best for me, and didn't have time for any experiments. So here is a selection  that I love, that work, and that never let me down.
As I've mentioned on Twitter , I've re-discovered my love for Molecule 01. And a lot of people have been asking me about the perfume's name. So it is everything it is promised to be!
Makeup wise – my "foundation" of choice was Clarins HydraQuench Tinted Moisturizer which did not enhance any dry patches, and made my skin look glowing. It also helped to even out the skin tone, as I don't have any major skin problems – this was enough.  Bobbi Brown's Natural Brow Shaper & Hair Touch Up in Slate is also a real gem, it tints the brows and holds them in place. I am addicted to this product , will write a detailed review soon.
Lip colour is the only thing that I've been changing, but most of the times that was all about the new Clarins Instant Light Lip Balm Perfectors; 03 My Pink created a
Read More
I just love how fun makeup is… It is never boring, and it's amazing how many new and innovative products come out all the time. Right now cushion formulas are the thing.
But today I'd want to show you three eye products that are not a necessity, but are really cool to have.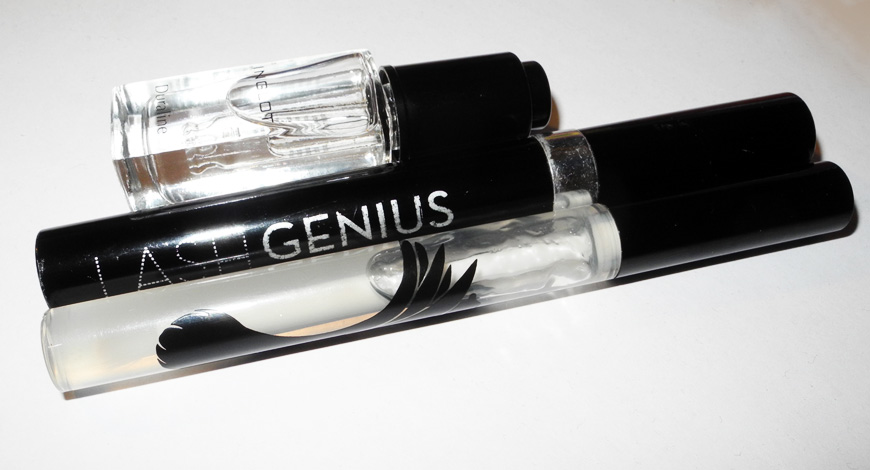 Ok, maybe one is, at least for me. And that is Anastasia's Lash Genius, a waterproof top coat, which, as you can guess, makes any mascara waterproof. I have sensitive eyes that are often watering, so this
Read More
I am actually surprised that  I have so many  favourites this month, as beauty wasn't exactly my priority in January. But I truly loved all the products I am going to mention.
Makeup
Surprisingly, it was all about the brown tones for me this month. I always wear red or berry, but felt like a wanted a change and be rebellious with the nudes. This probably doesn't even make sense to some of you, I know.
Rouge Bunny Rouge Sheer Lipstick- Succulence Of Dew in Perfume Of His Gaze - it is described as "sheer tanned nude-beige", and I totally agree. Never thought that I'd be wearing something like this. But never say never. Plus, it's only makeup, it is supposed to be fun.
I am sure that you are already bored to death  with me talking about this Trish McEvoy's bronzer, but this is literally the only product I have been using on my cheeks lately (this and NYX Taupe). And  Hourglass No. 2 Foundation/Blush brush is my favourite tool  for bronzer/blush/healthy glow & colour on my cheeks.
Speaking of Hourglass, their Visionaire Eye Shadows Duo in Gypsy was another favourite. Along with Inglot's  Eye Shadows AMC Shine 37 – I can never get enough of these two!
Finally, there is a mascara  that I have been using so much that all the words on it on it completely rubbed off – Max Factor Mastepiece Transform High Impact Volumising Mascara. It gives amazing volume, ultra-black colour and instant wow-effect.
Skincare
I
Read More
I wanted to buy Inglot's Duraline for ages, and I finally did it last month!
What is it exactly? The brand describes it as a " silicone polymer forms a breathable film while this waterless clear liquid transforms any powder into an intense easy to apply liquid."
It sounds like a must have for any make-up artist or beauty lover, as the possibilities are endless. But does it really work?
I wanted to buy it mostly to
Read More
It was quite a long time since I did my Current Top 5 Affordable Makeup Products, back in March to be precise. So, I think, it's time for an updated version.
L'Oréal Paris Color Riche Extraordinaire in 100 Mezzo Pink (review and lip swatches)
I am sure that it's not a surprise that I've included this  lip product, it is now my handbag staple, gorgeous baby pink everyday colour, beautiful moisturizing and long-lasting formula. Nice applicator and delicious scent. I highly recommend.
ArtDeco Soft Lip Liner Waterproof (Red 08 and Pink 80) £8.40 from Beauty Bay.
Ok, I know this is cheating because I have two shades but I love them both equally. Dark red 08 and dusky rose 80, they glide-on like a dream, despite the matte long -lasting formula. Can be used on their own all over the lips, or to cheat a fuller lip, with  lipstick or gloss on top.
 Inglot Eye Shadows AMC Shine 37 (review and swatches)
Read More