There is nothing that I love more, beauty wise, than reading a well-written perfume review. In my opinion, not that many people can talk beautifully about scents, and it's a pleasure to find someone who can. For example, I really enjoy The Non Blonde.
I am personally a newbie in a perfumery world, and while, I can already guess what fragrance I may like, describing it  is still a huge challenge.  Lovely, doesn't count, right?
As I've already mentioned, at this point, I can tell more, or less, what I would and would not like, thanks to hours spent at different perfumery shops and the lovely sails assistants, who were helpful and friendly.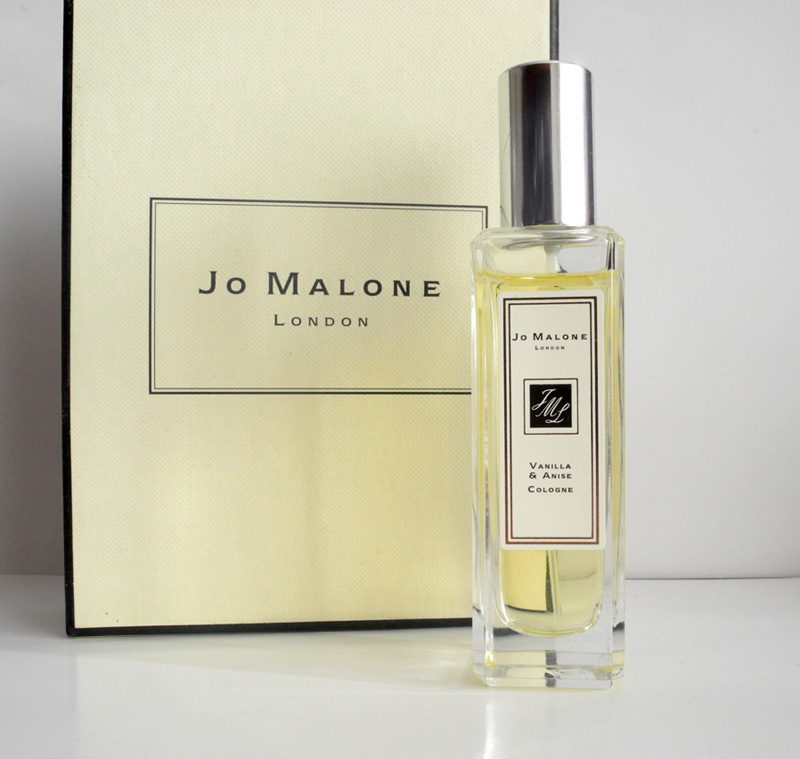 So today, I want to tell you about the scent that I would call my signature, and it's actually my second bottle.
And it is
Read More
It is time for March beauty favourites, and this month I have discovered some  new amazing products and re-discoverer some  products I've been loving for years.
So what products I re-discovered?
Jo Malone Vanilla & Anise Cologne
I have finally picked up a second bottle of this spicy and warm scent, which is among my all-time favourites.  I like that it is relatively simple, but not boring. Vanilla & Anise is not extremely mainstream, and I don't meet hundreds of people smelling the same. I better write a proper feature about it soon. 
Clarins Instant Light Natural Lip Perfectors (review and swatches)
I could be "the face" for these glosses
What do you think, Clarins? First of all I adore these balms and I always have them around. But also I have converted so many people to them (it's like a sect now). Yes, I even got e-mails from people telling me that they've discovered this gloss thanks to my numerous raves and now love it, too. And are you a fan already?
As for the new products…
Josie Maran 100% Pure Agran Oil (review)
This was my
Read More
Today is my Birthday, so I've decided to treat myself and get some nice beauty products from my wish list.
So here is what I've got:
Tom Ford Lipstick in Bruised Plum. It is such a gorgeous colour, absolutely love it. Now I want one from the Spring collection, too.
Marc Jacobs Nail Enamored Hi-Shine Nail Lacquer in Lola. I will be wearing it for my celebration which will most likely be this weekend.
Jo Malone Peony and Blush Suede Cologne and Jo Malone Vanilla and Anise Cologne.  Vanilla and Anise is my signature scent and I adore it. Never tried Peony & Blush Suede, bought it
Read More
I have quite a few products on my  beauty wish list, and I am constantly adding new things to my Pinterest board but today I've decided to share the things that are on top of my list. In fact, these are the things that I plan to buy in the near future. I may have even ordered some of them already
By the way, I love looking at my old wish lists and seeing how many products I have already bought.
So here we go:
1 . Marc Jacobs Nail Enamored Hi-Shine Nail Lacquer in Lola ($18). The design is to die for, and the shade looks beautiful!
2. Tom Ford  Lipstick in Bruised Plum, Cherry Lush or Crimson Noir ($49). It's my Birthday soon, so this will be a lill' treat.
3. Charlotte Tilbury Rock'n'Kohl iconic liquid eye pencil in Barbarella Brown (£19). I also want the Colour Chamelion and the mascara.  I want quite a few Charlotte's products.
4. Concoction ShampYou  Bakhour, (£11 + 2 serums). I really love Concoction products, and want to
Read More
It's the last day of January, so it means that it's my dearest brother's Birthday, time for monthly favourites.
First of all, this month it's been all about the face oils, different ones, some of  them are pictured below. As I've shared recently I've been walking a lot, thinking more about the food I eat and about my skincare, and I can definitely see the positive changes in the way I feel, and in the way my skin looks.
You can read my post about the oils shown above here. In fact, as I am writing this, I plan on purchasing some new oils. I've heard so many great things about Tarte's Maracuja Oil and Josie Maran's oil, so have to give them a go! Or maybe I should just get this set? It looks SO good!
I have been also loving all my body and hair oils and plan to get some  new ones, too. Making the list, so your recommendations are welcomed.
As for other beauty products, I've been loving:
Makeup
Maybelline Color Tattoo 24HR in Metallic Pomegranate (review)
It is such a gorgeous brownish purple with golden shimmer, my new love in terms of eye shadows.
Clarins Instant Light Radiance Boosting Complexion Base in Rose
Review coming soon. If you want a subtle glow and radiance to your skin, this is the  product for you. There are quite a few ways you can use it, and I personally love using it all over the face under the light base, so that it can
Read More