It was my Birthday this weekend so I've decided to share with you what I wore and what makeup I've used. I don't see Birthdays as a big deal (after a certain age, ha!) but it is always cool to dress up and spend time with friends and family.
Of course, I went for red with a touch of black, outfit wise. And here is the makeup I've used:
Face
Vichy BB Cream, I need to buy a full size of it soon, it is an amazing light  base which gives some luminosity.  Rouge Bunny Rouge  Naked Disguise Glide Concealer which is brilliant for the under eye area. Inglot HD Sculpting Powder in 504 is my favourite for that natural looking shadow and theBalm Mary-Lou Manizer for some glow.
Lips and Nails
Surprisingly I've used a very affordable trio: NYX  Soft Matte Lip Cream in Transylvania which I am obsessed with
Read More
If you follow me on Instagram, you know that I love my Jo Malone Red Roses and wear it all the time lately, as  well, as my other Jo Malone colognes. I am actually still shocked that Vanilla & Anise was discontinued, and I found out only recently…
Oh well, but the brand just brought out a collection of five new colognes, The Herb Garden, so maybe you and I can find a new love among these five scents. All of them were created by  Anne Flipo.
Carrot Blossom & Fennel
Top notes: fennel and wormwood;
middle notes: carrot, apricot, neroli and rose;
base notes: violet root, patchouli and white musk.
Lavender & Coriander
 Top notes: coriander and juniper;
middle notes: lavender and wormwood;
base notes: lavender, sage and tonka bean.
Nasturtium & Clover
Read More
Sometimes it feels really weird that I love makeup. My Mum couldn't care less about it, and I did not really read glossy magazines or watch beauty shows on TV growing up.  (I did do it all but it was when I already knew that I love all things beauty).
My Mum did have quite a few lipsticks and a mascara but she was not obsessed with all those things and wore makeup only for special occasions. She did like perfume though, as long as I remember.
So I've decided to ask her what makeup products she truly loves. And since I've mentioned perfume – her most used one these days.
Before I start I have to mention that she does use  foundation and mascara occasionally but  she doesn't really have a favourite and would just use whichever [I give her]. However, the  products shown above she loves and uses on a regular basis.
As you can already guess, Mum's favourite makeup product is a lipstick. She has a fair complexion with dark eyes and very dark hair so bright reds and berries look amazing on her.
Yves Saint Laurent Volupte Sheer Candy in 06 Luscious Cherry (review and swatches).  This is her
Read More
The first month of 2016 is already behind us. How does it feel? Was it a good one? Are you ready for the rest of 2016? Do you stick to your resolutions? 😉
It was a pretty good month beauty-wise for me, and here are the products I've been loving:
Beauty
Nivea Nourishing Body Lotion For Very Dry Skin and a shower cream from this line. My Dad (!) actually got these two for me for Christmas, and I am really touched that he actually got the right products for my skin type. I usually take them with me when I go swimming but use them on a daily basis, too.  I love how soft and smooth my skin feels afterwards, and how nice it smells. Considering how quickly I go through body creams and lotions it is nice to have something budget-friendly, as well.
Jo Malone Red Roses Cologne
I honestly don't understand how could I miss the fact that Jo Malone discontinued Vanilla & Anise (and WHY would they do it?) so I am left with a half bottle only.  At least I can still get this scent. Red Roses is definitely not for everyone, some of my friends laugh that I smell like a rose jam whenever I use it, and it may be a bit weird to smell like this when you wear a lot of black, leather, and red… but hey, life is supposed to be fun. I also have a candle which I adore as much as the cologne.
CND Solar Oil
I was getting gel manicure for about 6 months non-stop but once I was too busy to go to my manicurist who is absolutely amazing but works far away from my home (and work, too), and had to rush to the nearest salon as my nails were looking disgusting at that point. I can't believe how
Read More
Believe it or not, but I have already bought some Christmas presents for my family which is very unlike me, as I usually get everything very last minute.  One of the main reasons for that is that I struggle to keep my presents a secret, and I want to give them straight away!
This is why a new #ChristmasGiftGuide  feature is here for those of you who love shopping for the gifts early. Hopefully, these posts will help you to pick the best offerings from the overwhelming new beauty launches.
In my opinion, you just can't go wrong with a luxury candle. And here is this season's offering from Diptyque.  The most hyped up candle brand. Ever.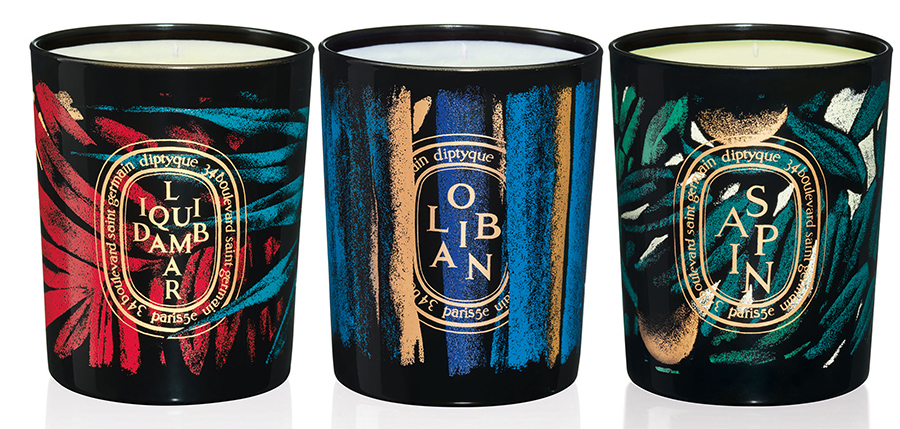 This year's release:
Read More