Spring/Summer is the perfect time to experiment with makeup,  the prefect time to add a pop of colour to your look! And what better shade to try then aqua blue or turquoise, the shade that represents the sky and water?
You can wear aqua as you would wear a regular black or brown eye liner, or inside the lower waterline for an interesting accent.
Here are some options that you may like:
Max Factor Excess Intensity Longwear Eyeliner in Excessive Aqua (review and swatches)
Long-lasting shimmering turquoise. You can get a precise line with this pencil or make it as thick, as you wish.
Daniel Sandler Long Lasting Waterproof Eyeliner in Aqua Velvet (review and swatches)
This is
Read More
I love a good soap and always  like trying  new ones. My latest purchase was this Korres Milk Soap, which turned out to be for stressed skin. I actually did not know that but that when I was buying it (now what was I looking at?)
It is described as "an exceptionally mild, creamy lather soap that leaves a velvety feel on the skin." And that is exactly how I would describe it myself.
It is very gentle but at the same time leathers up nicely and leaves the skin clean, without drying it out.  Since I have very dry skin, I still have to use a moisturizer afterwards, but you may  not need to.
Milk Soap can be used on the face and body, as the brand suggests, and I
Read More
I am a huge fan of Clarins' toners: I have already tried Clarins Extra-Comfort Toning Lotion for Dry and Sensitive, Clarins Toning Lotion with Camomile for Dry and Normal Skin and Clarins Gentle Exfoliator Brightening Toner.
And I really wanted to try the brand's cleansers: Water Comfort One-Step Cleanser with Peach Essential Water and One-Step Facial Cleanser with Orange Extract. 
I plan using them in the mornings when I am often in a rush, so picked up the first one this time and will get the other one next time. I will report back later but have big hopes for this product!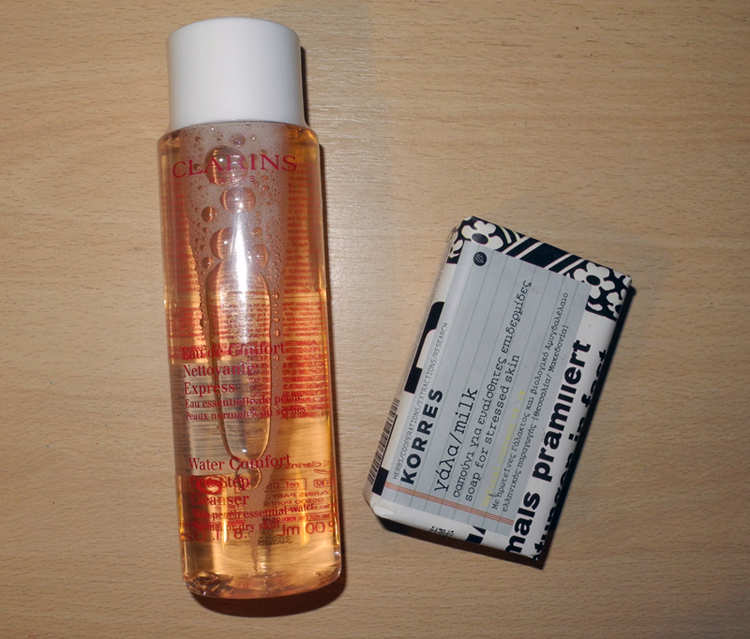 I also wanted to buy a new soap so got the Korres one with milk.  The lady in the shop told me  that it's her personal favourite from the range, so  hopefully it will not disappoint.
By the way, if you are looking for nice soaps, I personally really love Cowshed, those are brilliant.
Read More
I am really loving Korres body products and buy them regularly. So when I saw that this season the brand offers a Fig collection set – I had to get it. The value is £20.50 but it retails for £15 which makes it a good deal, in my opinion.
So you get:
 Korres Fig Showergel 250ml
Korres Fig Body Butter 150ml
I haven't tried Korres shower gels  before for some reason, so it was a nice discovery for me. Fig Shower gel is mild but at the same time cleanses really well and does not dry out the skin. The scent is amazing, it stays on the skin for some time but is not overwhelming.
As for the body butter – I have been a fan for a long time already. This butter, which is
Read More
I've already reviewed Korres Jasmine Body Butter in the past and today I'd like to tell you about the Korres Jasmine Body Milk.
It is Spring and, although body doesn't need such a thick and nourishing moisturizer as in winter, I still like using lotions/creams daily.
And here is why I love this one so much:
It has 93.5 natural ingredients
Light and non greasy texture which leaves the skin moisturized
It smells amazing, Jasmine makes me think of Spring, the scent stays on the skin for a  while. Actually
Read More