Imagine if you had to pick only one makeup product you could use before going out (doesn't really matter where). What would you chose and why?
I know that most people would answer concealer  and a lot of would choose mascara.
But, as for myself, the choice would be obvious – dark brown eye pencil.
Why?
As long as my eyes are defined, everything else is fine. Well, almost… But smudged dark brown eye pencil is a must have for me.
I have picked my
Read More
I have been shopping my stash lately, re-discovering a lot of amazing products that I have and have been experimenting  with my makeup quite a lot, too.
I usually go for berry or cool toned shades but lately I have been going for coral/orange quite a lot actually.
Here are the products  that I have used today…
Face
I have started with a foundation that is a bit darker and warmer than my skin tone but still looks natural and gives a beautiful glowing finish - Daniel Sandler's Invisible Radiance Foundation and Concealer in Beige.
Then added a golden highlighter, Jouer Highlighter in Champagne andwarmed up the complexion  with a beautiful Trish McEvoy's  Golden Bronzer.
The main thing about this look was the vibrant coral blush, Benefit ChaCha Tint which instantly brightened up everything.  And since I kept the rest of makeup pretty much neutral – it was a  great pop of colour.
Eyes
I have used my trusted
Read More
Here is a preview of some of the latest foundation launches…
I haven't tried any of them, so I am providing the official description for you to decide which one you'd like to try.
Dolce & Gabbana Makeup Perfect Matte Liquid Foundation, £38
Classic Natural Glow, Rose Beige
"The formula of the foundation  features an innovative MatteAdapt System that self-corrects signs of imperfections to uphold an impeccable complexion for longer. It imparts a velvety matte look that is soft to touch. A special blend of nourishing vitamins, minerals and SPF20 protection enrich the formula, ensuring it stays perfect all day long."
 Lancôme Teint Visionnaire, £36
Lys Rose, Beige Noisette, Acajou 
" High Coverage Corrector is enriched with Vitamin CG. Its creamy texture immediately reduces the appearance of dark spots, dark circles and imperfections.
 Flawless Perfecting Foundation flawlessly evens out the
Read More
Before I start, I have to say that it was very hard to narrow my list  of favourite makeup products of 2012 but I've tried my best.
Let's take a look at what I've chosen…
Face
Benefit Erase Paste
I don't really use concealer on a daily basis, unless I have a new, really bad spot,  I just use Touche Eclat under my eyes and that's all. But if I had to choose my favourite "concealer" type of product – that would be this one. It is a creamy peach corrector which works great for the  dark under eyes circles. I had a review of it but because of some tech problems, it was deleted, need to re-write it soon.
Omorovicza Complexion Perfector BB SPF 20 
One of my favourite face products you can read the details why here. If you can afford it, I would definitely recommend.
Rouge Bunny Rouge Tinted Moisturiser Sketches on Water
This gives a very natural finish and light coverage and you can't see it on the face, at all! Miracle for dry skin in cold weather, as it doesn't enhance any dry patches.  See all the shade available here.
Daniel Sandler Invisible Radiance Foundation and Concealer
It is a very nice foundation that gives a dewy finish so works great for my dry skin. The shade Porcelain is a great fit for fair skin and works for me in AW, in SS, I use the second lightest shade – Beige. Plus it comes with concealer which is a great deal for the price. Want to know more?
BECCA Shimmering Skin Perfector in Pearl
This product probably doesn't even need an introduction. It's the best highlighter out there, it gives a  very natural and beautiful effect.
Cheeks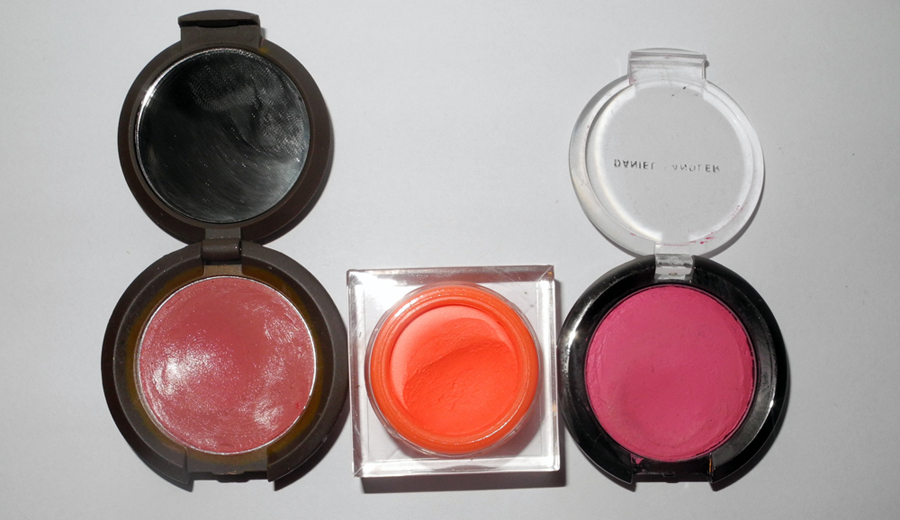 Wow, I was able to choose only three blushers, although I was very tempted to add more of them.
BECCA Cream Blush in Amaryllis 
My favourite blush for AW months, perfect cool toned and natural looking, gives a nice
Read More
I have been out several times this week with my friends and, although I wanted to look nice, I did not want to spend hours and tones of products on my look.
So here are the items I relied on:
Face
Since it's winter, my face definitely could get some help in the "glow department".  Hourglass Illusion Tinted Mositurizer  was the perfect choice for that. It does add some radiance to the face which looks nice in the evening.
Although I love cool toned face products in winter, I've decided to add some warmth this time with  Illamasqua's Allure Powder Blusher and Sienna X's  Cream To Powder Bronzer & Illuminator.
Eyes
My newest favourite toy for the eyes is Burberry's Complete Eye Palette in Pink Taupe. I have tried pretty much
Read More