Here is a yet another weekly update of the new products for face, lips and eyes that caught my attention featuring matte Gucci lipsticks, super colourful YSL mascaras and cushion blushes from Lancome.
Gucci Lip Sensuous Deep-Matte Lipstick, $40 from Saks.
" New contemporary formula with a lightweight, smooth feel and an extreme matte finish. The intensely deep colors are brought out by the rich, concentrated pigments. The combination of the bold color and supple finish are unexpected and are designed to instantly change the wearer's look. "
There are 12 shades to choose from. 
YSL Mascara Vinyl Couture, $29 from Saks and  Neiman Marcus.
"Revolutionary intense, super shiny color for lashes. The
Read More
Summer Bliss is the first Lancome collection designed by favourite Lisa Eldridge. According to the brand she was inspired by the mysterious, fresh, and colorful jungle landscapes. Although all the products and shades look beautiful, there is something that really stands out.
And that is Belle de Teint Elixir, $38
It is described as a "healthy-glow cocktail with a light weight liquid phase. The oil phase provides comfort, watery phase provides freshness and lightweight feel, and the pearly phase delivers long-lasting bronzing makeup results for a radiant complexion.  A subtly shimmery fluid that highlights summer skin's natural glow in a few drops. This oil elixir can be used to enhance glow for face and legs."
Available in 3 shades:  01 Glow Vanille, 02 Glow Orchidee and 03 Glow Jungle
See how Lisa uses it in the video below
There are also two new shades of Belle de Teint ($42.50) 11 Belle de Vanille and 12 Belle de Bronze which combine a trio of shades in one compact,
It is "silky, smooth bronzer that adds instant color, shimmer and healthy glow to skin. A specialist of healthy glow & healthy skin, Belle de Teint can be used on your face or all over your body to
Read More
With so many new launches, I've decided to highlight those that caught my attention, so here is a preview of the new products for the complexion, eyes and lips that I think look amazing.
Too Faced Peanut Butter and Jelly Eye Shadow Collection, $36 available from Sephora and Too Faced from the end of February.
I personally am a big fan of Too Faced eye shadows and these look beautiful and fun. The shades are:
 Spread the Love( Medium Peach with Gold Sparkle) Peanut Butter (Matte Medium Orange Brown) Peanut Butter Cup (Metallic Golden Bronze with Gold Sparkle)
Bananas( Soft Peachy Gold with Fine Gold Shimmer), Peanut Brittle( Metallic Burnt Orange), Jammin' (Dark Chocolate with Golden Sparkle)
Extra Creamy  (Matte Creamy Beige), Jelly ( Vibrant Orchid), Nuts About U (Matte Brown with Red).
YSL  Touche Éclat Neutralizer Colour Corrector (£25 from Harrods)
Several brands, including BECCA launched colour neutralizing products, and YSL released their cult Touche Eclat (I adore it, BTW) in three colour correcting shades:
Read More
With their Spring 2016 makeup collection – From Lancome With Love the brand is definitely aiming at the younger audience with the playful illustrations, tins the products come in and pastel shades.
The promo image with blue and pink shades makes me smile and think of a beautiful spring ahead of us. It looks romantic and carefree, if you ask me. And we all need that…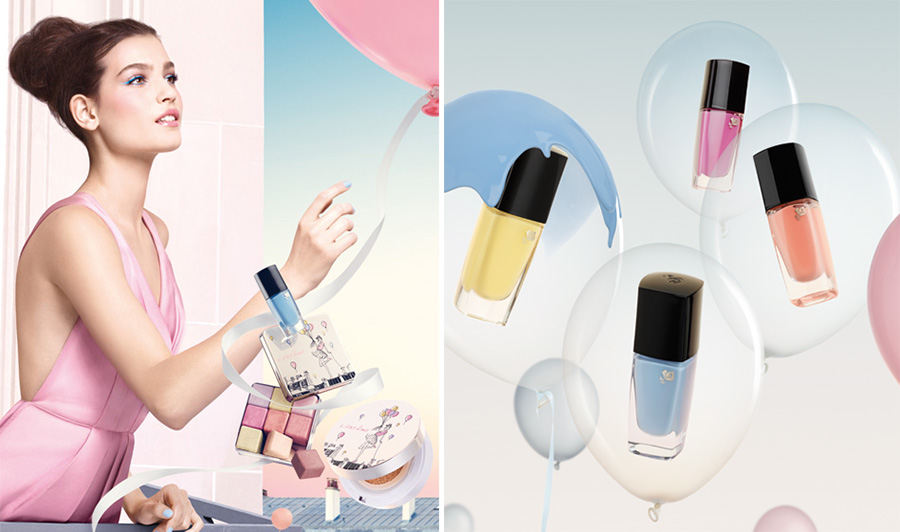 Vernis in Love, £13.50
146 Rose Haussmann
148 Corail de Ville
149 Jaune Grands Boulevards
153 Bleu Ciel Parisien
Here is a video with an  overview of  the collection. Lisa Eldridge demonstrates some of the products in action. Speaking of Lisa and Lancome, have you seen a preview of the Juicy Shaker?
The star of the release is My Parisian Pastels palette (£50/$59). It includes 9 shimmering pastels which can be used on the face or on the eyes.
There are also two cream  My Parisian Blushes  (£28/$39)in 01 Corail de Ville and 02 Rose Haussmann.
Products for lips are:
Read More
Ok, I am finally doing it!  Writing 2015 yearly favourites that is.  The thing is when I started writing this post I've gathered so many products that I'd be going on, and on about them all. This is why here are 15 I loved the most. 15 since it was 2015, yes, I know…
If I had to choose only 1 product that would probably be Max Factor Creme Puff Blush in 25 Alluring Rose (review and swatches)
Long-time readers know how much I love my blushers. And this year it was all about this one, I've barely used anything else.  Creme Puff Blush gives that luminous glow that instantly brightens up the complexion. The formula is incredibly soft and smooth and blends into the skin beautifully. I have several shades but Alluring Rose is the love of my [beauty] love.
The other favourite is still my Trish McEvoy Golden Bronzer (review). As you can see from the photo above, it is very well loved. It warms up the complexion without looking orange or muddy.  I  like the hint of radiance it gives, too.
BECCA's Shimmering Skin Perfector in Pearl (review) is still the best glow-and-radiance-in-a-bottle product out there.  I usually mix it with foundation  to make my skin look "healthy". This formula and shade = perfection.
If I had to pick only one "foundation" of the year – that'd be Clarins HydraQuench Tinted Moisturizer (review and swatches), hands down. It is dry skin's best friend. Clarins know how to
Read More