This is a sponsored post
So what's inside my makeup bag?  If I had a task to create the look with only five products, here is what I'd use. The products that I like are changing constantly so here are those that I am enjoying at the moment.
And while you are deciding on what products you would choose, take advantage of the social and community section of binguez, every girl's favourite online gaming site, where you can also interact with members and ask for ideas and suggestions.
So the products are:
Daniel Sandler's Invisible Radiance Foundation and Concealer (review)
Ok, yes, that is a bit cheating as it is one-in-two product… It's a perfect foundation for my dry skin, it evens out the skin tone and gives the  complexion a dewy glow, exactly what I am looking for!
Max Factor Miracle Touch Creamy Blush
I have been loving the shade 09 Soft Murano a lot lately, in fact, I have been using it almost every single day. It is a high quality product for an affordable price plus the colour is very flattering!
Ellis Faas Mascara
This  has been my mascara of choice lately. It gives a nice length, separates the lashes, lasts for the long time, without fading, smudging or flaking. It even survives an
Read More
Besides the Folklore summer 2013 makeup collection,  there are a lot of other new launches from Laura Mercier. Let's take a look!
There are eight new shades of Caviar Stick Eye Colour (£20.50 / €30/$24) which are added to the Plum, Amethyst, Steel, Sapphire, Smoke, Jungle, Khaki, Cocoa shades that already existed.
The new shades are: Orchid, Sugar Frost, Seashell, Sandglow, Grey Pearl, Pink Opal, Mint Snow and Rosegold.
There are also three new shades of Eye Brow Pencil (£16.50 / €27/ $22) which are now available in eight shades in total: Fair Blonde, NEW Ash Blonde, Blonde, Soft Brunette, Warm Brunette, NEW Rich Brunette, NEW Auburn.
As for lips, there are a 14 new shades of
Read More
Laura Mercier's Summer 2013 makeup collection was inspired by the cultural influence of South and Central American civilizations,  especially by the Aztecs.   Hence there are a lot of beautiful bronze and golden shades for face, eyes and lips.
How gorgeous is this promo image?
Let's take a closer look…
There are three New LE  Illuminating Eye Colour (£18.50 / €30) Sun Glow, Fire Glow, Earth Glow.
Three New LE Lip Crayons (£16.50 / €27) Folklore, Mayan Sun, Burnt Clay
Two new
Read More
Since yesterday we were talking about some new launches for lips, let's take a look at some new products for the eyes today.
Clinique Chubby Stick Shadow Tint for Eyes ($16/£16) are finally here! And these are promised to be  lightweight,  creamy, long-wearing and  versatile.
There are twelve shades: nudes and browns,  greens, pinks and purples, also blues and grey. I personally like quite a few shades.
Bountiful Beige,  Ample Amber, Lots O'Latte,  Fuller Fudge, Whopping Willow and
Read More
Laura Mercier's  Kohl Eye Pencils are favourites of a lot of people and I can totally see why.
I have five (mini) pencils and would like to show them to you today.
The colours that I have are:  Black Violet, Brown Copper, Stormy Grey, Stone Slate and Black  Gold. And here is how they looks like.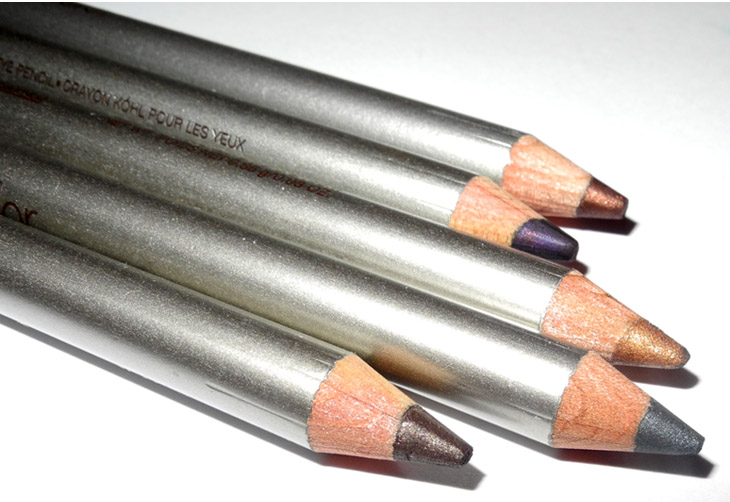 These have a very soft and creamy texture and glide on easily, without dragging the skin.  They have a fantastic pay off and gorgeous colours. Yes, the colours are definitely fantastic, all five of them! I imagine that blue and green shades are to die for, as well!
I would suggest kohl pencils for a quick smoky eye, you could use them on their own or with the eye shadows on top, looks great either way.
Brown Cooper, my personal
Read More