So many new lip products were launched recently, so let's take a look at some of them:
Dior Fluid Stick, £26, available in 16 shades.
Dior know how do make good lip products and how to present them!Probably the most exciting launch. This is basically a super-pigmented and glossy "liquid lipstick". I would recommend checking out Dior's website for all the details, tips and the awesome promo video. This launch reminded me why I love makeup so much, it is beautiful, and inspiring…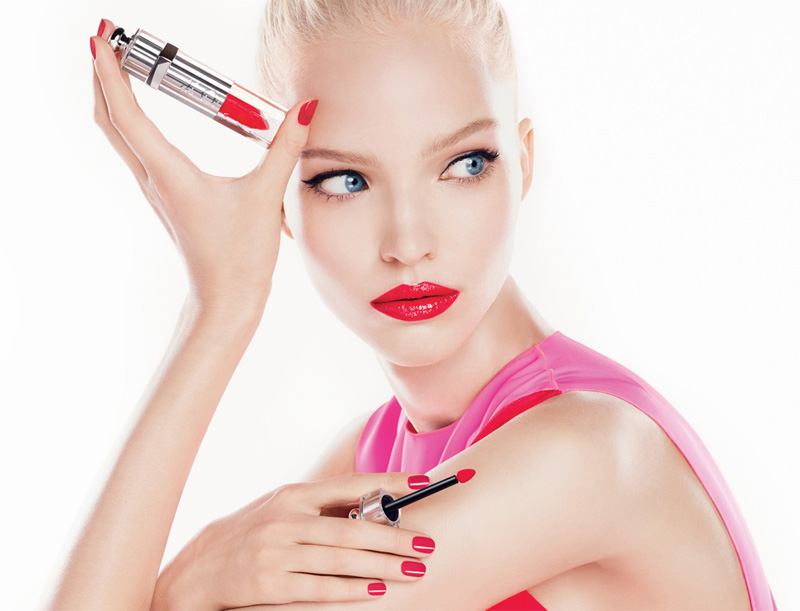 Dolce&Gabbana Classic Cream Lipstick, £24. Available in 9 shades.
If I'd like a beauty product inspired by a celebrity – that would be definitely inspired by Monica Bellucci, she is the most gorgeous woman, in my opinion. I just only have to decide which shade to get now…
GOSH Lip Lacquer, £5.99 available in 8 shades
These look super cute, and
Read More
Here is a preview of Laura Mercier's New Attitude makeup collection for Summer 2014 with all the beautiful blue and pink shades.
The products from this collection are:
Laura Mercier Baked Eyeshadow Quad, $44
Can be used wet or dry. The sheer-to-medium coverage hues can be worn on their own or layered.
 Summer in St Tropez and Rendezvous in Monte Carlo
Laura Mercier New Attitude Longwear Crème Eye Pencil, $24
Read More
Here is a preview of Laura Mercier's Spring Renaissance. The model is wearing a nude silk dress on the promo and the butterflies on the background look very pretty for Spring actually.
There are  quite a few items in this collection , including a lot of re-promotes, so I have listed only the brand new products.
The star of the collection is definitely the Enlightenment Eye & Cheek Palette  ($55/£42.50)
It includes  four eye shadows and two blushers:
 Pure Glow, a beige eyeshadow, Grace, a mauve eyeshadow, Innocence, a light pink eyeshadow, Angelic, a light yellow eyeshadow.
Blushing, a pink blush, Awakening, a pink blush.
The new eye products are  two shades of
Read More
So… the official Pantone colour for SS14 is Radiant Orchid. And you can actually see  cool toned pink/lavender/orchid beauty products in  several Spring 2014 makeup collections.
I am personally a big fan of  sheer lip products of such shades, and wouldn't mind something for nails and eyes, too.
Luckily Sephora has a huge selection of the makeup in this trendy  shade, and I have chosen five that I personally wouldn't mind having in my own makeup bag:
Givenchy Gelée D'Interdit Smoothing Gloss
Read More
Here is a preview of the beautiful offerings from Laura Mercier for this Christmas. Some exclusive kits and amazing value sets.
So what can you choose from?
Luxe colour wardrobe dual decker colour for eyes & cheeks 65/$125
8 Eye Colours: Morning Dew– Matte, Coffee Ground – Matte, African Violet – Luster, Ballerina Pink – Sateen, Deep Night – Matte, Dusk – Luster, Sable – Sateen, Crystal Beige – Luster; 1 Face Highlighter -Golden Shimmer; 2 Second Skin Cheek Colours: Barely Pink, Heather Pink; 3 Tightline Cake Eye Liners: Black Ebony,Ground Espresso, Bleu Marine; 1 Mini Longwear Crème Eye Pencil: Espresso; 3 Brushes; Travel Pony Tail Brush (for eye); Double-Ended Crease/Smudge Brush (for eye); Travel Flat Eye Liner Brush;Instructional Insert.
 Luxe travel brush collection £65/$125
Full-Size Cheek Colour Brush, Secret Camouflage/Camouflage Powder Brush, All Over Eye Colour/ Pony Tail Brush, Eye Crease/ Smudge Brush, Flat Eye Liner/Angled Eye Liner Brush
Mini lip glacé collection, £31/$48
Bold Brights: Azalea, Camellia, Bonbon, Grenadine, Poppy
Bare Nudes: Pout, Bare Peach, Bare Blush, Bare Baby, Gilded Rose
Colour-to-go portable palette for eyes, cheeks & lips  £31/$50
Natural Nude: 3 Eye Colours: Buttercream
Read More