Here is a usual round-up of the coolest new things, in my opinion. This time I've decided to feature complexion, mostly cheek products. I haven't tried any of these but they all look really cool.
Laura Mercier Colour Dots Lip & Cheek Sheers, $32 from Saks/£25 From Space NK
The shades are: Fruit Punch, Sangria and Tequila Sunrise
"Brighten up complexion with a vibrant wash of colour to lips and cheeks. A multitasking solid blush that creates a wash of luminous, vibrant colour for skin. This unique texture applies with ease and blends into a silky, bright glow. The talc free, gel structure is perfectly translucent for a bright, see-through effect. It glides onto skin with even, flawless color and a creamy feel with the combination of wax, siliconic powder and shiny emollients."
LIPSTICK QUEEN Frog Prince Cream Blush, £22 from Space NK
After the success of the lipstick, there is now a
Read More
As promised, here is part two of the new lipstick launches for AW 2015. And it is a lip lacquers/ liquid lipsticks edition. Let's take a look…
MAC Vamplify Lip Lacquer, £18 and $20 from Nordstrom.
Official description: "Most dramatic lip gloss yet. Infused with a new colour-boosting technology, the formula is loaded with high-powered pigments. One swipe loads lips with attitude, as a combination of lush natural oils polish with moisturizing colour. The formula contains coconut, sweet almond, avocado and sesame "
Available in 14 shades,  shown in Speed Up (bubblegum pink)
Estee Lauder Pure Color Envy Liquid Lip Potion, $30 from Neiman Marcus, £20 from Harrods
Official description: "Innovative liquid lipstick-hybrid plumps with continuous moisture. Saturated with high-intensity colour, without sticky shine lips look pouty, sculpted and sexy. The creamy, moisture–rich formula glides on in one effortless swipe of bold liquid colour. Goes on wet. Comes on strong. Lasts up to
Read More
I am really loving this new "Want It" feature on Makeup4all where I share, the coolest (in my opinion) beauty products out there. With so many launches, it is easy to get overwhelmed and confused. So, hopefully, this will inspire you and will give you some ideas of what products to get.
Today it is about the newest Lipstick Queen releases – Hello Sailor lip gloss and  Prince Frog lipstick. As a huge fan of unusual lip colours –  I totally like both.
While Hello Sailor is a sheer cool-toned gloss, Prince Frog is  the
Read More
You can never have too many lipsticks, right?  So here are the three new releases that caught my eye: Lipstick Queen, Marc Jacobs and Chanel.
A revamped line of Chanel Rouge Coco with Keira Knightely. There will be 29 shades divided into several colour groups: Nudes, Pinks, Plums, Browns, Oranges, Red.
And more images (courtesy of L'Officiel)… I can see at least three shades that I want to try out. These are not out yet.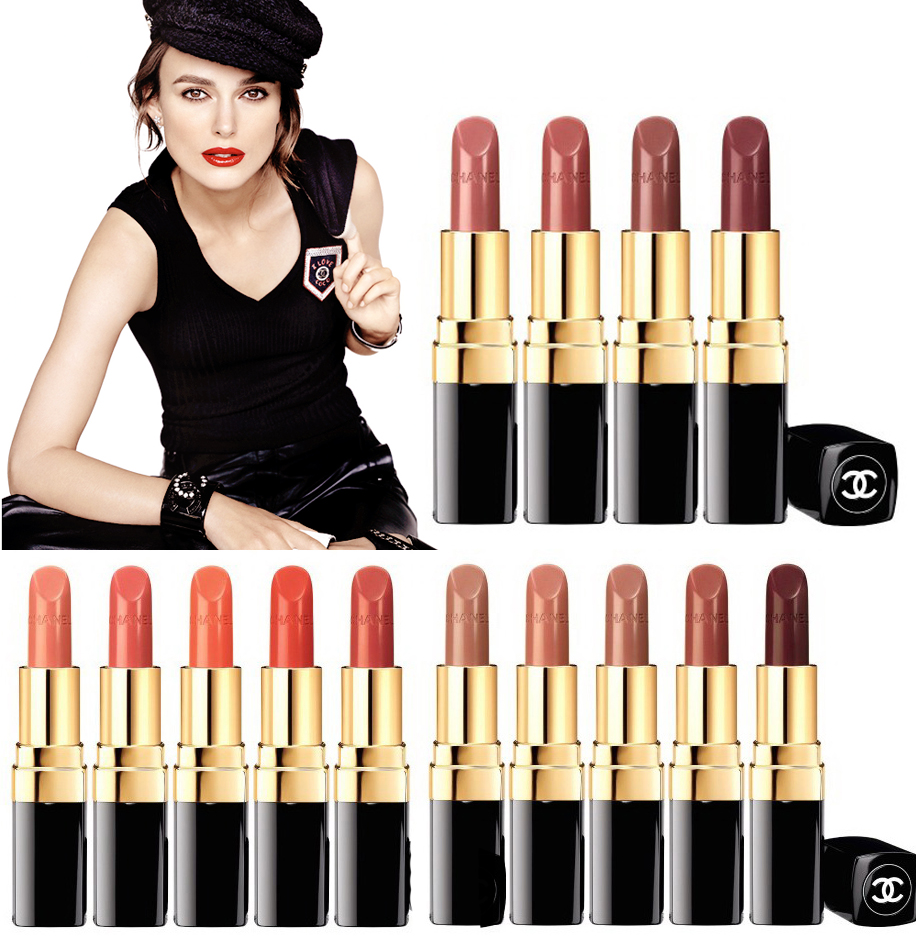 Lipstick Queen Bete Noir
Read More
Judged by the amount of views of the last feature about the new AW 2014 lip products we all love a good lipstick or a gloss.  Considering  all the new innovative textures, gorgeous packaging and beautiful colours, it's hard to resist.
This is why I've decided to introduce other new releases:
Lipstick Queen Silver Screen , £35/$50
No one could describe this lipstick better than Poppy King, brand's founder:
"This intensely rich but wet formula, inspired by the slinky ladies of the silver screen, is a ground-breaking, industry-first. Silver Screen is a homage to Hollywood sassiness, if this lipstick could walk it would sashay. My most vixen lipstick to date!".
I seriously love the packaging, and the colour selection. Well done, Poppy!
The shades are:  Come Up, The chic, vibrant baby rose.  Have Paris, The iconic scarlet red.  Made It, The mouth-watering deep wine. Play It – The exotically glamorous hot pink. See Me The head-turning, playful peach.  Stella, The show-stopping purple with a flash of shimmering turquoise. You Kid, The understated yet eye-catching nude.
Where to buy: Space NK, Space NK UK and John Lewis
By Terry Baume de Rose Nutri Couleur, £35/$60
Read More