Since "What's in my Handbag" was a very requested feature – I am finally doing one. I hope you will like it. I'd say that I always carry more of less the same things and it works perfectly for me.
I have somehow forgot to include my phone, as it was charging and also my keys. But those two are obvious, and nothing interesting anyway.
Here we go:
The handbag itself, I change them all the time. And this Mulberry one is one of my favourites.
Purse, I've had it for years now, and actually need new one soon. Maybe there is one you'd recommend?
A notebook and a pen. This beautiful leather notebook was a present from one of my best friends and I absolutely adore it. I love writing lists on paper, and that will probably never change. I also use only pens with black ink.  That may sound weird but it's true, has been like this for years now. #BlackForever
I could never be without my
Read More
Who doesn't love a good relaxing beauty product? With our busy and hectic lifestyle – those products are  a must-have. This is why I was really excited when a friend got me L'Occitane Aromachologie Relaxing Shower Gel as a present. How sweet!
L'Occitane is an amazing brand, and Aromachologie is their  premium line so I knew that it'd be great.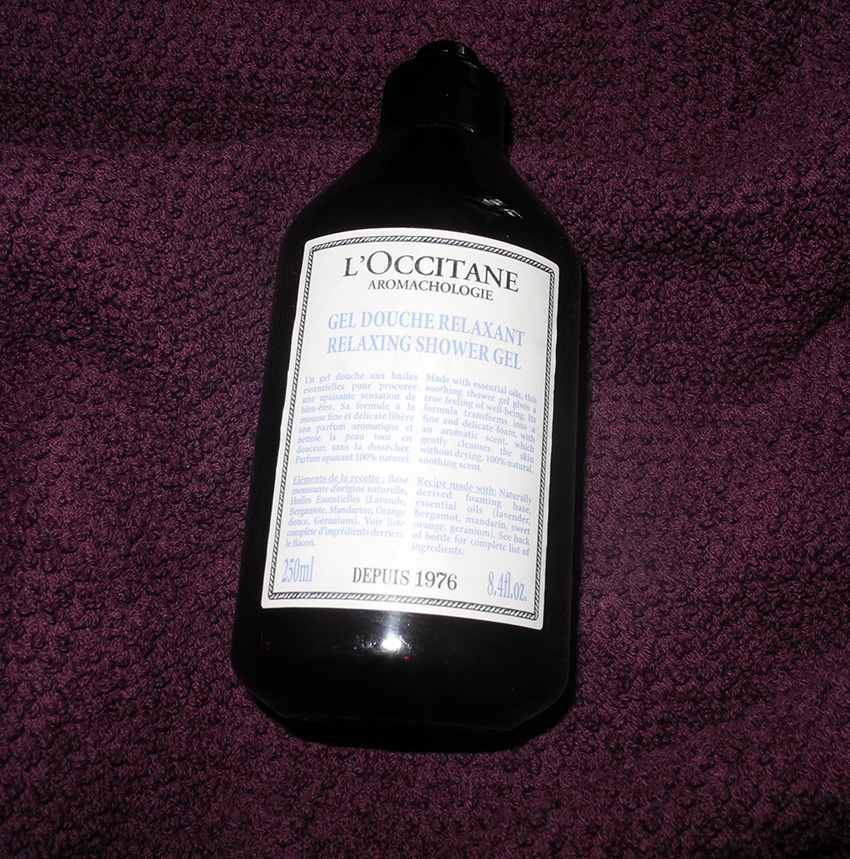 And it is! According to the brand this shower gel contains the purest essential oils which do have a lot of benefits, unlike the cheap "aromatherapy" that does nothing at all.
So what does it smell of? It is a
Read More
Makeup wise, it was pretty much all the same in February, and you can read about all the products here.  There is also something very different from  me this month – I've been loving nude lipsticks (which is  a complete shock for me), and I will write a feature about it soon.
There are only two other makeup products that I want to mention:
Illamasqua's Nail Varnish in Nomad. I wore in for the whole last week of the month, and this gorgeous jade set me in the mood for Spring.  Not too pastel but not too bright, it is just perfect.
Max Factor's  Creme Puff Blush in 25 Alluring Rose. This is a shade created for medium  and dark skin  tones, so on me it looks like a bronzer. It blends out beautifully and gives a gorgeous glow.  Look out for the feature about these new blushes this week.
As for the beauty products – I was very stressed and completely out of time  in February, so shower time was the ultimate luxury and "me" time when I could just think and reflect on what was going on. I have tonnes of shower products in my tiny bathroom, and have been loving all of them, but two
Read More
Today Makeup4all turns 6 years old which is pretty incredible!
I would like to thank you all for visiting, reading and commenting. I can truly call some of you my on-line friends now. Special thank you to Jane, Lisa, Daniel, Farrah, Nadin, and many others.  I would also love to thank all the brands and PRs who have been working with me during all these years.
Beauty surely makes life better 😉
By the way, I was really touched that one of my best friends got me this shower gel as a present for the blog Birthday today.
To celebrate I will have a small giveaway later this month, so stay tuned.
I also have  gathered a lot of material and exciting interviews for the new magazine, yes really, and plan a re-design which I have been wanting for ages now. I just need to find time for that now, so wish me luck 😉
Read More
I know that a lot of readers are wondering what to get their husbands/boyfriends (or even brothers/fathers/male friends) for Christmas.
This is why I have asked "men from my life" what they would like to get – to share with you some ideas. I just hope that now they won't think that I am getting all those things for them… 😉
I have promised not to give away their names, so here are just the quotes and age group. Most of my male friends are 30-35 but I have asked several younger and several older men,  for the variety.
1 "Post shaving products. I'd prefer my favourite brand, but it's not that important, as long, as they are good" (At least four men said that).
2 "A good  facial cream. I have started using them after your (Ed.  – that'd be mine) recommendation, and now I can't imagine not having one. Every men needs it! I love Dior and Shiseido." (Age  group  30-35)
3. " A new cologne would be amazing.  I love
Read More