L'Occitane released De Grasse Fragrance Collection which consists of four 75ml Eau de Toilette scents, £49 each. Created by Karine Dubreuil.
Jasmine & Bergamot
"Day and Night", jasmine floral family.
Top notes: mandarin orange, BERGAMOT
Heart notes: JASMINE, lemon leaves
Base notes: sandalwood, cedar
 Vanille & Narcisse
"Brazen Happiness", vanilla oriental family.
Top notes: blackcurrant, bergamot
Heart notes: NARCISSUS, gardenia
Base notes: VANILLA, tonka bean
Magnolia & Mure
"A Mysterious Coincidence",  fruity chypre family.
Top notes: bergamot, BLACKBERRY
Heart notes: MAGNOLIA, rose
Base notes: patchouli, moss
 Thé Vert & Bigarade
"Shared Memories", aromatic citrus family
Top notes: orange, BITTER ORANGE
Heart notes: GREEN TEA, yerba mate
Base notes: cedar, thyme, musk
Read More
It's the end of the month, so it means it's time  for April beauty favourites! I really love all the products from the previous "favourite posts" and here is the new selection.
Hair
L'Occitane Repairing Shampoo and Conditioner for Dry & Damaged Hair
I've been absolutely in love with this duo from L'Occitane, although my hair is not dry or damaged. It's an absolute pleasure to use, as it  cleanses well, leaves the hair looking nice and smells amazing.
There is not that much left, so I have already ordered some Philip B hair care products, but I will definitely re-purchase these at some point in the future. Read more about them here. 
 Makeup
Rimmel Lycra PRO Nail Polish in Blue Vogue
I have been wearing this nail polish for more than a week this month, it is absolutely gorgeous, see the swatch, and also long-lasting.
Max Factor Miracle Touch Creamy Blush in 09 Soft Murano
This blush is a great proof that high quality products are not necessarily expensive. Miracle Touch was my most used blusher this month. I have two shades and adore them both. I should probably
Read More
Although, I think, my favourite lip balms are liquid, like this Rouge Bunny Rouge Lip Elixir which I adore, I still like a good ol' lip balm.
But it has to be very soft and moisturizing, I hate dry and hard lip balms! When I think of a good one, Fresh Sugar comes to mind, as it is soft, as  butter!
And today I want to tell you about L'Occitane's Shea Butter Ultra Rich Lip Balm. And it  is actually a nice one. I have been carrying (and using, obviously) it  in my bag for several weeks now.
Luckily, my lips are in a (relatively, they are still dry) good condition now, so  I can't report on how it deals with the cracks/very dried out lips.
But  I can definitely see that
Read More
Today I opted for a very simple and minimal makeup, both in terms of colours and the quantity of products.  Today it's all about work and I am not going out anywhere afterwards, so  I was not in the mood for any experiments, and , quite frankly, did not have time.
Face
I've used Rouge Bunny Rouge Home Time Defying Foundation Skin Sanctuary which I promise to review soon. I totally forgot that I had the samples of it, the post is already in the process. I then added some Benefit's Dandelion  to brighten up the complexion  and BECCA's Beach Tint in Raspberry as a pop of colour on the cheeks and on top of the lip balm.
 Eyes
I have used Benefit's powder eye shadows in Leggy and Dandy Brandy which are very soft and smooth, and blend beautifully. Lighter shade all over the lead and darker shade for definition. I have also lined the eyes with a black (and not brown, shocker!)  Clarins Crayon Khol, smudged it
Read More
This is the second installation of "what's in my shower", you can see the first one here.
I like to rotate my products, so here is what I've been using a lot recently. I am not going to repeat myself, so if you want to read about all the products in details, just click on the links!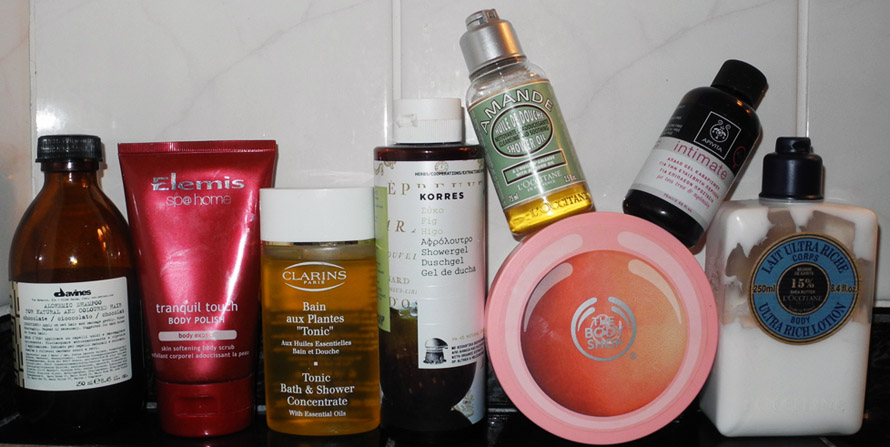 Hair
I am still loving my Davines Alchemic Shampoo in Chocolate Brunette, one of the best I have tried. You can read my thoughts about it here.
Body Washes
A good scrub/exfoliator is a must have in my opinion, so I have several in my "collection", these days I have been using Elemis Tranquil Touch Body Polish most if the times.
Clarins Bath and Tonic Concentrate smells like the scrub from the brand that I love a lot, very refreshing and energizing, I love using it after I work out or in the mornings.
I have already used up the fantastic Korres fig body cream but still have more than a half bottle of the shower gel, it smells amazing!
Of course, there is a L'Occitane's Almond Shower Oil Review which is a cult product for a reason. And Apivita's Gentle Cleansing Gel for the Intimate Area, a very lovely gentle product.
Body Moisturizers
When I want a good and rich body moisturizer that, as a bonus, smells to die for, – I always reach for my The Body Shop Pink Grapefruit Body Butter, one of my favourites.
When I want a light lotion that doesn't have a strong scent – I go for L'Occitane's Shea Butter Ultra Rich Body Lotion.
And what products do you like using these days?
Read More