My already very dry skin feels even more dry and tight after winter periods. This is why I love using oil infused beauty ranges in the shower to prevent it from drying out even more. Followed by moisturising and nourishing creams, of course.
Here are three products that I have been loving:
Before I start, I have to say that all three products have some things in common: subtle oriental'y scent which is really lovely and affordable price tag.
Garnier Oil Beauty Oil-Infused Nourishing Scrub (Review)
This scrub buffs away dead skin cells and at the same time nourishes the skin. I actually have all three products from this Garnier range (scrub, cream and body oil) and love them, and even converted some of my friends. Effective and not expensive.
Yves Rocher Oriental Shower Oil Review (review)
This gel turns into
Read More
It's time for March favourites! Can you believe that 1/3 of Spring is already behind?
Let's start with makeup, this month I have a good mix of products price-wise, from affordable Rimmel and Max Factor, to a high-end Rouge Bunny Rouge and uber luxurious Omorovicza.
Makeup
Bobbi Brown Natural Brow Shaper & Hair Touch Up in Slate (review)
This is still the only brow product that I use on a daily basis. It makes the brows look fuller, tints them and holds them in place. This is love.
Omorovicza Complexion Perfector BB SPF 20 (review and swatches)
This month I have re-discovered my love for this base. It is like a good looking skin in a bottle. The skin is glowing and radiant, and the  tone is evened out and perfected.  I have written a very detailed review in the past, so you are welcome to take a look.
Max Factor Creme Puff Blush in Alluring Rose (review and face swatches)
This is still my favourite blusher, just like last month. Alluring Rose is a gorgeous warm nude with a spot-on radiance effect. It lifts the face instantly, I'd recommend these blushes to everyone.
Max Factor Colour Elixir Gloss Nude Pomade in 10 Pristine Nude (review and lip swatches)
This gloss  has
Read More
I've promised to write more about affordable hair care products, and did a post about Pantene Breakage Defence range last month, so this month I want to share my impression about two other non-expensive products  from L'Oreal Elvive and Garner Fructis.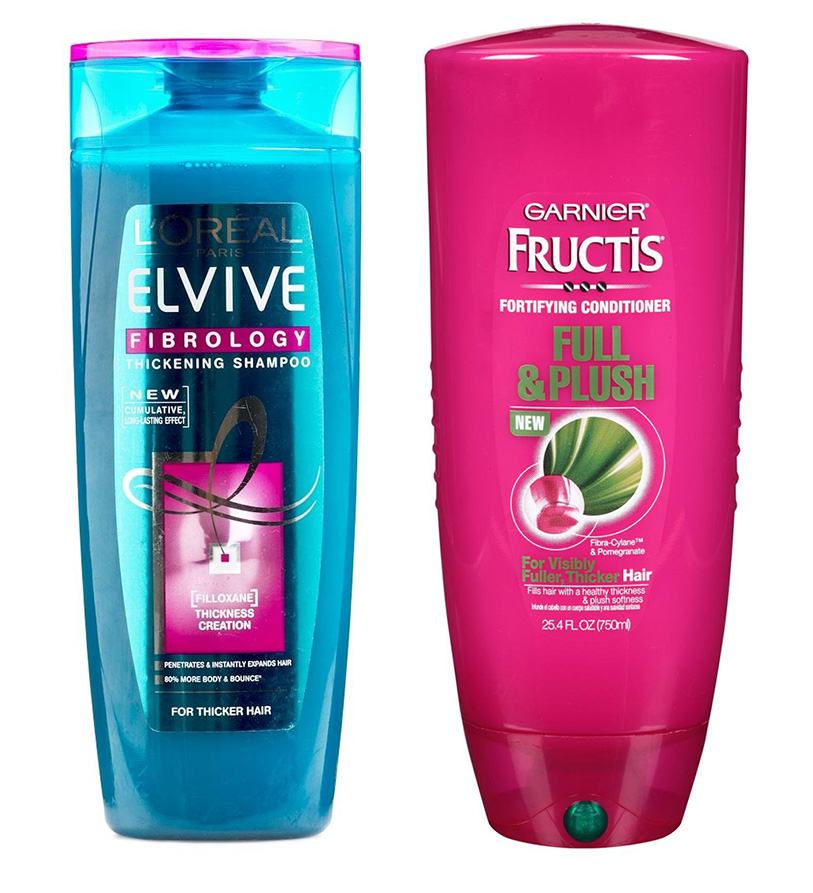 Elvive Fibrology Thickening Shampoo (available from Boots for £2.99 and Amazon)
After seeing numerous raves about this range, I went out and bought a shampoo and a double serum hoping to get that fantastic volume everyone was talking about  for a cheap price.
Unfortunately, I did not see why people were so in love with it. Yes, I could see some volume but that
Read More
I have been travelling quite a lot lately just for the weekends And, although you still want to get everything you may need, taking full-sized products is not the best option.
This is why I've kept a lot of mini-sized bottles and sample sized tubes/pots to re-use them. Here is an overview of what I like taking with me for a weekend-away.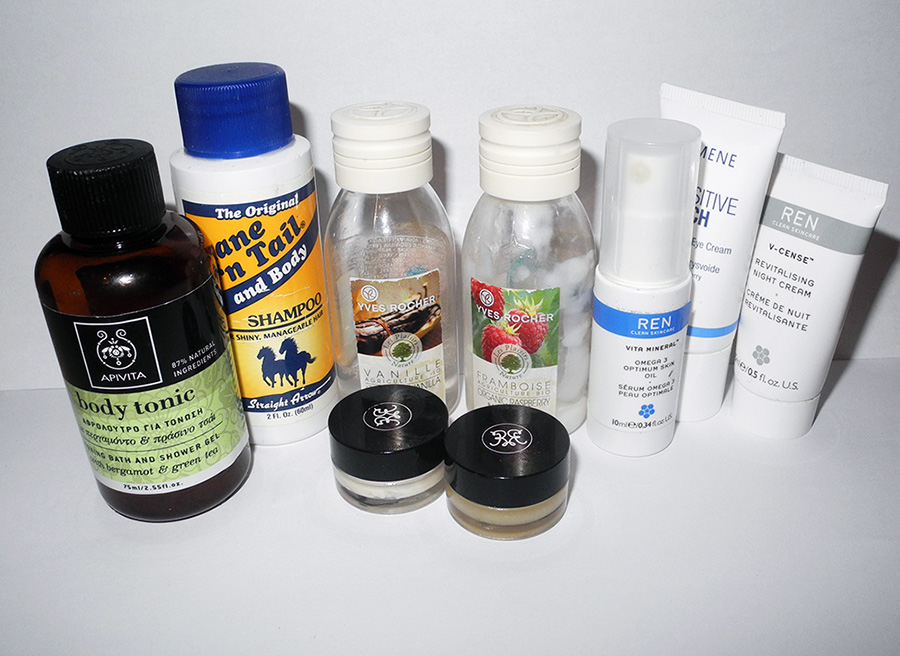 Cleansers:
1. Micellar Water (in Yves Rocher vanilla bottle) – this is Garnier's one to remove my makeup. It is gentle and effective.
2.  A good cleanser, Balance Me Cleanse and Smooth Face Balm  – my favourite one at the moment (in a small pot).
Face Creams:
3. Day cream is REN Evercalm Global Protection Day Cream which is in a small pot, next to the cleanser. I've bought it some time ago, and should definitely review it soon.
4. Eye cream is Lumene SENSITIVE Comforting Eye Cream. It is not bad but not enough for my very dry skin.
5. Of course, I had to take the mini size of  my Holy Grail oil from REN.  I have re-purchased it three times, and if I could have only one skincare product -this would be it.
6. The night cream is also from REN, and it
Read More
I was looking for a new shampoo and L'Oréal Professionnel Mythic Oil range caught my attention.  There are actually two shampoos in the range, and I've chosen the sparkling one just because it was pretty.
And I really, really like it. Everything about it. Starting from a  very convenient pump, and the sparkles to a nice subtle oriental-y scent and the performance, of course.
In the official description the brand promises "lightweight nourishment", and it is exactly what it does. I don't
Read More