My friends ask me all the time about my favourite high-street makeup products, and I have realized that I haven't posted a top 5 [affordable makeup products] feature in ages (See previous ones here and here)… So here we go!
Max Factor Creme Puff Blush in Alluring Rose (review and cheek swatches)
If I had to choose only one product out of these – it'd be the blush. Regular readers know how many blushes I own, and the fact that I've barely touched any other  in months says it all. Creme Puff Blushes are dreamy! Soft and creamy, they blend beautifully and look gorgeous on the skin. I am a convert, and I have recommended it to a lot of my girlfriends, too. There are six shades in the range and I have swatches of three (click the link above). I can't recommend these enough!
Rimmel Kate Moss Lasting Finish Lipstick in 45 (review and lip swatches)
Being a fan of Rimmel Kate Moss lipsticks I knew I'd  love the
Read More
Finally, the craziest months work-wise are behind, and I will have more time for important things in life, like beauty (ha!), catching up on the series that I am watching, reading books, and my friends.
Here are the products I have been loving in July. And, although, I have mentioned some of them so many times, there are also some new additions.
Just like last month, I have been using  Rouge Bunny Rouge Flawless Face Powder Precious Velvet (review) non-stop. It is a gorgeous light powder which sets the makeup, perfects the skin and looks really natural on.
Shadows wise, I am sure this won't be a surprise at all to see Solstice Halcyon (review and swatches) yet again because I simply adore that eye shadow, and also  Kiko's Water Eye shadow in 202 which is a gorgeous brownish purple with golden shimmer, this beauty deserves a feature, so stay tuned.
For some reason, lately I haven't been that much into red and berry lips, so it was about rosewood Clarins which I promise to post about soon, as it is a perfect nude, if you ask me, and L'Oreal Glam Shine in Dazzle 201 Sparkle Shower (review and lip swatches) which gives that oh-so-pretty sparkle in the sun and feels amazing on the lips.
Skincare and Body Care
Read More
I have a slight obsession with cool-toned shimmering lip glosses, the sadly discontinued Guerlain's KissKiss Gloss in 800 Crystal Pearl has to be my favourite gloss in the World.  I am actually always on a hunt for a good dupe. Plus, despite having tonnes of lip products, this is the kind of lip glosses that I manage to use up.
This is why I had to pick up new L'Oreal Glam Shine in Dazzle 201 Sparkle Shower. By the way, there are tonnes of gorgeous shades and several finishes in the line, so they are definitely worth checking out.
And this gloss is really nice, it feels great on the lips, moisturizing, non-sticky or gloopy at all. I also like the applicator (similar to YSL) which "hugs" the lips and helps with the application. While this shade is quite forgiving that may be something useful with darker and brighter colours.
I also have to mention a
Read More
I rarely post beauty empties, as I don't like gathering empty bottles and I do finish a lot of them, but it is different with makeup, I barely ever finish anything, so having three empties is a big deal. Plus I  really love all of them, so it was worth mentioning…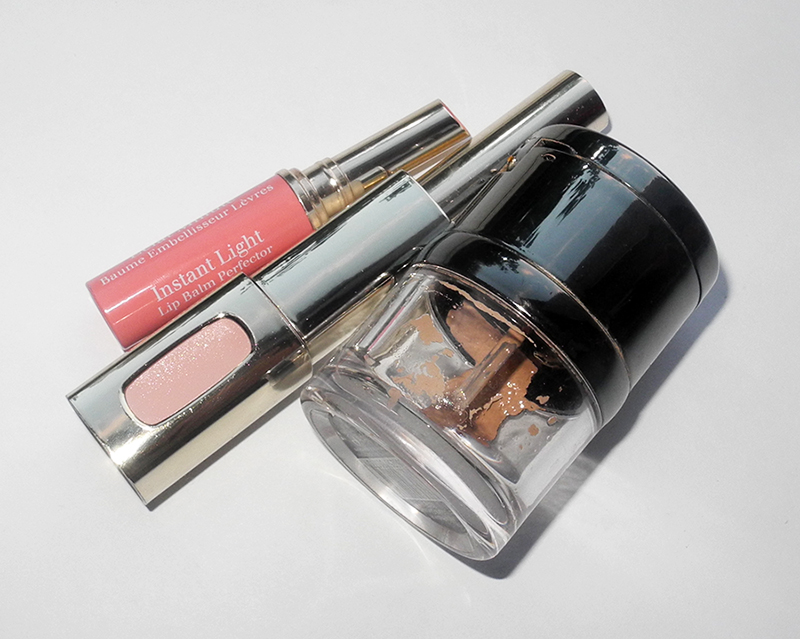 Daniel Sandler Invisible Radiance Foundation and Concealer (review)
This is the second foundation I have ever finished in my life. The first one was Max Factor's Second Skin which was the best affordable foundation on the market, in my opinion (it is sadly discontinued). Invisible Radiance Foundation and Concealer is a great choice if you want  a medium, natural looking coverage and a beautiful glowing finish.
Clarins Instant Light Lip Balm Perfector (review and swatches)
Read More
I was away with my friends for the weekend, and it was exactly what I needed, we had such an amazing time, walked around, tried new food and just laughed a lot.
I thought I'd share what lip products I had with me. I could actually have less but since I wanted to make an effort for once and have a choice I took quite a few. And here they are together with everything else I had with me, so that you'd see the proportions.
Plus,  I've decided to share about the lip products, as regular readers will recognize all the other products as I talk about them non-stop anyway. But if you have any questions about any of the products – please leave me a comment.
Also, since I usually talk about luxury lip products, I thought it'd be nice to include some budget-friendly options this time.
Clarins Instant Light Lip Balm Perfector. (review and swatches) – the best "nude"
I am totally in love with this line. I have already used up 01 Rose and now am half way through Rosewood. These are absolutely brilliant, just like the glossy version. I also have two more shades which are equally great!
Rouge Bunny Rouge Lip Potion Devilish Nectar – just for fun.
This is actually a  lip gloss with Chilli which makes your lips fuller.  It also contains  golden shimmer so the lips do look pretty. I did not get a chance to use it this time but it was nice to have options.  I will
Read More