I have a thing for Lush shower gels, and I just had to get their new offering for VDay – Prince Charming (£4.65 for 100), which I have already mentioned here.
This scent is pretty awesome actually. Although my  personal favourite is their Rose Jam, which a lot of people may find too sweet and overpowering, I love this one a lot, too.
Lush describe it as "sweet and floral, yet zingy and refreshing", and I totally agree. It is a blend of marshmallow root, Fair Trade vanilla and fresh pomegranate juice, and it  smells delicious!  It is more subtle than it is in the bottle. In fact, my male friend tried it (I may forced him), and he actually had to
Read More
It doesn't really matter if you celebrate  Valentine's Day or not, any reason to get a lill' treat for yourself or someone else would work, right?
So here are just a few ideas of what you could get! By the way, I plan to make my own beauty wish list this weekend, so will definitely share next week.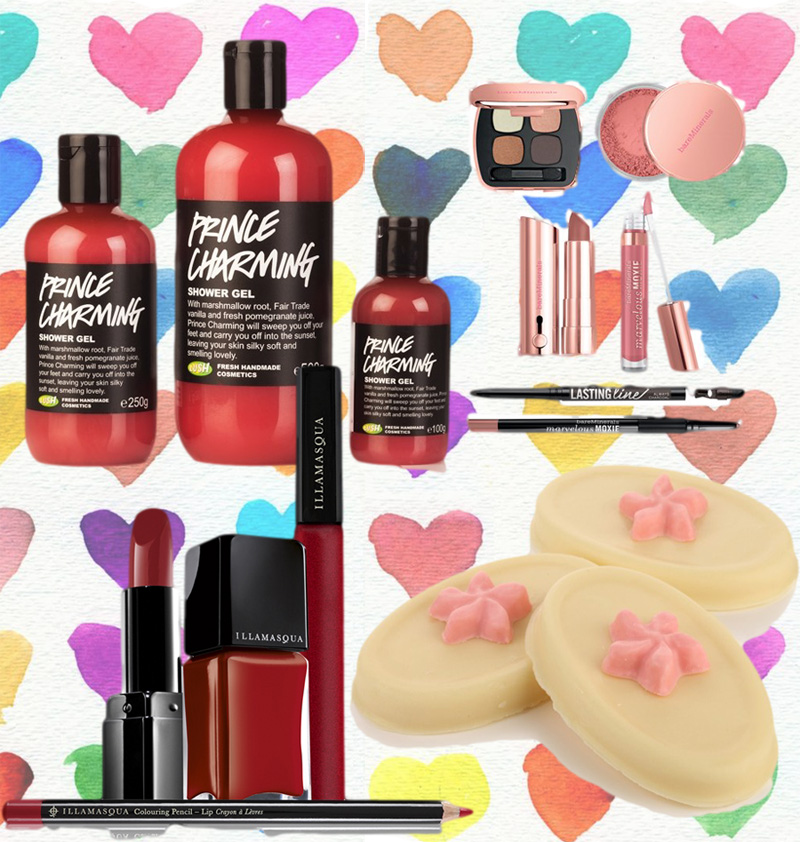 Illamasqua brought out a set with wicked reds called I am the One which retails for £50 and includes four products: two of them are new actually – Intense Lip Gloss in Touch, Lip Colouring in Feisty,  and two best-sellers  – Nail Varnish in  Throb and Lipstick in Maneater.
I personally love myself some Lush for VDay, in fact,
Read More
If you follow me on Twitter, you may know that I was on a hunt for a grass scented beauty product, I was actually thinking about a perfume.
You see, freshly cut grass = smells divine, I am an addict, and whenever I can smell freshly cut grass, I am very happy.
This is why I just had to purchase Lush's Grass shower gel. In fact, I am a big fan of their shower gels, and I currently have four in my shower, so that says a lot.
So what about this one?
It is actually a shower and shampoo two-in-one, but I never use such products in my hair, with Philip B being an exception. So I can't really comment on how it works, as one.
But, as a
Read More
It seems that when it comes to rose scent, there are those that love it, and those who really don't (hate it, almost), but not than many are indifferent.
I am personally among the first group, I am a fan a good rose scented product.  And although, there are tonnes on the market, there are not so many that I can't live without.
So far, I can only think of  two rose beauty products, that made the cut.

Jo Malone Red Roses collection. O.M.G.  I have a candle and
Read More
It's time for the monthly favourites!  And I think, next time I will be doing 2013 favourites, so I better start planning it soon. Also, I can't wait for the holidays, as I have a lot of plans.
Chanel Le Volume de Chanel Mascara in 10 Noir (review)
I still think that it is  one of the best mascaras in the World!  It makes even my not-so-impressive lashes look fantastic, adds tonnes of volume and is ultra black. I have a mini size but I am so getting a regular one soon!
 BECCA Luminous Skin Colour Ultra-Sheer Foundation
I better write a review about this wonderful product soon. As the name suggests, it gives a very sheer coverage and is undetectable on the skin. With a little bit of concealer where you need it – you can get a perfect complexion which looks very natural.
Clarins Instant Concealer (review)
As I've already said, it instantly brightens up the way you look, feels light and is pretty long-lasting.
Ellis Faas Hot Lips L406 Rose Violet (review)
My latest love in terms of lip products.  I have been wearing it non-stop, as it applies smoothly, has a
Read More