I have been very good with my beauty purchases lately, meaning  that I've been buying only  the products that I really want/need (I do have a wish list, and will probably share soon).
Instead, I have been investing in different beauty procedures  and accessories &  apparel/shoes. This week I have picked only two products, and I am very happy with both.
I went to Lush to pick a big bottle of Rose Jam shower gel which I adore (will get it later this week though), but got this amazing soap. Not only it
Read More
Remember my post about Lush's shower gels in which I've promised myself to buy The Olive Brunch and  Flying Fox?
I did get The Olive Brunch, and, in fact, already used it up. I somehow can't find the photo I took, and since I already threw the bottle away, have to use the stock photo, so please excuse that.
Lush are so right about  calling their shower gel "Mediterranean" (read sunshine & sun), that is exactly what it is!  A blend of mandarins, bergamot oil, vine leaves and Fair Trade olive oil.
Not only it smells amazing, and rather natural, especially compared to other Lush scents (which I personally love but others often find too strong) but if feels great on the skin.  It is non-drying and
Read More
This weekend I've re-organized products in my bathroom and made a list of the  things that I need to pick up, mostly new shower gels and body creams, as I use those up rather quickly. I have noticed that I have five Lush shower gels, so decided to make a lill' round up.
Lush Rose Jam Shower Gel (review)
This is my favourite one. While some people may find it too sweet and sugary, I am a huge fan, it smells just like rose jam and feels lovely on the skin, not drying at all.
Lush Glogg Shower Gel (review)
The other seasonal, LE one, which I really love, it is spicy and warm,  exactly what you need during the AW season.
Lush Prince
Read More
I have a thing for Lush shower gels, and I just had to get their new offering for VDay – Prince Charming (£4.65 for 100), which I have already mentioned here.
This scent is pretty awesome actually. Although my  personal favourite is their Rose Jam, which a lot of people may find too sweet and overpowering, I love this one a lot, too.
Lush describe it as "sweet and floral, yet zingy and refreshing", and I totally agree. It is a blend of marshmallow root, Fair Trade vanilla and fresh pomegranate juice, and it  smells delicious!  It is more subtle than it is in the bottle. In fact, my male friend tried it (I may forced him), and he actually had to
Read More
It doesn't really matter if you celebrate  Valentine's Day or not, any reason to get a lill' treat for yourself or someone else would work, right?
So here are just a few ideas of what you could get! By the way, I plan to make my own beauty wish list this weekend, so will definitely share next week.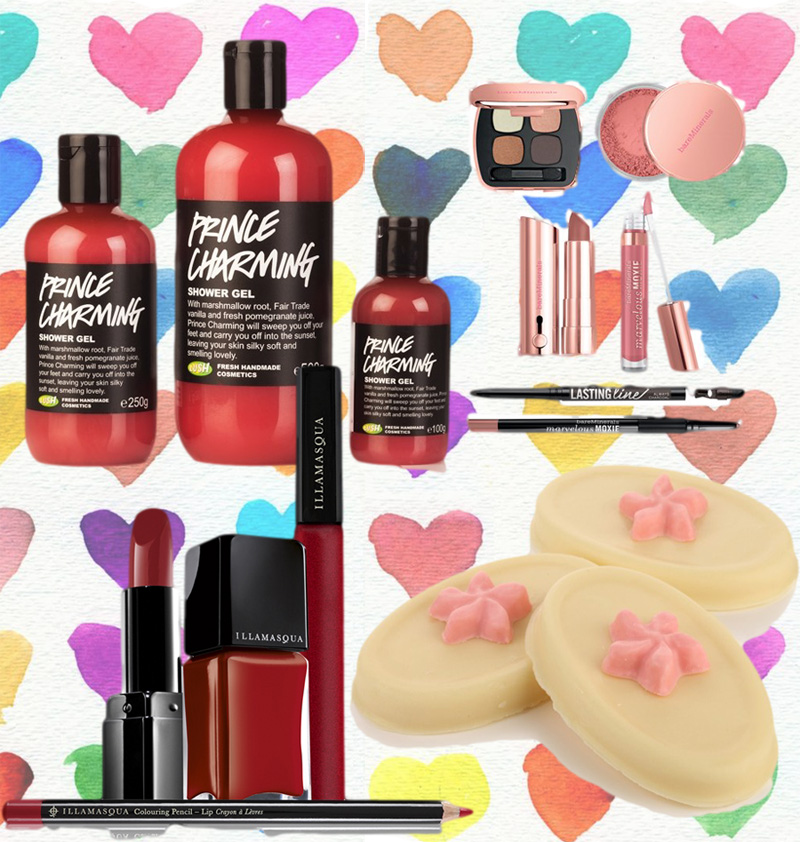 Illamasqua brought out a set with wicked reds called I am the One which retails for £50 and includes four products: two of them are new actually – Intense Lip Gloss in Touch, Lip Colouring in Feisty,  and two best-sellers  – Nail Varnish in  Throb and Lipstick in Maneater.
I personally love myself some Lush for VDay, in fact,
Read More