There are so many new products  for the face, lips and eyes, so let's take a look at them all, we will start with the new cheek items from YSL, Marc Jacobs and tarte.
Marc Jacobs Beauty Air Blush Soft Glow Duo, $42 from Sephora
Features two shades that merge together so you can customize your colour; ultra-lightweight formula and  a radiant finish.
FYI "Air Blush is created using a process called soufflage (French for "air-whipped") for a silky-soft, cream-like texture that blends effortlessly with the complexion."
Shades: 508 Night Fever & Hot Stuff – cherry/ deep plum, 506 Flesh & Fantasy – ivory shimmer/ goddess bronze, 504 Kink & Kisses – pale petal/ peachy rose, 502 Lines & Last Night – creamsicle/ deep tangerine and  500 Lush & Libido – petal pink/ orchid pink.
YSL Couture Contouring Palette, $47 from Neiman Marcus
A duo with a matte shade for contouring and a highlighter to illuminate. "Use the
Read More
I am sorry that there were no updates for several days, work and life in general just got too busy, but I am back with yet another selection of the new products for lips, eyes and face that caught my attention. This time it is all about Illamasqua,  Marc Jacobs and YSL.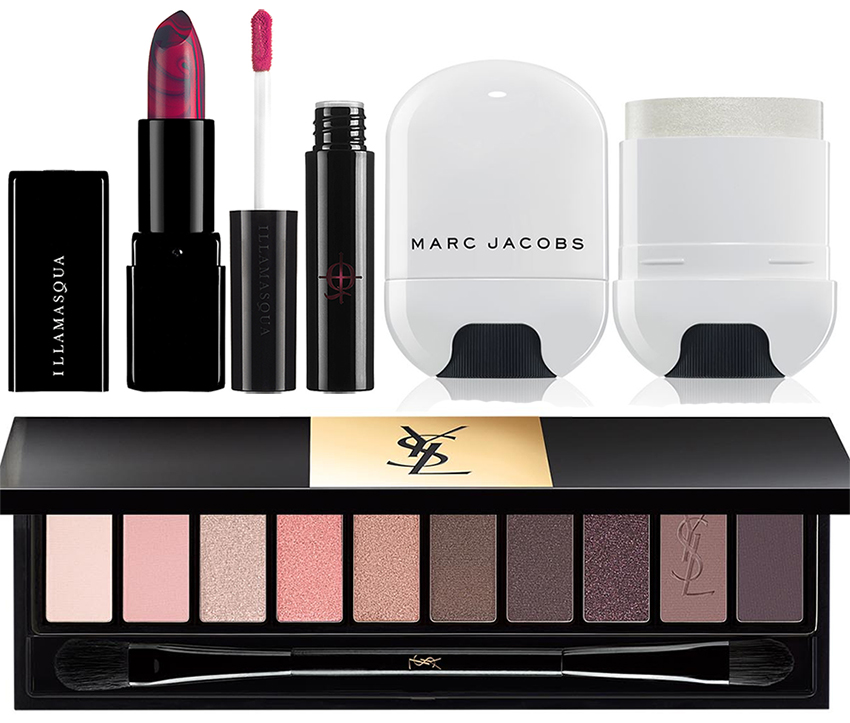 YSL Couture Variation 10-Color Expert Eye Palette, $95 from  Bergdorf Goodman and £49 from Harvey Nichols.
They say you can never have to many nude eye shadows, and this one looks gorgeous. Inspired by  the fabric swatch sheets of Yves Saint Laurent's creative studio, there are 10 neutral shades which come in different finished; housed in an elegant and sleek packaging.
Illamasqua Marbled Lava lips lipstick (£19.50) and Lip Pure Liquid Lipstick (£19.50) from HqHair, Net-a-Porter, ASOS and Selfridges.
It looks like Illamasqua are finally back to their roots with
Read More
Ok, I am finally doing it!  Writing 2015 yearly favourites that is.  The thing is when I started writing this post I've gathered so many products that I'd be going on, and on about them all. This is why here are 15 I loved the most. 15 since it was 2015, yes, I know…
If I had to choose only 1 product that would probably be Max Factor Creme Puff Blush in 25 Alluring Rose (review and swatches)
Long-time readers know how much I love my blushers. And this year it was all about this one, I've barely used anything else.  Creme Puff Blush gives that luminous glow that instantly brightens up the complexion. The formula is incredibly soft and smooth and blends into the skin beautifully. I have several shades but Alluring Rose is the love of my [beauty] love.
The other favourite is still my Trish McEvoy Golden Bronzer (review). As you can see from the photo above, it is very well loved. It warms up the complexion without looking orange or muddy.  I  like the hint of radiance it gives, too.
BECCA's Shimmering Skin Perfector in Pearl (review) is still the best glow-and-radiance-in-a-bottle product out there.  I usually mix it with foundation  to make my skin look "healthy". This formula and shade = perfection.
If I had to pick only one "foundation" of the year – that'd be Clarins HydraQuench Tinted Moisturizer (review and swatches), hands down. It is dry skin's best friend. Clarins know how to
Read More
It seems like I did not write about red in quite some time… This is why today I want to share about my  top 3 red nail polishes. I love red nail polish so much that it is even my Twitter's header photo.
So what nail polishes are we talking about?
Marc Jacobs Nail Enamored Hi-Shine Nail Lacquer in Lola (swatch)
This is probably my all time favourite red! It is a hot tomato red which is opaque with only one layer, it is glossy and shiny and last pretty well on my nails. Whenever I am in doubt about my manicure shade – I go for this one. And how gorgeous is that bottle?
Revlon Nail Polish in Revlon Red (swatch)
It is a
Read More
This week we already had a preview of some new eye liner launches but what about the lips? Here, I have chosen three new releases that caught my attention (as well as the shades, I'd go for which are usually baby pinks or deep berries), but there are actually many more…
Marc Jacobs Beauty Enamored Hi-Shine Lip Lacquer ($28 from Sephora)
"A high-shine lip lacquer in covetable shades with lasting brilliance. Delivers maximum color and brilliance with its unique Triple Shine Complex, a blend of high-performance ingredients that provide unstoppable wear and shine like "30 coats of lacquer." "
Shown above are the shades: 326 Pink Flamingo (bubble pink) and 306 Boom (deep plum shimmer). But there are tonnes of shades to choose from.
MAC X Giambattista Valli
Shades shown are: Bianca B (matte white-pink) and Eugenie ( matte, dark cherry with blue undertone). There are three more shades, hot pink, bright peach and
Read More