Mary Kay® NouriShine® Lip Gloss, $ 13
Some of you asked me to write more reviews about Mary Kay. So here we go. This time I will review their lip gloss.
What is written about this gloss:
The subtle gold tones of this glitzy lip gloss will bring a trendy sheen to your lips. Formulated with enriching vitamins A and E, Mary Kay NouriShine Lip Gloss in Gold Rush smoothes, soothes and softens lips, helping restore a youthful appearance while antioxidants fight against wrinkle-causing free radicals. The formula is saturated with over 80 percent of moisturizers and conditioners to instantly hydrate lips. Plus, it's fortified with antioxidants that help protect lips from everyday environmental stress. It feels as great as it shines and looks fabulous when worn alone or layered over Mary Kay Creme Lipstick.
My opinion
To be honest I never liked Mary Kay lip products. I had different shades of this gloss but I gave away almost all of them. There is only one left and I have no idea what for.  There are some great colours but I really don't like how they all smell plus I don't like the feeling when these glosses are on my lips. And they don't stay on for a long time.  But this is just my opinion, I know some ladies who like this gloss a lot.  So here is the swatch of the only shade that  is left. It's called Gold Rust
Read More
Mary Kay Eye Primer, $ 12
Here's the perfect primer to help you create eye looks that grab attention. This waterproof formula creates a foundation so your eye colors glide on smoothly and stay perfectly in place longer – without creasing or smudging. It helps extend and intensify eye color.
This primer does exactly what it has to do! Eye shadows stay on for a long time, don't smudge and the colour looks bright and vibrant! Check out the photo  with the eye shadows with and without primer. I used Artdeco shadows # 247. I already wrote a review about Artdeco eye shadows here.
The photo: 1. primer. 2. Artdeco eye shadows # 247 without primer 3. with primer
Read More
Have you seen promo photos and information of Fall 2009 Collections? Do you know what you are going to get? Here are the links to all collections that  I've posted about. Plus I already have information about some Holiday 2009 collections and it will be published next week so stay tuned! You can share this link with your girlfriends and think together what you are going to get;)  Have a great weekend and great shopping!
stay beautiful, Marina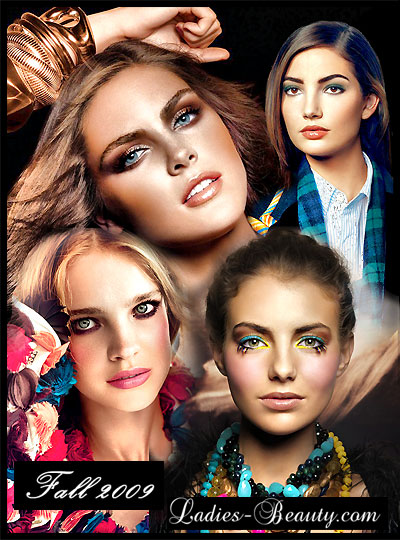 Fall 2009 Makeup Collections
More Promo Photos of Chanel Fall 2009 Venice Collection
Givenchy. Les Poetiques. Fall/Winter Collection 2009
Slave Beaute(Slavic Beauty) by Guerlain Fall 2009 Collection: Promo Photos and Swatches
Pearlescents by The Body Shop. Fall 2009
Yves Saint Laurent Makeup Collection. Fall 2009
Sensuous Gold Collection by Estee Lauder. Fall 2009
Nude Inspiration by Clarins. Fall 2009
Jazzclub Makeup Collection by Dior. Fall 2009
Declaring Indigo by Lancome for Fall 2009. Official Information
Declaring Indigo by Lancome. Fall 2009
Dolce & Gabbana The Romantic Collection. Fall 2009
Bobbi Brown Nudes Makeup Collection. Fall 2009
Ivy League Collection by Bobbi Brown. Fall 2009
Giorgio Armani Manta Ray Makeup Collection for Fall 2009
Too Faced Makeup Collection for Fall 2009
Urban Decay Fall 2009 Makeup Collection
Nars "Lolita" Collection for Fall 2009
Smitten With Kitten by Stila. Fall 2009
Benefit It Girl Collection. Fall 2009
Prescriptives Well Suited Collection. Fall 2009
Christian Siriano For VS Makeup. Fall 2009
Smashbox Reign Collection. Fall 2009
Portable Beauty Simplicity Collection by Trish McEvoy. Fall 2009
Laura Geller Makeup Collection.Fall 2009
New Eye Makeup Collection by Shiseido. Fall 2009: Promo Photos
One more Collection & Black Lipstick by Chanel for Fall 2009
Read More
Do you want to know more about MK limited edition for this summer? Than keep on reading
Read More
Old version of  Satin Hands Set
New  version of  Satin Hands Set
What is written:

Now you're one step closer to softness. The Satin Hands® Satin Smoothie® Hand Scrub cleanses and exfoliates. It's an everyday treat for hands to leave them feeling smooth and soft instantly. And you'll love the fresh peach scent. It's part of the Satin Hands® Pampering Set for irresistibly smooth, super-soft hands in three easy steps. The Satin Hands® Pampering Set includes
Read More