It is June on the calendar! Can you actually believe it? I thought is would be a good idea to look back, and see what posts were the most popular in the Spring months. So here are top 10, according to the analytics. And I was surprised to see some of them here but it is always interesting to see what people are looking for.
More features:
Read More
I have to say that I am still loving all of my favourites from April but here are some more products that I would like to add.  Four makeup items and three beauty.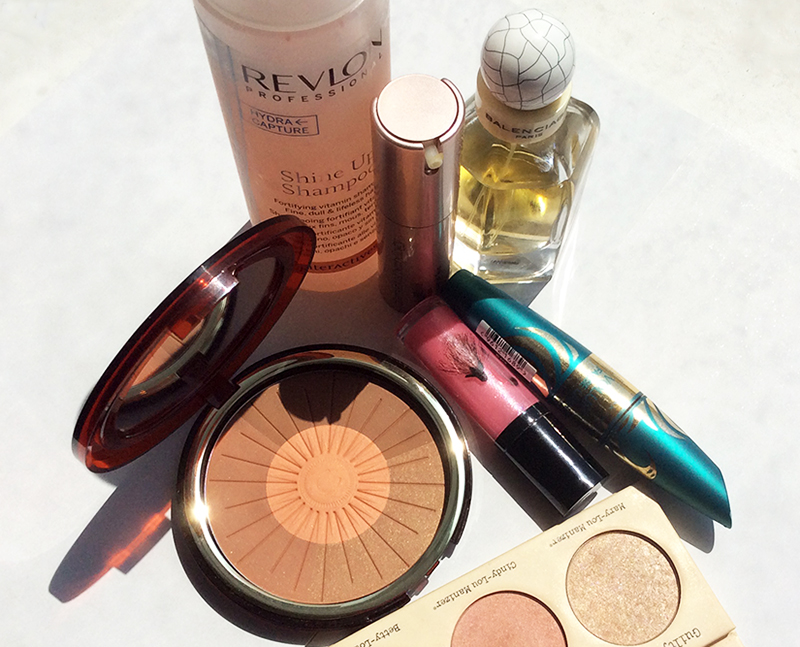 I did not expect this first product to make it to my favourites, as I have been neglecting all my bronzers for some time now, and I have tonnes. But I really like this new Clarins bronzer from their summer collection. It is called Bronzing & Blush Compact (full review coming up soon), as it adds warmth and that subtle sun-kissed effect to the face; you can use each shade separately or mix them all together. The other day when I was wearing it one of my  best male friends told me that whatever I have on my cheeks – it looks amazing, and makes me look beautiful, and it was this bronzer. Yes, some of my poor male friends know things like that.
Speaking of glow, I have started piling on using my Mary Lou Manizer from theBalm again. It gives the most gorgeous sheen to the face, and makes me look decent even when I barely sleep due to all the deadlines. Get it! Seriously, if you love a good highlighter, you need this in your life.
I have been using Max Factor Voluptuous False Lash Effect Mascara all
Read More
I have to admit that I am slightly obsessed with dystopian novels, and  love all those futuristic and manus x machina themes. And, yes, I do have a board on Pinterest.
It may have something to do with the fact that I did culture studies back at uni and read lots of philosophical theories on the subject.  Whatever it is, I have been always fascinated with the futuristic beauty.
Here is actually a photo I've posted on Instagram recently.

The products shown are:
And here are also some kick ass beauty looks from the relatively recent  MET Gala, how
Read More
Regular readers know that I am a mascara snob.
Although most people think that mascara is the product on which you can save, I usually invest in mine, with only one exception. And that is Max Factor mascaras.
I have reviewed all their mascara launches which came out in the last several years, you can read them if you click on Max Factor category.  I think they  all are absolutely brilliant, and I always recommend them not only to my readers but also to my friends. And I know that some of my girlfriends are now fans, too.
And today I want to talk about the latest release which is  Voluptuous False Lash Effect Mascara, it was already mentioned here.
Unlike most MF mascaras, it comes in the colourful teal and gold packaging, so a lot of people may like that.
As for the mascara itself, the fist thing that you notice is the brush which is huge (see the comparison photos below), and looks different from anything else I've used. According to the brand, helix shape enables a 360° application. And that is the
Read More
I was browsing Makeup4all the other day, and stumbled across this post from 2010. The point was to choose only three products I could use for my makeup. I was actually surprised by my choices, so thought I would do the same thing six years later.
So here is what I would go for and why:
Eye liner (ArtDeco Long Lasting Liquid Liner 01 Black)
I just have to have some kind of definition for my eyes, black liquid eye liner or a brown eye pencil, or even some eye shadows. But if I could use only one product- that would be this. These days I am loving ArtDeco, but there are lots of other nice ones I like.
Mascara ( Max Factor Voluptuous False Lash Effect Mascara, review coming later)
Read More