Foundation that made it's début at  Victoria Beckham's (AW14) show;  with the look  created by Pat McGrath? Need I say more? I am in!
What foundation was that? Max Factor's Skin Luminizer. I was sent one of the shades, so here are my thoughts: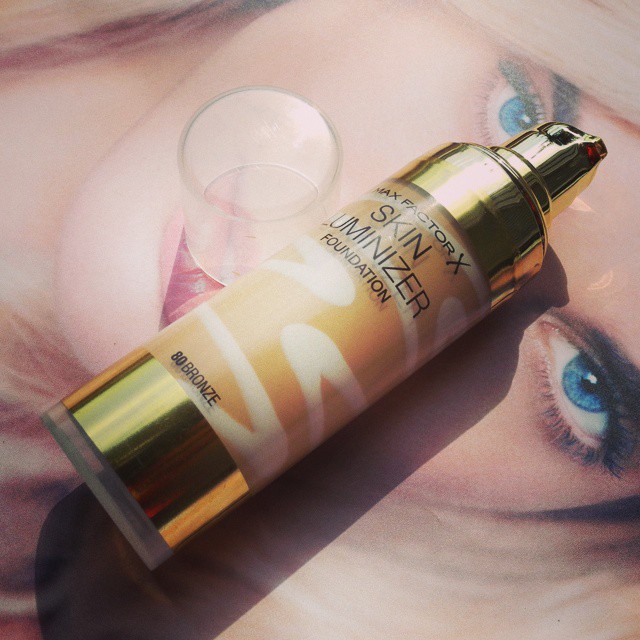 I am a big fan of the design, the cool swirly highlighter stripes add something special to it. Both products mix together, as they come out.
The packaging is made of plastic, which may not look  or feel so chic as my favourite, sadly discontinued Second Skin, but it is very handy for travelling and taking it with you, it is very light.
The pump is very well made,  it dispenses even a very small amount of product so you don't waste any.
What about the foundation itself?
It has a
Read More
It seems like it's now a tradition to show you  what beauty and makeup products I take with me when I am away, just like in this post. So, since I am currently visiting my family, here is a quick update on what products I took with me.
To tell the truth, I barely wear any makeup these days but I did take quite a few products (and a lot of brushes) since people always ask me for a makeover.
I am very happy with the skincare that I've packed with me, including a lot of mini bottles which I am currently testing.  I only wish I took more than three nail polishes, as my 5-years-old-cousin loves to borrow them
Speaking of my cousin, she insisted on inspecting my "treasures" as she described my makeup bag… When she saw the red lipstick I had,  she told me that she had to put it on me, since it'd make me look gorgeous. What can I say? She does know beauty.
Read More
Since yesterday I've featured some new eye products that are out for summer 2014, it is time for lip products. We've already previewed so many, but there are even more coming out our way.
Let's take a look:
Max Factor are bringing out new lush summery  shades of their Colour Elixir (I have reviewed nude shades here).  The price is £7.99 from here. Polished Fuchsia looks gorgeous!
Revlon are launching yet another cool lip product (I haven't tried it but love the way it looks & sounds) - Color Stay Moisture Stain which you can purchase from here for  $9.99.  Olivia is
Read More
Spring/Summer is the perfect time to experiment with makeup,  the prefect time to add a pop of colour to your look! And what better shade to try then aqua blue or turquoise, the shade that represents the sky and water?
You can wear aqua as you would wear a regular black or brown eye liner, or inside the lower waterline for an interesting accent.
Here are some options that you may like:
Max Factor Excess Intensity Longwear Eyeliner in Excessive Aqua (review and swatches)
Long-lasting shimmering turquoise. You can get a precise line with this pencil or make it as thick, as you wish.
Daniel Sandler Long Lasting Waterproof Eyeliner in Aqua Velvet (review and swatches)
This is
Read More
Since my post about pink blushers got so many views, I've decided to write one about reddish ones, too. Do let me know, if you'd like me to choose 5 corals/peaches and berries/plums…
So here is what I've picked:
Hourglass Aura Cheek Tint in Flush (review and swatches)
I think that Flush is a perfect name for this sheer water-based blusher, it gives the most natural and beautiful effect.  Cheek Tint is easy to blend, plus it has a nice staying power.
Max Factor Miracle Touch Creamy Blush in 18 Soft Cardinal (review and swatches)
This is probably my personal favourite! It is a gorgeous cream blusher with "wet & glossy" texture, it doesn't enhance any dry patches and looks like a second skin, I use it
Read More