I can't believe that it's July already! June was a very difficult and busy month, and I am very happy that it's finally over!
I did not really have time or desire, to be honest, to experiment with makeup, but I did wear different lipsticks all the time. Since the drawer with my personal lip products is overflowing – I've made an effort to use them more often.
Makeup
Besides that, makeup-wise this month was all about the red nail polish. And my current favourite one is Max Factor Glossfinity  Nail Polish in 85 Cerise (here). It is  perfect long-lasting glossy orangey red. I promise to post the swatches soon, as I think everyone should pick up a bottle for summer.
Speaking of Max Factor, I am back to using their award-winning Masterpiece Transform High Impact Volumising Mascara (review). It is phenomenal, and I mean it – it gives show-stopping voluminous ultra-black lashes. Some of my girlfriends are now obsessed, too. And I will be buying a second tube soon.
I'm also back to using BECCA's Shimmering Skin Perfector in Pearl (review). The lack of
Read More
This month "Beauty Favourites" will be a little bit different, it will be more about the [makeup] products that I have been using on my face.
May was a very busy month for me, and I was always in a rush, so often I had to do my makeup on the go, so I had a makeup bag with the products always ready. The products have been more or less the same throughout the month, so let's take a look: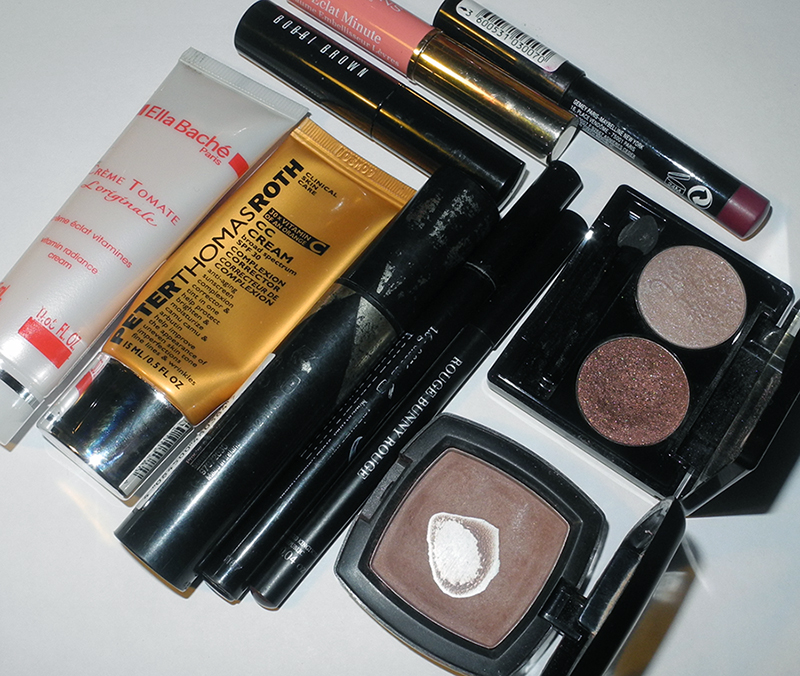 Face
Ella Bache Tomato Vitamin Radiance Cream (as seen on my Instagram)
I've bought it after someone highly recommended it to me, and so far I really love it, it really adds glow and radiance  to your complexion, even if you had less than 5 hours of sleep.
Peter Thomas Roth CC Cream Broad Spectrum SPF 30 Complexion Corrector (review)
This is an excellent product which combines great coverage and SPF factor but still feels light on the skin. One of my favourites for summer, the mini size is also great for carrying around.
NYX Blush in Taupe (review)
The photo speaks for itself. I am
Read More
I have already reviewed several shades of Max Factor Colour Elixir Lipsticks in the past and you can see the feature here, and this is the latest addition to the range. Meet 725 Simply Nude – smoky eyes best friend.
The lipstick comes in a gold packaging with a colour matching panel on the bottom.
It is a moisturizing and a fool-proof lipstick formula that glides on easily and  smoothly. Colour Elixir contains shea, avocado, aloe butters, and anti-oxidant white tea so it feels comfortable and non-drying on the lips.
It is really low-maintenance.  I think you could apply it even without mirror, and since it has that "glossy" lightweight texture and finish, it looks good, as it wears off. And this kind of nude  would look nice on a lot of skin tones, as
Read More
I was trying all that bronzer/golden eye shadow/nude lips look for a while but I came back to what I love and to what works for me – red and berry.
After a week of being sick at home, I've decided to go and get some new makeup products, as  a little pick-me-up treat and since I haven't got anything new in forever (and I mean colour & cosmetics, not beauty products in general). And I've decided to get some drugstore products I've been meaning to pick up  for some time now.
First of all, Bourjois  Rouge Edition Velvet Lipstick (you can get it on-line for £8.99 from Feel Unique).
Yes, just when their Aqua Laque  is the new big thing  – I've finally got the original version. And I really, really love it.  It feels weightless on the lips and gives a gorgeous matte wash of colour. I've chosen the shade 01 personne ne rouge which is a beautiful red. Stay tuned for a detailed review and lip swatches.
Maybelline ColorDrama Intense Velvet Lip Pencil in 310 Berry Much.
Another product I've been meaning to get for a while but never did since I have so many berry and plum lipsticks in my
Read More
Can you believe that it is MAY already? Where did 2015 go?  Maybe that is because I am crazy busy these days that I don't notice anything around me, who knows…
But back to April Beauty Favourites. I did not have that many makeup favourites, and did not want to mention the same products over, and over again – so here are 3 hero products that I have been using every single day when I did my makeup ( I was sick for a week in April which was horrible), and some new  beauty loves…
Photo is from my Instagram
The three makeup heroes I've mentioned are: Rouge Bunny Rouge Raven Glaze Lacquer Liner (review and swatches), Max Factor Glamour Extensions 3-in-1 Volumising Mascara (review),  Bobbi Brown Natural Brow Shaper & Hair Touch Up in Slate (review). I haven't been experimenting with eye makeup that much this month, and these are the products that just work. Eye brow gel to tint my eye brows and keep them in place, ultra black liner for that feline flick and mascara for thick and long lashes.
There are also three products that I've mentioned in my Spring Beauty Guide: Balance Me Radiance Rose Face Oil and Aromatherapy Associates Hydrating Rose Radiance Skin Serum for that
Read More