Some of you may remember the feature about the products that I've chosen for my Mum, and here are the products that she picked up herself.
The other day my Mum called me to tell that she had some important work events and she needed  some makeup products (she doesn't use makeup on a daily basis). I told her that she could pick anything she wanted from my "collection".
The thing is that I wasn't home when she was at my place, and she had to choose everything herself. It was very overwhelming for her so she called me about three or four times, but here are the products that she  got.
Hourglass Film Noir mascara, she loved the
Read More
I have quite a few  Maybelline Colorama nail polishes, so I was curious to try the re-launched range. Compared to the old design (and my horrible photos) this new look  is so much better, it is chic and looks like it could be a part of a luxury line.
The brush is also easier to use now, it's not  a wide-and-thin  one but I can't complain.
I have picked a red nail polish because I wear red a lot!  You can see how two coats look like above. Not bad, right?
But since I have a lot of red nail polishes already (my favourite has to be Revlon Red, the best red, in my opinion), I gave this one to my aunt along with red lipstick. My uncle better appreciate, ha!
Read More
I have finally picked up several shades of Maybelline's Color Tattoo 24HR eye shadows some time ago so I am ready to share my opinion.
I was expecting  a lot from this product as everyone raves about the quality, and I was not disappointed.
I have got three shades to begin with:  Eternal Gold, Permanent Taupe, and And On Bronze.
They come in a glass jar and, in my opinion, the packaging looks great for the price, not worse than more expensive alternatives. As for the shades, the availability depends on the country. The shades that I have picked are all beautiful:
Eternal Gold is a  very shimmery gold, I'd say that the shimmer in this one is a bit too big for my taste.
On And On Bronze is a shade that a lot of people should like as it is very wearable metallic bronze. It should look amazing in summer.
Permanent Taupe, it is the most interesting shade in my opinion. It's a
Read More
Besides the new Color Tattoo Eye Shadows Maybelline are also launching the new Color Sensational Popsticks.
These are translucent shiny glossy sticks with fruity fragrance. They will available in five shades: Pink Sugar, Pink Lollipop,  Crystal Pink, Cherry Pop and  Citrus Slice from April. The price is £7.19/€10.49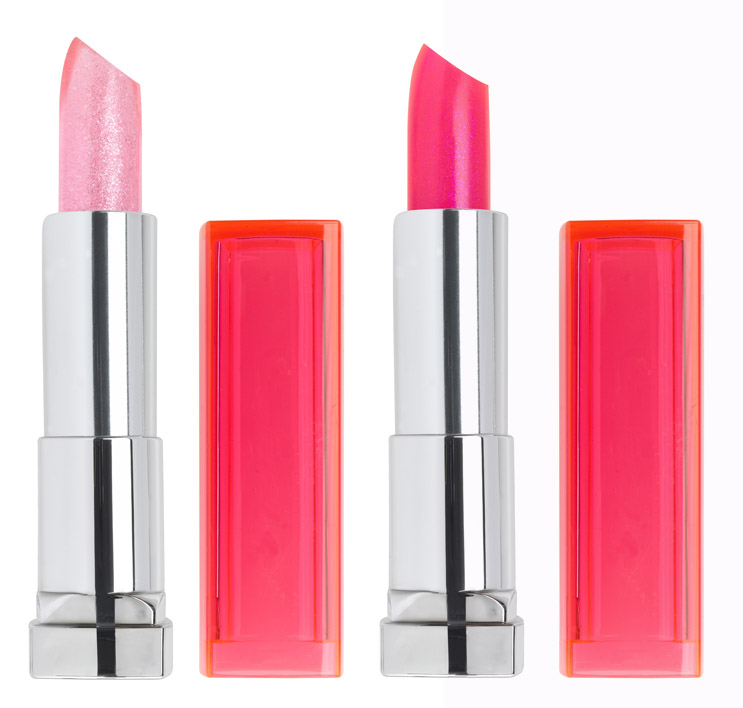 Above you can see Pink Sugar and Pink Lollipop.
Read More
You have probably heard a lot of about the Maybelline Color Tattoo eye shadows from the American beauty lovers.
The good news that from April these will be available in the UK (and EU I believe, too). These will retail for £4.99/€7.99
Unfortunately, we won't get as many shades but I am happy about these anyway.
The shades that will be available in the UK and Ireland: Turquoise Forever, Endless Purple, Eternal Gold, On and On Bronze, Eternal Silver, Immortal Charcoal, Permanent Taupe.
These eye shadows with gel texture should stay on the lids for 24 hours. Can't wait to try them!
Read More