This time the new products for face, lips and eyes are budget friendly with H & M, Soap & Glory and Maybelline latest releases.
Maybelline Master Contour V-Shape, £6.99 from Boots
"The clever "v" shaped, dual-sided applicator boasts a cream-matte contour and highlighter that effortlessly blend into skin." I am loving the Maybelline powder contour and highlighter duo, and this one looks like a nice addition.
Available in 2 shades: Light and Medium
Soap & Glory SEXY MOTHER PUCKER Lipstick , £9.00 / €10.53 from Boots and Ulta
The brand brought out 24 shades in three finishes:
Read More
Can you actually believe that it is May, the fifth month of the year?! Time flies, it feels as if it was 1st of January only yesterday.  And this month I actually have quite a few products, including some amazing new discoveries.
Makeup
Max Factor Glossfinity Nail Polish in 85 Cerise (review and swatches)
I have already finished a bottle of this, and am going through my second one, and I am wearing this, as I type, too. Such a gorgeous vibrant, juicy and glossy warm-toned red, it brightens up any look, and (almost) any mood. I am a fan.
For complexion I have been using these two products almost daily: Diorskin Nude Skin-Glowing Make-Up in Ivory (review and face swatches) Rouge Bunny Rouge Naked Disguise Concealer in Castalia.
Dior's foundation is simply brilliant, it is a re-discovery for me. I like the coverage it gives and the finish, it is not matte but not too dewy either.  The shade, Ivory is the lightest in the range, and looks great even on my currently greenish pale and tired complexion. As for the concealer, I plan on writing a detailed feature about it soon. Surprisingly, I have already used half of the tube, and the love is going strong.  It gives just  the kind of coverage I like – the formula is not thick but it brightens up the under eye area.
Other products I have been using all the time are Inglot  Sculpting HD Powder in 504 (review) which I talk about non-stop, as it is my favourite product for adding
Read More
Recently one girl I know asked me about budget friendly bronzer/blusher/highlighter palettes, and after searching for those for her, I thought I'd share with you, too, as these look absolutely amazing.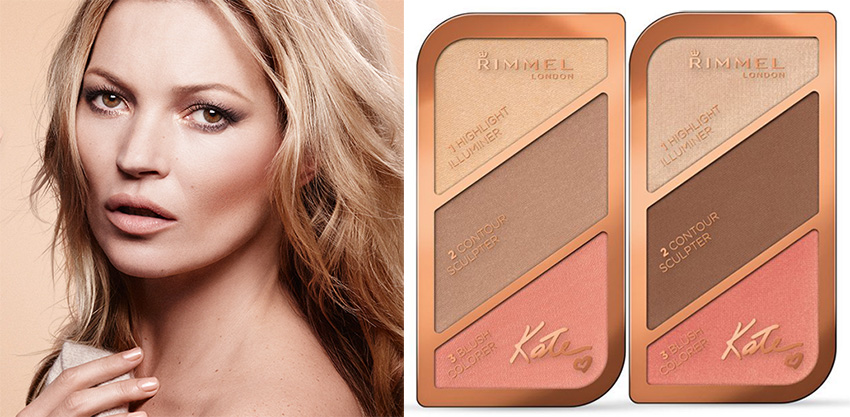 Rimmel Sculpting & Highlighting Kit designed by Kate Moss, £6.99 from Feel Unique
Soft shimmer powder to highlight the cheek bone, brow bone, centre of the chin and bridge of the nose.
Shading powder to contour the sides of the nose, jaw line and forehead.
Powder blush for colour and definition.
Maybelline Facestudio Master Contour, $12 from Ulta
Read More
It's time for February favourites, and considering that I was sick for 10+ days in the shortest month of the year, there isn't that much to show. But here are the products that really stood out to me.
Beauty
Soap & Glory Whipped Clean Shower Butter (review)
Moisturising shower product that smells of almonds, pistachios and vanilla. Oh, yes! It is an instant cheer-me-up and works great for shaving, too.
Kerastase Mousse Bouffante Luxurious Volumising Mousse
I've been on a hunt for a new product for voluminous hair for some time now, and this is the one I've picked up, as mentioned here. I was a bit worried, as I haven't used a mousse in more than 10 years but this one really delivers. Mousse Bouffante creates beautiful big hair without being sticky or making the hair look or feel greasy.
Uriage Gyn-Phy Intimate Hygiene Protective Cleansing Gel
Probably the best product for intimate hygiene I've ever used, it is gentle but effective, smells really nice and is a great way to start and finish the day with. We talk so much about facial cleansers and shower gels but not enough about the intimate washes. And this is a great one, go get it.
Makeup
Maybelline Master Smoky Shadow Pencil in Smoky Chocolate (Review and Swatches)
I have re-discovered my
Read More
Although I personally love berry and plum shades all year round, they look especially nice in Autumn/Winter. Recently my friend asked me what lipstick I was wearing as she really loved it, and was surprised to hear that it was Maybelline. This made me think that I should write about  affordable berry lipsticks that I would recommend. So here are three different options…
Bourjois Color Boost Glossy Finish Lipstick in 06 Plum Russian (review and lip swatches)
It is a gorgeous glossy plum which feels comfortable on the lips, and is super easy to apply as it comes in a crayon form. You can get a sheer colour pay-off or layer it for an intense effect. It can also be worn on top of other lipsticks if you want to create an extra sheen/gloss. The other day my Mum saw this lipstick, and loved so it much, that now I have to get a new one for myself (as she "borrowed" mine) .
Rimmel Kate Moss Matte Lipstick in 107 (review and lip swatc hes)
This
Read More