I have finally picked up several shades of Maybelline's Color Tattoo 24HR eye shadows some time ago so I am ready to share my opinion.
I was expecting  a lot from this product as everyone raves about the quality, and I was not disappointed.
I have got three shades to begin with:  Eternal Gold, Permanent Taupe, and And On Bronze.
They come in a glass jar and, in my opinion, the packaging looks great for the price, not worse than more expensive alternatives. As for the shades, the availability depends on the country. The shades that I have picked are all beautiful:
Eternal Gold is a  very shimmery gold, I'd say that the shimmer in this one is a bit too big for my taste.
On And On Bronze is a shade that a lot of people should like as it is very wearable metallic bronze. It should look amazing in summer.
Permanent Taupe, it is the most interesting shade in my opinion. It's a
Read More
Besides the new Color Tattoo Eye Shadows Maybelline are also launching the new Color Sensational Popsticks.
These are translucent shiny glossy sticks with fruity fragrance. They will available in five shades: Pink Sugar, Pink Lollipop,  Crystal Pink, Cherry Pop and  Citrus Slice from April. The price is £7.19/€10.49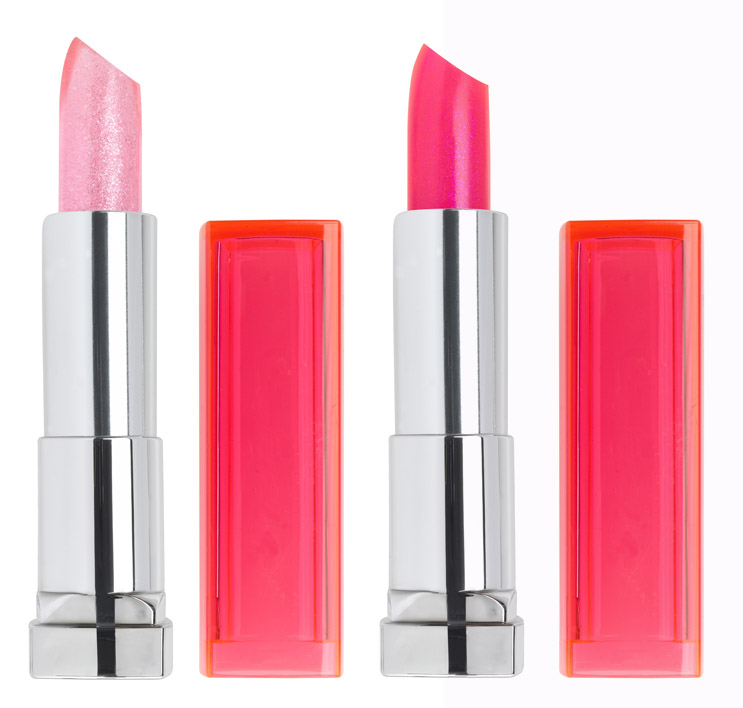 Above you can see Pink Sugar and Pink Lollipop.
Read More
You have probably heard a lot of about the Maybelline Color Tattoo eye shadows from the American beauty lovers.
The good news that from April these will be available in the UK (and EU I believe, too). These will retail for £4.99/€7.99
Unfortunately, we won't get as many shades but I am happy about these anyway.
The shades that will be available in the UK and Ireland: Turquoise Forever, Endless Purple, Eternal Gold, On and On Bronze, Eternal Silver, Immortal Charcoal, Permanent Taupe.
These eye shadows with gel texture should stay on the lids for 24 hours. Can't wait to try them!
Read More
You probably already all know that I have a thing for blushes, mostly luxury blushes. But there are some affordable blushes that are amazing.
I've already reviewed Max Factor Miracle Touch blushes and NYX Cream Blush and today I want to tell you about Maybelline Creamy  Mousse blush.
I have a shade #7 which is a Peach Satin.
As you can see from the photo below, I've been using mine quite a lot.
This blush has a lovely light texture which is a pleasure to use and which blends nicely into the skin. The shade that I have gives a natural peachy colour to the cheeks. This is a great choice for those who are afraid to get too much colour.
One more great thing is
Read More
I don't really do nude lips, there are several nude lipsticks that I like but I rarely use them. My everyday lips would be baby pink or clear glosses or the new glossy lipsticks. I also love light coral and peaches and bright matte lips but light pinks/clear glosses would be my choice for an everyday look.
There are so many that I love but I have decided to choose only eight. I love high end glosses for my personal use but I understand that not everyone can afford it so I've chosen three much cheaper lip products that I love, too.
Since these are my favourite products I have already written about all of them so I will just include the links to my reviews.
My favourite gloss of all times would have to be Chanel Mica glossimer which you can probably tell by how well used it is, my second favourite is KissKiss Crystal Pearl by Guerlain.
My most favourite affordable lip gloss is Demure by Rimmel which is discontinued but I have backups.
Other lip glosses/lipsticks from the photo are:
Dior Addict in Baby Rose – review and swatches
Yves Saint Laurent Gloss Pur in Aqua Curacao – review and swatches
Anna Sui Sui Lip Gloss in 001 – review and swatches
Max Factor Xperience Boutique Sheer Gloss Balm in Coral – review and swatches
Maybelline Colorsensational Cream Gloss in I love Lilas – review and swatches
Here are the swatches which start from  Chanel Mica, YSL, Guerlain and the same order you can see on the photo.
Similar glosses that are on my wish list now are: Gemma Kidd Moonstone, Revlon Super Lustrous Lipgloss in Lilac Pastelle, Givenchy  lip gloss (don't remember the name) and New CID i-gloss in Moonstone, Hourglass Origami, GOSH Light'N Shine Lip Glaze in 04 and Clarins Clarins Lip Perfector in Rose.
If you know a lip products with a similar shade that I would like please share!
Read More