This month "Beauty Favourites" will be a little bit different, it will be more about the [makeup] products that I have been using on my face.
May was a very busy month for me, and I was always in a rush, so often I had to do my makeup on the go, so I had a makeup bag with the products always ready. The products have been more or less the same throughout the month, so let's take a look: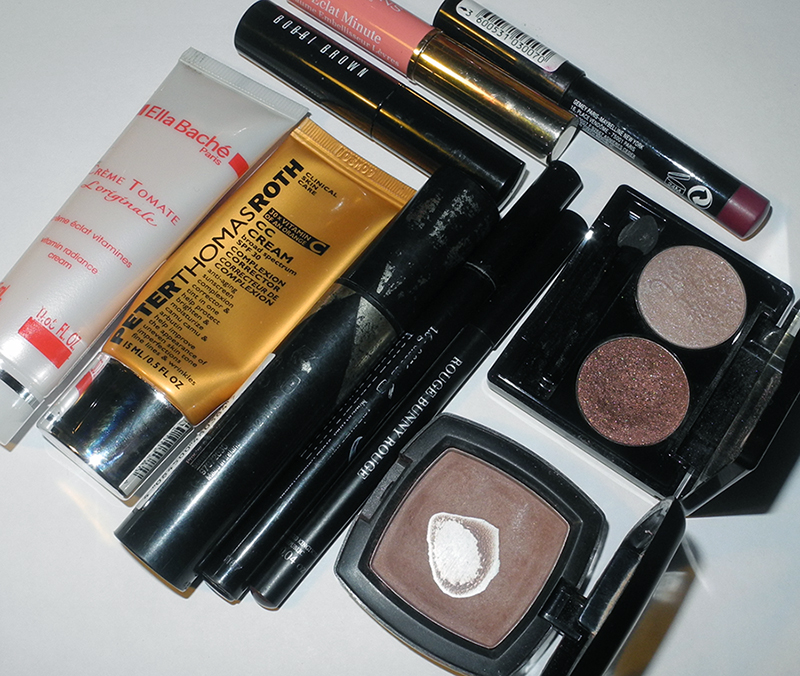 Face
Ella Bache Tomato Vitamin Radiance Cream (as seen on my Instagram)
I've bought it after someone highly recommended it to me, and so far I really love it, it really adds glow and radiance  to your complexion, even if you had less than 5 hours of sleep.
Peter Thomas Roth CC Cream Broad Spectrum SPF 30 Complexion Corrector (review)
This is an excellent product which combines great coverage and SPF factor but still feels light on the skin. One of my favourites for summer, the mini size is also great for carrying around.
NYX Blush in Taupe (review)
The photo speaks for itself. I am
Read More
I am loving the lipsticks that come in a form of a lip pencil, as they are easy to apply and you don't need any extra liners or brushes for that. The other day I've picked up Maybelline's ColorDrama Intense Velvet Lip Pencil.
They had so many beautiful colours but 310 Berry Much is the one that stood out for me, this is a very "me" shade. I was actually shopping with a friend who bought the nude one.
I think this is a fantastic product for the price.  The pigmentation is excellent, the colour pay-off is amazing, the colour is gorgeous.
As for the finish, it is just spot-on! It is not a flat matte but, at the same time, not a sheer glossy shade. I'd describe it as
Read More
I was trying all that bronzer/golden eye shadow/nude lips look for a while but I came back to what I love and to what works for me – red and berry.
After a week of being sick at home, I've decided to go and get some new makeup products, as  a little pick-me-up treat and since I haven't got anything new in forever (and I mean colour & cosmetics, not beauty products in general). And I've decided to get some drugstore products I've been meaning to pick up  for some time now.
First of all, Bourjois  Rouge Edition Velvet Lipstick (you can get it on-line for £8.99 from Feel Unique).
Yes, just when their Aqua Laque  is the new big thing  – I've finally got the original version. And I really, really love it.  It feels weightless on the lips and gives a gorgeous matte wash of colour. I've chosen the shade 01 personne ne rouge which is a beautiful red. Stay tuned for a detailed review and lip swatches.
Maybelline ColorDrama Intense Velvet Lip Pencil in 310 Berry Much.
Another product I've been meaning to get for a while but never did since I have so many berry and plum lipsticks in my
Read More
Recently I fell completely  in love with the new Max Factor's Shimmer Excess release, so I've decided to make a round-up of my favourite affordable cream eye shadows in general.
All of them are definitely worth the attention, and they prove that you don't need to pay a fortune to get a high quality makeup these days.
I have published detailed reviews about each in the past, so if you want to know more – just click the links, included in this feature.
Max Factor Excess Shimmer Eye Shadows (review and swatches)
These have a very light texture, give a beautiful dimensional shimmer and stay on really well. Can be used on their own, or on top of any other product. Gorgeous effect, a must-have.
Maybelline Color Tattoo 24Hr  (Permanent Taupe, Eternal Bronze, On and On Bronze; Metallic Pomegranate)
Color Tattoos did get a lot of hype when they were brought out.  And rightly so! Opaque colours, blendable texture and long-lasting formula. Metallic
Read More
It seems like it's now a tradition to show you  what beauty and makeup products I take with me when I am away, just like in this post. So, since I am currently visiting my family, here is a quick update on what products I took with me.
To tell the truth, I barely wear any makeup these days but I did take quite a few products (and a lot of brushes) since people always ask me for a makeover.
I am very happy with the skincare that I've packed with me, including a lot of mini bottles which I am currently testing.  I only wish I took more than three nail polishes, as my 5-years-old-cousin loves to borrow them
Speaking of my cousin, she insisted on inspecting my "treasures" as she described my makeup bag… When she saw the red lipstick I had,  she told me that she had to put it on me, since it'd make me look gorgeous. What can I say? She does know beauty.
Read More