My friends ask me all the time about my favourite high-street makeup products, and I have realized that I haven't posted a top 5 [affordable makeup products] feature in ages (See previous ones here and here)… So here we go!
Max Factor Creme Puff Blush in Alluring Rose (review and cheek swatches)
If I had to choose only one product out of these – it'd be the blush. Regular readers know how many blushes I own, and the fact that I've barely touched any other  in months says it all. Creme Puff Blushes are dreamy! Soft and creamy, they blend beautifully and look gorgeous on the skin. I am a convert, and I have recommended it to a lot of my girlfriends, too. There are six shades in the range and I have swatches of three (click the link above). I can't recommend these enough!
Rimmel Kate Moss Lasting Finish Lipstick in 45 (review and lip swatches)
Being a fan of Rimmel Kate Moss lipsticks I knew I'd  love the
Read More
I was away with my friends for the weekend, and it was exactly what I needed, we had such an amazing time, walked around, tried new food and just laughed a lot.
I thought I'd share what lip products I had with me. I could actually have less but since I wanted to make an effort for once and have a choice I took quite a few. And here they are together with everything else I had with me, so that you'd see the proportions.
Plus,  I've decided to share about the lip products, as regular readers will recognize all the other products as I talk about them non-stop anyway. But if you have any questions about any of the products – please leave me a comment.
Also, since I usually talk about luxury lip products, I thought it'd be nice to include some budget-friendly options this time.
Clarins Instant Light Lip Balm Perfector. (review and swatches) – the best "nude"
I am totally in love with this line. I have already used up 01 Rose and now am half way through Rosewood. These are absolutely brilliant, just like the glossy version. I also have two more shades which are equally great!
Rouge Bunny Rouge Lip Potion Devilish Nectar – just for fun.
This is actually a  lip gloss with Chilli which makes your lips fuller.  It also contains  golden shimmer so the lips do look pretty. I did not get a chance to use it this time but it was nice to have options.  I will
Read More
This month "Beauty Favourites" will be a little bit different, it will be more about the [makeup] products that I have been using on my face.
May was a very busy month for me, and I was always in a rush, so often I had to do my makeup on the go, so I had a makeup bag with the products always ready. The products have been more or less the same throughout the month, so let's take a look: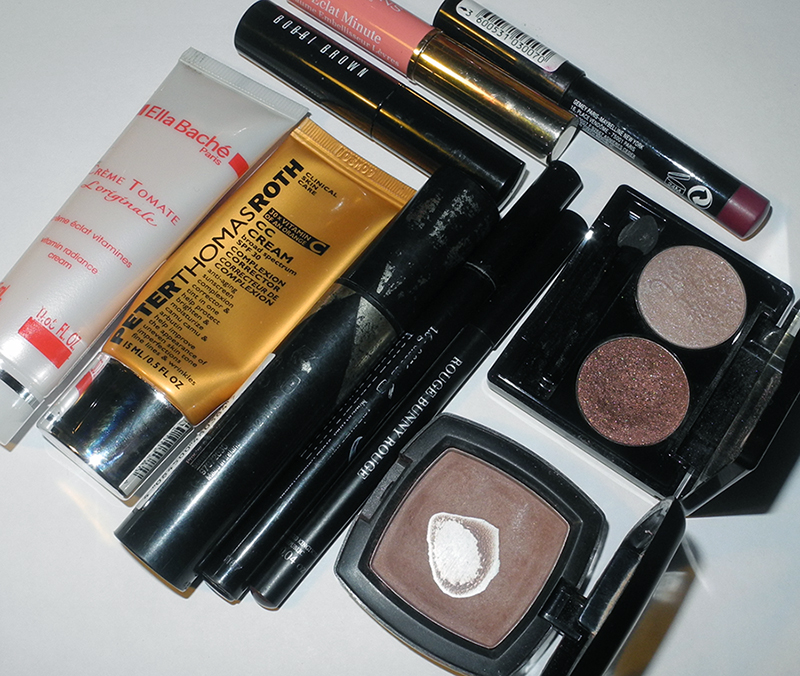 Face
Ella Bache Tomato Vitamin Radiance Cream (as seen on my Instagram)
I've bought it after someone highly recommended it to me, and so far I really love it, it really adds glow and radiance  to your complexion, even if you had less than 5 hours of sleep.
Peter Thomas Roth CC Cream Broad Spectrum SPF 30 Complexion Corrector (review)
This is an excellent product which combines great coverage and SPF factor but still feels light on the skin. One of my favourites for summer, the mini size is also great for carrying around.
NYX Blush in Taupe (review)
The photo speaks for itself. I am
Read More
I am loving the lipsticks that come in a form of a lip pencil, as they are easy to apply and you don't need any extra liners or brushes for that. The other day I've picked up Maybelline's ColorDrama Intense Velvet Lip Pencil.
They had so many beautiful colours but 310 Berry Much is the one that stood out for me, this is a very "me" shade. I was actually shopping with a friend who bought the nude one.
I think this is a fantastic product for the price.  The pigmentation is excellent, the colour pay-off is amazing, the colour is gorgeous.
As for the finish, it is just spot-on! It is not a flat matte but, at the same time, not a sheer glossy shade. I'd describe it as
Read More
I was trying all that bronzer/golden eye shadow/nude lips look for a while but I came back to what I love and to what works for me – red and berry.
After a week of being sick at home, I've decided to go and get some new makeup products, as  a little pick-me-up treat and since I haven't got anything new in forever (and I mean colour & cosmetics, not beauty products in general). And I've decided to get some drugstore products I've been meaning to pick up  for some time now.
First of all, Bourjois  Rouge Edition Velvet Lipstick (you can get it on-line for £8.99 from Feel Unique).
Yes, just when their Aqua Laque  is the new big thing  – I've finally got the original version. And I really, really love it.  It feels weightless on the lips and gives a gorgeous matte wash of colour. I've chosen the shade 01 personne ne rouge which is a beautiful red. Stay tuned for a detailed review and lip swatches.
Maybelline ColorDrama Intense Velvet Lip Pencil in 310 Berry Much.
Another product I've been meaning to get for a while but never did since I have so many berry and plum lipsticks in my
Read More