Here is a preview of the bright and colourful NARS makeup collection for Summer 2014 – Adult Swim.
The face of the collection is the beautiful German model – Toni Garrn. And I just love the lip colour she is rocking, looks like it's Priscilla lip gloss.
The products are:
Duo Eye Shadows
Tropical Princess, Neon lemon lime / Icy lavender
Lost Coast, Golden pewter / Lilac snow
Shimmer Eye Shadow
Malacca, Iridescent
Read More
I have been really into contouring/face shaping with makeup recently. This is why so I am pretty excited to see the new releases of  the special contouring products and bronzers.
The makeup is from one of the BECCA's campaigns,I love it so much that even use it as Makeup4all's Facebook profile photo.
Some of the new products are:
NARS Contour Blush ($42/£30)
NARS blushers have a cult status and numerous fans, and their new Contour Blush look very promising, too. I personally would really love to try the lightest shade. You can choose from Olympia (ivory/rose), Paloma (pink beige/deep rose), and
Read More
NARS are bringing out some  very exciting products, their matte multiples, which we could already see being using at the SS14 Fashion Weeks.
Here is actually how the shade Anguilla looks like on the model from Thakoon show, isn't is just gorgeous?
Here is Diane Kendal using it
I am very curious to try these, as they can be used both wet and dry, and here are some videos which
Read More
Only recently I've posted about the MAC 15 pan neutral eye shadows palettes and here are two more, very tempting, offerings for the nude-ish eye shadows lovers.
The NARSissist eye palette, £55/$79
I think I need this one in my life, with the 15 NARS best-selling shades, it looks stunning: All About Eve I: a flesh-toned neutral, Madrague II: a matte caramel,  Fez: a velvety cocoa,  Bali: a neutral,  Coconut Grove: a deep brown infused with reflections, Madrague I: a matte cream, Nepal: a soft, sheer rose, Ashes to Ashes: a shimmery violet-based brown, Brousse II: a black violet, Mekon: an espresso infused with gold, Bellissima I: a shimmering beige with subtle glitter, Lhasa: a lavender grey,  Bad Behavior: a deep pewter, Dogon II: a charcoal black and Pandora II: a matte black.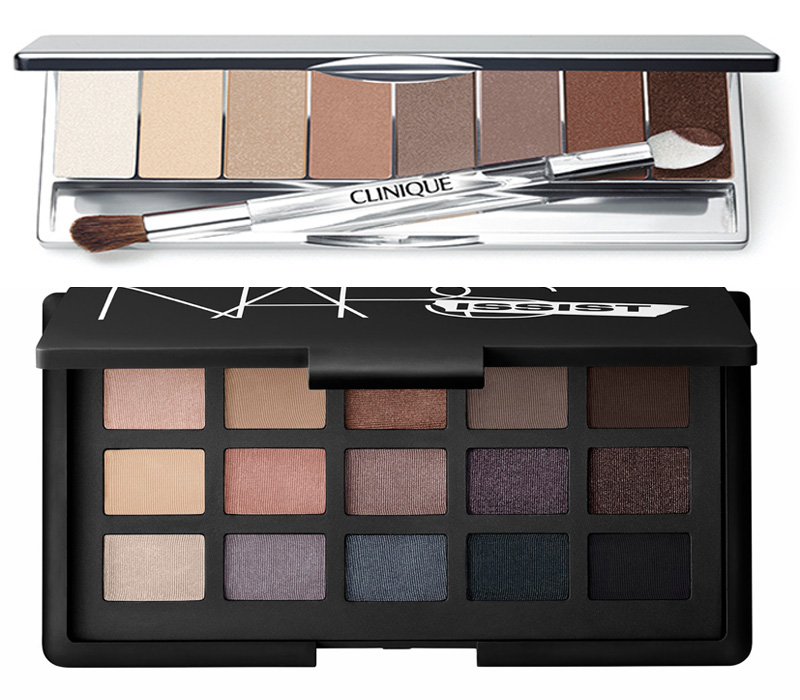 Clinique
Read More
If you are not feeling all those pink and "radiant orchid" beauty products for Spring 2014, NARS makeup collection may be just the right one for you. There are quite a lot of orange and peach products to choose from, including the multiple, nail polish and some lip products.
The Multiple
Na Pali Coast, Shimmering Rose Peach
Opaque Nail Polish
Satin Lip Pencil
Larger Than Life Lip Glos
Read More