I've chosen three new blush launches that look absolutely incredible, and should be amazing.
NARS Dual-Intensity Blush ($45 from Sephora)
I believe these will be a huge hit, especially considering how popular the original NARS blushers are.   Dual-intensity blushes can be used both dry and wet, also can be worn alone or layered together.
Available in: Fervor – shimmering soft pink/ sparkling deep coppery rose, Panic – shimmering shocking fuchsia/ shimmering orange-pink, Jubilation – sparkling yellow gold highlighter/ shimmering soft nude-peach, Adoration – sparkling baby pink/ shimmering hot pink,  Craving – sparkling seashell pink highlighter/ shimmering beachy bronze,  Frenzy – sparkling soft pink-gold highlighter/ shimmering bright tangerine orange
Smashbox L.A. Lights Blendable Lip & Cheek Color ($29 from Nordstrom)
Read More
I have to say, that I am absolutely in love with this new  Spring release from NARS. The brand that is usually famous for their bold and unique shades did their take on natural pinks and  subtle neutrals.
And also singed up Tilda Swinton… Like her on not, but you can't deny that she is one of a kind, completely mesmerizing.
One more thing, I I just have to have an eye shadow which is called Valhalla, although shimmering pink is not the shade it'd pick for such name.
Eyes
Eye Paint, $25/£18.50
Porto Venere, Soft Pale Pink
Shimmer Eye Shadows, $25/£18
Valhalla, Soft shimmering pink peach
Duo Eye Shadows, $35/£25
St-Paul-De-Vence, shimmering nectarine
Lips
Lip Gloss, $26/ £19
Read More
NARS Laced With Edge makeup collection for Holiday 2014 is here, and this season the brand decorated the packaging  with a special ornament. Not only the packaging, but also Daria Strokous' face for the promo
There are six lip products, three glosses and three lipsticks which are almost matching. I love the crimson "duo", of course.
Lips
Hardwired Lipstick (/$26)
Adriatic, Glistening Soft Cream
Femme Fleur, Shimmering Brick Red with Gold Pearl
Deadly Catch, Crimson
Lip Gloss (/$26)
Soleil D'Orient, Shimmering Pink Champagne
Corsica, Shimmering Pink Raspberry
Burning Love, Bright Ruby with subtle shimmer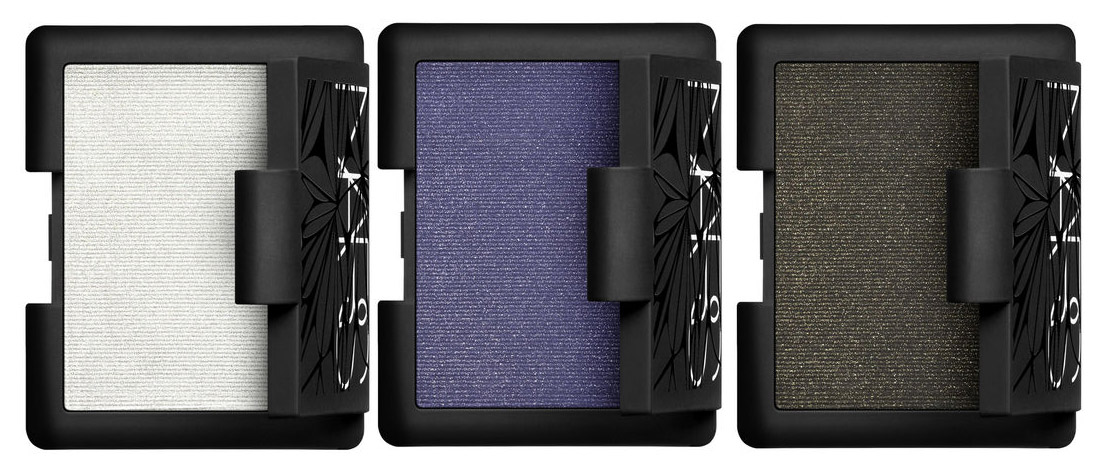 Three eye shadows.
Eyes
Hardwired Eyeshadow (/$26)
Read More
Brands are rocking this AW season with all the new lip products releases, I have chosen four very different variants  which are worth your attention.
Love a full-on statement matte lip?
Charlotte Tilbury Matte Revolution Lipstick ( £23) is your best friend then.
According to Charlotte, her new lipsticks, enriched with orchid extract, waxes and oils, don't dry the lips out, instead feel on like a balm,  and give a full on pigmented colour pay off. There are ten shades to choose from.
You can buy Charlotte Tilbury Beauty from Selfridges and Nordstorm
Want to conquer the World with colour?
NARS Audacious lipstick (£24/$32) is a product for you then.
The name speaks for itself. A gorgeous looking lipstick which  is "shamelessly seductive and feels like satin on the lips", if to believe a press release.  There are 40 shades to choose from for a
Read More
In the past I did the features about 5 Pink-ish and 5 Red-ish blushers but what about coral/orange/peach shades?
Summer is like the best season to pick up 5 colours coral/orange shades, right? So here we go…
YSL 4 Audacious Orange  (review and swatches)
It is my personal favourite true orange. It is like a sunshine in a jar, instantly brightens the face and I love the fact that you it doesn't have reddish/pinkish undertones, it is a true orange. The texture is cream-to-powder and blends nicely into the skin. Plus this also wins for the most luxurious packaging.
Buy it from Selfridges or SaksFifthAvenue.
Jouer Petal (review and swatches)
I have to admit that I did not like this cheeks and lips tint that much at first, but now I do. Although it is described as soft rose pink on the official website, I still decided to include it in this selection. Maybe because it's like a soft peachy pink to me. The texture is sheer and  not heavy.
Available from Cult Beauty.
BECCA Beach Tint in Grapefruit (review and swatches)
If you
Read More