NARS kills it when it comes to bright and vibrant colourful makeup! Just take a look at their Holiday 2013  collection. It's an eye candy. By the way, besides these items, there are a lot of makeup sets to choose from.
Cimenatic Lipsticks, £18.50/$26
Last Tango, dusty rose
Goodbye Emmanuelle, hot pink
Full Frontal, rose violet
Future Red, cherry
Short Circuit, fire coral
Day Dream, peachy pink
Exhibit A, matte
Read More
Another day, another Face Of The Day.
So what makeup is on my face today?
Face
I am wearing Clarins Extra-Comfort Foundation and Instant Concealer which I will definitely review in the future. But so far I really like both. This is a great foundation for dry skin, it gives a dewy finish and feels comfortable and non-drying. As for concealer, it doesn't feel heavy or cakey but, at the same time, gives a nice coverage.
I've added Benefit's High Beam for some glow and ArtDeco's Cream Rouge in Creamy Mauve for a
Read More
Today I've decided to do something a little bit different and I really hope that you will like it. I have noticed that several brands are bringing out new  eye makeup products for Fall 2013 and all the lines include silver and gold. A mini trend, if you wish?!
Maybe you are not ready to rock a metallic eye in Autumn but holidays are coming, so that may be a good time to play. Plus with the new formulas you can get both subtle wash of colour or full on foil like effect, whichever you prefer.
So here is what I've chosen:
1. NARS Cosmetics Eye Paint in
Read More
NARS Fall 2013 makeup collection is finally here. The are new products for eyes, lips and nails. Both bold shades for those who are not afraid to embrace the colour, and maybe  even re-create the promo image, and wearable shades like brown (for eyes) and pink (for lips) for those who like to keep it natural.
It's only the matter of your preferences.
The products are:
Lips
Pure Matte Lipstick, £18.50/$26
Peloponnese, ginger pink
La Paz, orchid
Velvet Matte Lip Pencil,  £17.50/$25
Paimpol, pink chiffon
Mysterious Red, crimson red
Eyes
Larger Than Life Long-Wear Eyeliner, £19/$24
Via De' Martelli, chocolate
Las Ramblas, yellow
Read More
Did  you get a chance to catch up on the looks from MET Gala 2013? It was interesting to see how celebs or, rather their MUAs and stylists, interpreted this topic.
I did post several looks on my Facebook already and also wanted to share the look that Jenn Streicher created for "my girl" Emily Blunt.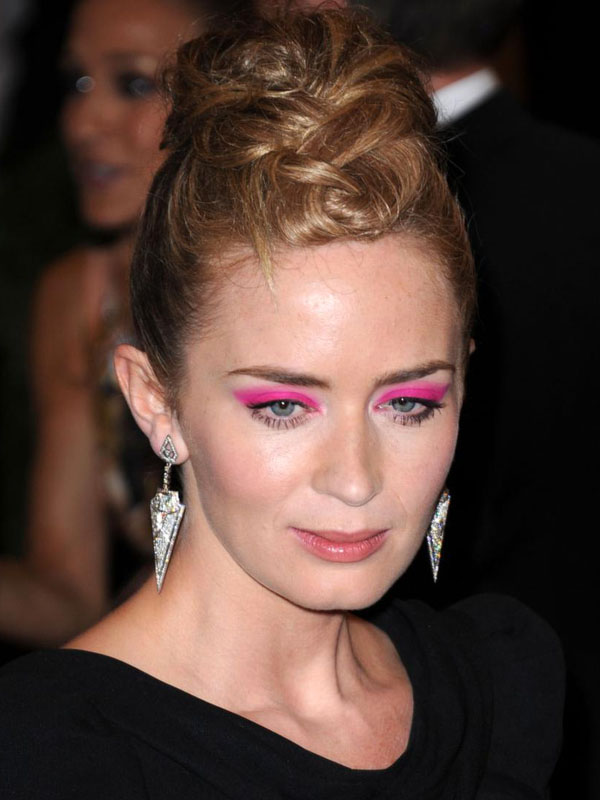 Here is what Jenn says about the look:
"It was Emily's idea to do pink! Her dress was black so we decided to bring out the theme of the gala by playing up her hair and
Read More