I used to be a bit obsessed with all the different nail polishes. All those out-of-this-world stunning shades and innovative finishes  really rocked my world. Of course, I am no way even close to the  real nail polish fanatics, but I do have several shades of yellow, for example.
But recently something changed and I've been wearing classic colours all the time, think red/berry/plum.  I don't know why, but every time I paint my nails with green or brown, I'm not feeling it. It's been like this for about two months. Back to the basics?
The only shades that
Read More
I have already posted about some new seasonal  nail polish collections, see the preview of OPI's Spring 2013 nail polish collection and Deborah Lippmann, Essie, Illamasqua and Nails Inc and now it's time to see more!
And, can you guess what dominates Spring 2013 nail polish collections? Pastel candy shades, shocker, right?
But take a look yourself!
butter LONDON Sweetie Shop
Cuppa, toasted opaque tan crème
Fever, opaque icy mint crème
Fruit Machine, opaque punchy carnation crème
Jasper, opaque bright pastel yellow crème
Kerfuffle, opaque pink coral crème
Molly Coddled, opaque lavender orchid crème
Zoya Lovely 
 Piaf (ZP652) – Fresh Forsythia Yellow Metallic  (Originally designed for Fashion Designer Zang Toi)
GeiGei (ZP651) – Blushing Cherry Blossom Pink Metallic (Originally designed for
Read More
So what is happening in the nail polish world? Here is the update about the most interesting new launches.
butter LONDON released a trio of the nail polishes  in The Full Monty, Diamond Geezer and The Old Bill to celebrate the 2012 London Olympics.
This limited edition set is already out and retails for £30/$36
Orly released a new  Electronica collection which includes four shades:
Preamp, glitzy girly pink
Decoded, an edgy slate grey
Shockwave, stunning royal blue
Synchro, duo-chrome polish in a
Read More
So here is one more nail polish from Orly Mineral FX collection which is called Rock-It and it is probably my favourite shade.
It is a gorgeous reddish fuchsia , the  shade is not very accurate on the photo actually, it is cooler  in real life.
The nail polish goes on very smoothly and gives an opaque coverage with two-three coats. The colour is very wearable and would suit pretty much everyone. I also love the fact that it is very dimensional and shimmering but dos not contain chunky glitter.
I love wearing Rock-It and would recommend taking a look at it!I also like the fact that it's not  so hard to remove…
Read More
Here is one more shade from the Orly's Mineral FX collection which is called Stone Cold.
When I first saw in in the bottle it looked like a shimmering blue metallic  but I was wrong. On the nails, the shade is much more complex than that.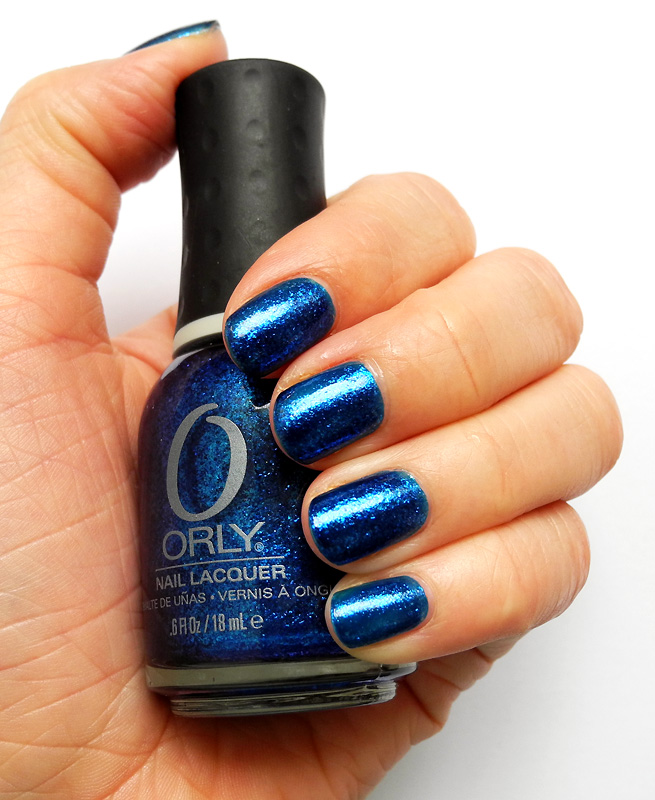 It is a navy blue with flecks of blue glitter which looks incredibly beautiful, especially in the sun.   It gives some texture and a almost a '3-d effect'  but it is rather smooth on the nails.
I'd say it is a  unique shade (at least in my collection) and a must have for those who love blue with special effects!
As for the coverage, it may need three coats to insure that you get a deep and even blue tone. But since I use Seche products it did not take forever to dry. The only thing that I don't like is that it's a bit painful to take it off.
Stone Cold a truly gorgeous colour and I'd say that Mineral FX is one of the best collections from Orly up to date…
I have also written about their Rock The World nail lacquer already.
Read More