I have written so many Christmas gift guides, but if you still haven't sorted out your presents, here are some absolutely adorable Pupa Cat sets.
They have all kinds of variations that also come in different packaging: black, red, white and gold.  And I am sure we all know at least someone who loves beauty and kittens. I am sure they'd be delighted to find these under the Christmas tree.
Hurry up, there are very few still available from Escentual. But if they are sold out by the time you see this features, just search for the retailers that stock Pupa. I found them to
Read More
Do you remember that cat lipsticks from Paul & Joe back from 2010? Since that collection the brand brought out some cat inspired products from time to time. Like this Autumn they are brining out some kitty products, too.
Here is a preview of the coolest lipstick, with kitten packaging and a kitty on top. Can there be such thing as too many cats? And that eye shadows with the grumpy cat? Now, that is cool.
Here is also one shade of blush with the same design, as the lipstick.
In general there are three variations of
Read More
This summer Paul & Joe offers pretty retro inspired makeup collection with beautiful colours and waterproof formulas, new makeup primer and a hair and body perfume.
The promo image makes me want to go on a holiday, it's perfect!
Eye Gloss & Lip Gloss Duo: Santa Monica (rose shades), Nice (purple and pink), Monaco (bronze and beige), Maui (nectarine and lemon), Bahamas (clear and coral).
Sounds like an awesome product to have for summer. There's nothing sexier than glossy lids, in my opinion.
Fragrance Hair & Body Mist, 50 ml
Top: Herbal Green/Citrus/Fruity – Lavender, Orange, Bergamot, Lemon
Middle: Marine/Floral – Neroli, Petit Grain, Rose
Read More
Here is a sneak preview of Paul & Joe Spring 2013.
There will be three eye shadows, three lipsticks and several blusher refills.  As usual, all the packaging is super cute with elephants, kittens and horses.
What is not to like?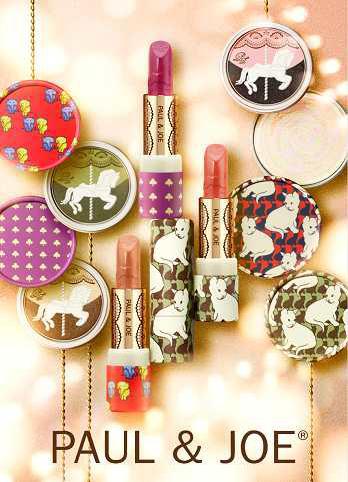 I will share more details when I get them.
Read More
It's Saturday which means that I finally have some time to read some blogs/magazines/ books and clean my place relax!
Here are a few new launches that caught my attention…
First of all, Dior's Christmas. I really love the retro looking lipsticks and nail polishes. I love the Diva Diorific (nail polish and lipstick will be sold separately). And there is also a palette, among other things, which you can see here.
Besides The Classics makeup collection for ArtDeco, there is a  a Fall Favourites makeup collection. My friend Magi has all the deatils.
Magi also has the details about the MAC
Read More