If you are a regular reader, you probably know that I am not a big fan of scrubs with very small particles and love my body scrubs to be really exfoliating but gentle.
Philosophy Pure Grace Hot Salt Scrub is the kind of scrub that I like.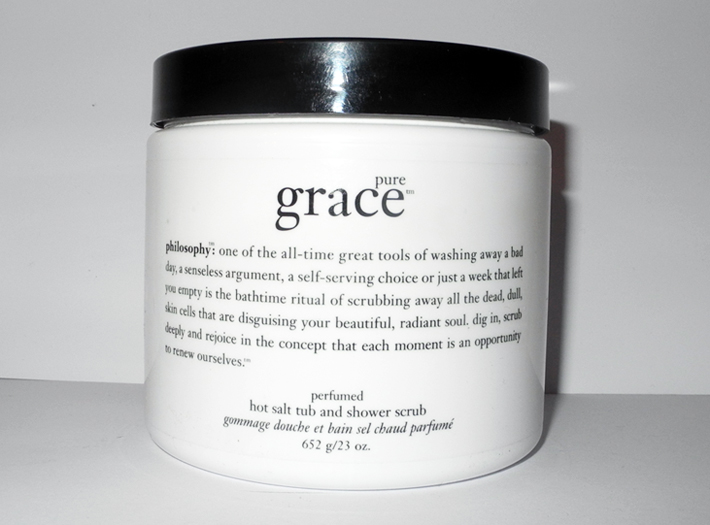 The coolest thing about this scrub is that it warms up when you rub it in your (dry) skin for one-two minutes, as the  brand suggests.
It leaves the skin silky and smooth – exactly what  we want from a scrub. I would say that it does help battle the dryness on knees and elbows, too.  I also find that my creams absorb  better  after this scrub.
The scent is not overwhelming and is not intense, so
Read More
Now the new Philosophy products make me think of the beautiful spring , they look so juicy, bright and vibrant and can imagine how they smell. Probably very tasty and simply divine.
Just look at the names: Juicy Pomegranate, Blushing Pink Grapefruit,Tantalizing Tangerine, Luscious Lime,French Vanilla Bean Ice Cream, Chewy Chocolate Lollipop, Bubble Gum Lollipop, Sugar Chick, Orange Jelly Bean and I could go on…
I'd probably get a bottle of each but if I had to choose I'd go for these amazing sets:
oh lolli lollipop
bubble gum, chewy chocolate and fresh and fruity shower gels
"go ahead, be a sucker for bubble gum lollipop, chewy chocolate lollipop and fresh and fruity lollipop shampoo, shower gel & bubble baths."
spring has sprung
Read More
It's almost November so it's time to think about Christmas gifts! Here are some of the sets from Lush and Philosophy that are already available. There are so many other sets by these brands and here are just those that I've chosen.
12 Days of Christmas, £34 95
A gift to help you celebrate right up until the Epiphany. It's a large gift box for bathers, with twelve bath products to help them celebrate bathtime as the Lords are a-leaping, geese a-laying and the maids a-soya milking. For the twelve days of Christmas, my true Lush gives to me… Snow Globe and Mandarin's Tea Party soaps; five Bath Ballistics with So White, Cinders, Satsumo Santa, The Böög and Winter Bath; you also get sweetly spicy Gingerbread House, our fabulously floral Christmas Eve, softening Bearded Lady and creamy Candy Cane Bubble Bars.
Christmas Candy Box, £19.95
This box of treats is perfect for anyone with a sweet tooth. We've put in our most alluring candy products with the ever-popular Snow Fairy shower gel, Rock Star and Honey I Washed the Kids soap and Candy Cane Bubble Bar; and joining that foursome, we've added Bubblegum lip scrub and our new Snow Fairy lip tint to keep your lips sweet.
Chillin' With My Gnomeys, £6.50
A perfect little giftbox for gnomes, elves and everything in between. Inside, there are two citrusy products for the bath or shower, with refreshingly vibrant Whoosh shower jelly and our new zesty Snow Globe soap for hands and bodies. You won't feel the chill of winter with this gift in your bathroom.
Winter Garden, £29 95
Lathering up in a Winter Garden might sound like an outrageous and cold idea, but it's designed to polish up your body in the shower, so that you're in good shape when winter settles into the garden and everywhere else.
Wonderful Christmas Time, £99.50
A wonderful Christmas time is sure to be had by all who are
Read More
Have you see the new Fall Philosophy collection? I've chosen some items that I personally would like to try. Some of theme are Halloween themed.
I Love Candy Corn™ Shampoo, Shower Gel & Bubble Bath
This oh-so-sweet candy corn scented shampoo, shower gel, and bubble bath is back for more fall bathtime fun. The moisturizing formula provides a rich, foaming lather to gently cleanse and condition the skin and hair.
Trick or Treat Lip Shine Duo
These emollient-rich lip treats melt onto lips for a sheer, beautiful shine. Each delivers a calorie-free reminder of the season's most loved flavors.
0.5 oz Pumpkin Spice lip shine
0.5 oz Caramel Apple lip shine
Bobbing For Apples Set
Bathtime is a barrel of fun with this trio of Shampoo, Shower Gel & Bubble Baths. Savor the green apple, red apple, and caramel apple scents as you lather from head to toe. These moisturizing formulas gently cleanse and condition skin and hair. Dive in!
6 oz Green Apple
6 oz Red
Read More
It is already cold and the lips are getting very dry and need extra care. So how do you take care of your lips in cold windy weather?  In this post I will tell you about some scrubs, lip balms and some of my tips.
I would really love to try the lip scrub by Sara Happ which is described as brown sugar lip scrub. Comforting, familiar, downright scrumptious. And quite, quite effective… naturally. Eliminates dry, flaky skin to leave lips ridiculously soft and supple. 30 ml / 1 US fl oz $24.00
or
Kiss Me Exfoliating Lip Scrub by Philosophy, $15
Enriched with natural butters and oils, Kiss Me Exfoliating Lip Scrub is formulated to help keep your lips in impeccable kissing condition. Ideal for renewing dry, flaky lips this easy to use treatment exfoliates dull, dry, flaky skin for super soft, super smooth lips in seconds.
To use: Rub a small amount on dry lips until smooth. Remove with a tissue or washcloth.
Of course you can check out scrubs by other brands but these 2 sound like amazing products to me. You can also try what I usually do.  Brown sugar+ honey+ olive oil = perfect lip scrub. Don't forget to use a good lip balm. I am loving
Read More