Being such a fan of REN's Omega 3 Optimum Skin Serum Oil, I've decided to buy more products from the brand a while ago, and since I've already used up some of them – it is time to share my impressions. And I will start with the Evercalm Gentle Cleansing Milk.
I love my luxury cleansing balms, but sometimes it is nice to use something simple but effective, like this cleanser.  It is a great product for a sensitive and delicate skin, and it is promised to leave skin calm and soothed. And I would agree.  I always remove my eye makeup with a separate product, so I can't make any comments about how good it is at dissolving the mascara or the eye liner but I liked it for removing the face products.
Simply
Read More
When it comes to skincare and body care, there are a lot of brands that I like, but there are four that I have been using religiously and loving for many years now, and I am talking about Clarins, Elemis, REN and Aromatherapy Associates.
It was hard to pick only one set from each but I've managed. Here are two sets for face and two for body.
Clarins Moisture Must-Haves, £35
HydraQuench Cream Normal to dry skin 50 ml
HydraQuench Intensive Serum Bi-Phase 15 ml
HydraQuench Cream-Mask 15 ml
Makeup bag
HydraQuench range is my favourite from Clarins and I have tried a lot of their products, and  it is the best time to stock up, and I always get one of their Christmas sets, great savings!
You can buy Clarins from: Escentual.com,  Nordstorm,  Sephora, Boots,  Bergdorf Goodman, Selfridges, Harrods
REN Instant Beauty Heroes, £50
REN is another brand that I love buying from during the holidays to save some money.
Glycolactic Radiance Renewal Mask 50ml "A potent exfoliating mask formulated to renew the complexion, dramatically improve skin tone and radiance and reduce the appearance of fine lines and wrinkles."
Keep Young and Beautiful Instant Firming Beauty Shot 30ml "A gel-serum that instantly firms, lifts and plumps the skin to leave it looking dramatically smoother, tighter and more youthful. A liquid matrix of Hyaluronans supercharges the skin with firming moisture and encourages elastin synthesis to firm and remodel the skin over time."
Flash Rinse 1 Minute Facial 75ml "A transforming treatment that instantly revitalises and visibly rejuvenates the skin. Formulated with potent water-activated Vitamin C it will neutralise urban grey in a flash, leaving skin looking firm and glowing with renewed health and radiance."
You can buy REN from:  Cult Beauty, Feel Unique, Sephora, Look Fantastic
Read More
It's time for monthly favourites! And this time I've decided to mention only those products that I have been really loving. Somehow I have re-discovered 17 Sheer Moisture Foundation which is now discontinued but which has been my base of choice lately, as it gives that beautiful light and glowing finish.
The other product  which is not shown is Garnier HandRepair Intensive Restoring Hand Cream because I have used it all up. And, just like the body cream, this one is brilliant.Works wonders on my very dry hands and feet, it improved the condition [of my skin] dramatically, moisturized and nourished.
Makeup
Clarins Joli Rouge Lipstick in 738 Royal Plum (review and lip swatches)
I have an old version of the lipstick but I will have a few samples of the new Joli Rouge to review and compare them for you. This is an amazing product! The sheer formula can be built up,  or worn as a barely-there stain.  And this the most beautiful dark plum, looks gorgeous on the lips, have been wearing it non-stop.
The only other makeup product is the new Rouge Bunny Rouge Naked Disguise Glide Concealer. And this, without a doubt, is now one of my favourite concealers ever. The texture is light  but at the same time it transforms the under eye area by brightening and covering the dark circles. It doesn't look or feel heavy and doesn't set into the fine lines. I like the brand's description "your skin but better", and I agree.
Skincare
REN Evercalm Gentle Cleansing Milk
I can't believe that I still
Read More
I can't believe that it's July already! June was a very difficult and busy month, and I am very happy that it's finally over!
I did not really have time or desire, to be honest, to experiment with makeup, but I did wear different lipsticks all the time. Since the drawer with my personal lip products is overflowing – I've made an effort to use them more often.
Makeup
Besides that, makeup-wise this month was all about the red nail polish. And my current favourite one is Max Factor Glossfinity  Nail Polish in 85 Cerise (here). It is  perfect long-lasting glossy orangey red. I promise to post the swatches soon, as I think everyone should pick up a bottle for summer.
Speaking of Max Factor, I am back to using their award-winning Masterpiece Transform High Impact Volumising Mascara (review). It is phenomenal, and I mean it – it gives show-stopping voluminous ultra-black lashes. Some of my girlfriends are now obsessed, too. And I will be buying a second tube soon.
I'm also back to using BECCA's Shimmering Skin Perfector in Pearl (review). The lack of
Read More
I have been travelling quite a lot lately just for the weekends And, although you still want to get everything you may need, taking full-sized products is not the best option.
This is why I've kept a lot of mini-sized bottles and sample sized tubes/pots to re-use them. Here is an overview of what I like taking with me for a weekend-away.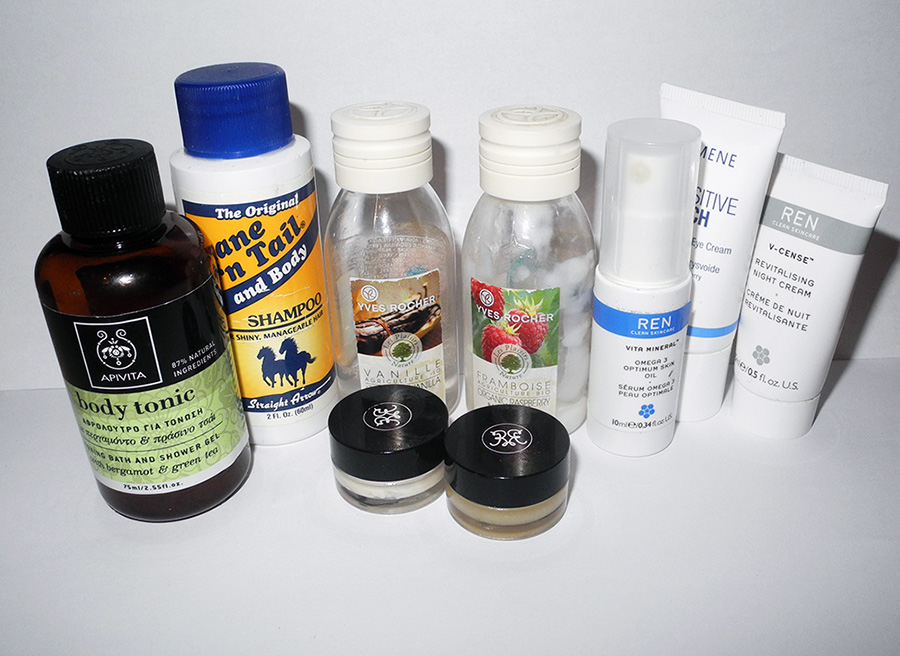 Cleansers:
1. Micellar Water (in Yves Rocher vanilla bottle) – this is Garnier's one to remove my makeup. It is gentle and effective.
2.  A good cleanser, Balance Me Cleanse and Smooth Face Balm  – my favourite one at the moment (in a small pot).
Face Creams:
3. Day cream is REN Evercalm Global Protection Day Cream which is in a small pot, next to the cleanser. I've bought it some time ago, and should definitely review it soon.
4. Eye cream is Lumene SENSITIVE Comforting Eye Cream. It is not bad but not enough for my very dry skin.
5. Of course, I had to take the mini size of  my Holy Grail oil from REN.  I have re-purchased it three times, and if I could have only one skincare product -this would be it.
6. The night cream is also from REN, and it
Read More