I have to say that I am still loving all of my favourites from April but here are some more products that I would like to add.  Four makeup items and three beauty.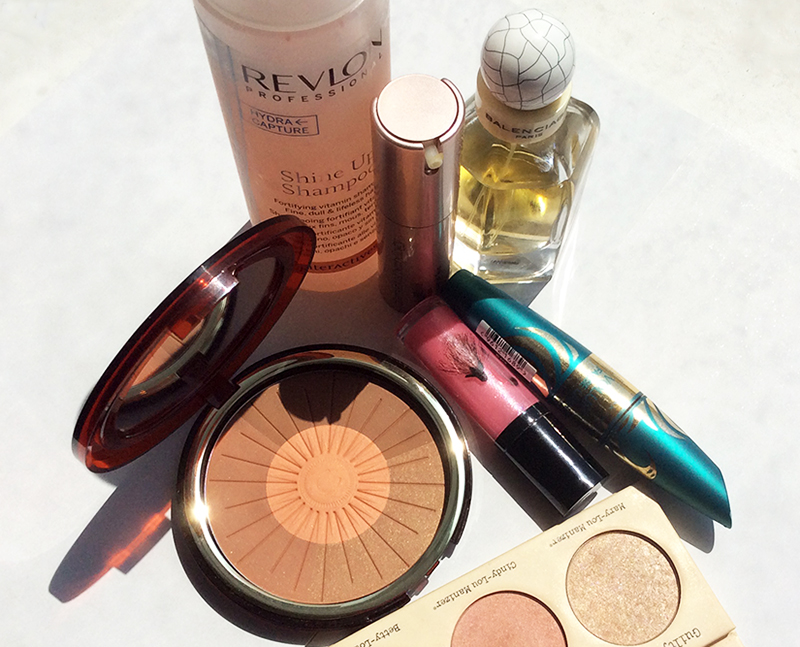 I did not expect this first product to make it to my favourites, as I have been neglecting all my bronzers for some time now, and I have tonnes. But I really like this new Clarins bronzer from their summer collection. It is called Bronzing & Blush Compact (full review coming up soon), as it adds warmth and that subtle sun-kissed effect to the face; you can use each shade separately or mix them all together. The other day when I was wearing it one of my  best male friends told me that whatever I have on my cheeks – it looks amazing, and makes me look beautiful, and it was this bronzer. Yes, some of my poor male friends know things like that.
Speaking of glow, I have started piling on using my Mary Lou Manizer from theBalm again. It gives the most gorgeous sheen to the face, and makes me look decent even when I barely sleep due to all the deadlines. Get it! Seriously, if you love a good highlighter, you need this in your life.
I have been using Max Factor Voluptuous False Lash Effect Mascara all
Read More
It seems like I did not write about red in quite some time… This is why today I want to share about my  top 3 red nail polishes. I love red nail polish so much that it is even my Twitter's header photo.
So what nail polishes are we talking about?
Marc Jacobs Nail Enamored Hi-Shine Nail Lacquer in Lola (swatch)
This is probably my all time favourite red! It is a hot tomato red which is opaque with only one layer, it is glossy and shiny and last pretty well on my nails. Whenever I am in doubt about my manicure shade – I go for this one. And how gorgeous is that bottle?
Revlon Nail Polish in Revlon Red (swatch)
It is a
Read More
I am a huge fan of vibrant fuchsia  lips and nails, and wear that combo a lot! In fact, I even posted a photo on my Instagram lately.
So I thought that today I'd show you some of my favourite affordable options, if you don't want to spend a fortune on beauty products.
For lips I'd recommend Revlon's Lip Butter in Sorbet (review and swatches) and Rimmel's Vinyl Gloss in Pin Up (review and swatches). Both are juicy and vibrant, sheer but bright glossy lip shades which are perfection for summer.
But if you want something more opaque or matte and more long-lasting, you may want to check these options from Bourjois and L'Oreal.
This weekend I was actually
Read More
Since yesterday I've featured some new eye products that are out for summer 2014, it is time for lip products. We've already previewed so many, but there are even more coming out our way.
Let's take a look:
Max Factor are bringing out new lush summery  shades of their Colour Elixir (I have reviewed nude shades here).  The price is £7.99 from here. Polished Fuchsia looks gorgeous!
Revlon are launching yet another cool lip product (I haven't tried it but love the way it looks & sounds) – Color Stay Moisture Stain which you can purchase from here for  $9.99.  Olivia is
Read More
I really love Revlon lip products, and finally got around posting about their ColorBurst Balm Stain. I wanted  010 Chérie since I first saw the promo photo of it and, finally, got it this December. And, here is  a review, at last…
ColorBurst Balm Stain is, as the name suggests, a creamy balm that feels nice and non-drying on the lips, gives a beautiful glossy finish, and fades to a light rosy stain after a while. Honestly, for the price, I can't think about anything that I dislike. Maybe only the minty scent, but it fades after some time.
As for the colour – Chérie is a
Read More