I love pink lipsticks, I really do. And I have quite a few, so I've decided to pick up five that I am loving at the moment to share with you!
Rimmel Colour Show Off Lipstick in Pink Gossip (full review and swatches)
I adore this lipstick line from Rimmel (and not only this one, I think they make the best affordable lipsticks).  It has a nice texture, beautiful flattering warm toned pink shade and a matte finish, which I personally don't find to be drying. In fact, I've used up half of this lipstick, if not more, and that says a lot. I only wish they had a different packaging but, I guess, most girls love pink…
Illamasqua Lipstick in Immodest (review and lip swatches)
Illamasqua do know how to make a lipstick that catches attention,  this bright, pigmented, matte pink will brighten up any makeup look.  Just make sure
Read More
I used to be a bit obsessed with all the different nail polishes. All those out-of-this-world stunning shades and innovative finishes  really rocked my world. Of course, I am no way even close to the  real nail polish fanatics, but I do have several shades of yellow, for example.
But recently something changed and I've been wearing classic colours all the time, think red/berry/plum.  I don't know why, but every time I paint my nails with green or brown, I'm not feeling it. It's been like this for about two months. Back to the basics?
The only shades that
Read More
Unlike my latest beauty purchases, this time it's a bit more fun. Unfortunately, I don't remember any prices since I've been getting a lot of products on that day,  but at least, you can see what I've got.
1. Toni & Guy Cleanse dry shampoo. I've finished my Klorane shampoo which was amazing, by the way, so thought I'd pick this one up to try.
2. Aussie Aussome Volume Shampoo. Believe it or not, but I have never tried Aussie products,  so decided to give it a go.
3. Rimmel Salon Pro Kate nail polish in 703 Rock 'n Roll. I wanted to get this for a long time for so many reasons. In fact, I am wearing it,
Read More
Although I do love my luxury products, this week I've been obsessed with two of my latest purchases from high street. The thing is that I did not even plan to get those, but saw them, liked the shades and had to pick them up.
My newest lip love is Bourjois Color Boost Glossy Finish Lipstick in 06 Plum Russian.
Such a gorgeous shade and finish, it looks very glossy and beautiful on; feels light and moisturizing. On the photo below  I am wearing it very lightly, you can get a  much more intense shade, which I love for evenings.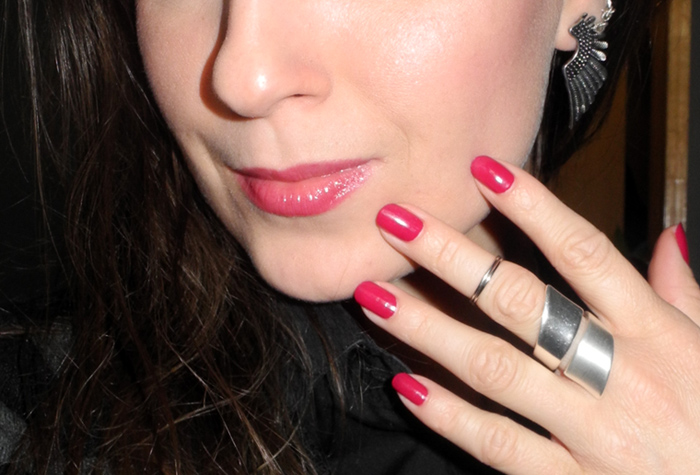 As for the nail polish, I am
Read More
Recently I was re-organizing my beauty products and realized that I have quite a few blue nail polishes. In fact, considering that I have around 100 in general, 14  is not a small number.
Actually I am not a collector [when it comes to lacquers] and try to make sure that I don't have a dupe before buying a new bottle and the photo below actually proves my point. Can you see that they all are very different?
So I have decided to show you my top 3:
Rimmel Lycra PRO Nail Polish in Blue Vogue
This is a gorgeous deep shimmering navy blue, such a chic and sophisticated shade, in my opinion.  I really love the formula which is
Read More