This month "Beauty Favourites" will be a little bit different, it will be more about the [makeup] products that I have been using on my face.
May was a very busy month for me, and I was always in a rush, so often I had to do my makeup on the go, so I had a makeup bag with the products always ready. The products have been more or less the same throughout the month, so let's take a look: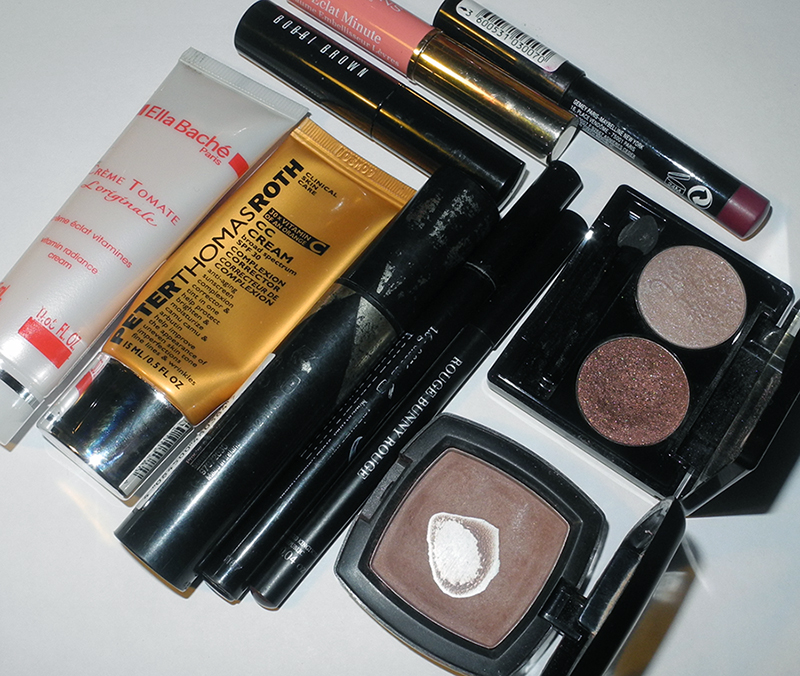 Face
Ella Bache Tomato Vitamin Radiance Cream (as seen on my Instagram)
I've bought it after someone highly recommended it to me, and so far I really love it, it really adds glow and radiance  to your complexion, even if you had less than 5 hours of sleep.
Peter Thomas Roth CC Cream Broad Spectrum SPF 30 Complexion Corrector (review)
This is an excellent product which combines great coverage and SPF factor but still feels light on the skin. One of my favourites for summer, the mini size is also great for carrying around.
NYX Blush in Taupe (review)
The photo speaks for itself. I am
Read More
If you  follow me on Instagram, you have already seen this photo of Rouge Bunny Rouge products that I was sent some time ago. And I want to start the series of reviews with the matte eye shadows, as the brand's eye shadows have a cult status already, and a lot of you often ask me about them.
I actually already have a shade in Blackpepper Jay, and here are:
SWEET DUST SERIEMA, "semi-opaque cool dusty mauve taupe"
BASHFUL FLAMINGO, "semi-opaque pale powder-pink, looking ultra natural and fresh on the eye"
Bashful Flamingo is a great under-the brow highlighter to make your eye brows more groomed and defined, it is also a great shade to be used all over the lid to even out the skin tone. It works as a perfect "base" for other shades.
Sweet Dust Seriema is a
Read More
Can you believe that it is MAY already? Where did 2015 go?  Maybe that is because I am crazy busy these days that I don't notice anything around me, who knows…
But back to April Beauty Favourites. I did not have that many makeup favourites, and did not want to mention the same products over, and over again – so here are 3 hero products that I have been using every single day when I did my makeup ( I was sick for a week in April which was horrible), and some new  beauty loves…
Photo is from my Instagram
The three makeup heroes I've mentioned are: Rouge Bunny Rouge Raven Glaze Lacquer Liner (review and swatches), Max Factor Glamour Extensions 3-in-1 Volumising Mascara (review),  Bobbi Brown Natural Brow Shaper & Hair Touch Up in Slate (review). I haven't been experimenting with eye makeup that much this month, and these are the products that just work. Eye brow gel to tint my eye brows and keep them in place, ultra black liner for that feline flick and mascara for thick and long lashes.
There are also three products that I've mentioned in my Spring Beauty Guide: Balance Me Radiance Rose Face Oil and Aromatherapy Associates Hydrating Rose Radiance Skin Serum for that
Read More
Recently several girlfriends asked me about  wearable/"beginners" red. So I thought I'd write about it here, as some of you may be interested in this topic, too.
Althought I personally love matte  full-on red, I perfectly understand that not everyone is ready for it. This is why sheer formulas may be a good option to begin with.
I have chosen three that I love. And these all are high-end. Why? Well, if you buy a "cheap" red, you will always find an excuse not to wear it. But if you invest in a luxury lipstick – you'd have to. And, let's face it, who doesn't love beautiful things?
Clarins Instant Light Lip Balm Perfector 05 Red (review and swatches)
This is the
Read More
Rouge Bunny Rouge re-launched all their lipsticks and I have already showed a preview here but it's time to take a closer look.
I was  sent all five shades from the Sheer Lipsticks Succulence of Dew range, and here they are.
It is interesting how I was recently reading about a "lipstick wardrobe" that  every girl should have, and I think that RBR nailed it with their shade selection. Here we go…
 MUSINGS – "Wet effect, medium transparency, natural pinky rose"
This is a such a pretty and fresh every day colour.  It is a perfect balance of nude, peach and pink  – would go with just any makeup look.
PERFUME OF HIS GAZE - "Wet effect, medium transparency, cool toned rose taupe"
Surprisingly this was my most worn shade.  It will be a
Read More