Rouge Bunny Rouge launched a new product last week - Magnitude Mascara Ubiquitous (€29) in Titanian (luminous black) & Almandine (luminous brown).
It is described as an  all-rounder for otherworldly, luminous lashes.
"The formula includes Silk Protein that ensures wonderful flexibility and natural feel in wear while it restructures and protects the lashes.
In combination with the three natural compounds Paraffin Wax, Carnauba Wax and
Read More
Last month I've shared my top 5 picks from Illamasqua and this month I want to share the products from Rouge Bunny Rouge that I personally love the most.
As you can imagine, it was very hard but here is what I've chosen.
Tinted Moisturiser Sketches on Water
This one was easy, it is probably my favourite base ever! And there are so many reasons for that: the texture is very light and it looks like a second skin. It gives a light coverage and doesn't enhance any dry parches on my face even during the winter. You can read more details about it here.
Original Skin Blush For Love of Roses in Florita
Yes, I have included a powder blush and not cream or liquid, it's probably a shocker for regular readers. This is probably my favourite powder blusher out of all that I have and I reach for it a lot. The colour is perfection, the texture and finish are beautiful, the blush blends nicely into the skin and stays on pretty well. See my full review.
Kiss Elixir
If I had to pick my
Read More
I really wanted to try the newest Rouge Bunny Rouge Time Defying Foundation Skin Sanctuary on a more mature skin, as well as on myself  but, unfortunately,  did not get a chance to do so yet.
But since I have promised a review to several people quite a long time ago, I thought I'd share anyway…
I'd say that this foundation gives a medium coverage and evens out the skin tone pretty well, without feeling heavy. I have tried several  application methods and liked really working it into the skin with Sigma's brushes the best. That way it really blends in and gives a natural looking effect, so that people don't really see that you are wearing a foundation.
As for the finish, it is not dewy but not matte. It doesn't make my skin glow, like some light reflective foundations, but at the same time doesn't make the skin look flat and dull. It is probably the effect that most women desire for their every day look.
It is promised to work for all skin types and it does work for my very dry skin tone but I have to prep the skin properly. However, if you have normal skin – it should work really well for you! I'd assume the same for the girls with oily skin.
Skin Sanctuary (love this name a lot) should  diminish the natural signs of aging that appear with mature skin and help to prevent and protect younger complexions.
Key Ingredients:
 Detoxyl, a natural complex derived from Shea Butter,  protects, detoxifies and calms, offering skin sanctuary from ravaging free radicals and urban pollutants.
 Ceramide III & IV – works to erase fine lines, deeply moisturises and monitors the skin's dehydration process, rejuvenates the skin.
Extracts of Karitè Butter Seed  - nourishes and softens.
This time there are four shades available with one being suitable for deeper skin tone:
BARLEY CREAM, Medium honeyed beige
LINEN CREAM, Pale milky beige
QUINOA CREAM, Pale pinkish beige
WHEAT CREAM, Medium tawny beige
The price is €48.50 for 30 ml/ 1.01 fl oz
Although my personal love is Rouge Bunny Rouge's Tinted Moisturiser Sketches on Water, this is a great foundation and will suit a lot of women.
Read More
I have shared my opinion about the Rouge Bunny Rouge fragrance collection and I have great news! The brand just added a new  scent to the line - Incantation.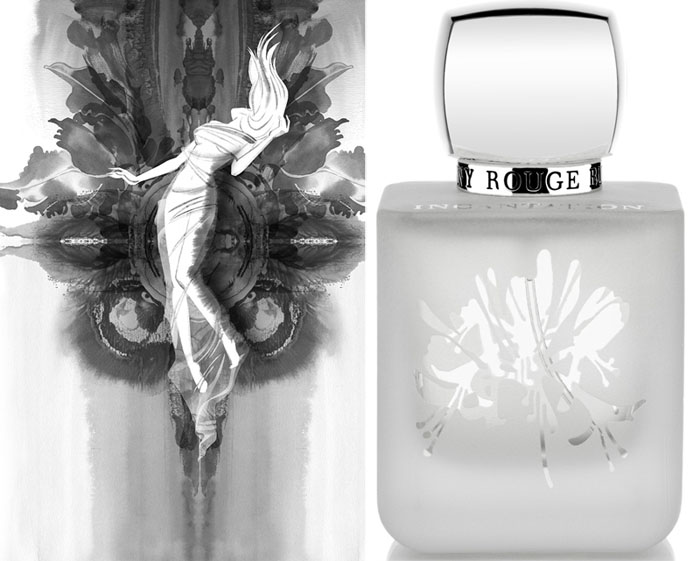 Here is the description:
"This darkly divine fragrant enchantress strikes a soothing yet arresting beat on the skin. In synchronised elation hurtle trailing vines of blackcurrant, mint and spices instantly inveigle. Voluminous and bitter-green fig-leaf-fans ignite the air with scented swathes of rich black fruits. While the silk and sylvan aroma of otherworldly rose in
Read More
Today I opted for a very simple and minimal makeup, both in terms of colours and the quantity of products.  Today it's all about work and I am not going out anywhere afterwards, so  I was not in the mood for any experiments, and , quite frankly, did not have time.
Face
I've used Rouge Bunny Rouge Home Time Defying Foundation Skin Sanctuary which I promise to review soon. I totally forgot that I had the samples of it, the post is already in the process. I then added some Benefit's Dandelion  to brighten up the complexion  and BECCA's Beach Tint in Raspberry as a pop of colour on the cheeks and on top of the lip balm.
 Eyes
I have used Benefit's powder eye shadows in Leggy and Dandy Brandy which are very soft and smooth, and blend beautifully. Lighter shade all over the lead and darker shade for definition. I have also lined the eyes with a black (and not brown, shocker!)  Clarins Crayon Khol, smudged it
Read More