It's monthly favourites time!
Makeup
This month it was all about beautiful  skin for me. The mix of Elemis Pro-Radiance Illuminating Flash Balm (review) and Clarins HydraQuench Tinted Moisturizer  (review and swatches) was my dream combo. It made the skin smooth, radiant and youthful. And I mean it. I guess the fact that recently several (!) people  thought that I am 19-20 speaks for itself. Plus you could definitely see the "real skin" underneath, no cakey thick masks which are even worse than bad skin tone itself, in my opinion.
Since I wanted to keep things on the light-to-medium side -YSL Touche Eclat  (review and swatches) was my best friend, as well.  For me it is a perfect light reflecting product for under the eye area, you get great, long-lasting results, also Touche Eclat doesn't enhance the under eye lines.
August was definitely the month of
Read More
It's been a while since I did a post about brushes…  So, I think, it's time a for a little update. I've decided to show you my most used face brushes whether it's on myself or when I am doing someone's makeup.
There are 6 that I absolutely have to have.
Let's take a look:
Rouge Bunny Rouge Face Contour Brush 012 (Review)
This is my newest brush, and  my favourite for contouring. I have quite a few which I've collected over the years but they all are forgotten now, since I have this one. It has a perfect shape that goes right under the cheekbones. The bristles are firm but soft, which makes it a perfect contouring brush.
Can be purchased from Beauty Bay and Beauty Habit.
Japonesque 924 Travel Blush Brush (review)
Japonesque  rule the brush world, they are among the best. And their 924 Blush Brush is my favourite face brush that I own from them. It feels incredibly nice and soft on the skin and blends the product nicely. This is my blush brush of choice but I often use it for powder, too, as I am not a big fan of big powder brushes.
Daniel Sandler Blusher Brush (mentioned here)
Although
Read More
This month there were quite a few  beauty products that I really loved. Which ones?
  Skincare
Elemis Pro-Collagen Cleansing Balm Review (review)
It is such an ah-mazing cleanser, feels creamy and lush on the skin, smells really nice, and leaves the skin soft and smooth. It can be also used as a face mask. What else could you ask for?
Elemis Exotic Cream Moisturuzing  Mask
This is one of my favourite face masks ever, so I am not sure why I still did not write a proper review about it, will do soon. As the name suggests, it moisturises and soothes the skin. Whenever I am stressed out, don't get enough of sleep and work-work-work, this is the mask that helps my skin to look and feel decent.
You can buy Elemis from Feel Unique.
Ole Henriksen Sheer Transformation Creme (review)
I wrote a detailed review about this cream last week actually, so you can take a look. But in a nutshell: it is a lightweight but hydrating cream that also helps with discolouration. It retails for $40 from Sephora and £47 from Feel Unique.
Makeup
Laura Mercier Bonne Mine palette (review and swatches)
Want to have two
Read More
Regular readers know that I am not a big powder user ( I have a lot of different powders in my kit; but this is the only one that I use on myself). But even I, with my very dry skin, like some powder on a hot and humid day. To a)make my makeup last longer b)mattify my T-zone a bit.
This is why today I want to tell you about my personal favourite powder which is Rouge Bunny Rouge Flawless Face Powder Precious Velvet. 
I've had it for 2 years now, so I am not sure why it took me so long to write about it…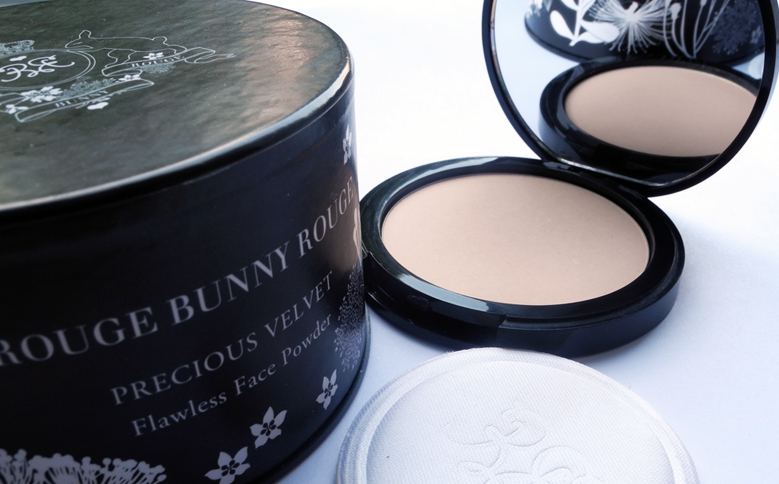 Why do I like it?
It doesn't enhance the dry patches on the skin that I may have and doesn't dry out  my skin.
I don't feel this powder on my face, it is very lightweight.
The brand says that it melds with the skin, and I totally agree.  It is not visible at all. You just get a perfected and flawless finish.
I like the effect Precious Velvet gives, it mattifyes  but doesn't  make your face look  flat and life-less, you skin shows through.
For me personally, the effect lasts all day, but if you  very have oily skin, you may need a special matte powders. I haven't tried it on anyone with such skintype so can't make any comments. But on girls with normal skin  it worked amazing, as well.
As for the main ingredients, Rouge Bunny Rouge list the following: "Papaya Fruit Extract as a natural "face lift" and skin softener, plus Hyssop Extract with soothing properties. Rice Powder imparts a perfectly natural, non-shiny finish. "
All
Read More
Although  we all are discussing Autumn collections  already, let's not forget that it is still Summer…
To remind us of that Rouge Bunny Rouge created a new look, which is the first part of their new  trilogy- Under Good Omens.
This look is called Chance, it "celebrates the concept of a fortunate coincidence", and it is all about the bronze and blue shades, signature Summer colours.
Here is how you can re-create it:
Complexion
"A combination of skincare and make-up base, the Original Skin Primer GENESIS will help you maintain a beautifully flawless skin throughout the day by smoothing the appearance of your skin, evening out your skin tone, minimizing the look of pores and increasing your foundation's longevity.
Invisible and impalpable, the Tinted Moisturiser SKETCHES ON WATER will even out the skin tone naturally. Add touches of the Bronzing Glow Powder AS IF IT WERE SUMMER STILL... to look kissed by sunbeams.
Hide imperfections by applying  Luminous Skin Wand FINE-SPUN LIGHT or Glide Concealer NAKED DISGUISE and smoothing it on with great care.
Using a tiny amount of  Highlighting Liquid SEAS OF ILLUMINATION on your cupid's bow and in the corners of your eyes, draw the light to your lips and eyes.
For a more intense glow, blend some of Highlighting Liquid SEAS OF ILLUMINATION with Tinted Moisturiser SKETCHES ON WATER and apply to the top of your cheekbones, to the bridge of your nose, and to the centre of your chin.
With the light, creme-to-powder formula of our Blush Wand CHEEKS IN BLOOM it's easy to create a fresh, transparent colour. We suggest the fresh, cool rose petal pink 'Vermeer'.
Eyes
Read More