Since I've just posted about the new eye brow gels, it seems like a perfect time to review the newest release from Rouge Bunny Rouge – their new eye brow products. I have actually already induced one of them in my July Monthly favourites. The brand does not bring out that many products so when they do – it is most likely something awesome. And what about these products?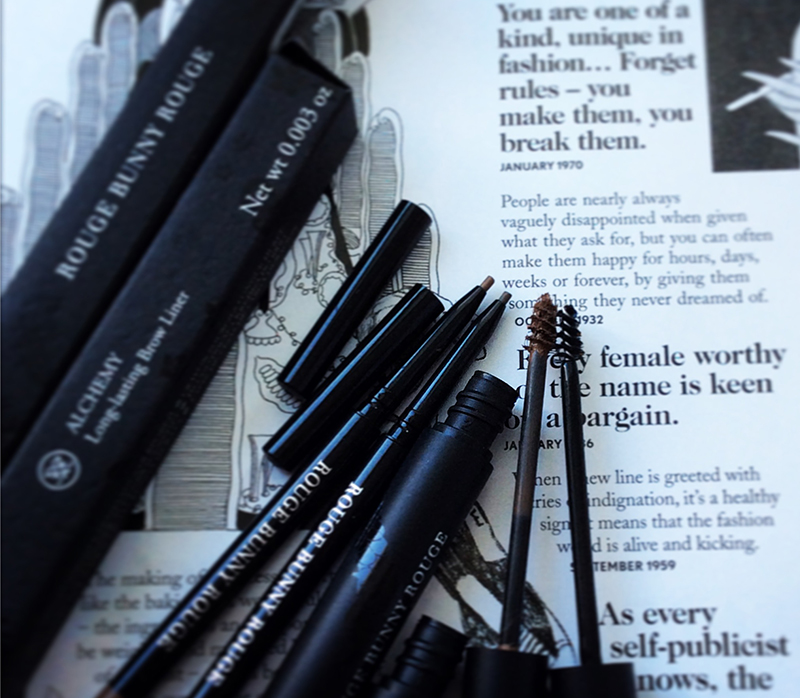 Long-lasting Brow Liner ALCHEMY, €26
Available in two shades:
 ANTIMONY, dark chestnut. Ideal neutral shade for dark brown and black natural brow colour.
TRONA, light hazelnut. Ideal neutral shade for almost any natural brow colour.
It was actually Antimony shades that was in my monthly favourites, and it is brilliant,  it is not  too cool or too warm,  it is also dark enough to add some definition but not too dark, just spot-on.
But it is the formula and the shape of the pencil that I love! As always, the design is exquisite,   this pencil comes in a slick black packaging. And the pencil itself is incredibly thin which allows a very precise application, you can draw in individual hairs and achieve really natural results. This is probably not the on-the-go product but it is
Read More
I have to say that I am loving exactly the same beauty and makeup products that I have been loving in June, I should only add a few extras.  If you can still get those Clarins eye shadows and bronzer – do it! I use both almost every single day, and don't want anything else. In fact, two of my girlfriends bought them after they've tried mine and got obsessed, as well.
The love for coffee body scrub, Color Wow hair Shellac and the bronzing drops is still going strong, too.
But here are the products that I would like to add to the list of favourites.
Makeup
L'Oreal Glam Shine in Dazzle 201 Sparkle Shower (review and lip swatches)
It seems like this was the only lip product I have been loving this month besides the lip balm. I've bought this gloss last July and almost used it up. It smells delicious, feels nice on the lips and looks ridiculously pretty with that multi-dimensional glitter effect. Can't get enough of it. And it is cheap, too.
Rouge Bunny Rouge Long-lasting Brow Liner ALCHEMY in Antimony 088
Rouge Bunny Rouge finally launched their eye brow collection which consists of four products: two eye brow pencils and two eye brow gels. I will write a detailed review with swatches soon but today I want to tell you about the Antimony eye brow pencil which is slim  and allows incredible precision. The shade is not warm which is perfect and the formula is soft but not smudgy. It was worth the wait!
Skincare
Garnier SkinActive Oil-Infused Micellar Cleansing Water
I've used up several bottles of the original Garnier micellar water and finally bought this one in July, and I am loving it. It cleanses the skin really well, without leaving an oily residue.  I also find
Read More
It is June on the calendar! Can you actually believe it? I thought is would be a good idea to look back, and see what posts were the most popular in the Spring months. So here are top 10, according to the analytics. And I was surprised to see some of them here but it is always interesting to see what people are looking for.
More features:
Read More
I have to say that I am still loving all of my favourites from April but here are some more products that I would like to add.  Four makeup items and three beauty.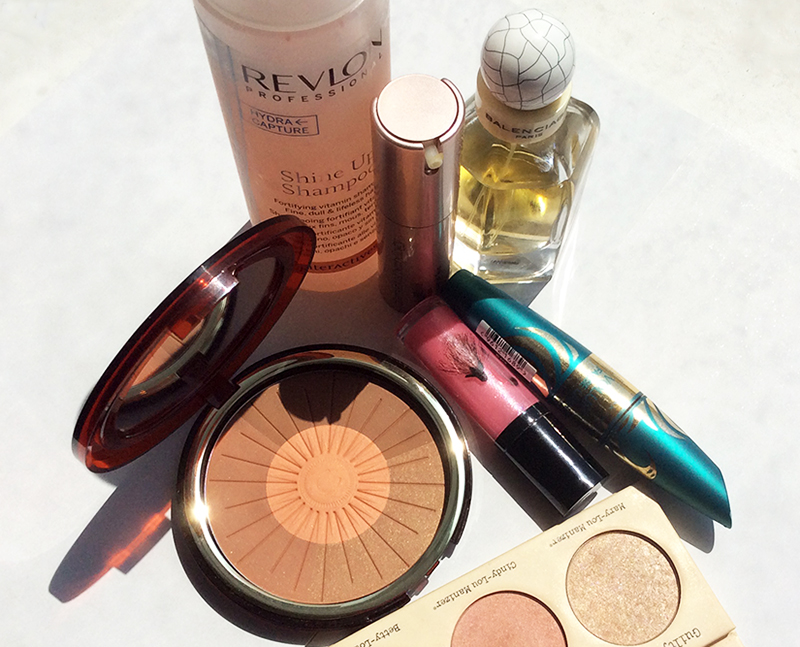 I did not expect this first product to make it to my favourites, as I have been neglecting all my bronzers for some time now, and I have tonnes. But I really like this new Clarins bronzer from their summer collection. It is called Bronzing & Blush Compact (full review coming up soon), as it adds warmth and that subtle sun-kissed effect to the face; you can use each shade separately or mix them all together. The other day when I was wearing it one of my  best male friends told me that whatever I have on my cheeks – it looks amazing, and makes me look beautiful, and it was this bronzer. Yes, some of my poor male friends know things like that.
Speaking of glow, I have started piling on using my Mary Lou Manizer from theBalm again. It gives the most gorgeous sheen to the face, and makes me look decent even when I barely sleep due to all the deadlines. Get it! Seriously, if you love a good highlighter, you need this in your life.
I have been using Max Factor Voluptuous False Lash Effect Mascara all
Read More
As weird, as it sounds I don't really care about dark under eye circles or bags that much. Although I understand the corrector-concealer-powder concept for the under eye area, that is something you'd almost never see me doing.  In fact YSL's Touche Elcat is the only product I have ever used up which I am using under the eyes.
All I care about is a light coverage and some light reflection.  This is obviously, my personal preference, and I do use a lot of products when I am doing someone else's makeup.
This is why I am excited to share about one of my favourite Rouge Bunny Rouge products.  Glide Concealer NAKED DISGUISE which is described as "bare skin but better". And that is exactly that!
This is my favourite under eye product, ever.  It feels really light on the skin and gives that very natural light-to-medium coverage, and you can still see the texture of the skin. It  is enough to make you look fresher and
Read More