Regular readers know that I am not a big powder user ( I have a lot of different powders in my kit; but this is the only one that I use on myself). But even I, with my very dry skin, like some powder on a hot and humid day. To a)make my makeup last longer b)mattify my T-zone a bit.
This is why today I want to tell you about my personal favourite powder which is Rouge Bunny Rouge Flawless Face Powder Precious Velvet. 
I've had it for 2 years now, so I am not sure why it took me so long to write about it…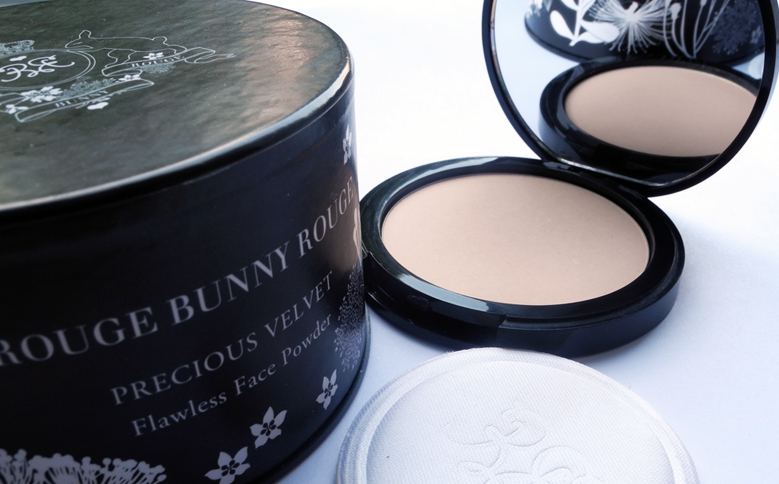 Why do I like it?
It doesn't enhance the dry patches on the skin that I may have and doesn't dry out  my skin.
I don't feel this powder on my face, it is very lightweight.
The brand says that it melds with the skin, and I totally agree.  It is not visible at all. You just get a perfected and flawless finish.
I like the effect Precious Velvet gives, it mattifyes  but doesn't  make your face look  flat and life-less, you skin shows through.
For me personally, the effect lasts all day, but if you  very have oily skin, you may need a special matte powders. I haven't tried it on anyone with such skintype so can't make any comments. But on girls with normal skin  it worked amazing, as well.
As for the main ingredients, Rouge Bunny Rouge list the following: "Papaya Fruit Extract as a natural "face lift" and skin softener, plus Hyssop Extract with soothing properties. Rice Powder imparts a perfectly natural, non-shiny finish. "
All
Read More
Although  we all are discussing Autumn collections  already, let's not forget that it is still Summer…
To remind us of that Rouge Bunny Rouge created a new look, which is the first part of their new  trilogy- Under Good Omens.
This look is called Chance, it "celebrates the concept of a fortunate coincidence", and it is all about the bronze and blue shades, signature Summer colours.
Here is how you can re-create it:
Complexion
"A combination of skincare and make-up base, the Original Skin Primer GENESIS will help you maintain a beautifully flawless skin throughout the day by smoothing the appearance of your skin, evening out your skin tone, minimizing the look of pores and increasing your foundation's longevity.
Invisible and impalpable, the Tinted Moisturiser SKETCHES ON WATER will even out the skin tone naturally. Add touches of the Bronzing Glow Powder AS IF IT WERE SUMMER STILL... to look kissed by sunbeams.
Hide imperfections by applying  Luminous Skin Wand FINE-SPUN LIGHT or Glide Concealer NAKED DISGUISE and smoothing it on with great care.
Using a tiny amount of  Highlighting Liquid SEAS OF ILLUMINATION on your cupid's bow and in the corners of your eyes, draw the light to your lips and eyes.
For a more intense glow, blend some of Highlighting Liquid SEAS OF ILLUMINATION with Tinted Moisturiser SKETCHES ON WATER and apply to the top of your cheekbones, to the bridge of your nose, and to the centre of your chin.
With the light, creme-to-powder formula of our Blush Wand CHEEKS IN BLOOM it's easy to create a fresh, transparent colour. We suggest the fresh, cool rose petal pink 'Vermeer'.
Eyes
Read More
It seems like it's now a tradition to show you  what beauty and makeup products I take with me when I am away, just like in this post. So, since I am currently visiting my family, here is a quick update on what products I took with me.
To tell the truth, I barely wear any makeup these days but I did take quite a few products (and a lot of brushes) since people always ask me for a makeover.
I am very happy with the skincare that I've packed with me, including a lot of mini bottles which I am currently testing.  I only wish I took more than three nail polishes, as my 5-years-old-cousin loves to borrow them
Speaking of my cousin, she insisted on inspecting my "treasures" as she described my makeup bag… When she saw the red lipstick I had,  she told me that she had to put it on me, since it'd make me look gorgeous. What can I say? She does know beauty.
Read More
I already reviewed one shade of Rouge Bunny Rouge Silk Aether eye shadows, and today I want to tell you about the other one, which was easily my eye shadow of the month, as I've already said it my monthly favourites.
It is called  Atlas Swallowtail which is  a "satin wash of nude taupe with pewter reflections; buildable to a darker, more opaque and metallic greyish hue." And it is the perfect taupe, it gives enough of definition but still looks subtle. I can't think of anyone who would look bad with such shade on the lids.
I agree with the brand that their eye shadows have a " semi-matte, luminous colour", the texture is silky and smooth. The eye shadows look absolutely beautiful when applied, you don't even feel them on the skin, as  the texture is so lightweight, and I find that it doesn't enhance any skin imperfections you may have, as some cream eye shadows can.
I apply
Read More
It's time for monthly favourites! And this month I've been loving all the products that I've featured in May's favourites, and several more.
Which ones?
Two products from Maybelline: Master Smoky Shadow Pencil in Smoky Chocolate (review and swatches) and  Colorama Nail Polish in 16 Place Vendome.
The eye pencil is the a beautiful dark brown fuss-free crayon, which you apply, smudge with a sponge it comes with, and enjoy a long-lasting eye makeup. As for nail polish, I've been wearing it for two weeks this month, and already featured here.  It is a beautiful bright and glossy fuchsia, I promise to post swatches soon.
I also have two picks from Rouge Bunny Rouge: Raven Glaze Lacquer Liner (review and swatches)  and
Read More