There are so many new foundations out this Autumn that I've lost the count. Almost every brand is brining out one. Here are only some…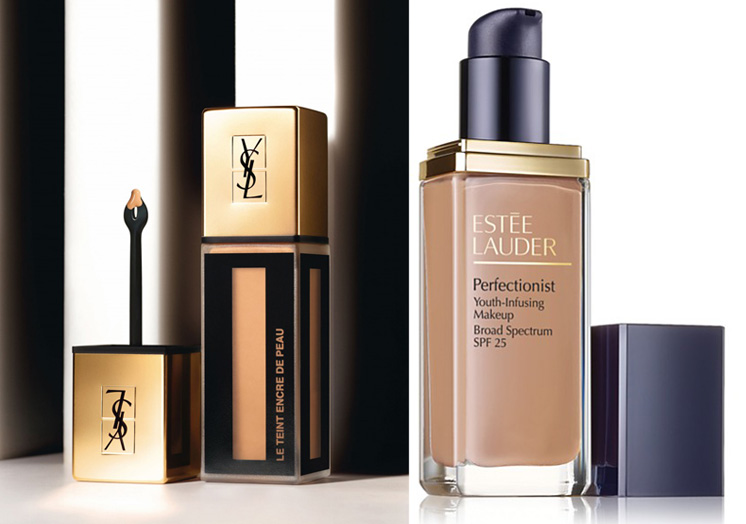 YSL pic from magazine.flaconi.de
YSL Le Teint Encre de Peau -Lloyd Simmonds about it here.
Tom Ford Traceless Perfecting Foundation SPF15
Clarins True Radiance Foundation
Shiseido Sheer & Perfect Compact Foundation
Chanel Vitalumière Loose Powder Foundation SPF15
Sisley Phyto Teint Expert Foundation
Marc Jacobs Smart Wand Tinted Face Stick, $42 from Sephora.
Max Factor Skin Luminizer  Foundation
Laura Mercier Smooth Finish Flawless Fluide from Sephora for $48.
Estee Lauder Perfectionist Youth-Infusion Makeup SPF 25, already available here and here.
There is
Read More
There are tonnes of new cheek products out for SS2014.  You can see them here and here. But guess what? There are even more exciting new launches, here are two of my favourites.
First of all,  JOSIE MARAN Argan Infinity Lip And Cheek Creamy Oil ($18 from sephora). I love Josie's oil a lot, so I would really love to try her new blushes/lip products.
This is  a "hydrating, nourishing, and argan oil-infused, this tinted treatment starts as a cream and melts into an oil for a pop of natural-looking, never-greasy color." I don't think there is anything like it on the market…
The shades are:
Everlasting Honey – rosy nude
Limitless Pink – medium
Read More
There are quite a few new lip products for Spring 2014. And there is nothing like a new lipstick (or a gloss), right? Especially with the VDay just around the corner. For some reason I am excited about it this year, whhaaaat?!
Here are just some of them:
YSL Gloss Volupte 2014, £21
Available in 24 shades, the one shown is 19 Rose Orferve
These are promised to be  glossy and hydrating, with the innovative applicator which helps with a  flawless application.
Sisley Phyto Lip Twist, £29
Available in 6 shades, the one shown  is Baby.
Described as a tinted balm with the colour of a lipstick and shine of a gloss, it leaves the lips supple and smooth thanks to the plant-based active ingredients.
Estee Lauder Pure Color Envy Sculpting Lipstick, £24
Available in 20 shades, the one shown  is  Tumultuous.
Brand new lipsticks from Estee Lauder offer high-intensity colour-in one stroke. We should be
Read More
So… the official Pantone colour for SS14 is Radiant Orchid. And you can actually see  cool toned pink/lavender/orchid beauty products in  several Spring 2014 makeup collections.
I am personally a big fan of  sheer lip products of such shades, and wouldn't mind something for nails and eyes, too.
Luckily Sephora has a huge selection of the makeup in this trendy  shade, and I have chosen five that I personally wouldn't mind having in my own makeup bag:
Givenchy Gelée D'Interdit Smoothing Gloss
Read More
Besides Sheer & Perfect Foundation SPF 18 and Eye Brow Stylig Compact Shiseido are also launching some other products this Fall.
Let's take a look!
There are three new variations of Luminizing Satin Eye Color Trios: BE231 NUDE,  BR214 INTO THE WOODS and
Read More