Besides Sheer & Perfect Foundation SPF 18 and Eye Brow Stylig Compact Shiseido are also launching some other products this Fall.
Let's take a look!
There are three new variations of Luminizing Satin Eye Color Trios: BE231 NUDE,  BR214 INTO THE WOODS and
Read More
If you are over all the BB and CC launches and just want to try a  "regular" new foundation, you may want to take a look at the newest Givenchy offering or  these brand new products from Bobbi Brown and Shiseido.
Shiseido Sheer & Perfect Foundation SPF 18
This one comes in 18 shades and here is what is promised:
"A long-lasting foundation designed to cancel out the appearance of redness, blemishes and visible pores without concealing your skin's natural beauty. It leaves you looking fresh and radiant. The oil-free foundation is formulated with three types of optical powder to ensure smooth, beautiful skin, while leaving you silky-soft and shine-free."
The price is $35
Bobbi Brown
Read More
I have posted about some new lip products  for Spring 2013 recently but there are even more launches.
YSL Rouge Volupté Shine, £24/$34
A new lipstick from YSL is  enhanced with fruit extracts rich in vitamins and antioxidants that leave lips visibly softer and smoother.  The texture is promised to be hydrating (up to 8 hours; it contains hyaluronic acid spheres) and lightweight.
There will be different shades for different countries. Here are just three shades to give you an idea:
4 Rouge  Danger – deep strawberry red, 6 Pink in Devotion – bright hibiscus pink, 13 Pink in Paris – dried rose pink
 There is a new lipstick range from Shiseido - Perfect Rouge Tender Sheer.
Although I am not a fan of the packaging , I like the idea of  "moist, radiant finish that smoothes the lips with a dewy texture and even application to minimize the look of vertical lip lines".
There are six shades:  BE302 TOPAZ, BR503 SOCIETY, PK301 PRETTY, RD205 FLORA, RD304 HIBISCUS and
Read More
Among other things, Shiseido launches a new foundation and lip lacquer for Autumn.
I am excited about the lip lacquer as it looks very promising.
Lacquer Rouge will be available in eight shades: RD203 PORTRAIT, RD305 NYMPH, RD306 CAMEL, RD404 DISCO, RD501 DRAMA, RD508 BLAZE, RD607 NOCTURNE and RD702 SAVAGE.
It was inspired by Japanese Laquer ware, should apply smoothly and leave an intense and deep colour, it should also improve the condition of dry lips.
There is also a Radiant Lifting Foundation SPF 17, available in
Read More
Here is a preview of Shiseido Spring 2012 makeup collection which includes three new shades of their cream eye shadows, seven new shades of lipsticks and two mascaras.
Here is the promo photos, I guess Raquel Zimmerman is wearing Pale Shell and Ice eye shadows and Venus lipstick.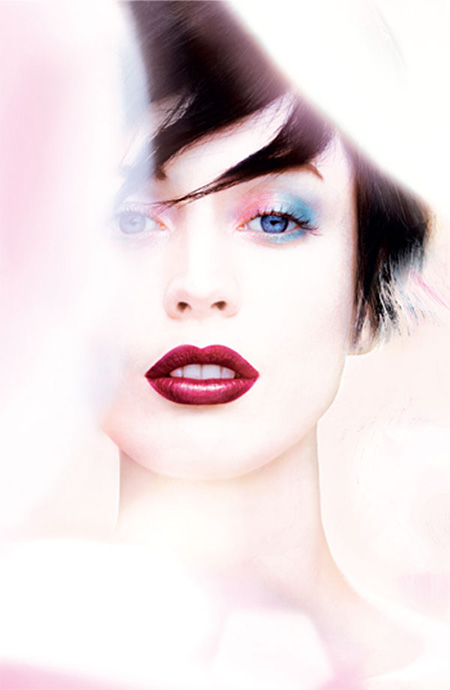 Shimmering Cream Eye Color:   PK 214 Pale Shell, Ice, and Sunshine.
Shimmering Rouge Lip Color: Pk214 Opal, Pk415 Sorbet, Or316 Mango, Rd718 Sugar Plum,
Read More