While I am still waiting for the final versions of the AW beauty press releases from several brands, here are the previews of some upcoming Autumn 2014 makeup collections:
Cheek Melange, Creme Smooth Lip Color in Plumberry;  eye palettes by shu uemura
Photos of Estee Lauder Autumn collection at British Beauty Blogger. Jane has some other Fall releases covered, as well.
shu
Read More
Who doesn't love a good ol' cream product in a stick? It's a perfect formula for summer, it melts into the skin, and gives that natural beautiful glow.
And there are new products coming out our way, besides the NARS Matte Multiples and Laura Mercier Bonne Mine Face Sticks that were launched earlier this year.
First of all, Charlotte Tilbury is brining out a brand new product for her line – Beach Sticks which will be available in five shades: Moon Beach, Es Vedra, Ibiza, Formentera and Las Salinas.
The price is £30 for each and they are avilable from Selfridges.
As for other release -
Read More
It's time  for May  beauty favourites! It was very hard to narrow things down but I've managed to, almost.
First of all I want to  talk about -
Tools
This month I was away for two weeks (one week at one place, and then another one – different one), but I always had Elemis Skin Brush (review) with me, and I've used it religiously.  I personally use it on the dry body, brushing towards the heart.  The results are amazing, but you can read all the dets in my review linked above. I have two Elemis brushes, because I just had to! And I would definitely recommend you picking one up.
shu uemura Eyelash Curlers (review). I use these curlers every single day without a fail. Without them, my makeup is just incomplete, and my lashes don't look that nice. A must-have for everyone.
I did take a picture of only ten products on purpose, so that I don't go on and on in this post. But I just have to mention this Rouge Bunny Rouge brush, it's my staple now.
Makeup
Dior Addict 561  Baby Rose Lipstick (review and lip swatches)
I've
Read More
If you follow me on Twitter, you know that I am currently away for the second week. Unfortunately, I am busy from dusk till dawn but I do appreciate the productive working time.
Here is a sneak preview of what I've packed makeup and beauty wise with me. I was very strict with myself, and limited it all to one (no7 Boots)  travel makeup bag.
Here is what makeup I had with me. All products from my current top 5  luxury makeup favourites post, a lot of Rouge Bunny Rouge products, as I plan to write a feature for the brand soon,  three blushes (I ended up using only tarte) and three lip shades, inducing my Tom Ford lipstick.
As for skincare, this is
Read More
I am personally almost done with my Christmas presents, which is super early this year, as I am usually a last minute shopper, so am already looking forward the Spring 2014 makeup collections.
But if you are still looking for  some nice, beauty related presents, you may want to take a look at the shu uemura and Takashi Murakami makeup collection.
This collection is called 6 heart princess (6HP), which is Murakami's upcoming artwork (TV series, based on it will be shown in 2014).  You can read more about it in the end of this post.
As usual, you can get some amazing eye lashes, brushes sets, eye liners, cleansing oils in special edition design, among other things.
There are two palettes (£60) with everything you may need to create a look: Pink Metamorphosis and Black Enchantment.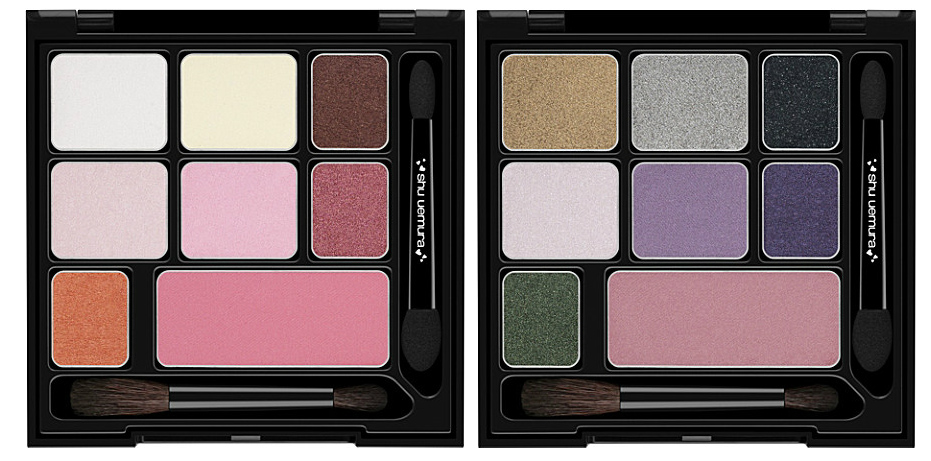 Although I really like the look of the palettes, my personal favourite has to be
Read More