If you want to treat yourself to a new cheek palette, here are three options you can choose from: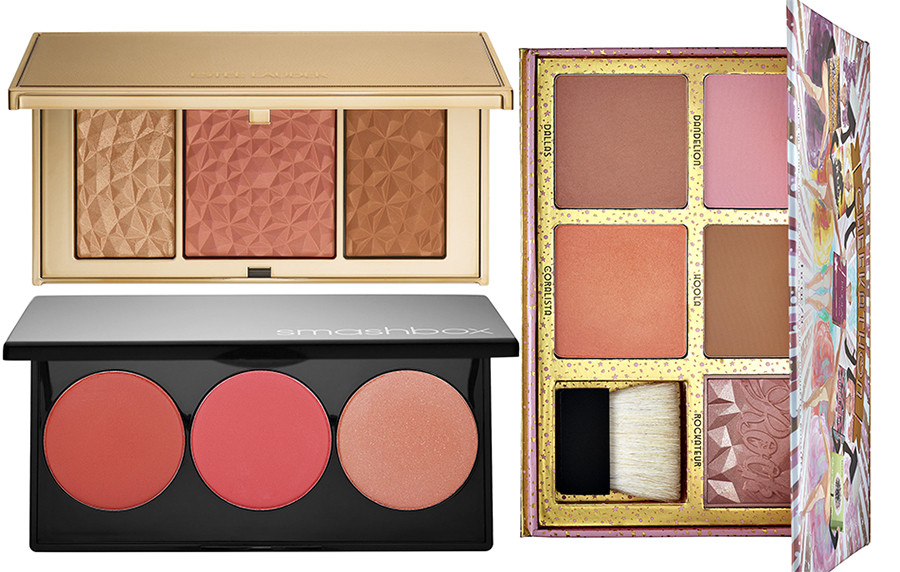 Benefit Cosmetics Cheekathon Blush & Bronzer Palette, $58 from Sephora
 Dallas box o' powder blush in Dusty Rose  (my review)
Dandelion box o' powder blush in Baby Pink
CORALista box o' powder blush in Coal Pink
Rockateur box o' powder blush in Rose Gold
Hoola matte bronzer (my review)
Natural-bristle brush
All blushes and bronzers are full sized
Estée Lauder Bronze Goddess Summer Glow Multi-Palette, $50 from Sephora
"Illuminate, contour, and blush with
Read More
As I have already mentioned on Twitter, it is easier to say what brand is not bringing out eye brow products for AW. You can browse the "Launches" section to see for yourself. And here are a few that I haven't mentioned before…
As you can see from the photo above, now you don't need a Pro eye brow brand to get a specific product, these days a lot of beauty brands have a huge selection: from stencils and powders to pencils and gels.
Smashbox Brow Gloss Stick
It gives eye brows a natural sheen, there is a spoolie on the other end.
 Smashbox Brow Tech Highlight Stick
A highlighting brow pencil that glides on for subtle color and multi-dimensional, shi mmery finish. Double-ended with a spoolie brush.
 Smashbox Tech Matte Pencil
A brow pencil with an ultra-fine point that allows you to mimic hairs to extend your brows and fill in sparseness.
Clinique Just Browsing Brush-On Styling Mousse, $16.50 from here.
Read More
Being a huge fan of eye liners (this is my favourite), I am happy to see new ones coming out. And it seems like angled gel, long-lasting eye liners in a "pen" form are the thing now. I have selected three options, and since I haven't tried any – I've included official descriptions.
Smashbox Photo Angle Pure Pigment Gel Liner ($24 from Nordstrom)
"High-impact, richly pigmented liner, combines the intensity of a gel, with unique flexible tip with a versatile, angled shape lets you create any line from thin to thick. Its creamy formula glides on for a smooth line every time while staying put for 36 hours. The waterproof, transfer-proof gel won't flake or fade and it dries instantly for a look that lasts."
Available in: Jet, Cocoa, Lilac, Plum, Sapphire and Smoke
Diorshow Waterproof Pro Liner ($32 from Nordstrom and £20 from Harrods)
"Combines the easy application of a
Read More
I've chosen three new blush launches that look absolutely incredible, and should be amazing.
NARS Dual-Intensity Blush ($45 from Sephora)
I believe these will be a huge hit, especially considering how popular the original NARS blushers are.   Dual-intensity blushes can be used both dry and wet, also can be worn alone or layered together.
Available in: Fervor – shimmering soft pink/ sparkling deep coppery rose, Panic – shimmering shocking fuchsia/ shimmering orange-pink, Jubilation – sparkling yellow gold highlighter/ shimmering soft nude-peach, Adoration – sparkling baby pink/ shimmering hot pink,  Craving – sparkling seashell pink highlighter/ shimmering beachy bronze,  Frenzy – sparkling soft pink-gold highlighter/ shimmering bright tangerine orange
Smashbox L.A. Lights Blendable Lip & Cheek Color ($29 from Nordstrom)
Read More
Even several years ago contouring was a pro thing but now everyone does it. It seems like contouring is now such an essential, as mascara, or we are getting there.
In the past it was hard to find a good product, as often they were too orange, too muddy etc. But now, with such a competition, the brands stepped up their game, so finding  a suitable shade and formula shouldn't be a problem.
If you are still not contouring (now it sounds like a sect, ha!), SS 15 is a perfect time to start, as there are tonnes of new releases. I have already mentioned  Kat Von D, BECCA and Laura Mercier. By the way, if you are not ready to spend a lot on this step – Jane shares about the new Chiseled  palette from Barry M here.
But there are more…
Smashbox Step-By-Step Contour Stick Trio  (get it here for $45)
Read More