So many new lip products were launched recently, so let's take a look at some of them:
Dior Fluid Stick, £26, available in 16 shades.
Dior know how do make good lip products and how to present them!Probably the most exciting launch. This is basically a super-pigmented and glossy "liquid lipstick". I would recommend checking out Dior's website for all the details, tips and the awesome promo video. This launch reminded me why I love makeup so much, it is beautiful, and inspiring…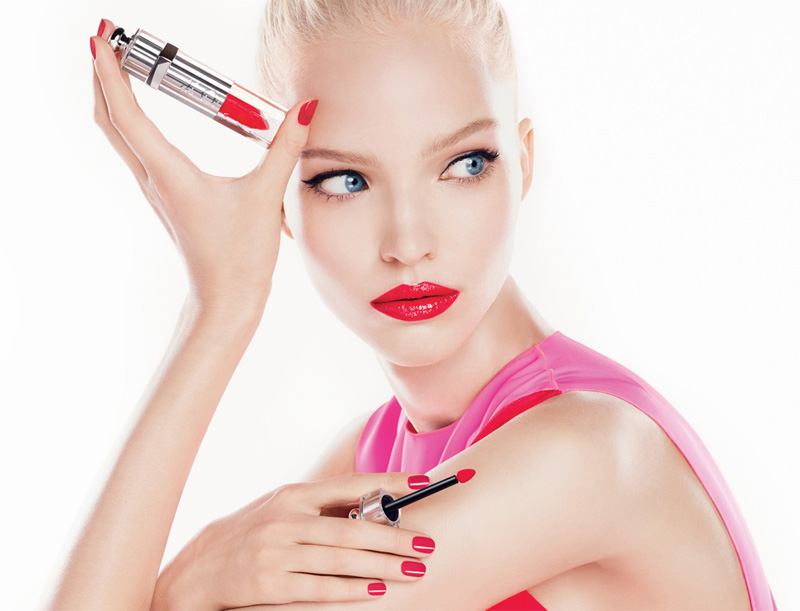 Dolce&Gabbana Classic Cream Lipstick, £24. Available in 9 shades.
If I'd like a beauty product inspired by a celebrity – that would be definitely inspired by Monica Bellucci, she is the most gorgeous woman, in my opinion. I just only have to decide which shade to get now…
GOSH Lip Lacquer, £5.99 available in 8 shades
These look super cute, and
Read More
Smashbox Santigolden Makeup Collection for Summer 2014 looks kind of cool with  all those tribal/animalistic elements  and includes some original products.
Let's take a look.
There are two Santigolden Age eye shadow collages ($36)
Apocalypse Now: SHIMMERY OYSTER, SHIMMERY TEAL, SPARKLING PEWTER, MATTE BLACK, BRIGHT GOLDEN ORANGE
Earth As We Know It: SOFT SPARKLING CREAM, KELLY GREEN, DARK MATTE BLUE, RAISIN WITH ROSEGOLD PEARL, DARK SPARKLY FOREST GREEN
Two Santigolden Age Double Ended Limitless Liner ($24)
AZURITE IS NEVER WRONG/EL DORADO
YELLOW DWARF/GREEN
Read More
So we continue the preview of the holiday releases and this time it's Smashbox and their Wondervision collection with the sets for eyes, lips and a makeup brushes kit.
All the kits retail for a much cheaper price than the individual  products, so it's a great way to try the brand, or to get presents for your girlfriends and family members. Or maybe for yourself?
Wondervision Eye Sets ($32 each)
Flash Set: 0.14 oz x 6 Eye Shadow in Pink Shell, Ballet Pink, Taupe, Purple Shimmer, Slate, Plum; 0.32 oz Full Exposure Mascara in Jet Black; 0.04 oz Limitless Eye Liner in Onyx; 3 x get-the-look cards
Comic Set: 0.14 oz x 6 Eye Shadow in Sandstone, Silver, Luster, Aqua, Smoke, Sapphire; 0.32 oz Full Exposure Mascara in Jet Black; 0.04 oz Limitless Eye Liner in Onyx; 3 x get-the-look cards
 Sparks Set: 0.14 oz x 6 Eye Shadow in Bare, Peach, Gold,
Read More
I am very impressed with the new Stila collection for the holidays, so many amazing sets which would make a perfect gift. And I am even thinking about the blush and the BB creams sets for myself. :adds to wish list:
Everything is already out in the USA, so European shops should get these beauties soon, too.
Let's take a look.
Portrait of a Perfect Pout 
Neutral Lip: dreamy, delicate, demure, darling, divine, delightful
Vibrant Lip: hey baby, pink flamingo, rosy posy, sangria, siren, merlot
Portrait of a Perfect Blush: golden, illume, pretty pink, precious pink, rosé
Portrait of a Perfect Eye: parchment, organza, vintage, linen, antique, rosewood
All palettes above retails for $16 each.
Color Me Glossy Lip Glaze Set ($28)
Contains 3 Lip Glaze
Read More
Several brands are bringing out new eye pencils for Autumn. So far I have the details about Clinique and Smashbox. So let's take a look!
Smashbox Always Sharp Waterproof Kôhl Liners are available in eight shades: Violetta,  Sumatra, Storm, Raven, Penny Lane, French Navy, Cabana and Bare.
The idea behind these is that they self-sharpen every time the cap is removed.  I would really love to see if it is true! If it is, that'd be a prefect product for a crisp and precise line. A dream came true. The price is $20.
As for Clinique – their
Read More