Don't you just love the idea of having most of the products you need to create a look with in just one palette? How convenient that is. Luckily, Stila and Charlotte Tilbury got us covered, both brands released those gems.
Stila brought out four Perfect Me, Perfect Hue Eye & Cheek Palettes with 5 eye shadows and 2 blushes each. They are created for  different skin tones, as the name suggests.
Fair/Light Palette
Eye Shades:  Alluring (soft pale pink), Breathtaking (soft neutral white), Passionate (champagne pearl), Dynamic (soft taupe), Glamorous (warm chocolate brown)
Blush Shades:  Romantic (soft pale pink), Playful (soft rose pink)
Light/Medium
Eye Shades:  Artistic (neural beige), Dazzling (vanilla), Ambitious (midtone brown with gold pearl), Spontaneous (brown with berry undertones), Mischievous (black brown)
Blush Shades: Charming (true cool pink), Angelic (neutral warm rose)
Medium/Tan
Read More
Contouring? Strobing? Move over! There is a new trend in town, and that is colour correcting. It was around for some time but you know that it is official when it ends up on Sephora's main page. I actually posted about some products already, such as BECCA, YSL and tarte but there are tonnes of others.
BEAUTYBLENDER Correct.four micro mini blenders (£22 from Selfridges) and stila Correct & Perfect All-In-One Color Correcting Palette ($45 from Sephora)
When you click on the link, you can read all about it, and choose the product which you think you may need/want.  I am personally
Read More
Recently I was talking a lot about lipsticks with some girls I work with, and this inspired me to wear a different shade each day for a month. I wear the same ones over, and over again but considering how many I have it was about time to change my habit.  So here are the ones I wore last week…
NYX Soft Matte Lip Cream in Transylvania (lip swatch)
I am obsessed with it, as you may know, I have to stop myself from wearing it every single day. It is the most perfect vampy (Hey, Drac! yes, I absolutely had to do it) shade.  Whenever I wear it – I am always asked about it. The formula is not too drying and can be applied evenly.  This is the most affordable product from the selection and there are tonnes of other colours in the line.
Illamasqua Intense Lipgloss in Boost (review and lip  swatch)
Technically this is not a lipstick but, as the name suggests, it is pretty intense when layered so I've included it, too. It smells of sweets, feels moisturising on and is the most unique shade out of these all, a violet with a blue base, so beautiful.
ArtDeco Soft Lip Liner Waterproof in #8  and Stila Stay All Day Liquid Lipstick in Tesoro (review and lip  swatches). Wearing this combo on my Twitter profile photo.
This is my ultimate
Read More
To be honest, I did not pay that much attention when it came to  Stila in the past but recently things changed. I think the brand is killing it with the latest releases. Their Christmas collection was one of the best but I love the Spring  2016  products even more. There is nothing in this collection I wouldn't want.
And The Impressionist name and blue background?! As someone who studied culture and arts at uni – I couldn't love it more. What a perfect example of combining art and beauty, other brands should take notes. Also,  I am really loving the new improved website. The looks featured are just so beautiful. Sarah Lucero, Stila's Global Executive Director of Creative Artistry is a genius, I tell you.
All the looks above are gorgeous, right?
How, let's take a look at the products:
Convertible Color Dual Lip & Cheek Palette – Sunset Serenade, $39/£29
Read More
Stila's  Sealed With A Kiss Makeup Collection for Christmas 2015 really caught my attention. Especially with those gorgeous promo campaigns *inspiration alert*.
There are four looks in general and my favourite ones are with red lips and cat eyes which is chic and classy and the one with dark lips and a fresh glowing completion, as that is my kind of look.

And which makeup do you like the best?
As for the makeup sets themselves, they are really-really good!
I personally like (and think of getting for myself)  Eternal Love Liquid Lipstick Set ($20) which includes three mini lipsticks which, in my opinion, are some of the best in the industry (read my review). And you can't really go wrong with mauve, red and berry.  The shades are: Ricco, Beso and Baci.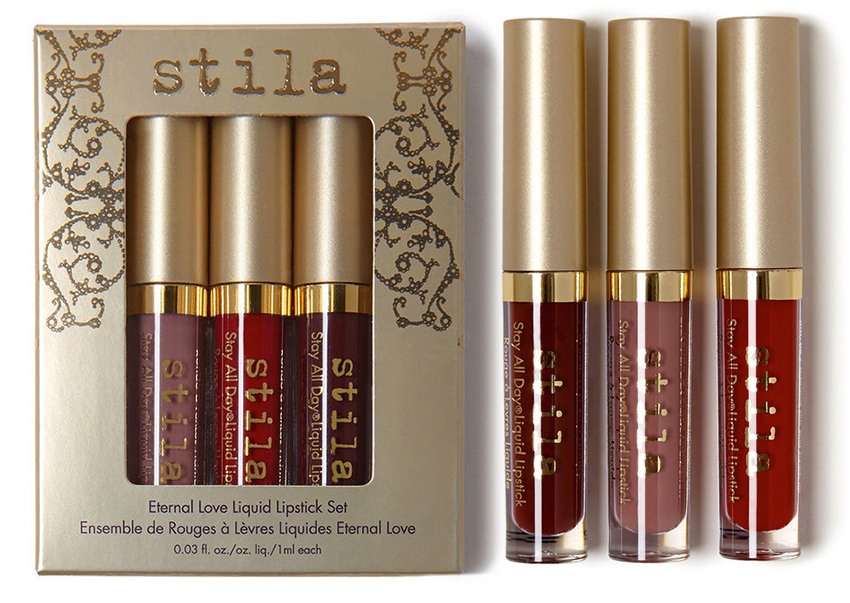 There are two more lip sets. One with more liquid lipstick shades and one with the cult Stila glosses. I have actually bought  a few sets several seasons ago for myself and friends.
Eternally Yours Liquid Lipstick Set ($39): Caramello, Patina, Aria, Como, Chianti and Fiery
Sealed With A Kiss Gift Set ($28): Pomegranate Sparkle, Ruby
Read More