Here is a preview of a one more Fall 2015 makeup collection. And this time it is Stila and their Modern Goddess collection.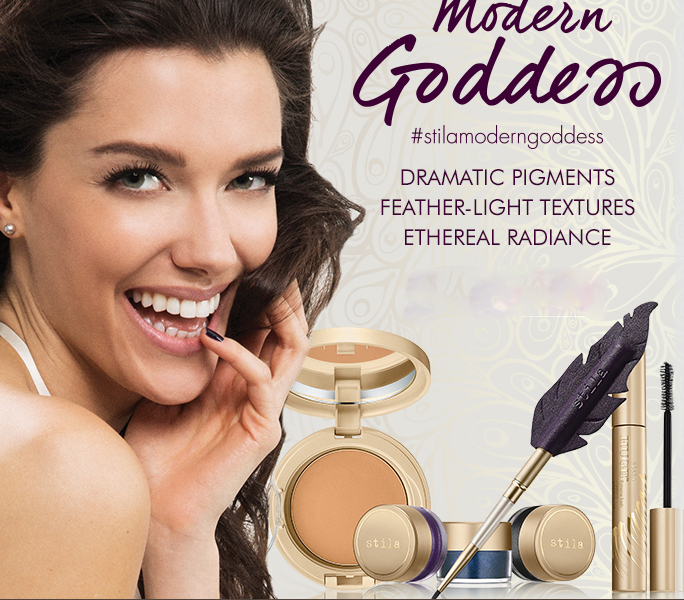 The star  of the collection have to be  Got Inked Cushion Eye Liners,  ($28)
Yes, the cushion formulas are here to stay!  These are described as  lightweight, yet richly pigmented liquid eye liners dispensed through a cushion soaked in colour. They are also long-lasting and budge-proof. There are both matte and metallic finishes.
The colours, as shown below, are: Smoky Quartz Ink, Copper Ink, Garnet Ink; Black Obsidian Ink, Blue Sapphire Ink and Amethyst Ink. How gorgeous do the garnet and sapphire shades look?
You can get a new primer and mascara as a part of the collection, too.
HUGE Extreme Lash Mascara,  $23
It sounds all kinds of amazing " For the biggest, boldest, blackest black lashes ever! With just one coat, you instantly get major volume, length, curl, lift and intense black colour. Go as bold as you want! Even with multiple coats, this flexible, buildable formula leaves lashes soft with no clumps, flakes, or fall out."
Lash Stunner Extreme Lash Primer, $26
This primer contains two different kinds of  fibers:
Read More
I am really loving the look of Stila's summer makeup collection – the new products look amazing.
There are six new shades of Stay All Day Liquid Lipsticks ($22) which are some of the best lipsticks (here is my review) as they are truly long-lasting and intensely pigmented.
Rosa (Bubble Gum Pink), Como (Bright Violet), Bella (Bright Pink), Venezia (Bright Red), Amalfi (Coral Pink)
Aqua Glow Watercolor Blush, $26
These look very cool! They are described as "weightless, water-based blush that create fresh glow to the skin." They come in Water Blossom (Pink Violet), Shimmering Lotus (Goldy Pink), Water Poppy (Red), Rosewater (Pale Pink), Water Lily (Rose
Read More
I've chosen three new blush launches that look absolutely incredible, and should be amazing.
NARS Dual-Intensity Blush ($45 from Sephora)
I believe these will be a huge hit, especially considering how popular the original NARS blushers are.   Dual-intensity blushes can be used both dry and wet, also can be worn alone or layered together.
Available in: Fervor – shimmering soft pink/ sparkling deep coppery rose, Panic – shimmering shocking fuchsia/ shimmering orange-pink, Jubilation – sparkling yellow gold highlighter/ shimmering soft nude-peach, Adoration – sparkling baby pink/ shimmering hot pink,  Craving – sparkling seashell pink highlighter/ shimmering beachy bronze,  Frenzy – sparkling soft pink-gold highlighter/ shimmering bright tangerine orange
Smashbox L.A. Lights Blendable Lip & Cheek Color ($29 from Nordstrom)
Read More
Even several years ago contouring was a pro thing but now everyone does it. It seems like contouring is now such an essential, as mascara, or we are getting there.
In the past it was hard to find a good product, as often they were too orange, too muddy etc. But now, with such a competition, the brands stepped up their game, so finding  a suitable shade and formula shouldn't be a problem.
If you are still not contouring (now it sounds like a sect, ha!), SS 15 is a perfect time to start, as there are tonnes of new releases. I have already mentioned  Kat Von D, BECCA and Laura Mercier. By the way, if you are not ready to spend a lot on this step – Jane shares about the new Chiseled  palette from Barry M here.
But there are more…
Smashbox Step-By-Step Contour Stick Trio  (get it here for $45)
Read More
If you follow me on Instagram or read my About section – you have probably noticed that black and red are my favourite colours. I can never have too many black clothes or too many red lipsticks and nail polishes.
I have written about that so many times, but today I want to share my latest red lip combo obsession which I have discovered "by accident " and have been wearing for weeks now. It is the red  that I have been rocking all holidays. I even included a photo…
So what are the products?
ArtDeco Soft Lip Liner Waterproof in #8 (review and swatches) (It is available for £8.40 from Beauty Bay.)
I have shared my love for this so many times… I like how long lasting and matte it looks, and the deep cool toned red. But I just wanted something brighter and warmer. So I have decided to put Stila Stay All Day Liquid Lipstick in Tesoro (review and swatches;  £15/$22. You can buy Stila from Sephora and Beauty Bay. Sephora) on top. On its own Stila is too warm and orange for my complexion. But together it was a dream-came-true combination.A classic matte, vibrant, full-on red! Show stopper, if you want.  It also
Read More