To be honest, I did not pay that much attention when it came to  Stila in the past but recently things changed. I think the brand is killing it with the latest releases. Their Christmas collection was one of the best but I love the Spring  2016  products even more. There is nothing in this collection I wouldn't want.
And The Impressionist name and blue background?! As someone who studied culture and arts at uni – I couldn't love it more. What a perfect example of combining art and beauty, other brands should take notes. Also,  I am really loving the new improved website. The looks featured are just so beautiful. Sarah Lucero, Stila's Global Executive Director of Creative Artistry is a genius, I tell you.
All the looks above are gorgeous, right?
How, let's take a look at the products:
Convertible Color Dual Lip & Cheek Palette – Sunset Serenade, $39/£29
Read More
Stila's  Sealed With A Kiss Makeup Collection for Christmas 2015 really caught my attention. Especially with those gorgeous promo campaigns *inspiration alert*.
There are four looks in general and my favourite ones are with red lips and cat eyes which is chic and classy and the one with dark lips and a fresh glowing completion, as that is my kind of look.

And which makeup do you like the best?
As for the makeup sets themselves, they are really-really good!
I personally like (and think of getting for myself)  Eternal Love Liquid Lipstick Set ($20) which includes three mini lipsticks which, in my opinion, are some of the best in the industry (read my review). And you can't really go wrong with mauve, red and berry.  The shades are: Ricco, Beso and Baci.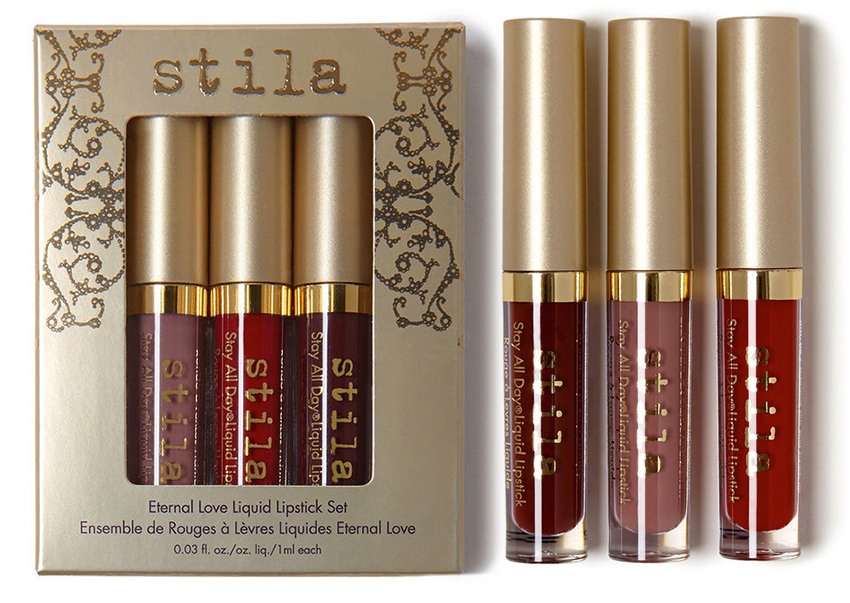 There are two more lip sets. One with more liquid lipstick shades and one with the cult Stila glosses. I have actually bought  a few sets several seasons ago for myself and friends.
Eternally Yours Liquid Lipstick Set ($39): Caramello, Patina, Aria, Como, Chianti and Fiery
Sealed With A Kiss Gift Set ($28): Pomegranate Sparkle, Ruby
Read More
Here is a preview of a one more Fall 2015 makeup collection. And this time it is Stila and their Modern Goddess collection.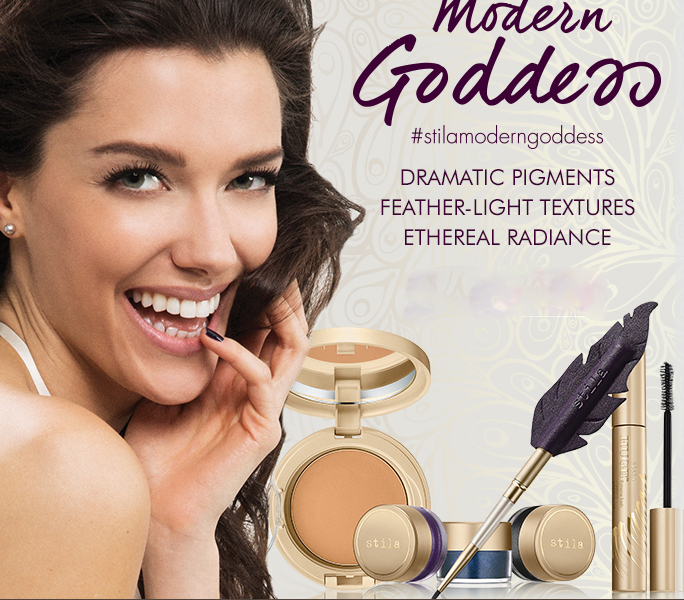 The star  of the collection have to be  Got Inked Cushion Eye Liners,  ($28)
Yes, the cushion formulas are here to stay!  These are described as  lightweight, yet richly pigmented liquid eye liners dispensed through a cushion soaked in colour. They are also long-lasting and budge-proof. There are both matte and metallic finishes.
The colours, as shown below, are: Smoky Quartz Ink, Copper Ink, Garnet Ink; Black Obsidian Ink, Blue Sapphire Ink and Amethyst Ink. How gorgeous do the garnet and sapphire shades look?
You can get a new primer and mascara as a part of the collection, too.
HUGE Extreme Lash Mascara,  $23
It sounds all kinds of amazing " For the biggest, boldest, blackest black lashes ever! With just one coat, you instantly get major volume, length, curl, lift and intense black colour. Go as bold as you want! Even with multiple coats, this flexible, buildable formula leaves lashes soft with no clumps, flakes, or fall out."
Lash Stunner Extreme Lash Primer, $26
This primer contains two different kinds of  fibers:
Read More
I am really loving the look of Stila's summer makeup collection – the new products look amazing.
There are six new shades of Stay All Day Liquid Lipsticks ($22) which are some of the best lipsticks (here is my review) as they are truly long-lasting and intensely pigmented.
Rosa (Bubble Gum Pink), Como (Bright Violet), Bella (Bright Pink), Venezia (Bright Red), Amalfi (Coral Pink)
Aqua Glow Watercolor Blush, $26
These look very cool! They are described as "weightless, water-based blush that create fresh glow to the skin." They come in Water Blossom (Pink Violet), Shimmering Lotus (Goldy Pink), Water Poppy (Red), Rosewater (Pale Pink), Water Lily (Rose
Read More
I've chosen three new blush launches that look absolutely incredible, and should be amazing.
NARS Dual-Intensity Blush ($45 from Sephora)
I believe these will be a huge hit, especially considering how popular the original NARS blushers are.   Dual-intensity blushes can be used both dry and wet, also can be worn alone or layered together.
Available in: Fervor – shimmering soft pink/ sparkling deep coppery rose, Panic – shimmering shocking fuchsia/ shimmering orange-pink, Jubilation – sparkling yellow gold highlighter/ shimmering soft nude-peach, Adoration – sparkling baby pink/ shimmering hot pink,  Craving – sparkling seashell pink highlighter/ shimmering beachy bronze,  Frenzy – sparkling soft pink-gold highlighter/ shimmering bright tangerine orange
Smashbox L.A. Lights Blendable Lip & Cheek Color ($29 from Nordstrom)
Read More