New nude palettes, anyone?
Illamasqua  Rose Gold Palette,  £44
It comes in a rose gold cardboard packaging and includes the following shades: Slink (Champagne), Stealth (Buttermilk), Servant (Eggshell), Vernau (Yellow Ochre), Bronx(Bronze Gold), Wolf (Chocolate Brown), Forgiveness (Chocolate Plum), Fist (Deep Plum), Rim (Black Coffee), Tango (Rich Copper Bronze), Terra (Earth Clay Red), Obsidian (Rich Black).
Illamasqua is available from Selfridges and ASOS.
Laura Mercier Flawless
Read More
There are so many new products  for the face, lips and eyes, so let's take a look at them all, we will start with the new cheek items from YSL, Marc Jacobs and tarte.
Marc Jacobs Beauty Air Blush Soft Glow Duo, $42 from Sephora
Features two shades that merge together so you can customize your colour; ultra-lightweight formula and  a radiant finish.
FYI "Air Blush is created using a process called soufflage (French for "air-whipped") for a silky-soft, cream-like texture that blends effortlessly with the complexion."
Shades: 508 Night Fever & Hot Stuff – cherry/ deep plum, 506 Flesh & Fantasy – ivory shimmer/ goddess bronze, 504 Kink & Kisses – pale petal/ peachy rose, 502 Lines & Last Night – creamsicle/ deep tangerine and  500 Lush & Libido – petal pink/ orchid pink.
YSL Couture Contouring Palette, $47 from Neiman Marcus
A duo with a matte shade for contouring and a highlighter to illuminate. "Use the
Read More
There are more, and more summer makeup collections that are being available now. Today let's take a look at tarte's newest release – Rainforest of the Sea. All the products are already available from Sephora.
There are tonnes of new products: makeup, skincare and brushes.
 Wipeout color-correcting palette (LE),  $45
"An all-in-one palette to correct discolorations, contour and brighten skin. "
Rainforest of Sea Eye Shadows Palette, $34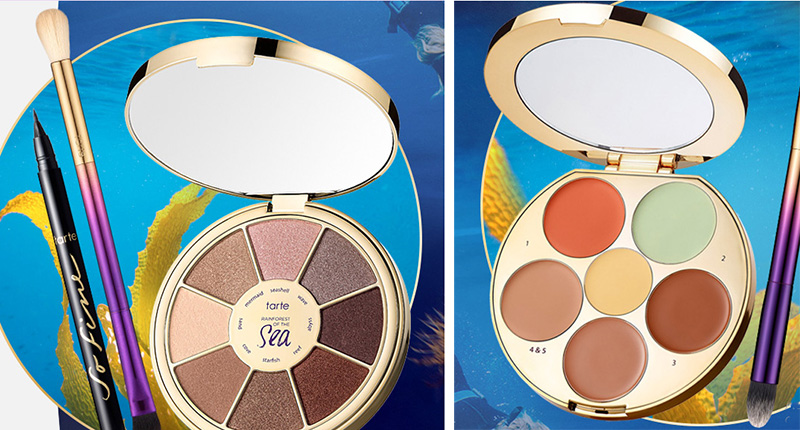 Rainforest of the Sea Quench Lip Rescue, $19
"A moisturizing lip balm in an array of sheer color shades. "
Rainforest of the Sea Drench Lip Splash Lipstick, $22
"A full-coverage matte lipstick with lip nourishing antioxidants. "
Shown are: Berry and
Read More
Say hello to the newly launched tarte's Poppy Picnic summer 2015 makeup collection.
There is a palette, two bronzers, new shades for eyes and lips, and even two new brushes. Let's take a look.
Poppy picnic Amazonian clay eye & cheek palette, $38, LE
• summer breeze (cream)
• sweet tea (tan)
• ice cream cone (chocolate)
• barefoot in the grass (nude)
• peach poppy (peach )
• picnic basket (brown)
Amazonian butter lipstick in  park ave princess, $17
"The ultra-moisturizing Amazonian butter lipstick infused with precious cupuacu and murumuru butters."
LipSurgence  lip crème,  $24
"Ultra-moisturizing, full coverage lip crème providing a rich, creamy color."
Wonder, poppy
Serene, apricot pink
Illusion, rosy berry
Empowered, soft pink
There are also two bronzers in the Park Ave shade: Amazonian clay  matte waterproof bronzer, $30 and
Read More
It is the time when I  am telling you about my favourite products of the year. I did not pick a product in each category just for the sake of having one, but rather only those that really stood out for me.
The first part will be about makeup. Here we go…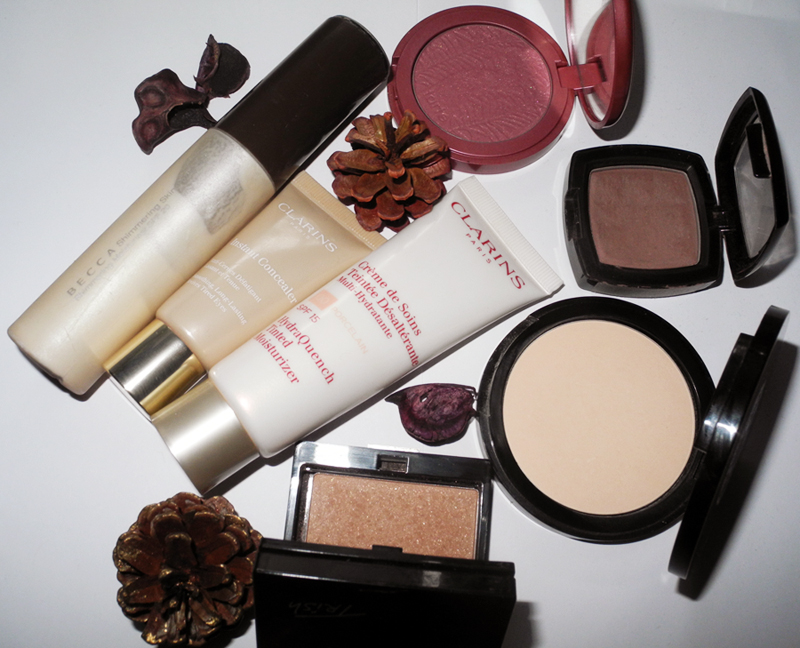 Face
Base:Clarins HydraQuench Tinted Moisturizer (review)
Although there were quite a few "foundations" I loved, this  tinted moisturizer was the base of 2014. It gives a natural and glowing light-t0-medium coverage, and leaves the skin looking beautiful.  HydraQuench is one of my favourite skincare ranges, and this TM is just as good, as everything else, works perfectly for my very dry, dehydrated and sensitive skin. I am very pleased that it never accentuated any dry patches I sometimes have.
Concealer: Clarins Instant Concealer (review)
Definitely the best concealer out there, covers the dark circles and brightens the under eye area, doesn't get in the fine lines, stays on really well.
Powder: Rouge Bunny Rouge  Flawless Face Powder Precious Velvet (review)
I have to say that
Read More