When a beauty product gets a cult status and make-up artist & beauty lovers rave about it – it's a sign that one has to get that product, too.
You all know by now that I love my cream/liquid/stain/gel blushers ( is my latest wish list) and I don't even remember when was the last time I've bought a powder blush. About two years ago, I think (It was Sleek, LE)?! But I just had to get Tarte's Amazonian Clay Blush ($26).
It was very easy to choose a shade, as I knew straight away that I wanted Blushing Bride, which is described as plummy rose.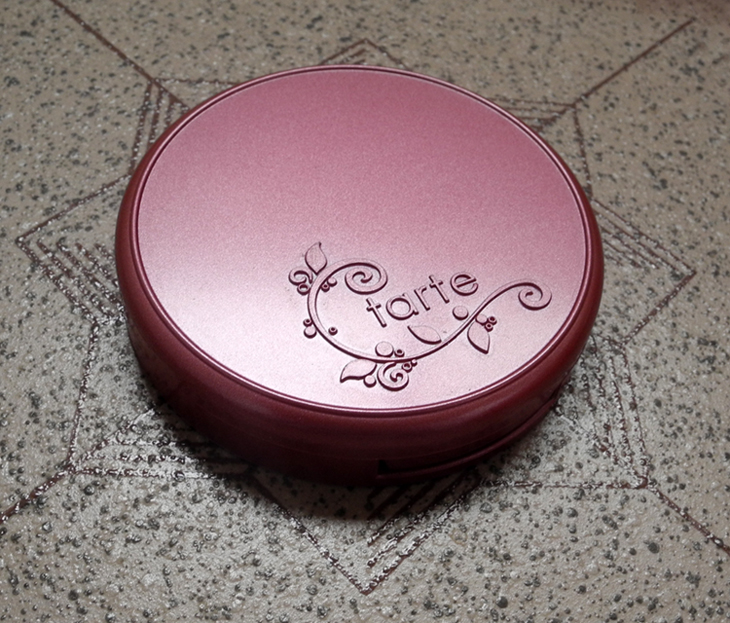 I love the fact that the packaging is the same shade, as the blush itself, very useful, especially when you have a lot of blushes from the same line.
And here is a close up of my beauty. As you can see it's a pretty plummy shade with golden shimmer. Luckily, the shimmer is delicate and you don't get it all over the face.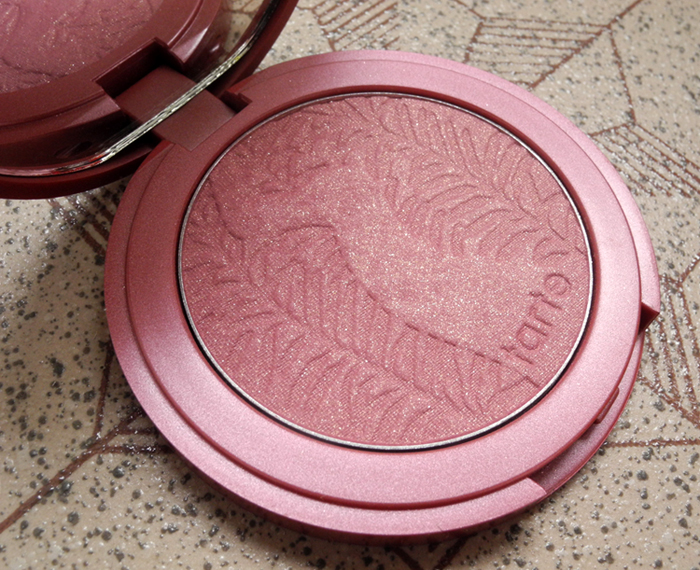 So what is my impression?
I am actually
Read More
My friend was in the USA last month and it was very lovely of her to  pick up several things for me. And this time I've decided not to get crazy and get only the things that were on the top of my wish list. Some of them were not available, so here is what I ended up with:
Tarte Amazonian Clay Blush in  Blushing  Bride.  I wanted to try Tarte blushes for ages and finally got one, Blushing Bride seemed like a colour that I would like and it is amazing.
Hourglass Arch Brow Sculpting Pencil in Soft Brunette. I can  tell that
Read More
I have heard so many great thing about Tarte Amazonian Clay Blush that now I want to try it, too. Even though  I am not the biggest fan of powder blushes on myself. And I still haven't tried their cheek stains…
I think the next blush that I will get and I can never have too many has to be something from Tarte. It is just a shame that it is only available in the US…
I have spotted this fantastic set of the blushes at Sephora for $35 while a single blush is $25. What a great deal! These are not the same size, but I'd rather have four different smaller sized blushes.
The shades, by the way, are  Angelic (shimmering champagne), Fantastic (soft fuchsia), Magic (pink coral)and Stellar (shimmering nude).
There is also a lip gloss set that I like, but that I definitely do not need. Or maybe I do?
And what is your favourite Tarte product? What about their blushes?
Read More
Sometimes I doubt if I should write about the makeup collections that are not available in the European countries as a lot of readers, and myself included, can't get those things. But than I think about all the American and Canadian readers and decide to publish it after all.
So here are just some of my picks from the Spring 2012 collections of some brands that are already out.
Hello Kitty Mon Amour Palette, $35
I am not really a Hello Kitty fan but hot cute is this?
0.061 oz eye shadow in Passion Fruit Macaroon (shimmery lavender purple), Jardin (matte turquoise blue), Parisian Pink (matte rose pink), Fleur de Lys (iridescent deep purple), Lemon Meringue (matte butter cream), Croissant (golden vanilla), Pistaschio (golden soft green), Eiffel Tower (golden grey)
2 x 0.13 oz blush in Strawberry Macaroon (peachy pink) and Rasberry Macaroon (hot pink)
 Kat Von D True Romance Eyeshadow Palette – Mi Vida Loca Palette, $34
This looks like a very pretty palette from Spring!
0.05 oz eye shadow in Swan Song (iridescent pearl), Marya (shimmery vanilla), No Regrets (shimmery gold), Drama For Yo Momma (shimmery kelly green), Mad Max (matte sky blue), Dublin (iridescent purple), Sparklehorse (hot pink purple sparkle), Altruism (pearl soft pink).
0.028 oz eyeliner in Wonderchild (electric blue)
Tarte Maracuja Divine Shine Lip Gloss, $21
Would definitely
Read More
I really want to try Tarte Cheek Stain. It is a water-based gel cheek tint; it is alcohol-free and oil free so it won't dry out the skin or clog pores.
It is written that it contains "Skinvigorating™ ingredients like a T5 Super Fruit Complex™"(a blend of the five most active superfruits: goji, açaí, maracuja, acerola, and pomegranate) which is  pure water to help skin retain moisture and mineral-derived pigments known for their soothing and softening properties.
It is formulated without: Parabens, Sulfates, Synthetic Fragrances, Petro-Chemicals and Phthalates.
Sounds great to me!
I like the shades Flush (sheer berry/ raspberry scented) and Blushing Bride (sheer deep plum/ plum scented). The idea that they are scented with the berry/fruit that has a similar colour makes me wanna get this blush even more.
By the way, BECCA's Beach Tints have  similar concept. But they are scented like the fruit/ berry they are named after.
I am not sure where to get Tarte in the UK/EU unfortunately. It is available at Sephora for $30.
Read More